The Film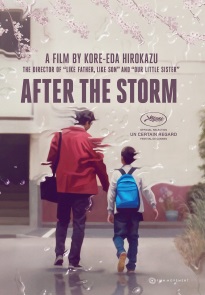 "I'm the 'Great talents bloom late' type," says protagonist Ryota (Tokyo Raiders' Hiroshi Abe), to which his mother Shinoda (Sweet Bean's Kirin Kiki) replies, "You're taking too long to bloom. Hurry up or I'll haunt you." While she laments aloud that he cannot afford to buy her a condo, Ryota's mother is really more worried about her son's fundamental unhappiness as he visits to borrow money and see what items of his late father's he can pawn. Having achieved early success with a prize-winning novel, Ryota's sophomore slump has lasted nearly twenty-five years and has cost him his marriage to Kyoko (The Grudge's Yôko Maki) and his relationship with his young son Shingo (Taiyô Yoshizawa). Having taken a job as a private detective ostensibly to research a second novel, he and his young partner (The Last Samurai's Sôsuke Ikematsu) make money on the side by selling evidence of infidelity to the guilty party, but Ryota impulsively gambles the money away on the horse races. Unable to see his son due to his inability to pay child support, Ryota surveils his son, wife, and her new more successful boyfriend (The Hidden Blade's Yukiyoshi Ozawa) and starts to fear that they will marry and the other man will supplant him in his son's life (especially after learning that he has purchased his son the baseball glove he had set money aside to purchase). Ryota manages to meet his son in secret and is disheartened to realize that his son interprets his lack of a role in his life as disinterest. He is able to wangle some time with his son through his wife since Shingo has maintained a loving relationship with Ryota's mother, and it is on one such visit that Ryota, Shingo, and Kyoko are forced to shelter in his mother's apartment as a typhoon touches down in the area. Cooped up in the small apartment, the estranged couple are forced to definitively confront their issues and move on, and Ryota makes a last ditch effort to recreate one of the few happy moments he remembers with his own father with his son in the eye of the storm.

Running just under two hours, After the Storm from director Hirokazu Koreeda (Like Father, Like Son) is short on incident, focusing instead on the accumulation of subtle realizations of its severely flawed protagonist . Ryota is particularly unsympathetic when we first meet him, offering up some extra money from his "important" job to his mother while looking for a scroll that his father told him was worth a lot of money, but there is something relatable in man lamenting that he has not lived up to his potential. What seems incredibly hypocritical for him to exclaim "You just sponge off your folks," at a high school student (Shôno Hayama) he is extorting over an affair with his tutor, he exhibits more self-denial than a lack of self-awareness; and is certainly no more hypocritical than his sister (Pale Moon's Satomi Kobayashi) who chastises him for borrowing money from their mother until her own daughter spills the beans that grandmother will be paying for her figure-skating lessons. The discovery that he is more like his father than he realized or his mother would like to admit makes him more determined to be a better father, but the only ways he knows how are sadly inadequate (for instance, scuffing a pair of expensive sports shoes to get a discount as a gift to his son). What seems like the moral of the story comes from his mother as "I wonder why it is that men can't love the present. Either they just keep chasing whatever it is they've lost, or they keep dreaming beyond their reach," but Ryota tells his son when he asks if he became what he wanted when he grew up that "it doesn't matter whether I've become what I wanted. What matters, is to live my life trying to become what I want to be," leaving the audience to ponder the nature and scope of change he will undertake with the goal of being a father rather than just "taking responsibility."

Video


Shot on 35mm film, After the Storm is given a satisfying 1080p24 MPEG-4 AVC 1.85:1 widescreen encode of a film composed of overcast skies, gray buildings, and faded and dingy off-white apartment walls, over the occasional more saturated color accent in the wardrobe or decor.

Audio


Audio options include a lossy DTS-HD Master Audio 5.1 track and a lossy Dolby Digital 5.1 version which is actually the default track. The sound design is very restrained with the surrounds coming to life during exteriors, the storm sequence, and occasionally the music. Subtitles are offered in English and French (which should make disc attractive to French Canada as well as France since it is region free).

Extras


Extras start off with the expansive made-for-TV making-of featurette (73:07) narrated by Yoshizawa (who sounds more mature than he looks in the film) in which Koreeda discusses his inspirations for the film in the apartment building in which he grew up and the beauty of the depressing landscape in the aftermath of a typhoon. Segments are dedicated to Koreeda's writing process, the location scouting, and the extensive attention to detail in the clothing, furniture, and props (including the cover choice for Ryota's novel and the books on his shelf which are then distressed to show age and usage) as well as the choice of octopus slide for the climax, along with rehearsals, shooting, and editing. The film's trailer (2:00) is also include along with the unrelated bonus short film "The Last Dream" (11:22).

Overall