National Health (The) (Blu-ray) [Blu-ray]
Blu-ray ALL - United Kingdom - Powerhouse Films
Review written by and copyright: Rick Curzon (5th September 2017).
The Film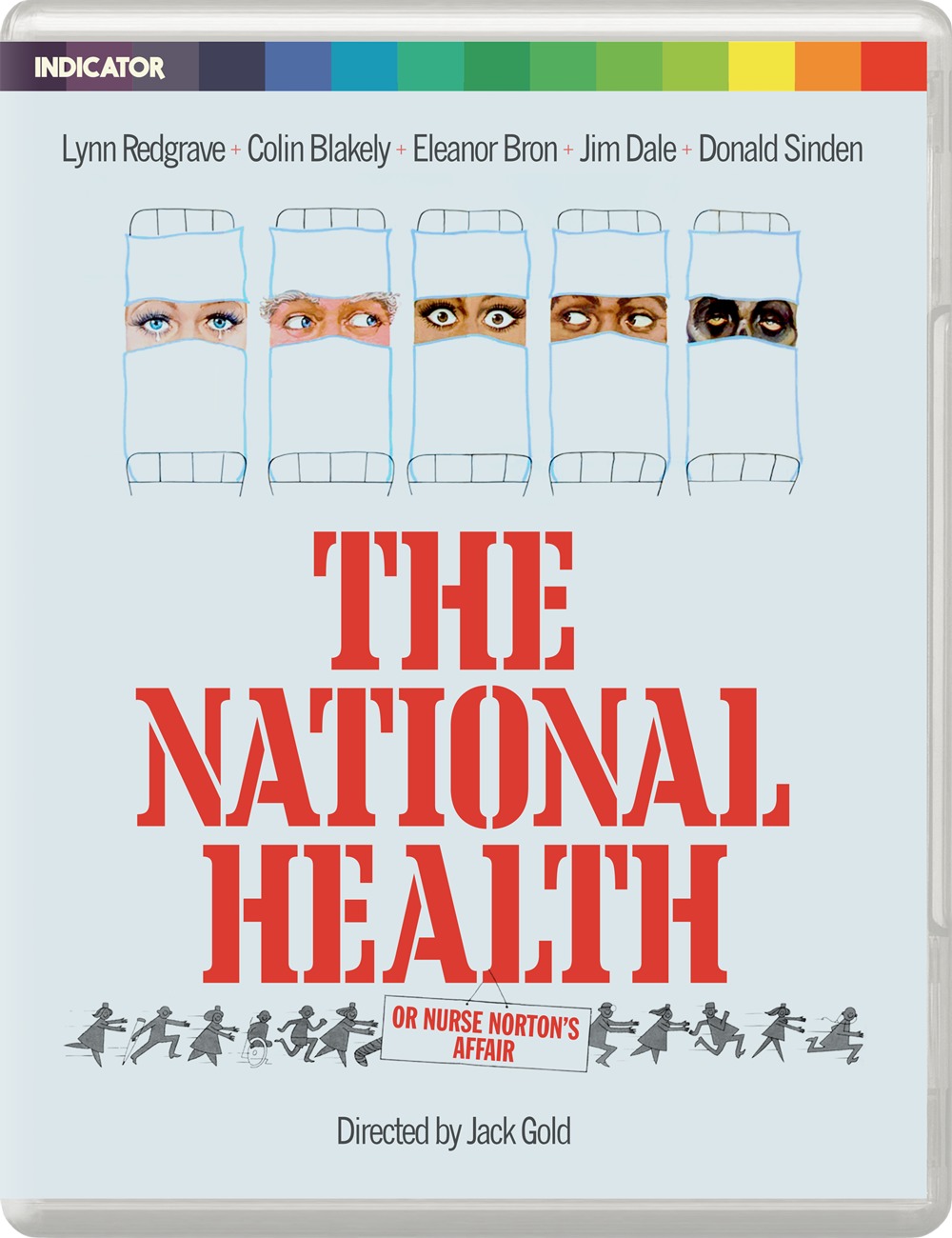 Jack Gold's film about life and death in a shabby London hospital interweaves the story of the real hospital with a fantasy one which exists in the soap-opera world of 'Nurse Norton's Affair', where everything is fully funded and patients are miraculously cured. A darkly funny satire on the state of the nation and also a deeply prescient comment on TV's ability to turn tragedy into entertainment, The National Health sits somewhere between the bawdy antics of the Carry On films and the angry satire of Lindsay Andersonís Britannia Hospital, but emerges as a starkly prophetic film, more relevant now than ever.

Video


Fine film based on Peter Nichols' 1969 play. A deep black comedy drama set in a cash-strapped NHS hospital ward. This is contrasted by a glossy soap opera watched by the patients on TV where the silly gloss is compared to the harsh reality. On stage the actors who originated the roles were Tom Baker and Jim Dale.

Always amusing, frequently laugh out loud funny and also ultimately very moving; this is a more socially conscious Carry On Doctor / Nurse / Matron if you will. Jim Dale, who takes the same role as on stage, is hilarious as a wily porter in the film's reality, and a free-spirit young doctor in the TV soap.

Another splendid Blu-ray from Powerhouse Films as part of their Indicator Series (#032) which is - as far as I'm aware - a worldwide BD debut. I can't imagine that this film would play as well outside of these shores because it's a particularly British film with the subject of comedy and satire being the National Health Service (NHS).

The image is very true to its source and is very much designed to have a de-glamourised aesthetic; perhaps a subtle comment on the surroundings and mood of the characters. Not a big budget production, this 35mm shot film has plenty of grain and a pleasing amount of fine detail, typically noticeable in fabrics worn by all and background details in the hospital wards. Black levels are excellent and I couldn't see any signs of crush. Contrast seems to differ slightly between reality (soft) and the fantasy soap (slightly brighter); colours are more naturalistic and muted for the main story, slightly brighter for the fantasy. This has the usual Powerhouse high bitrate and topnotch encode; no gaps in the grain and no signs of posterisation, mosquito noise or other unwanted artefacts. There are also no signs of DNR or edge enhancement.

The National Health gets a flawless Blu-ray release from Indicator and that's not hyperbole. I love films of this era in general and UK productions are always a treat to see on their best behaviour. This is a great release.

1.78:1 / 1080/24p / MPEG-4 AVC / 97:44

Audio


English LPCM 1.0
Subtitles for the hard of hearing

A solid lossless, mono track typical of the period. Dialogue is very clear and easy to follow, music is clearly levelled in the track, never becoming overbearing. The score makes its presence felt much more in the soap opera bits being more flamboyant.

Extras


Audio commentary with star Jim Dale and moderator Nick Pinkerton
Anyone who's heard Dale's other yaktraks (Carry On Again Doctor, Carry On Doctor) will know what to expect. He seems to be a very genial bloke and full of anecdotes and humour. He discusses his music and stand-up career, and more extensively his desire to do serious theatre work and his relationship with writer Peter Nichols.

"Back to Health: An Interview with Peter Nichols" featurette (23:45)
Fascinating interview with the main man himself. His experiences suffering with collapsed lungs under NHS care in the '60s and how he observes people in real life for the characters portrayed. He touches on how the names of each character have meaning to who they are and most interestingly how Laurence Olivier didn't like his writing, preferring plays that gloried in being British rather than commenting on social issues.

Original Theatrical Trailer (3:06)
The theatrical trailer; nothing more to say really.

Image gallery: on-set and promotional photography
32-page liner notes booklet with a new essay by Laura Mayne, and other articles.
Mayne sets the scene for the creation of the film and how it was received. She discusses influences and the careers of the main players. Also, we get interviews with both playwright Peter Nichols and director Jack Gold.

Overall


Powerhouse Films have released a film on Blu-ray not currently available anywhere else in the world and perhaps one whose main commercial market will always be the UK. This is a deep black version of a medical Carry On with understandably much greater depth and refinement. The disc is another knockout for Powerhouse Film's Indicator Series with great image and sound and a tight little package of extras being the icing on the cake.
| | | | | |
| --- | --- | --- | --- | --- |
| The Film: A | Video: A+ | Audio: A+ | Extras: A | Overall: A+ |

---
DVD Compare is a participant in the Amazon Services LLC Associates Program and the Amazon Europe S.a.r.l. Associates Programme, an affiliate advertising program designed to provide a means for sites to earn advertising fees by advertising and linking to amazon.co.uk, amazon.com, amazon.ca, amazon.fr, and amazon.de.