The Show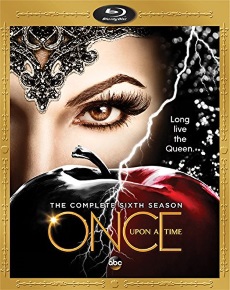 The unholy and unwieldy spawn of ABC, Disney, and the writers of Lost that is Once Upon a Time arrives on Blu-ray in its sixth season. Long, very convoluted story short: The Evil Queen Regina (Spiders' Lana Parrilla) obtained a curse from her mentor Rumplestiltskin (Trainspotting's Robert Carlyle) that enabled her to transport characters from fairy stories – including her stepdaughter Snow White – to the real life town of Storybrooke, Maine where they have been living without their memories for the past twenty-eight years, unaged and never reaching the end of their respective stories (although some have achieved something like happily ever after): among them, her stepdaughter Snow White who is a local school teacher Mary Margaret (Big Love's Ginnifer Goodwin) being courted by pauper turned Prince Charming – initially introduced as an amnesiac – David Nolan (Red Tails' Josh Dallas), Jiminy Cricket is town psychiatrist Dr. Archibald Hopper (Risky Business' Raphael Sbarge), Regina's sister Zelena (The Devil Wears Prada's Rebecca Mader) is the Wicked Witch of the West, and a reformed Captain Hook is now Killian Jones (Storage 24's Colin O'Donoghue). Into this town – which also included incarnations of Pinocchio, Snow White's huntsman, and Red Riding Hood – comes bail bonds bounty hunter Emma Swan (House, M.D.'s Jennifer Morrison) who is actually Snow White's daughter, rescued before Regina cast the spell and having grown up in the real world. Regina herself overseas the town as mayor, raising adopted Henry Mills (Mad Men's Jared Gilmore) who is actually Snow White's grandson that Emma gave up for adoption, and Rumplestiltskin is wealthy antiques dealer Mr. Gold who courted and fell in love with Belle (Lost's Emilie de Ravin) under the guise of Beast. Once the spell was broken, Emma and the residents had to readjust to their old identities and their new relationships while dealing with the machinations of Rumpelstiltskin and Regina, and then other villains as Rumpelstiltskin thought himself redeemed by true love and Regina – grief stricken after the death of Robin Hood (Meet the Spartans' Sean Maguire) – managed was able to separate herself from the Evil Queen using the modified serum of Dr. Jekyll (Insidious: Chapter 2's Hank Harris) and ostensibly destroy that half.

As season six opens, life as the characters are readjusting to it is disrupted by a flying dirigible that crash-lands with refugees from the "Land of Untold Stories" brought there by new old supervillain Mr. Hyde (Being Human's Sam Witwer). Although Emma and company are able to subdue and capture him, Emma is troubled by a vision that comes with tremors whenever she uses her powers, and Hyde tempts her with knowledge of the meaning of the visions; but an Oracle (The Shack's Jordyn Ashley Olson) who came with the refugees lets her take on the burden of the future, whereupon Emma learns that her visions are of the end of her story: her death at the hands of a powerful enemy. Having turned a new leaf, Regina seeks to make Storybrooke a safe place for the refugees who live in fear of the end of their stories – including Clorinda (Chuck's Mekenna Melvin) and her mother Lady Tremaine (Gone Girl's Lisa Banes) – respectively the stepmother and stepsister of Cinderella who has been living in the town as Ashley Boyd (Falling Skies' Jessy Schram) – the Count of Monte Cristo (The Legend of the Seeker's Craig Horner) whose vengeance is not yet sated, and Jasmine (The Scorpion King 2: Rise of a Warrior's Karen David) is searching for lost savior Aladdin (I, Frankenstein's Deniz Akdeniz) – and Emma elects to help them, working together with Regina, Henry, David, Mary, and Hook to determine why they fled to the Land of Untold Stories in the first place to help them find closure and move on with their lives anew in Storybrooke where they can make their own stories and find happy endings. The reason Mr. Hyde brought them to Storybrooke becomes apparent, however, when he is sprung the the Evil Queen herself, who is doubly evil now that she is free of Regina and is eager to see the worlds of the Storybrooke crumble as she hastens their endings by unnatural means. Having taken Hopper's form to learn of Emma's visions, the Evil Queen relishes telling of the futility of her work as a savior, giving all of herself until there is nothing left only to have all of her achievements wiped away by death.

The dual foci of the season is how Emma's knowledge of her foretold death affects both her ongoing mission as Savior – mirrored by the existential plight of Aladdin after having been shown the purported end of his story by tormentor Jafar (The Mummy's Oded Fehr) – and the family she is building with Hook, Mary, Henry, and step-grandmother Regina, as well as the inseparability of one's good and dark sides as Regina learns that she still has the capacity for evil apart from the Evil Queen, Rumplestiltskin forced to make deals with Hyde and the Evil Queen and even trapping Belle again in order to protect her after she has resolved to be done with him after a warning from their unborn child, while Jekyll and Hyde both shockingly reveal unexpected depths in the season's most surprising twist. Although Morrison did not announce until after the season's run that she would not be returning for season seven, the knowledge of it before viewing the season on disc did enhance the suspense as to her character's fate more so than the "killing off a character for ratings" trend of a lot of the show's ilk (presumably more invested viewers of the show must have also feared for the fate of its lead without this knowledge since the Oracle told Emma that she could change the journey but not the outcome). Relying on a structure that juxtaposes present day and flashback material throughout, the problem is that the flashbacks are often uninteresting, iterating material that actually could be better said than shown; that virtually every episode of the season has the same running time down to the second suggests that some of the flashbacks could indeed be padding. The need to give equal screentime to all of the principals also means that the show sometimes cuts away to a placid scene when it should be ramping up the tension (the worst offender being an early episode in which an exciting chase gives way to scenes showing Mary trying to get through to her students effectively in class). Performances are variable but more often than not suited to the campy nature of the show, with the only truly distracting performance from Akdeniz whose Aladdin has an accent that veers from his native Australian to cockney English to something else and back. The twists in the "retelling" of familiar fairy tales can be diverting when they do not have to go through too many contortions to tie them in with the show's mythology, but the Disney connection is not as subtle as it believes it is with its short quotations of theme music and flashback visualizations that owe more to the popular films than earlier film and literary versions. In spite of itself, the show still manages to be compelling in its broad strokes even for viewers coming into it with only cursory knowledge of the previous seasons.

Video


Photographed with the high-speed Alexa AV camera and mastered in 2K, Once Upon a Time's 1080p24 MPEG-4 AVC 1.78:1 widescreen image looks fantastic during live action sequences with vivid textures in facial features, special effects make-up designs, and the settings while greenscreen CGI background scenes look flatter and insultingly artificial (since the show is in its sixth season, one can presume that the fanbase is accustomed to this aesthetic).

Audio


Audio options include DTS-HD Master Audio 5.1 and a Dolby Digital 2.0 stereo downmix. The stereo track gets the job done but the 5.1 is the recommended option as the greater depth and spread of the music and sound design enhance ones enjoyment of the show even when the plot is at its most incoherent. Optional English HoH, French, Portuguese, and Spanish subtitles are also provided.

Extras


The disc has only one audio commentary track, this one on "The Other Shoe" by director Steve Pearlman (the V remake) and writers Jane Espenson (Buffy the Vampire Slayer)
& Jerome Schwartz covering both the episode itself and providing an overview of season six. "The Storybrooke Songbook: Inside the Musical Episode" (10:20) is a short featurette devoted to episode 6.20 "The Song in Your Heart" while "The Fairest Bloopers of Them All" (7:46) is the requisite gag reel. Also included is a selection of deleted scenes (28:17) that are separately playable but not indexed by episode.

Overall


The unholy and unwieldy spawn of ABC, Disney, and the writers of Lost that is Once Upon a Time manages to be both absurd and entertaining even in its sixth season.