Day in the Death of Joe Egg (A) (Blu-ray) [Blu-ray]
Blu-ray ALL - United Kingdom - Powerhouse Films
Review written by and copyright: Rick Curzon (6th September 2017).
The Film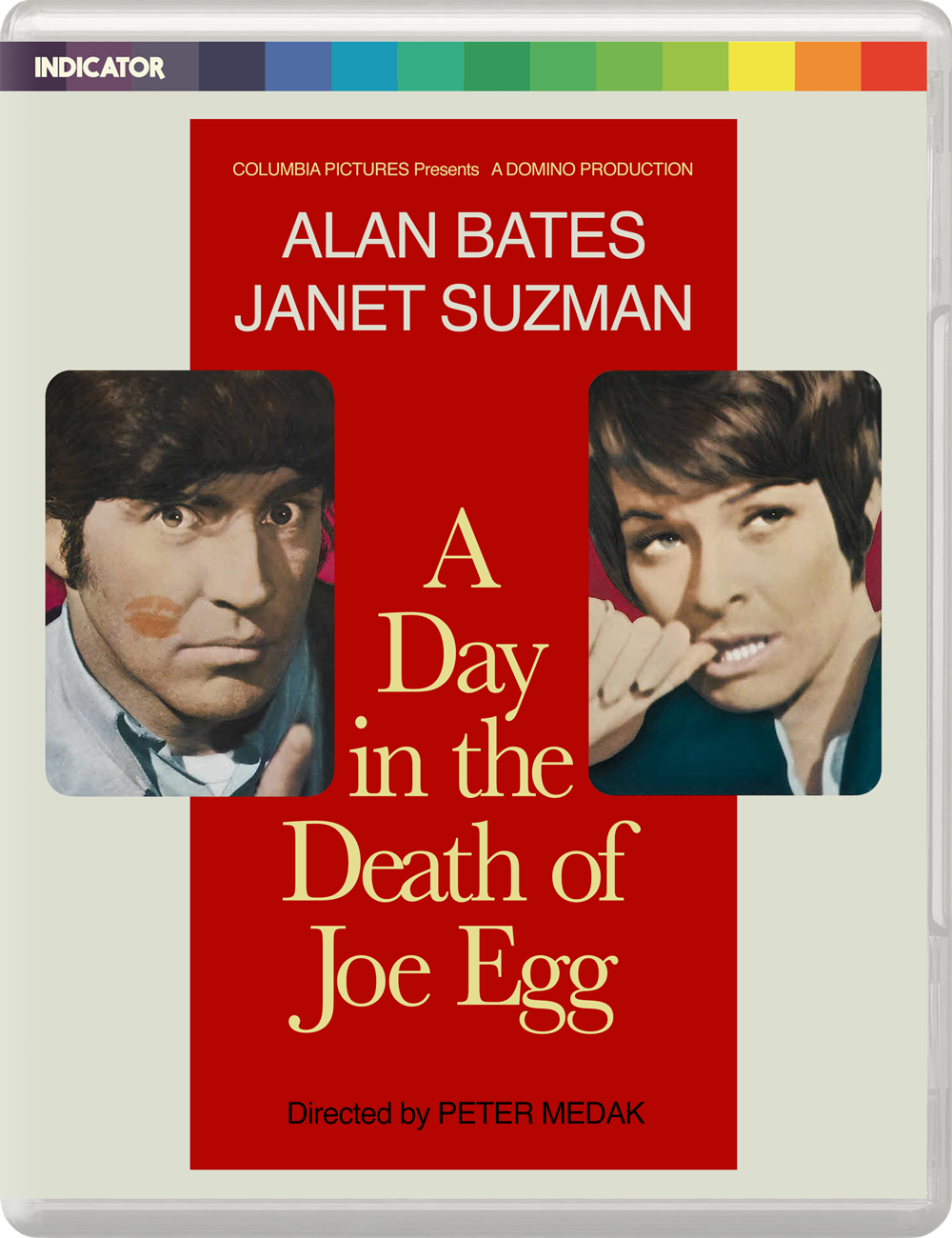 Playwright Peter Nichols adapted his own blackly comic 1967 Tony Award-winning play for this confrontational film version by director Peter Medak. Alan Bates and Janet Suzman play a married couple struggling to come to terms with their daughter's disability using comedy and cruelty to dispel the desperation of their situation. This uncomfortable, provocative film about marriage, children and life choices is startlingly funny as well as deeply moving.

Video


Very well directed, accomplished film from Nichols play. A drama about a couple (Janet Suzman, Alan Bates) who have a severely mentally disabled child who can't communicate or respond much to outside stimulus. That said, it's extremely grim with a top notch cast (also Joan Sims, Peter Bowles, Sheila Gish) and director (Peter Medak). It's very much a photographed stage production and Nichols feels the film is too sentimental, although I don't personally see that; it left me in a deep funk. Undoubtably a great film, but it's a little too grim and blackly comic for me. Look for Jean Mash in a cameo.

It's interesting to note that the film is a 1970 film but the producer of Nicholas and Alexandra (1971), Sam Spiegel lent on Columbia - who distributed both Joe Egg and Nicholas - to hold the film's release back by a year or so till 1972 because he wanted to introduce Suzman. But, it's important to state the film very much came out of the 1967 Play and was a very hot property in 1970. Nichols was writing from his own experience here having a daughter who died age 11 who suffered from the same condition depicted here. Powerhouse Films as part of their Indicator Series (#039) have yet a another worldwide BD debut ... I'm afraid I'm making like a mynah bird with these reviews; all four films I've looked at from them are British films from the 1966-73 period

The image is as usual very true to it's source with a fairly robust if then fashionable use of colour. Unlike The Deadly Affair (1966) which was deliberately desaturated this film is more in line with The Reckoning (1969) and The National Health (1973) having a slightly more stylised, ever so slightly artificial aesthetic. I noticed that Medak employs some quite deep shadows, slow motion. The play itself also has several day dreams as Suzman and Bates fantasise about how they feel abot their child with Bates feeling that euthanasia being an option.

Black levels are excellent and I couldn't see any signs of crush. Contrast is fairly low key which suits the interiors; colours are more naturalistic but robust and richer than those in the other afore mentioned Powerhouse releases. This has the usual maxed out bitrate and topnotch encode; no gaps in the grain and no signs of posterisation, mosquito noise or other unwanted artefacts. No signs of DNR or edge enhancement. Bravo!

A Day in the Death of Joe Egg gets a typically flawless Indicator Series Blu-ray release in the slightly pillarboxed European standard ratio of 1.66:1. It's possible that purists may balk at that with this being a UK / US production 1.85:1 would've been most likely.

1.66:1 / 1080/24p / MPEG-4 AVC / 106:34

Audio


English LPCM 1.0
Subtitles for the hard of hearing

A solid lossless, mono track typical of the period. Dialogue is very clear and easy to follow, what music there is, is clearly levelled in the track never becoming overbearing.

Extras


Audio commentary with director Peter Medak and film historian Sam Dunn
Excellent commentary that spends a fair amount of time on discussing Medak's career, how he arrived in the UK, his first film Negatives (1968), the stage productions of the play etc. The disappointment Nichols felt for the film is also discussed. Interesting discourse on the nature of film making under the strangle hold of the UK unions at the time. Dunn is an excellent moderator, prompting Medak at key moments and never letting anything fall by the wayside. A great track. No surprise to anyone who has heard Medak discuss Species II (1998) on the yaktrak for that film.

"From Stage to Screen: Peter Nichols on Joe Egg" featurette (19:44)
Nichols opens by stating that this play is THE one who changed his life being based in his own experiences dealing with his brain damaged first born child. He's not keen on the film feeling that it's too sentimental and emotional.

"Remembering the Day: Janet Suzman on Joe Egg" (17:30)
The esteemed actress is very proud of the film and discusses how she hadn't actually seen the stage production before she took on the film. She enjoyed working with Medak and how she found the story of a marriage falling apart as emotionally draining. Also brought up is the delayed release.

Original theatrical trailer (3:06)
Potted version of the film that emphasizes the humourous and then dramatic nature of the piece. No narration and it uses Elgar.

32-page liner notes booklet with a new essay by Marcus Hearn, Peter Nichols on the making of the film, and a look at the original Citizens Theatre stage production
Hearn is meticulous when it comes to his liner notes booklets and I'm a great fan of his work ever since he edited Doctor Who Magazine back in the '90s. He covers the film, the play and all the key participants and the road to the big screen well. An excerpt from Nichols' diaries shows how disappointed he was in the film and in Medak and how he favoured TV more as it respected the writer's wishes more.

Overall


Although the film was of less to my taste than the other three Powerhouse / Indicator releases I've reviewed I'm grateful to them for affording me the opportunity of finally seeing this groundbreaking and well regarded film adaptation of the play. The disc is well up to the high standards expected of Sony masters and of Powerhouse and their team of heroes and heroines who oversea these wonderful releases. It's so joyful to see such a good job being done and you just wish all companies releasing hard copy formats would take the same levels of care and attention over every aspect of their releases.
| | | | | |
| --- | --- | --- | --- | --- |
| The Film: B | Video: A+ | Audio: A+ | Extras: A+ | Overall: A+ |

---
DVD Compare is a participant in the Amazon Services LLC Associates Program and the Amazon Europe S.a.r.l. Associates Programme, an affiliate advertising program designed to provide a means for sites to earn advertising fees by advertising and linking to amazon.co.uk, amazon.com, amazon.ca, amazon.fr, and amazon.de.