The Film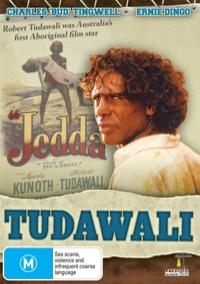 "Tudawali" (1988)


Ernie Dingo delivers an outstanding portrayal of Robert Tudawali, the first Aboriginal film star, whose lead role in "Jedda" (1955) is iconic in Australian cinema. The film traces the life of Tudawali from the moment he's selected to play the lead in Jedda, right through until his premature death at around age 40 from severe burns. It also portrays the stark contrasts between Tudawali's home outside Darwin, and his life in Sydney, where he did most of his filming for movies and TV series. This powerful and important story also stars Charles "Bud" Tingwell and serves as a vital document on Australian film history and Aboriginal culture.


"Tudawali" was a made for television production directed by Steve Jodrell, showcasing one of the most important stars to emerge in Australia, whose rise to fame also led to many hardships including harsh racism and personal battles with family and career. In July 1967 while drinking he was involved in a brawl that led to some men either throwing him into a fire or lighting a fire around him. He died on July 26th 1967 in hospital. Taking a non-linear form, the film starts with Tudawali in the hospital suffering after the burns, and frequently jumping back and forth in time, showing how he rose to fame, the sad years where his career stalled, and the terrible encounters he had to face over the years. It is not a complicated issue and is structured in a fairly easy to follow structure, though one wonders why this was not told in a standard chronological format as the flashbacks did not seem to add to the narrative flow. The standout performance comes from Ernie Dingo, who later became one of the most famous Aboriginal actors in the world with his role as Charlie in "Crocodile Dundee Part II" (1988), the same year as "Tudawali". Like Tudawali, he had no formal background in acting but came naturally, and he also led a fairly rural life until his brush with fame. Luckily Dingo's career has thrived in his native Australia throughout the decades on film and television, with an almost mythical role in the 2016 film "Rough Stuff".


Although made for television, the film did play at various festivals including the Toronto International Film Festival in 1988.


Note this is a region 0 PAL DVD which can be played back on any DVD or Blu-ray player with PAL capability

Video


Umbrella Entertainment presents the film in the original 1.33:1 aspect ratio without anamorphic enhancement in the PAL format. The DVD starts with a disclaimer that the materials used were not in the best shape and it does show. Shot on film, the titles and credits are video superimposed showing that the mastered source was from a video master rather than the original 16mm elements. In addition to that the video master is a dated source with many issues. Colors are not very sharp, grain is very prevalent in addition to video noise, and there are interlacing issues (as the last screen capture shows). As many problems as there are, the film is still on the very watchable side with no major videotape error issues.

The film's runtime is 86:53.


Audio


English Dolby Digital 2.0 stereo
The stereo soundtrack is fairly shallow in terms of fidelity, but dialogue and sound does seem fine with no major issues such as pops or hisses coming through. Stereo separation is not used much so it does seem a bit of a waste. Not the most memorable track but it certainly gets the job done.

There are no subtitles provided on the disc.

Extras


"Walkabout: A Journey with the Aboriginals" documentary short (23:38)
Anthropologist Charles Pearcy Mountford made two documentary color short subjects in 1946 - "Walkabout" and "Tjurunga" showcasing the lives of Aboriginal people. Day to day aspects such as hunting, cooking, bathing, playing, and traditional rituals were recorded with participation from the filmed subjects. In 1976 by request the two films were combined together with some sensitive Aboriginal practices removed. This version of "Walkabout" is the 1976 edit.
in 576i PAL, in non-anamorphic 1.33:1, in English Dolby Digital 2.0 with no subtitles

"Oondamooroo" documentary (52:29)
This 1992 video documentary is a profile on actor Ernie Dingo. He visits his hometown of Mullewa, talks about his life from small town boy to major actor with no formal acting training, and his many other work done besides film, for example painting and teaching. Many clips of his films are presented, including "Tudawali".
in 576i PAL, in non-anamorphic 1.33:1, in English Dolby Digital 2.0 with no subtitles

Stills Gallery (40 stills)
The original poster for "Jedda", a series of behind the scenes stills from the production, and a shot of the cast at the BANFF TV festival are presented in a manual slideshow.

DVD-ROM
- Press Clippings (PDF)
A lengthy amount of press clippings include advertisements for the film, newspaper reviews and articles, and more.

This is a genuinely packed disc for a small television movie that could have easily been an extra itself on the "Jedda" disc. Umbrella Entertainment can be hit or miss with extras but this is easily a hit.

Here is an extract from the film, courtesy of Umbrella Entertainment:


Overall


"Tudawali" is one of the most important biopics of one of the most important actors of Australian cinema history. The film has its flaws but the messages are clear and honest, with especially a standout performance by Ernie Dingo in the title role. The Umbrella Entertainment disc has a less than stellar transfer in video and audio for the film but the content of the extras is top notch. Very recommended.
| | | | | |
| --- | --- | --- | --- | --- |
| The Film: B- | Video: C | Audio: C+ | Extras: B+ | Overall: B- |