The Show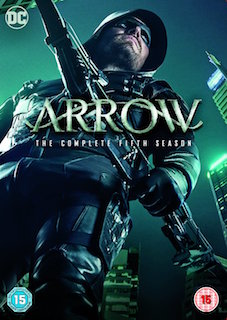 In its fifth season, Arrow decides to change things up a bit and get some new blood in. It's a good move to prevent the series from becoming overly repetitive, and gives an opportunity for Oliver to build a new team - altering the dynamics of the show to keep things fresh. On the other hand, Prometheus, the season's villain, is a mixture of new and interesting and old and familiar, giving some new angles for the show to explore whilst also hitting some of the same sort of notes as fans have come to expect from previous outings.

Since the rise of the spin-off The Flash, combined with Arrow's much longer run (as evidenced by this season containing its 100th episode), it feels a little at times like Arrow is taking more of a back seat in some ways, so the introduction of new people to Oliver's crew is a most welcome burst of energy for the series. In setting the scene this season it also feels like the next season will be the one to watch out for; now that the set up has been established, the forthcoming stories have the potential to make more impact.

The fifth season of Arrow includes 23 episodes, spread across five discs (five episodes per disc for the first four discs, three episodes for the last disc):
- "Legacy" (40:46)
- "The Recruits" (40:46)
- "A Matter of Trust" (40:47)
- "Penance" (40:34)
- "Human Target" (40:45)
- "So It Begins" (39:49)
- "Vigilante" (40:45)
- "Invasion!" (40:46)
- "What We Leave Behind" (40:46)
- "Who Are You?" (40:44)
- "Second Chances" (40:39)
- "Bratva" (40:47)
- "Spectre of the Gun" (39:45)
- "The Sin-Eater" (40:49)
- "Fighting Fire With Fire" (40:44)
- "Checkmate" (40:39)
- "Kapiushon" (40:44)
- "Disbanded" (40:46)
- "Dangerous Liaisons" (40:42)
- "Underneath" (40:44)
- "Honor Thy Fathers" (40:44)
- "Missing" (40:44)
- "Lian Yu" (40:45)

Video


Video is presented in 1.78:1 anamorphic widescreen. As with Gotham, Arrow is an inherently darker show, once again making heavy use of darker and more muted colour palettes. Unfortunately, given that Arrow has been surpassed by The Flash as the primary DC TV property, it seems Warner is cutting some corners with its DVD release, placing five episodes per disc rather than four. Whilst only one episode extra per disc, it unfortunately shows up quite a bit with the video, with a less crisp image that suffers a bit from the lower bitrates it necessarily can achieve. Whilst the DVDs of other DC series look pretty good on DVD, this fifth season of Arrow is noticeably weaker, although still watchable.

Audio


Audio is included in English Dolby Digital 5.1 and Castilian Spanish Dolby Digital 2.0 Surround, with optional subtitles in Danish, Finnish, Norwegian, Spanish (Castilian), Swedish and English for the hearing impaired. The show features both dialogue and a large amount of effects and action sequences. The audio is always clear and the surround channels are put to effective use during the more action-based scenes.

Extras


Warner has included a series of featurettes and deleted scenes for this release, along with a gag reel, spread across all five of the discs. (Each of the extras includes optional Spanish (Castilian) or English HoH subtitles. Other subtitle tracks can be selected, but do nothing.) Below is a closer look.

DISC ONE
This disc includes one deleted scene, from the episode "A Matter of Trust" (1:00), featuring a short bit of dialogue between Felicity and Curtis.

DISC TWO
This disc includes one deleted scene, from the episode "What We Leave Behind" (0:53), featuring an extra bit of conversation with Oliver, Adrian and Susan. It also includes a featurette, "Allied: The Invasion Complex (Arrow)" (12:13), that examines the second part of the four-show crossover (beginning properly on The Flash, continuing on Arrow, and concluding on Legends of Tomorrow). Each of the three main series has a related featurette on its home video release, and Arrow's one details how the middle part of the crossover - also Arrow's 100th episode - ties in to Arrow's overarching stories, what they chose to explore for Arrow's characters and the significance the events of the crossover have on those characters.

DISC THREE
This disc includes one deleted scene from the episode "Second Chances" (0:29), which adds a very brief extra scene involving Tina.

DISC FOUR
This disc includes five deleted scenes, one from the episode "Checkmate" (1:07), which adds a scene between Adrian and Susan giving more background context, three from the episode "Kapiushon" (3:33), which give an extended scene with Malcolm Merlyn, a scene with Anatoly and some Bratva, and a very brief scene with Konstantin, and one from the episode "Dangerous Liaisons" (1:10), which has a scene with Diggle and family.

DISC FIVE
This disc includes two deleted scenes, from the episodes "Missing" (2:20), which features an extended scene with Oliver and Adrian, and "Lian Yu" (1:16), which features a scene with a number of the team captured. Also included are two featurettes - "Arrow: 2016 Comic-Con Panel" (26:12) and "Returning to the Roots of Arrow: Prometheus" (14:41) - along with a fun and amusing gag reel (5:10). The Comic-Con panel featurette is the usual entertaining fare, providing some teases as to what the fifth season of Arrow would be set to contain, and acts as an interesting Q&A with the cast and crew behind the scenes. The "Returning to the Roots of Arrow" featurette takes a look at the main antagonist of the fifth season, the origin, motivation and impact of the character, and how this new adversary interacts with Oliver.

Packaging


Whilst packaging was not provided for this review, it is highly likely to be packaged in a 5-disc Amaray keep case, with three or four discs spread across the inside of the back and front of the case and a swing tray holding the remaining disc(s). It is likely that initial pressings will come in a slipbox and include a UV digital copy.

Overall


The fifth season of Arrow decided that a change of the make up of the show would help give it a new energy, a decision that works at least in part but also reminds a little that some of its best years are behind it. That's not to say that the upcoming sixth season will not be strong - it could be that after this change to the dynamics of the show, the series goes on to new highs - but that this season feels like a test to see how much mileage is left in the series. Nevertheless, the season is still enjoyable and this release includes a handful of interesting extra features. Unfortunately, the video lets the release down, and as such I would hesitate to immediately recommend a viewing on DVD.
| | | | | |
| --- | --- | --- | --- | --- |
| The Show: B+ | Video: B- | Audio: B+ | Extras: B- | Overall: B |