Lycan
R0 - America - MVD Visual
Review written by and copyright: Eric Cotenas (15th September 2017).
The Film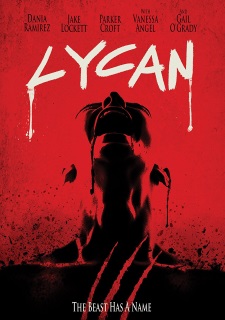 When their professor (Kingpin's Vanessa Angel) decides to forgo the final exam and assign them a final project in which they are to "rediscover a moment in history," six students – sensitive hunk Jake (1313: Night of the Widow's Jake Lockett), bitchy debutante Blair (Entourage's Rebekah Graf), ditzy pledge Crissy (The Hunger Games' Kalia Prescott), pot-smoking wannabe filmmaker Kenny (Were the World Mine's Parker Croft), trying-to-be-anything-but-token-black-guy Irving (12 Years a Slave's Craig Tate), and loner Isabella (Devious Maids' Dania Ramirez) – decide to venture deep into the woods in search of the grave of Emily Burt, "The Talbot County Werewolf" who was suspected of a series of farm animal mutilations at the turn of the century and rumored to be buried on private land bordering the farm of Mrs. Fields (NYPD Blue's Gail O'Grady), the widow who took orphaned Isabella in and keeps her on as farm labor. Renting horses and packing insufficient camping supplies, they camp out, smoke pot, and tell ghost stories while Irving accidentally gets roofied with a drink Kenny intended for Crissy. After one of their number go missing during the night, the others go off trail in search of her and quickly get lost (also managing to stumble across a Texas Chain Saw Massacre-esque shack of hanging bones, animal innards, and gutted human remains). Is the ghost of Emily Burt stalking them or might one of the group be the werewolf?

Starting off almost like an affectionate homage to nineties teen-oriented Dimension Films horror flicks with its college setting, hipper-than-thou teenagers, and frequent indie rock digressions, Lycan is pretty by-the-numbers for the bulk of its running time apart from some chills worked up amidst a delirious intercutting of drugged Irving's sweaty nightmares and a shadowy presence lurking outside the tents of his fellow campers. The ambiguity as to whether the film is dealing with a real werewolf or a character suffering from the psychiatric form of lycanthropy can only go so far without a novel twist, and the film's characters are ultimately not interesting enough to make much of the climax. Slickly shot for very little money by actor-turned-director Bev Land (husband of actress Ramirez) and co-written with still photographer Michael Mordler, Lycan capably demonstrates that they are technically proficient and have the aesthetics of modern horror down, making one wish they had either done more work on the story or afforded less of their resources on the final product so that could be brought out as a feature-length extra on another film more representative of their potential.

Video


Photographed with the Digital Bolex D16 camera, the film has a sharp and colorful look throughout and MVD's relatively high bitrate dual-layer progressive anamorphic encode is free of any overt compression issues.

Audio


The sole audio option is a Dolby Digital 2.0 stereo mix that gets the job done in terms of restrained sound design punctuated by wolf howls and musical stings. Dialogue is cleanly recorded and mixed. There are no subtitles or captions.

Extras


Interviews with the Cast and Crew (27:28) finds Ramirez recalling how spending time at her husband's parent's farm (the shooting location) inspired their decision to do a horror film and working on the script with him and writing partner Mordler while she was in the hospital having a baby. Land and Mordler recall the beginnings of their friendship, their ambition to make movies of their own, and putting the film together. Croft, Graf, and Angel discuss their friendships and working relationships with Ramirez and express their excitement over the script and their memories of the shoot, while actress-turned-producer Crystal Hunt and camera operator/second unit director Steven C. Pitts provide more of the same from a behind the camera perspective. A panel discussion (19:08) finds Ramirez, Land, Mordler, Hunt and her mother Nada Hunt (who also produced) sharing their memories of how the shoot came together and their responsibilities beyond their titled roles. The theatrical trailer (1:20) is also included.

Overall

---
DVD Compare is a participant in the Amazon Services LLC Associates Program and the Amazon Europe S.a.r.l. Associates Programme, an affiliate advertising program designed to provide a means for sites to earn advertising fees by advertising and linking to amazon.co.uk, amazon.com, amazon.ca, amazon.fr, and amazon.de.