The Film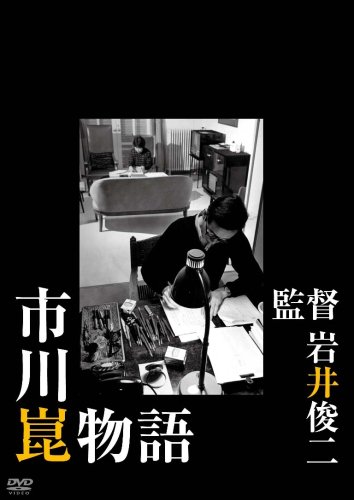 "The Story of Kon Ichikawa" 「市川崑物語」 (2006)

In 2006, film director Kon Ichikawa was looking at an incredibly busy year. He directed "The Inugamis", a remake of his groundbreaking and iconic 1976 feature "The Inugami Clan", directing one segment to the ombibus film "Ten Nights of Dreams" with the segment of second night, and being part of the documentary profile "The Story of Kon Ichikawa", a biography directed by Shunji Iwai. All three productions would open within two months after his 91st birthday. "The Story of Kon Ichikawa" opened on December 9th, 2006 in select arthouse cinemas, "The Inugamis" opened wide in cinemas across Japan on December 16th, 2006 and "Ten Nights of Dreams" on January 27th, 2007. With more than 70 films directed in a career that started in pre-war Japan, the master director had crafted countless classics revered by critics and loved by moviegoers over the decades in Japan and around the world. But who was Ichikawa and how did he craft his work? Iwai's portrait aimed to uncover the filmmaker's past, though in a very unconventional way.

Unlike the standard biography documentary, Iwai opted not to use the standards - no talking heads, no audio clips, no narration. Instead it is told like a silent film. Intertitles are placed to give narration, 3D converted photographs are used to give life to the flat vintage shots, footage of childhood is recreated, and clips of the director's films are placed throughout to give a fully rounded chronological look at the first 90 years of the director's life. From his birth, his school life, his luck in not having to serve in the military during the war, his lengthy career, and meeting the love of his life, screenwriter Natto Wada are told through words quoted by Ichikawa, but mostly through the words of Iwai, which becomes very personal when he mentions his first encounter with an Ichikawa film when he was a child. Most film aficionados would know Ichikawa through films such as "An Actor's Revenge", "The Burmese Harp" (the original and the remake), "Fires on the Plain", "The Inguami Clan", "Dora-Heita", and "Tokyo Olympiad", the director has made a variety of films in various genres from samurai films, female revenge films, documentaries, literary adaptations, and emotional dramas, but most may not know that his earliest work was in animation, heavily influenced by Walt Disney and the slapstick antics of Harold Lloyd, Buster Keaton, and Charlie Chaplin. Most will also know that his longtime screenwriting partner and wife penned some of his most famous and acclaimed adaptations, but most do not know about the hardships he faced after her retirement and how the 1976 film "The Inugami Clan" rebooted his professional career to new heights with its vigorous cutting style, memorably gory effects, and an impressively huge cast.

Clips of the director's lengthy filmography is presented such as the aforementioned films, and the last to appear is the director himself on the set of 2006's "The Inugamis", as active as ever in the production. Sadly this would be his final feature film production as a director with his passing on February 13th, 2008 at the age of 92. His final "work" would be a cameo appearance in writer/director Koki Mitani's film "The Magic Hour" as himself directing a film within the film. Nearly a decade after his passing, the master director's legacy has only grown in stature, with retrospectives in cinemas and on television, restorations of his classic works, and even rediscoveries such as the long lost animated short "Yowamushi Chinsengumi" from 1935 and "Japan and the Japanese" a documentary short film made for the 1970 Osaka Expo which utilized 8 projectors and 8 film reels (which was restored in 2015 but sadly with the soundtrack missing). Shunji Iwai's unique portrait was a thank you letter to one of the most influential filmmakers in Japanese cinema and is a unique experience altogether.

Note this is a region 2 NTSC DVD which can be played back on region 2 and region free DVD or compatible Blu-ray players.

Video


Pony Canyon presents the film in the 1.78:1 aspect ratio with anamorphic enhancement in the NTSC format. There is a very thin black border on the left, right, and bottom of the frame. Video quality varies from place to place as it includes a variety of source materials. The intertitles are in black with white writing that is given a slight wobble for a faux projector effect along with the projector sound effect. The recreation footage has high contrast with blasting whites which is intentional. The film clips vary from slightly faded colors or crisp black and white depending on which film is featured. The aspect ratios for the film clips are in their original ratios of 1.33:1, 1.50:1, 1.85:1, 2.35:1 respectively. There are also clips of the Walt Disney short "Three Orphan Kittens" from 1935 and the feature "Fantasia" from 1940 which both look very good, coming from Disney's restored sources available on DVD at the time. Overall the film looks very good and fans should be pleased with the transfer.

The film's runtime is 82:29.


Audio


Japanese Dolby Digital 2.0 stereo
The original stereo track is presented in Dolby Digital, and although labeled "Japanese" most of the film is in fact silent with music accompaniment. The Japanese dialogue comes from the film clips as well as a few moments of Ichikawa on the set of his final film near the end. The music sounds great making use of the stereo separation well, and the original audio from the films sound fairly good with no major issues of hisses pops or cracks, except for the early animated film clips.

There are optional English subtitles for the Japanese audio as well as the Japanese intertitles in a white font. They are presented in a legible font with no issues of spelling or grammar errors.

Extras


This is a 2 disc set with the film on the first disc and the second disc including all the extras.

"Kon Dan - Part 1" documentary (45:37)
This interview between Kon Ichikawa and Shunji Iwai was conducted at Ichikawa's home in October 2006, near the end of productions of both "The Inugamis" and "The Story of Kon Ichikawa". Ichikawa gives a few additional details such as the miraculous survival of his family from the Hiroshima atomic bomb, his first encounter with his wife, how he was determined to move to France and become Jean-Luc Godard's disciple at one point, his relationship with master cinematographer Kazuo Miyagawa and much more.
in anamorphic 1.78:1, in Japanese Dolby Digital 2.0 with optional Japanese subtitles

"Kon Dan - Part 2" documentary (18:26)
This Q&A session with Ichikawa and Iwai post screening was conducted in January 2007 at Garden Cinema in Shinjuku in Tokyo, Japan. The pair walk about their meeting, Ichikawa's thoughts about being the subject of a film for the first time, how Ichikawa inspired Iwai's editing style, and more. The audio is unfortunately a bit flat and tinny and the transfer is interlaced.
in non-anamorphic 1.33:1, in Japanese Dolby Digital 2.0 with optional Japanese subtitles

Profiles (text)
- Kon Ichikawa
- Natto Wada
- Shunji Iwai
- Takashige Ichise
Short biographies are written for each.
in Japanese

Theatrical Trailer (1:37)
The trailer like most of the film has no dialogue and only music with intertitles.
in anamorphic 1.78:1, Dolby Digital 2.0 with Japanese text

Booklet
A 20 page booklet is enclosed. An introduction to the film, information on Ichikawa, Natto, Iwai, and Ichise are repeated, and complete filmographies for Ichikawa and Iwai are presented. Also included are DVD production credits.

A good selection of extras are here, but as stated the bonus materials are not English friendly.

Packaging


The set is packaged in two separate cardboard digi-pack cases which house one DVD each. Those digi-packs are housed in a sturdy outer case. Also included are 2 postcards and the booklet inside.

Overall


"The Story of Kon Ichikawa" is a unique documentary experience from director Shunji Iwai. An homage to silent films, visual essays, and a tribute to the master filmmaker's life and career, it is a loving tribute that frankly only scratches the surface of the lengthy career and life of Ichikawa. Pony Canyon's presentation is great with video, audio, extras, and very nice packaging, plus the film comes with English subtitles making it friendly for international audiences. Highly recommended.
| | | | | |
| --- | --- | --- | --- | --- |
| The Film: A | Video: A- | Audio: A- | Extras: B | Overall: A- |