The Film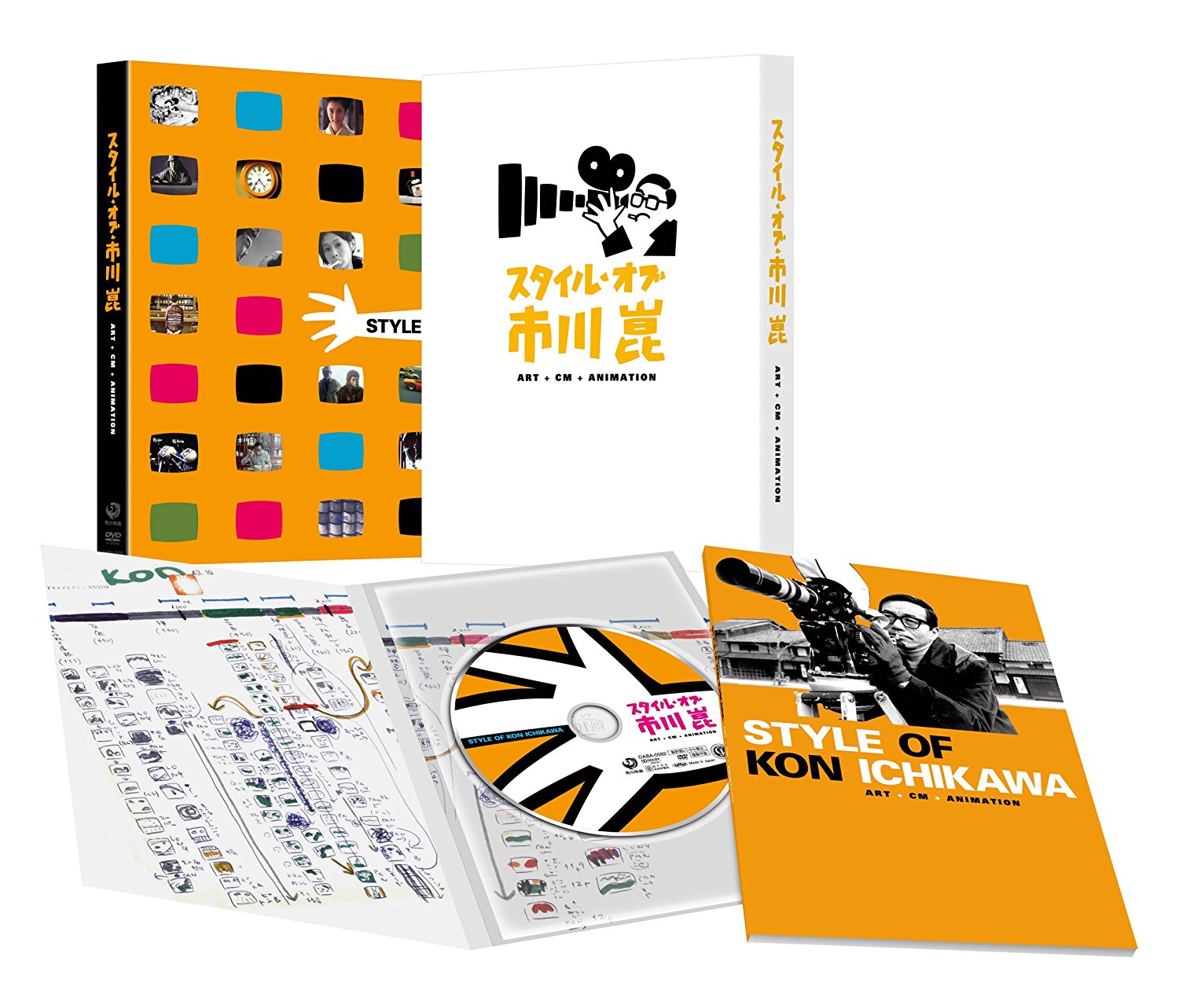 "Style of Kon Ichikawa" Art + CM + Animation (1936-2000)

Filmmaker Kon Ichikawa's career in cinema spanned more than 70 years, from his entry as an artist in 1933 to his final directorial feature film released in 2006, with more than 70 features in his filmography. And while that seems like a lot that doesn't cover even half of his other output. Animation, TV productions, commissioned documentary works, television commercials are some of the other arts that the director had dipped into over the years and he was known for his versatility in style.

The director's foray into filmmaking was not live action cinema but as an artist in animated shorts which where heavily influenced by Walt Disney's innovative cartoons. The early animated shorts that Ichikawa worked on were surprisingly on par with what many of the American studios were doing at the time, though they had significant limitations with technology and budgets resulting in a lot more use of repeated cells and a lack of color productions. "Shinsetsu Kachi Kachi Yama" is one of the few animated works that has survived from Ichikawa's time at J.O. Studios. While it may look and feel like early Leon Schlesinger-era Warner Brothers cartoons or the Fleischer Brothers shorts with its gags and rounded characters, it was distinctly a Japanese production with the very loose adaptation of the traditional story "Kachi Kachi Yama". At the time that this DVD set was released in 2008, "Shinsetsu Kachi Kachi Yama" was the earliest surviving work of Ichikawa's. In 2013 that would change with the discovery of "Yowamushi Chinsengumi", an animated short from 1935 directed by Ichikawa which was later restored and screened at various festivals.

"Musume Dojoji" was Ichikawa exploring animation again in the post war period, but rather than cell animation, it was marionette animation making it a certain link between his traditional animated period and his later feature films. While Ichikawa put in a great deal of work into making the very difficult puppet animation come to life, the Buddhist theme gave it a red flag for the occupying American censorship offices and subsequently banning the film to be shown. Done mostly without dialogue until about halfway through, the musical short was a technical marvel in editing, but safe to say there is so much that can be done with the expressionless faces of the characters. Ichikawa would to a certain extent work with puppets again in the Italian-Japanese co-production "Topo Gigio and the Missile War".

The director's most famous documentary was 1965's "Tokyo Olympiad" the feature documentary film commissioned by the Olympic Committee to document the 1964 Tokyo Summer Olympics, and to this day considered one of the finest sports documentaries in history. In 1967 Ichikawa was approached to making a film to commemorate Italian-Japanese relations, with funding coming from Olivetti, the Italian typewriter company. The documentary was focused on the ancient capital city of Kyoto, and Ichikawa enlisted architect Kenzo Tange and graphic designer Yusaku Kamekura as supervisors, poet Shuntaro Tanikawa to provide the narrative script, and avant garde composer Toru Takemitsu to compose the minimal score for the 40 minute production. Concentrating on tradition - from the rock gardens, the discipline of Buddhist monks, and mikoshi (portable shrine) festivals, it is not a modern take on the city but the traditions that have lasted for hundreds of years.

With the rise of televisions in Japanese households after the Tokyo Olympics in 1964, theatrical cinema started to spiral downward with the closing of movie theaters and an increase in television productions. Ichikawa directed episodes of the 1972 TV series "Kogarashi Monjiro" and made a series of television commercials from the 1960s all the way into the 2000s. Railway commercials to promote travel, toothpaste ads, horseracing - a wide variety of products. Big corporate names such as Bridgestone, Toyota, Suntory, and Fujifilm commissioned ads. Possibly his most famous was the series made for Nichirei's corn potage which the director himself appeared in through an ongoing series of colorful TV spots. Some of the commercials are like miniature stories such as the Japan Central Horse Racing Committee spot and the ongoing Suntory Red commercials. There is a callback to Ichikawa's years in animation with the Pentel commercials using stop motion. Koji Ishizaka reprises his role as Detective Kindaichi from Ichikawa's film "The Inugami Clan" in a series of Toyota commercials.

Even if not growing up in Japan or not growing up in the time period, these commercials are an amazing and entertaining glimpse into the various periods' marketing strategies and how a master filmmaker was able to use the limited time frames to make mini masterpieces while still being basic commercials. Style of Kon Ichikawa offers nearly an hour of television commercials though note that this is not the "complete" collection. His filmography in the advertisement world was fairly lengthy and this collection offers the "best of" where they could get the rights to the ads for the collection, including spots for National-Panasonic, Seiko, Asahi Newspaper, Japan Railways Kyushu, Gold Crest, and more. While not complete, it is one of the most enjoyable DVDs available and is an essential part of any fan of Kon Ichikawa.

The single disc set includes the following short films and television commercials:


Short Films

"Kyo" 1969 film (37:36)
"Shinsetsu Kachi Kachi Yama" 1936 animated short (6:35)
"Musume Dôjôji" 1945 marionette short (19:27)


Commercials

Commercials (with Play All) (50:05)
- Play All 1966-1980 Commercials (14:42)
- Play All 1980-2000 Commercials (35:24)
-- White Lion (1966) (1:07)
-- Kunitetsu Discovery Japan
--- Kisoji Road (1971) (0:36)
--- Fukui, Heihei-ji Temple (1971) (0:36)
--- Hokkaido, Notsuke Peninsula (1971) (0:36)
-- Kunitetsu - Shinkansen Tokyo to Okayama -- 3 versions (1972) (1:08)
-- Bridgestone (1973) (1:06)
-- Honzukuri Kizakura - Cherry Blossom Dance version (1973) (0:36)
-- Toyota Starlet - Barber version (1975 (0:36)
-- Suntory Old - 2 versions (1977) (1:07)
-- Kubota - Business version (1977) (1:06)
-- Aquafilter (1978) (0:36)
-- Nichirei Corn Potage
--- Untitled 1 (1978) (0:37)
--- Untitled 2 (1978) (0:36)
--- Trademark Song version (1978) (0:36)
--- Jogging version (1979) (0:36)
--- Painting (1979) (0:36)
--- Ship (1980) (0:36)
-- Pentel Sharp
--- 10,000 Year CIL version (1979) (0:21)
--- Jet Click version (1979) (0:21)
-- All Toyota Sale
--- Spring Big Sale - 2 versions (1980) (0:36)
--- Bargain Big Sale - 2 versions (1980) (0:37)
-- Suntory Red
--- Rucksack - 3 versions (1980) (1:53)
--- Making Up - 3 versions (1981) (1:53)
--- Picture Book - 2 versions (1981) (1:37)
--- Basecamp version (1981) (0:21)
--- Sea of Clouds - 3 versions (1981) (1:53)
--- Thank You - 3 versions (1982) (1:38)
--- Man Gets Cold - 2 versions (1982) (0:52)
--- Welcome Home - 2 versions (1982) (0:52)
--- Telephone - 2 versions (1983) (1:37)
--- First Star - 3 versions (1984) (1:53)
--- Woman After Bathing - 2 versions (1984) (0:52)
--- Snowman - 3 versions (1984) (1:53)
--- Fishing - 2 versions (1985) (0:52)
--- Wedding Anniversary - 3 versions (1986) (1:53)
--- Riceball - 3 versions (1988) (1:53)
-- Suntory Old
--- Going Out - 3 versions (1989) (1:53)
--- Blackout Night - 3 versions (1989) (1:53)
--- Sight of Winter - 3 versions (1989) (1:53)
--- Sometimes Lovers - 3 versions (1990) (1:53)
--- New York - 3 versions (1990) (1:53)
-- "Witness for the Prosecution" stage play ad (1980) (0:21)
-- Fuji Color FII (1980) (0:21)
-- Fuji Video Cassette - Windmill version (1980) (0:36)
-- Ryukakusan - Etiquette (1983) (0:36)
-- Japan Central Horse Racing Committee - A Boy and a Horse (1983) (1:06)
-- Earth Chemical Co. - Earth Summer - Summer Vacation version (2000) (1:06)

Note this is a region 2 NTSC DVD which can be played back on region 2 and region free DVD or compatible Blu-ray players.

Video


Kadokawa presents most of the short films and the commercials in their original 1.33:1 aspect ratio without anamorphic enhancement in the NTSC format. Due to varying sources each has its positives and negatives.

"Kyo" is the best looking of all with a high definition transfer of the original film held at the National Film Center in Tokyo. The black and white segments look wonderful with deep blacks and grey tones, though there is one segment with overly blown out contrast as shown below, which is intentional. Colors are striking with the greens of the forest and the outdoor scenes with the mikoshi. There are some minor damage marks visible but overall depth and clarity are wonderful.




""Shinsetsu Kachi Kachi Yama" is the oldest and most damaged looking with scratches prevalent throughout, lost detail, and some blurriness in certain shots. While it has been cleaned and looks better than expected it does have irreparable damage to most of the frames. The aspect ratio is a little thinner at around 1.25:1 with thin black bars on the left and right sides.




"Musume Dôjôji" looks fairly clean as the film was banned and therefore not subjected to multiple screenings, leaving the film in good condition. Details is fine with a good grey balance, though there are the usual scratches and specs found in various portions of the frames.




The short films come from 24fps progressive transfers while the commercials are from NTSC sources. The interlacing can seems prevalent on some of the screenshots but on upscaled televisions they are hardly noticeable. Some seem to come from the original film while others such as more recent are from tape masters. The older commercials coming from film actually look better and sharper for most parts while the later post 1980s commercials have their issues being shot on film and later edited on video. Some of the ads look a bit washed out such as the Bridgestone ad but others such as the Nichirei ads and Toyota ads look very good with bold colors. Overall they are fair transfers from the best available sources with no videotape errors or major damage to be noted.


Audio


The following audio tracks are available for "Kyo":

Japanese Dolby Digital 2.0 mono
English Dolby Digital 2.0 mono
Italian Dolby Digital 2.0 mono
The narrations are provided by Hiroshi Akutagawa>, Michael Redgrave, and Giancarlo Sbragia respectively. The audio tracks are similar in fidelity with the minimal score by Toru Takemitsu's accompaniment fairly balanced. It certainly has its limitations but there are no hisses or pops to speak of.

There are no subtitles for the short. The print features the Italian language credits and captions.


The following audio track is offered on "Shinsetsu Kachi Kachi Yama" and "Musume Dôjôji":

Japanese Dolby Digital 2.0 mono
Both feature the original audio track and both have issues due to the source material. "Shinsetsu Kachi Kachi Yama" is filled with hisses and cracks and the dialogue is a little hard to catch due to damage. Music is fair but gets hissy and distorted with higher pitched sounds. "Musume Dôjôji" sounds a little better but it also has issues with the musical accompaniment, sounding distorted at times.

There are no subtitles for the animated films.


The following audio tracks are offered on the commercials:

Japanese Dolby Digital 2.0 mono
Japanese Dolby Digital 2.0 stereo
The earlier commercials feature the original mono audio while later commercials switch to stereo tracks. Overall the audio is fairly clear with very little damage. The earliest commercials from Lion and Bridgestone are a little distorted but most of the others are clean with voice overs sounding intelligible and the product names sounding clear, as they should. Overall these sound very good and people should be singing along with the jingles.

There are no subtitles for the commercials.

Extras


There are no on-disc extras but there is a lengthy booklet that accompanies the set.

64 Page Booklet
The following is provided:
- Notes and credits on "Kyo"
- Notes and credits on "Shinsetsu Kachi Kachi Yama"
- Notes and credits on "Musume Dôjôji"
- Notes and credits for all commercials
- Complete storyboards for "Musume Dôjôji" and behind the scenes stills
- Stills for "Kyo"
- DVD credits
The amount of information is fairly hefty with notes on the productions, issues faced on certain works, and information on some of the big name actors and actresses featured in the commercials. There are also notes on commercials not featured in the set. All the notes and credits are in Japanese.

There are no commentary tracks, interviews, or featurettes but the booklet does make up for it with the extensive information, though note it is not English friendly.

Packaging


The disc is housed in a digi-pack case which is packaged in a slipcase. The booklet is housed in the digi-pack case. There is also a single page flyer listing all the films and commercials in this set.

Overall


"Style of Kon Ichikawa" is a fascinating collection of non-feature works directed by the master filmmaker, with short films, animation, and television commercials. Kadokawa has compiled an excellent though not complete collection of various work by Ichikawa and the transfers are fairly good. Though only "Kyo" is English friendly and Italian friendly, all the other works are not. But considering the visuals and easy to understand narratives of the animated works and the simplicity of the commercials, non-Japanese viewers can still have a lot of enjoyment with the set. Highly recommended.
| | | | | |
| --- | --- | --- | --- | --- |
| The Film: A | Video: B | Audio: B | Extras: C+ | Overall: B+ |