The Film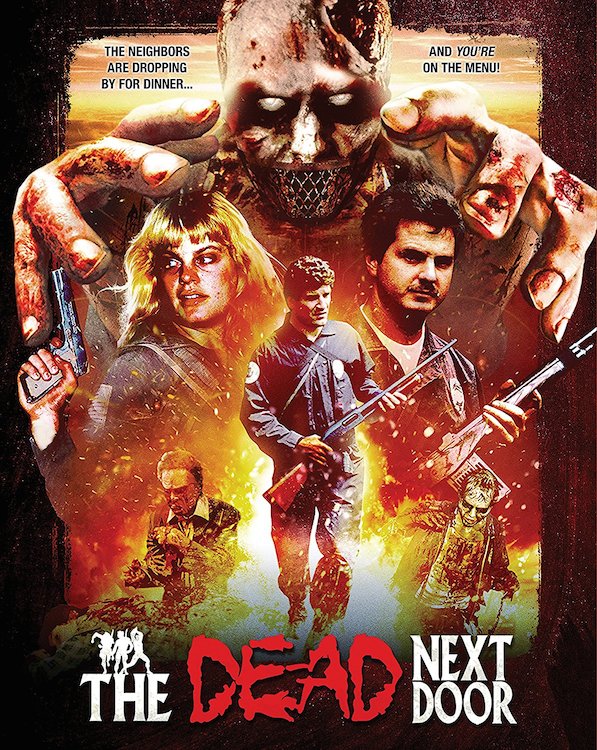 Shooting a low-budget feature film can usually be done in around 16 days, more or less. Some sadists can do it in as few as seven, while other shoots may become bloated due to factors beyond the production's control. But in the land of do-it-yourself, no-budget filmmaking the length of a shoot is often dictated by the availability of funds… and that can leave some homegrown pictures twisting in the wind for a long while. Micro-budget filmmaker J.R. Bookwalter rose to some prominence after making such a feature, "The Dead Next Door" (1989). An epic zombie film heavily inspired by all things George A. Romero, Bookwalter's micro-budget masterpiece has a scope to it that few films of such limited means have achieved. But it took a long time to see it through to the end; four years, to be exact, as filming began in 1985 and it wasn't until 1989 that the Little Cult Classic That Could finally met with audiences.

After struggling to complete his intended vision, a filmmaker with some insight into the difficulties of completing a feature on little more than ambition and generous donations came on board to assist Bookwalter – and that man was Sam Raimi. It is a poorly kept secret he helped finance the completion of this feature, though why he chose to remain anonymous is a mystery (if you do happen to know, please, comment below). Four years after production began Bookwalter saw his first feature finalized and, despite no major theatrical distribution, it became a hot ticket on the cult circuit – where it remains today, over 30 years later.

A zombie outbreak initially believed to be a hoax turns out to be real, and all across America people are being attacked and turned into flesh-craving fiends. A few years after the initial epidemic an elite group of soldiers led by Raimi (Pete Ferry), known as the Zombie Squad, are making their way across the country with orders to destroy every flesh-eater they meet. Meanwhile, government scientists have been trying to understand this new threat, working toward a cure but also a "zombie speech machine" that can allow the living to understand their dead brethren. The results of both appear promising but a nationwide rollout is still some time away.

While on their cross-country excursion, Raimi & co. come across a group of religious zealots who see the zombies as the embodied "Wrath of God"; mankind's overdue punishment for his wicked ways. The cultists use zombies in their rituals; even the reverend's son has crossed over to the undead side. Seeing the Zombie Squad mow down hordes of zombies galvanizes the religious wackos into strong action, as they mobilize and face down Raimi and his cohorts over a disagreement of beliefs. A standoff is imminent between the groups, though their skirmish seems small in comparison to the worldwide threat that continues to loom on the horizon.

Bookwalter's love of horror is clear from the opening frames, and this is one of those special pictures that makes up for the lack of a hearty cash flow with a truckload of heart. Ain't it sweet? Seriously, though, it is obvious based on character names – Raimi, Carpenter, King, etc. – and situations and the abundance of practical effects that Bookwalter is very much "one of us" and this film was made not so much to cash in on his heroes but to give praise and get a foot in the door of the club. The scope of the zombie outbreak feels akin to "Dawn of the Dead" (1978) while the scenes of a government scientist trying to facilitate zombie speech and use them as serum guinea pigs is most certainly "Day of the Dead" (1985) through and through. The inclusion of a religious cult was (and still is) a bit of a novelty in zombie lore, though in this case it also slows the film down a bit as we wind up stuck in a single location for too long. But through all of its ups and down, Bookwalter's film never forgets who is both behind the lens and in front of the TV screen – horror fans.

Homage and homegrown effort are commendable attributes, but this is a zombie movie – how is the gore? Surprisingly… awesome. Considering the scale of Bookwalter's zombie outbreak, and the number of lumbering corpses required to populate the film at any given time, the work seen here is really remarkable. Much of the FX here is nearly on par with what Tom Savini achieved on "Dawn of the Dead", including featured zombies, flesh feasting and ripping, and, of course, the classic torso pull-apart. This film's climax sees the Romero Finishing Move being used to great effect, adding that extra jolt to an already bloody, frenzied ending. Creating a zombie isn't the hardest thing in the world, to Bookwalter's advantage, but there is evidence of wanting to make something fun and special and memorable, and that kind of cinematic currency goes a long way.

"The Dead Next Door" is a welcome window back to the mid-80's. This would pair well on a double-bill with "The Video Dead" (1987), another micro-budget zombie feature dripping with talent and drive. Nostalgic films and television shows are all the rage right now, but most are simply a pastiche or parody. This film is the real deal, firmly entrenched in all that cheesy '80s goodness and filled with references to zombie greats and nods to horror's top brass.

Video


For those unaware, this film was shot on Super 8mm, a stock not exactly known for its finer qualities. This was home-grade consumer stuff; not typically used for a feature film. But when you have no money… The picture is presented in either the original aspect ratio of 1.33:1 or a newly-created widescreen (read: cropped) version framed at 1.78:1, both 1080p 24/fps AVC MPEG-4 encoded. Unless you are part of the proble…er, minority that is insistent upon every film filling the frame of an HDTV the clear choice is the 4x3 image. The widescreen picture feels too stuffy for my viewing tastes. Despite the low-res film stock, the image here is as detailed as possible, with fine color saturation, acceptable black levels, and film grain that mostly avoids looking clumpy or noisy. Contrast can be variable, and there appears to be some sporadic jerky motion to the picture, but the new 2K scan work done has likely produced the best image possible given the source elements.

Audio


The English DTS-HD Master Audio 5.1 track is available with either the Original Cast Mix or the Classic Dubbed Mix. Apparently, this is the first time the Original Cast Mix has been made available on home video, with all other previous versions featuring the dub. Being ignorant to both, I chose the Original Cast Mix. Really, neither choice is terrible since each was looped because the audio wasn't properly captured during shooting. Going with the original cast seemed to make sense since, you know, they are the actual cast members. Although, in the dub Bruce Campbell voices "Raimi", so there's that. This is a loud and active track with an awesome lo-fi midi score and a funky end credits track. Dialogue is all over the place – sometimes clear, sometimes tinny, sometimes super compressed. But through it all you can make out what is being said, at least. Rear channels get plenty of action and do nicely to provide an immersive environment. Subtitles are available in English.

Extras


DISC ONE: BLU-RAY

Audio commentary with writer/director J.R. Bookwalter, line producer & co-star Jolie Jackunas, and associate producer Scott P. Plummer.

"Restoration of the Dead" (1080p) is a featurette that runs for 19 minutes and 20 seconds. For the truly nerdy among us, this fascinating piece covers the lengths gone to restore the original image and clean it up for HD audiences.

"Capitol Theater Screening" (1080i) featurette runs for 12 minutes and 22 seconds. A Q&A from Ohio, circa 2015.

"The Nightlight Screening" (1080i) featurette runs for 16 minutes and 29 seconds. Another Q&A, this one from a 2015 in Akron.

"Behind-the-Scenes Footage" (1080p) featurette runs for 19 minutes and 13 seconds, this comes with a J.R. Bookwalter commentary track to narrate what we are seeing.

A reel of deleted scenes and outtakes (1080p) runs for 7 minutes and 11 seconds.

Still galleries (1080p) are available for:

- "Around the World Gallery" runs for 3 minutes and 49 seconds.
- "Storyboard Gallery" runs for 26 minutes and 27 seconds.
- "Behind the Scenes" runs for 8 minutes and 30 seconds.
- "Production Stills" runs for 6 minutes and 24 seconds.

A trio of theatrical trailers (1080p) is also included:

- "The Dead Next Door" runs for 1 minute and 47 seconds.
- "Platoon of the Dead (2009)" runs for 1 minute and 15 seconds.
- "Poison Sweethearts (2008) runs for 1 minute and 31 seconds.

DISC TWO: DVD

There are three audio commentary tracks – first, a 2015 Producer commentary with writer/director J.R. Bookwalter, line producer & co-star Jolie Jackunas, and associate producer Scott P. Plummer.

The second, a 2001 Foreign commentary with writer/director J.R. Bookwalter and make-up FX artist David Lange.

The third, a 2005 commentary with writer/director J.R. Bookwalter, actor Michael Todd, and cinematographer Michael Tolochko, Jr..

"Richards Returns!" featurette runs for 5 minutes and 10 seconds, this is an interview with actor Scott Spiegel.

"1999 Locations Tour" featurette runs for 7 minutes and 30 seconds, hosted by actor James L. Edwards.

"20 Years in 15 Minutes" featurette runs for 15 minutes and 32 seconds, this is a cast & crew retrospective done in 2005, looking back on the making of the film.

"Video Storyboards" featurette runs for 8 minutes and 15 seconds.

A music video for the title song runs for 3 minutes and 5 seconds.

"Video Preshoots" featurette runs for 5 minutes and 32 seconds, this is test footage shot using ľ" tape as a test. They wound up going with Super 8mm instead.

A lengthy reel of auditions footage runs for 14 minutes and 1 second.

"2000 Frightvision Reunion" featurette runs for 6 minutes and 15 seconds, bringing together members of the cast & crew at a convention.

Theatrical trailers are included for:

- "The Dead Next Door" runs for 2 minutes and 1 second.
- "Kingdom of the Vampire" runs for 1 minute and 2 seconds.
- "Ozone" runs for 1 minute and 26 seconds.
- "The Sandman" runs for 1 minute and 18 seconds.
- "Polymorph" runs for 1 minute and 29 seconds.

Packaging


The two-disc set comes housed in a standard Blu-ray keep case, with each disc on a hub opposite the other. A slip-cover is included on first pressings.

Overall


This old-school zombie romp is still a blast, over thirty years later. Those horror fans who can appreciate admiration and ambition over budget will find plenty to love in this ode to all things Romero and horror. Tempe Digital's release features solid A/V quality and more extras than a fan could ask for.
| | | | | |
| --- | --- | --- | --- | --- |
| The Film: B- | Video: B | Audio: C+ | Extras: A- | Overall: B |