Willard (Blu-ray) [Blu-ray]
Blu-ray B - United Kingdom - Second Sight
Review written by and copyright: Rick Curzon (21st September 2017).
The Film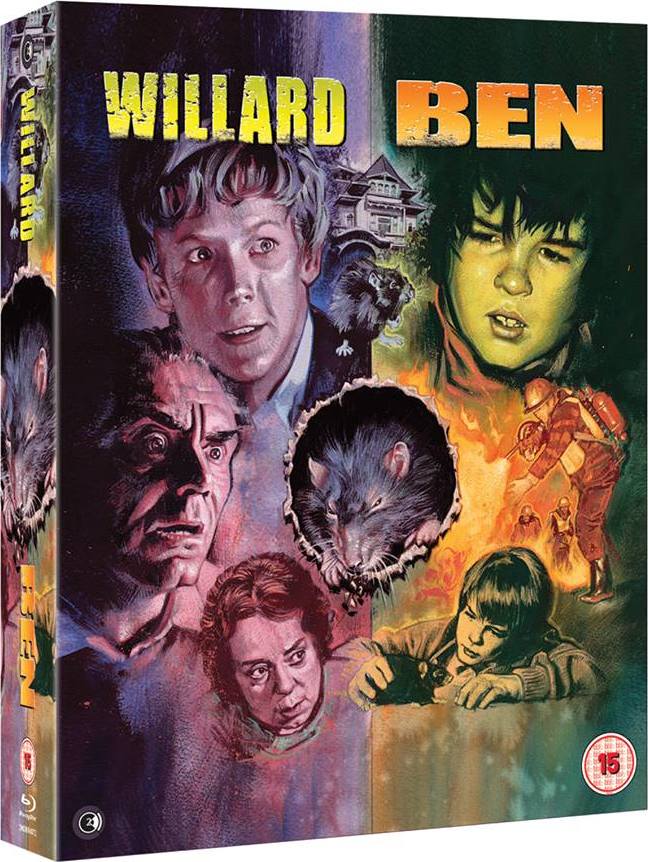 Not much is going right for meek misfit Willard Stiles. Heís constantly screamed at by his overbearing mother, ruthlessly bullied by the boss who stole his fatherís business and mercilessly laughed at by his co-workers. Willard eventually turns to a colony of rats for friendship and with training they will soon do anything for their new friend. Itís time for Willard to get even.

Video


A famous film in its day, quite successful at the box office and one that I'd never seen; it just never appealed. I finally caught up with it via this check disc for review and I didn't find it terribly inspiring or thrilling. Bruce Davison is very good as the titular character who's a mummy's boy and bullied at work and the rest of the cast are also topnotch (including the likes of Sondra Locke, Elsa Lancester and Ernest Borgnine). The rats are cute, but the film is rather dull and flat.

This is a new 4K scan of the OCN done for the Shout! Factory release in the USA. The film's the visual aesthetic is largely unambitious, muted and dark with the look of a contemporaneous American TV movie given a more cinematic frame at 1.85:1. The scan used has only a few very minor signs of damage. For my taste the main problem seems to be the contrast which is muted so that even sunny outdoor scenes don't quite pop quite as much as I would expect. Detail is present in force but is mitigated ever so slightly by a softness but that is to be expected for a low budget horror film of the era.

Colours are somewhat muted but that may have been the intention and there are certainly moments where someone wears a bright primary colour that pops (purple dress at approximately 35:00). Black levels are decent with no sign of crush that I could see. I noticed no artefacts like aliasing, moir or mosquito noise nor pixelation. Encoding isn't the pinnacle of what have seen when done by the likes of David Mackensie (Arrow, Powerhouse Films). However, this looked about as good as it could on my 58" 4K flat panel.

1.85:1 / 1080/24p / MPEG-4 AVC / 95:07

Audio


English LPCM 2.0 Mono
Subtitles: English for the hard of hearing

The vintage mono soundtrack is perfectly clear with fine fidelity and dialogue is never lost in the mix. I detected no problems with sibilants or Alex North's occasionally bombastic score. The soundtrack is a typical mono track of it's era and of a film of this level of budget and genre.

Extras


Extras (all carried over from the US Shout! Factory Blu-ray)

Audio commentary with actor Bruce Davison moderated by Nathanial Thompson

Much more interesting that the film itself; this is a fine yaktrak featuring the film's star Davison and Mondo Digital's maestro Nathanial Thompson, who is no stranger to these commentaries. Topics discussed: Davison's early career, working with great character actors like Elsa Lancester who was very particular about pronouncing her name ("It's Elsa LANCESTER and Burt LANCASTER ... get it right!"). The enthusiasm of old pro director Daniel Mann which could become overwhelming; the original novella Ratman's Notebooks (1969) by Stephen Gilbert ("The rats are in the garden again!"); the haunted nature of the big old house used in the film; working with the rats and their trainers. Davison fell in love with Sondra Locke and they dated for a time remaining good friends to this day. They touch on the dark centre of the film and its goofiness being an oddball character study mashed up with horror. Borgnine had a great fondness for life, was apparently a great listener and was very disappointed in that he didn't get to do The Godfather (Mario Puzo visited him on set).

"I Used to Hate Myself But I Like Myself Now: An Interview with Bruce Davison" featurette (12:28)

Davison reminisces about how get got the role; he auditioned in "The Star Trek building" for director Danial Mann and the final thing that got him the role was that Ben the rat liked him. Mann was a fountain of energy, enthusiasm and knowledge about his theatre days. Funny anecdotes about blowing a take on a set with Richard Boone because his nose was too big. Plenty of crossover with the commentary but Davison is such a great raconteur why carp!

Theatrical Trailer (2:25)
TV Spot (1:02)
Radio Spots (1:27)

Promotional material of the cheezy flavour and typical of the period.

Stills Gallery (5:47)
68 images that play as a slide show that can't be advanced step by step; consisting of publicity stills, lobby cards and posters from around the world.

Overall


On the whole this is a great package; mirroring the American disc. A good release of a film that is something of a cult item these days having been something of a sleeper hit on first release. The image harvest is good of a rather drab looking film, but fans should be pleased; especially if they pick up the limited edition double pack with the sequel.
| | | | | |
| --- | --- | --- | --- | --- |
| The Film: C | Video: A | Audio: A+ | Extras: A+ | Overall: B+ |

---
DVD Compare is a participant in the Amazon Services LLC Associates Program and the Amazon Europe S.a.r.l. Associates Programme, an affiliate advertising program designed to provide a means for sites to earn advertising fees by advertising and linking to amazon.co.uk, amazon.com, amazon.ca, amazon.fr, and amazon.de.