The Show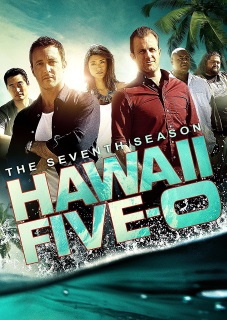 McGarrett and Danno hit the waves again in Hawaii Five-0; only this time it is Peter M. Lenkov's (R.I.P.D.: Rest in Peace Department) and Alex Kurtzman's (Transformers) reboot of the classic Leonard Freeman series Hawaii Five-O, and it's this time, it's U.S. Navy SEAL Steve McGarrett (The Back-Up Plan's Alex O'Loughlin) – who initially returned to Oahu to investigate the murder of his father and was offered full immunity and means by the late governor to head the Five-0 task force – and police Detective Danny Williams (Into the Blue's Scott Caan, son of James Caan), a New Jersey transplant who followed his remarried ex-wife to this "pineapple-infested hellhole" in order to be near his daughter Grace (Teilor Grubbs) – "Danno" now being Danny's nickname based on his daughter's childhood pronunciation and used as a term of endearment by Steve – veteran Chin Ho Kelly (LOST's Daniel Dae Kim) is a disgraced former officer and colleague of McGarrett's father who he recruits using his influence with the governor, and Kono Kalakaua (Battlestar Galactica's Grace Park) becomes Chin's cousin, a former surfer taken out of professional competition by an injury who has just graduated from the police academy at the start of the series in 2010. Subsequent members of the team include medical examiner Dr. Max Bergman (Heroes' Masi Oka), the son of a serial killer's victim – who departed at the end of the last season to join "Doctors Without Borders" and was replaced by Dr. Noelani Cunha (Hi-5's Kimee Balmilero) – Chicago PD transplant Captain Lou Grover (Boston Public's Chi McBride), conspiracy theorist/consultant Jerry Ortega (Alcatraz's Jorge Garcia), Inspector Abby Dunn (Dexter's Julie Benz) – an internal affairs officer who was spying on the Five-0 task force in season six who is now an HPD officer – Danny's comic relief nephew turned crime scene tech Eric Russo (Jack Frost's Andrew Lawrence), and ex-convict turned food truck entrepreneur Kamekona (Forgetting Sarah Marshall's Taylor Wily) who occasionally uses his former contacts to assist investigations, . Season seven finds McGarrett recovering from a liver transplant after the season six finale in which he was critically-wounded and wondering whether the personal losses suffered by himself – most recently the departure of his would-be fiancιe Lieutenant Catherine Rollins (Easy Rider 2: The Ride Home's Michelle Borth) for parts unknown – and his team are really worth the job; at which point he receives some sage advice from an ex-cop who may or may not be the ghost of his grandfather (i.e. an incredibly terrifying CGI rendering of the late Jack Lord voiced by Teenage Mutant Ninja Turtles' Cam Clarke).

No sooner do he and his team return to work than they find a body deposited in their office, setting off the first of a number of story arcs this season with a killer of serial killers who regard the killers, their victims, and the Five-0 team as pieces on a chessboard, with the new Governor Keiko Mahoe (I am Sam's Rosalind Chao) breathing down their neck to prevent damage to the tourism industry and the team seeking the consultancy of profiler Alicia Brown (Meet Joe Black's Claire Forlani) and more ruthless and detached psychiatrist Dr. Madison Gray (Law & Order's Elisabeth Rφhm). Other episodes intersect with the personal lives of Danny who is dealing with both hormonal teenage daughter Grace, who he discovers is dating Grover's son Will (It's Chosen Jacobs), and his young son Charlie (Zach Sulzbach) – product of a one night stand with his ex-wife Rachel (Chronic's Claire van der Boom) – as well as an appearance by his sister Bridget (Rookie Blue's Missy Peregrym). Chin has had custody of Sara (Londyn Silzer), daughter of his late wife's brother and seasons four through six recurring villain Gabriel Waincroft (Days of Our Lives' Christopher Sean), only to discover that Sara's aunt and uncle in Mexico are filing for custody, causing him to worry whether they have connections to Waincroft's criminal enterprises or the Mexican cartels. Kono is waiting out the two year prison sentence of her husband Adam Noshimuri (The Event's Ian Anthony Dale), the son of a late Yakuza boss who killed Yakuza hit men in self-defense after Waincroft stole the money he and Kono needed to buy himself out of the clan (knowledge that Kim and Park would not be returning for season eight is just as much a source of suspense for how their story arcs will pan out as the contents of the storylines themselves). While Grover had gone to illegal lengths to solve a case involving his former partner last season, it turns out that there are more unresolved cases from his Chicago days coming back to haunt him. Shot through with the intense car and foot chases with most of the stunt work done by the cast (sometimes digitally assisted), along with some less convincing CGI explosions and bullet hits (one or two examples particularly embarrassing), the action as well as some of the plot turns still manage to seem less preposterous than in some of Lenkov's and Kurtzman's other shows, and the combative banter between O'Loughlin and Caan is still entertaining (thanks largely to the latter's throwaway ad-libs). One cannot help but wonder if season eight will maintain the same level of interest with the replacement of two of its other longest-lasting principals.


Season 7 Episode Breakdown:

7.01: "Makaukau 'oe e Pa'ani? (Ready to Play?)" – When the bodies of two serial killers are delivered to the Five-0 task force, they realize that they are being forced to play a macabre chess game with an adversary who may be a vigilante or a master manipulator of psychopaths.

7.02: "No ke ali'i wahine a me ka 'aina (For Queen and Country)" – Steve and Danny pursue a rogue British secret agent (Transporter: The Series's Chris Vance) who is trying to get his hands on an advanced decryption device capable of hacking government networks.

7.03: "He Moho Hou (New Player)" – When retired profiler Alicia Brown wakes up next to a dead body, she is forced to team up with Five-0 in the hunt for the chess-piece killer. Meanwhile, Kono reconnects with a former surfing competitor (Kanya Sesser) suffering from PTSD while Chin-ho continues to do background checks on Sara's relatives.

7.04: "Hu a'e ke ahi lanakila a Kamaile (The Fire of Kamaile Rises in Triumph)" – The rest of the Five-0 team race to find Steve and Alicia after they are ambushed by the chess-piece killer.

7.05: "Ke Ku 'Ana (The Stand)" – The Five-0 team search for a cache of illegal guns stolen by an assailant intent on making a very public statement on gun violence.

7.06: "Ka hale ho 'okauweli (House of Horrors)" – While the rest of the Five-0 team investigate the murder of a psychic apparently scared to death by a ghost, Kono and just-released Adam stop to help the victim of a road accident and are soon on the run from a death cult.

7.07: "Ka makuahine a me ke keikikane (Mother and Son)" – Catherine returns to Hawaii to inform him that his mother Doris (Chicago Hope's Christine Lahti) is in danger.

7.08: "Hana Komo Pae (Right of Passage)" – When Danny chaperone's Grace's winter formal, he has more to worry about than discovering that Grover's son is dating his daughter when terrorists storm the building to kidnap a diplomat's son.

7.09: "Elua la ma Nowemapa (Two Days in November)" – The Five-0 team investigate the murder of a conspiracy theorist who claims to have evidence that JFK was murdered by his own cabinet.

7.10: "Ka Luhi (The Burden)" – When a teenager (Astrid Clover's Joey Luthman) suffering from blackouts leads the police to the body of a teenage girl missing for ten years, Five-0 realize he may have witnessed a murder as a child. Meanwhile, Danny worries that his visiting sister may be getting too close to a co-worker.

7.11: "Ka'ili aku (Snatchback)" – When Sara is kidnapped by the cartel, Chin travels to Mexico and risks his life to save her.

7.12: "Ka 'Aelike (The Deal)" – While the rest of the team is in Mexico trying to rescue Chin, Grover goes undercover as a used car salesman on a murder case.


7.13: "Ua ho'i ka 'opua i Awalua (The Clouds Always Return to Awalua)" – The team are placed in charge of investigating a murder at a police convention.

7.14: "Ka Laina Ma Ke One (Line in the Sand)" – Five-0 are caught between an aggressive U.S. marshall (La Bamba's Lou Diamond Phillips) and a wanted man (The New World's Kalani Queypo) who seeks asylum in the sovereign land belonging to the Nation of Hawaii.

7.15: "Ka pa'ani nui (Big Game)" – An investigation into illegal shark-finning leads the team to investigate an old leprosy colony in search of a possible Nazi war criminal. Max Gail (Barney Miller) and Bernie Kopell (The Love Boat) guest star.

7.16: "Poniu I Ke Aloha (Crazy in Love)" – While Steve and Danny spend Valentine's Day with their girlfriends (Final Destination 2's Sarah Carter and Banshee's Lili Simmons), the rest of the team investigate the murder of a "pick-up artist" (Freaks & Geeks' Samm Levine).

7.17: "Hahai I Na Pilikua Nui (Hunting Monsters)" – The Five-0 team race to find one of their own when the chess-piece killer returns to Hawaii covered in blood and claiming amnesia.

7.18: "E malama pono (Handle with Care)" – Steve and Danny must figure out a way to extract stolen and highly unstable uranium from the jungle hideout of would-be terrorists before it detonates.

7.19: "Puka 'ana (Exodus)" – Steve and Kono investigate a sex trafficking ring on the island while Chin and Grover investigate a murder at a sober living facility.

7.20: "Huikau na makau a na lawai'a (The Fishhooks of the Fishers Become Entangled)" – Five-0 helps PI Harry Brown (The Devil's Rejects' William Forsythe) search for a kidnapped wealthy woman (Kingdom Hospital's Lena Georgas), and Rachel tells Danny that she is divorcing Stan.

7.21: "Ua Malo'o Ka Wai (The Water is Dried Up)" – While Grover travels to Chicago to testify against his ex-partner for corruption, the rest of the Five-0 team are captured by a Yakuza boss' daughter (20 Weeks' Michelle Krusiec).

7.22: "Waimaka 'ele'ele (Black Tears)" – Steve investigates the murder of one of the last survivors of the USS Arizona while Adam unearths human remains at his new job.

7.23: "Wehe 'ana (Prelude)" – Danny must protect a coma patient who is the key witness on the final case he worked at HPD.

7.24: "He ke'u na ka 'alae a Hina (A Croaking by Hina's Mudhen)" – Five-0 race to stop a terrorist attack on Oahu based on an anonymous tip.

7.25: "Ua mau ke ea o ka 'aina i ka pono" ( The Life of the Land is Perpetuated in Righteousness) – In the season finale, each member of the team considers life- and career-altering decisions while tracking down a sex trafficking ring preying on young girls.

Video


Paramount's six-disc, dual-layer set is in keeping with the previous DVD issues of the series (Blu-ray editions having stopped at season three although subsequent seasons may be available in the format overseas) with interlaced, anamorphic encodes of an action-oriented show with a color palette skewed towards warm skintones, harsh contrasts, sunbaked exteriors and more neutral interiors (apart from the cold-toned interrogation room scenes) and plenty of CGI. Most of the show is shot with Arri Alexa cameras and Panavision lenses while it is obvious that some more mobile action cameras and DSLRs are utilized for stunt inserts.

Audio


Audio comes in very active Dolby Digital 5.1 and a serviceable Dolby Digital 2.0 stereo downmix which is probably how most heard the track on TV. The surround track has more impressive bass starting with the revamped theme song and various suspense tones and the action scenes are shot through with directional effects from screeching cars and crashing noises to heavy footfalls during foot chases (where criminals and pursuers suddenly become parkour experts). Optional English SDH subtitles are available.

Extras


Virtually every episode has deleted and extended scenes of variable value to the storylines but the bulk of the extras on the final disc are the usual for this series (and most Paramount releases of television shows), amounting to a "Watch! Magazine Photo Shoot with Alex O'Louglin" (1:28) featuring the actor in various Oahu locations posing for stills, as well as a season overview with "Shorelines: Behind the Scenes of Season 7" (17:54) in which the cast and crew discuss their favorite episodes of the season, the Halloween and Valentine episodes and the possibilities they offer each season, and tying the series into the older one with the CGI Jack Lord. "The Chun Family Legacy" (8:45) also looks at the links between the two series with Dennis Chun, the actor who plays Sgt. Duke Lukela, the son of Kam Fong who played Chin-ho in the original series. The Teilor Grubbs Video Diary (6:32) intercuts the actress' phone video recordings of her days on the set with her recollections of being cast on the show back in season one, working with the other actors (including a goodbye to Oka), and the growth of her role in the show as she has gotten older including her romantic subplot. A gag reel (3:48) is also included with the usual dialogue flubs, stunt gaffes, prop malfunctions, and some goofing around.

Overall


While the rebooted Hawaii Five-0 remains entertaining into its seventh series, one cannot help but wonder if season eight will maintain the same level of interest with the replacement of two of its other longest-lasting principals.