The Film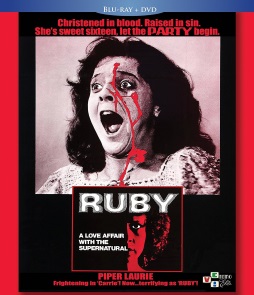 In 1935, the Dade County Gang committed their last murder, that of fellow member Nicky Rocco (Sal Vecchio) in front of singer Ruby (Carrie's Piper Laurie) who gave birth to his child that very night. Sixteen years later, Ruby has made a home of the old roadhouse – with mute daughter Leslie (Humongous' Janit Baldwin) and blind, invalid former gangster Jake (The Prisoner of Shark Island's Fred Kohler Jr.) – and has opened up a drive-in movie theater next to the swamps in which her lover's body still rests. In her employ are the old members of the gang who she took in upon their individual releases from prison. When alcoholic projectionist Jess (The Green Berets' Eddy Donno) is found hanging in the projection booth, ticket taker Vince (Shatter's Stuart Whitman) is willing to accept Ruby's explanation that it was a suicide if only because he has been carrying a torch for her, and reluctantly agrees to dump the body in the swamp rather than involve the cops. When Leslie discovers Louie (A Nightmare on Elm Street 3: Dream Warriors's Paul Kent) torn to shreds in the swamp, however, Vince begins to think that Ruby's assertion that Nicky is coming back may not have just been drunk talk since he swore vengeance on them and died believing that Ruby had set him up. Vince seeks the help of parapsychologist Doc Keller (House of Dark Shadows' Roger Davis) who immediately senses a malignant presence that he suspects is using the vulnerabilities of natural medium Leslie to lash out telepathically at those he hold responsible for his death. As the bodies continue to pile up, Keller fears that the force is so strong that it may no longer need Leslie to carry out its revenge. Although the film was certainly inspired by and its production motivated by the successes of The Exorcist and Carrie, Ruby takes elements from both films and couches them within a milieu very familiar to the oeuvre of director Curtis Harrington (Queen of Blood) and regular producer George Edwards (Frogs) meshed with the commercial concerns of co-producer Steve Krantz (The Nine Lives of Fritz the Cat). Ruby is a faded starlet like Shelley Winters in Whoever Slew Auntie Roo?, dedicated to and haunted by memories of the dead and past guilt that ultimately consumes Winters and Debbie Reynolds in What's the Matter with Helen? in which the talent school setting represented the failed ambitions of its protagonists, while the nightclub Ruby maintains in the roadhouse where she performs floorshows to empty seats seems like a rundown version of the enclosed world of diversions in the New York brownstone shared by wealthy Katherine Ross and James Caan in Games. The film fails to achieve the same balance of eeriness and humor of Harrington's other works, with a soda machine dispensing the blood of one of the victims and comic relief from Crystin Sinclaire (Caged Heat) as the area floozy not nearly as funny as the low-tech telekinetic attacks and one or two more obvious borrowings form Carrie (including a triple take move into close-up on Baldwin's face) and The Exorcist (Baldwin's arching backwards on her bed and prosthetic possession effects so poor it is just as well that Joe Blasco's studio is only credited as "make-up consultant"). Davis' Gary Collins/The Sixth Sense-esque parapsychologist rather too easily and conveniently intuits the situation for the audience but, thankfully, the plot has enough additional layers to provide further revelations before the climax. Harridan Laurie gets more to do here than in the model film as well as some additional depth as her alternating love and hatred for her daughter seem to come from a jealousy that Leslie is more Nicky's than she ever was despite the psychotic depths of her devotion. The climax ultimately feels a bit rushed with less concern for Leslie than Ruby, and what should have been a poetic ending is ruined by a laughable shock ending imposed by producer Krantz (reportedly shot by Dimension's in-house director Stephanie Rothman [Terminal Island]) ; and yet, Harrington's touches still make it more interesting than a possession film clone. Among the ex-gangsters is Blood and Lace's Len Lesser as soda jerk Barney while Allison Hayes "cameos" in clips from Attack of the 50 Foot Woman.

Video


Released theatrically by Dimension Pictures, Ruby has had a rather complex life on video. VCI's three VHS releases (including one under United Home Video) turned out to be the CBS television version with new scenes with direction credited to Allen Smithee. VCI's 2001 DVD was a non-anamorphic letterboxed presentation of the R-rated theatrical version, the content of which was approved by director Harrington with the exception of a underwater shock ending shot (which dissolves to the original final shot as the credits start to roll). VCI's new 1080p24 MPEG-4 AVC 1.85:1 widescreen Blu-ray purports to come from a 2K scan of the original camera negative but this is not the case as has been acknowledged by them after leads on the location of the original negatives were a dead end. The image is definitely an improvement on everything that has come before but it would not be a VCI release without issues. Besides the usual DVNR, an overall murky image, clump grain, and noisy saturated reds (particularly the drive-in neons), an authoring or encoding mishap has lead to some jerky movements in a couple shots, and an already dark sequence becomes totally black for a couple seconds (VCI has acknowledged this issue but one wonders if a replacement encode will be significantly better or if some of the issues are baked into the HD master they created).

Audio


The LPCM 2.0 mono audio fares much better throughout, from the period score and vocals (Laurie's own under the titles) to the music stings and effects accompanying telekinetic havoc. There are no issues with the dialogue apart from what seems to have been those in the original recording. Optional English SDH subtitles are also provided.

Extras


VCI has assembled an impressive array of extras starting with the audio commentary by Curtis Harrington and Piper Laurie from the 2001 disc in which Harrington cops to the influence of The Exorcist but not Carrie since the project was put together before the De Palma film, although it definitely had an influence on the film's promotion. He speaks warmly of working with Laurie and producer Edwards – who handled much of the casting and had an eye for period detail in wardrobe and sets – but lets loose on Krantz, noting that he wanted to cast Jack La Rue as Jake since he actually had played a gangster in Scarface, and also noting Krantz's incessant memos and overruling his decisions. Laurie compares the experience to working on Carrie, reassesses her performance and has fresh reactions to the shocks and story twists, and provides such factoids about the primary shooting location being the Hollywood Studio Club built by early female Julia Morgan who also built San Simeon (aka Hearst Castle) and that future Punky Brewster actress Soleil Moon Frye's mother was the caterer and her brother was the boy running around the drive-in scaring necking couples with a devil mask.

The newer audio commentary by David Del Valle and Nathaniel Bell – who also performed the same duties on Kino Lorber's Blu-ray of Whoever Slew Auntie Roo? – with Bell drawing on his research and Del Valle on his memories of his friendship with the director and past interviews he conducted. Del Valle reveals that the script by Edwards was based on a story by Krantz (husband of author Judith Krantz) and that Harrington wanted to call it "The Apparition" with the tagline "First there was The Exorcist, then The Omen, and now…" but that Krantz did not believe audiences would know what an apparition was. Del Valle discusses Krantz's interference – including hiring DP William Mendenhall (Dallas) who Harrington believed was a Krantz lackey keeping an eye on him and messed up the exposures of some of the low light scenes) – and reads a passage from Harrington's biography on the film while Bell is able to provide some of Krantz's memos. They also provide much in the way of autobiographical information about Harrington from his beginnings in experimental film – including a role in Kenneth Anger's The Inauguration of the Pleasure Dome – and his interest in director Josef Von Sternberg of whom he wrote an essay for Sight & Sound while in college before the auteur theory took off. This leads to a discussion of the themes shared by Von Sternberg and Harrington including "suffering women" and working with notoriously "difficult" actresses, describing Harrington's oeuvre as sort of a juxtaposition of Von Sternberg and Whatever Happened to Baby Jane? (the novel's author would go on to pen the teleplay from his own novel for Harrington's How Awful About Allan and the screenplay for What's the Matter with Helen?). In noting the recurring theme of the danger of living in nostalgia, Del Valle also touches upon Harrington's personal life, giving parties in his "gothic ruin" peopled with old actors, writers, and occultists (although he notes that Harrington's interest in the occult was more aesthetic than that of Anger) as well as discussing his later life including a tendency to shoot himself in the foot by not suffering fools or turning down projects he found crass that Del Valle thought he might have been able to transform (Del Valle begged Harrington to direct Motel Hell for United Artists which eventually went to Kevin Connor).


Also included is the 2001 Video Interview with director Curtis Harrington (59:04) that Del Valle shot for the VCI DVD who starts off by discussing the changes that prevent the theatrical version from being definitive, including the Rothman-directed shock ending, the removal of much of Davis' narration (the ending would have revealed him dictating it to a tape recorder), and the more poetic ending before the discussion turns to a more career-wide overview with his interest in Von Sternberg and Val Lewton – leading to a side discussion about the difference between mystery and suspense – as well as spending four days on the set of Topaz with Alfred Hitchcock, his experimental film days, and his feature and film work, including more on his business relationship and friendship with producer Edwards. Between 1987 and 1989, Del Valle had a Century Cable Public Access show called The Sinister Image interviewing genre filmmakers and actors (from which some extras have been derived on releases of Blood and Black Lace for actor Cameron Mitchell, The Comedy of Terrors, The Fall of the House of Usher, and The Monster Club for Vincent Price, and The Seven Minutes for Russ Meyer), and VCI includes both episodes in which he interviewed Harrington. The first episode (28:06) traces his career from experimental films (his role in the Anger film as Conrad Veidt's Cesare the Somnambulist from Robert Weine's The Cabinet of Dr. Caligari was based on a costume he created for himself for a "Comes as Your Own Nightmare" costume party) through to his feature debut with Night Tide for which he admits to being unprepared to direct actors and allowing star Dennis Hopper to direct extras (Harrington would end up taking acting lessons to learn about direction before his next feature) and his works for Roger Corman shooting features around special effects stock footage taken from Russian sci-fi movie to create the features Voyage to the Prehistoric Planet and Queen of Blood. The second episode (29:00) spans his work on his first studio pic Games – for which he wrote the role eventually played by Simone Signoret (Les Diaboliques) with Marlene Dietrich (The Blue Angel) in mind – What's the Matter with Helen?, Whoever Slew Auntie Roo?, and his television work (a clip from The Dead Don't Die opens the first episode). Incidentally, the show uses Thomas Dolby's main theme from Ken Russell's Gothic. The theatrical trailer (2:26) is also included along with a printed essay by Bell on the reverse of cover.

Overall


Picture quality issues aside (I would lower my expectations about just how improved VCI's yet-to-be-announced replacement disc would actually turn out), the Blu-ray of Ruby is the best way to date to see the film on home video and has some great extras.