The Show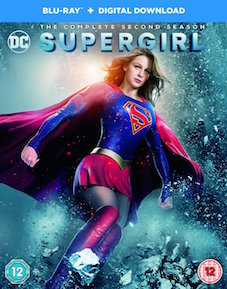 After starting out its first year on one of the big four US networks (CBS), the fate of Supergirl was in the balance when it came to renewals. A DC production that had been developed by Greg Berlanti and Andrew Kreisberg (of Arrowverse fame), it was of no surprise to find CBS' sister channel The CW pick it up to fall neatly into place with its existing lineup of Arrow, Flash and Legends of Tomorrow. The move to The CW would have implications on the show's production too, however, moving from an LA shoot to Vancouver, where the Arrowverse series were being filmed, to keep the costs down. This also meant a lesser role for the scene-stealing Calista Flockhart, as Kara Danvers' (Supergirl's) boss, but this was adapted to well by the show, which continued with the same energy and enthusiasm and fun the second season that it displayed when first on CBS. The episode count was also bolstered from 20 to 22.

Some of the best TV series tap into and challenge the zeitgest of their times, and Supergirl is no exception - most prominently in the highly allegorical depiction of aliens, the reaction to their presence in America and the discrimination against them. Its to the show's credit that it manages to do this by weaving the stories in to a series of entertaining plotlines, not shying away from difficult issues but also not piling them on like a tonne of bricks.

The second season picks up where the first left off, with the closing shots of a second pod like Kara's having arrived on Earth, taking the opportunity to introduce this show's incarnation of Superman at the same time. Whilst a solid start, this show is about Supergirl, and the novelty presence of Superman takes a bit away from that. Thankfully, he drops back a bit as the season progresses, making an occasional appearance only when the storyline would benefit from it. With the 'big bad' of Cadmus always present in the background, the series ventures to other planets, sees a variety of action scenes and chases and also involves itself with two cross-overs, one with the three main Arrowverse shows (Arrow, Flash, Legends of Tomorrow) as well as a musical cross-over with The Flash (which works extremely well). Both cross-overs are very good, although Supergirl has more of an impact in the musical cross-over than the four-show one. This doesn't come as much of a surprise given the chemistry betwen Barry Allen and Kara Danvers, as well as the serious but more positive tone set by both series. Sadly the best episodes of each of the crossovers come in the concluding parts, rather than any of the episodes presented here, but at the same time that leaves more space for exploring the characters of Supergirl so it's not at all a bad thing.

The second season of Supergirl includes 22 episodes, spread across four blu-ray discs (six episodes per disc for the first three discs, four episodes on the last disc):
- "The Adventures of Supergirl" (42:28)
- "The Last Children of Krypton" (42:31)
- "Welcome to Earth" (42:15)
- "Survivors" (42:31)
- "Crossfire" (42:22)
- "Changing" (42:35)
- "The Darkest Place" (42:32)
- "Medusa" (42:27)
- "Supergirl Lives" (42:31)
- "We Can Be Heroes" (42:30)
- "The Martian Chronicles" (42:05)
- "Luthors" (42:31)
- "Mr. & Mrs. Mxyzptlk" (42:31)
- "Homecoming" (42:31)
- "Exodus" (42:18)
- "Star-Crossed" (42:32)
- "Distant Sun" (42:08)
- "Ace Reporter" (41:52)
- "Alex" (42:32)
- "City of Lost Children" (42:33)
- "Resist" (42:31)
- "Nevertheless, She Persisted" (42:27)

Video


Video is presented in 1.78:1 anamorphic widescreen, encoded using the MPEG4 AVC codec. Along with The Flash, and distinct from other DC shows such as Arrow and Gotham, most of the scenes in Supergirl are shot in much more highly lit sets, allowing for brighter and bolder colours which are very well represented on this release. Another show with a digitally-shot source, the blu-ray image is sharp - and as with its other DC siblings, makes a strong showing in the visual effects department.

Audio


Audio is included in English DTS-HD Master Audio 5.1 as well as a Brazilian Portuguese Dolby Digital 2.0 stereo dub, with optional subtitles in Danish, Dutch, Finnish, French, Norwegian, Portuguese, Spanish (Latin American), Swedish and English for the hearing impaired. For the purposes of this review, only English was used.

The show features a variety of effects and action sequences, as well as a fantastic score which is richly presented in the lossless DTS-HD audio track. Dialogue is always clear and surround channels are made use of to give the show a more impressive feel as with the other DC shows.

Extras


Warner has included a series of featurettes, some trivia clips and an audio commentary for this release, spread across three of the four discs. (Each of the video extras includes optional Dutch, Portuguese (Brazilian), Spanish (Latin American) or English HoH subtitles.) Below is a closer look.

DISC ONE
The first disc includes one featurette, "Alien Fight Night" (10:06), a behind-the-scenes look at the fight club storyline used. The featurette explores a variety of angles related to the fight nights such as the comic roots of Roulette, the inspirations drawn upon from pop culture, and the motivations of M'gann. It's a little light but nonetheless interesting watch.

DISC TWO
The second disc includes an audio commentary on the episode "Supergirl Lives" with the episode's director, Kevin Smith, and Supergirl's executive producer Andrew Kreisberg. The commentary is enjoyable with some amusing moments, tending only to pause briefly around the scene changes that would no doubt have coincided with advert breaks on original broadcast. It contains a number of interesting factual bits of information, such as the demographics across various DC TV shows (not what you might initially expect!) and the sort of challenges presented by the frequent costume changes Melissa Benoist has as Supergirl. These are balanced with more general comments and discussion on topics such as the influences on various scenes and the actors' chemistry, as well the lengths that were gone to to ensure good chemistry between actors tackling more sensitive storylines. In the world of ever-decreasing TV home video extras, it's often a great bonus to have one or more commentaries, and it would be great if other/future DC TV releases had some.

DISC THREE
There are no extras on this disc.

DISC FOUR
This disc contains the remaining three featurettes, "Aliens Among Us" (19:56), the Supergirl 2016 Comic-Con Panel (28:26) and "A Conversation with Andrew Kreisberg and Kevin Smith" (3:55), as well as a series of trivia clips with which you can test your Supergirl knowledge. If you own the Flash Season 3 discs, you will have seen the conversation with Kreisberg and Smith before - it's a short featurette that touches on the technical challenges of filming Supergirl and The Flash from Kevin Smith's perspective as guest director. The Comic-Con Panel is another entertaining affair, with both amusing input from the cast and crew as well as a variety of interesting questions and answers, including Mehcad Brooks giving an honest and excellent response to a remark highlighting how he is not the 'traditional' James Olsen. Finally "Aliens Among Us" talks about the exploration of aliens on Supergirl's second season, and how the concept of aliens provides an interesting setting for various superhero and sci-fi storylines. The featurette also touches on the modern-day parallels with immigration and people's biases and how the show integrates these ideas into a variety of its plot lines. The disc is rounded off by a series of seven "Did You Know?" brief trivia clips about the series.

Packaging


Packaged in a 4-disc Viva Elite keep case, with two trays inside, each holding two discs back to back. Initial pressings come in a slipbox. An HD UV digital copy is also included.

Overall


Effortlessly moved to its more natural home of The CW, Supergirl follows up with another stellar season. This blu-ray release boasts excellent HD video and audio along with a somewhat smaller selection of extras - albeit one that includes a worthwhile commentary. Entertaining and a lot of fun throughout, as well as weaving in important allegories to give some storylines an additional layer of importance, this season of Supergirl is thoroughly recommended.
| | | | | |
| --- | --- | --- | --- | --- |
| The Show: A- | Video: A- | Audio: A- | Extras: B | Overall: A- |