The Show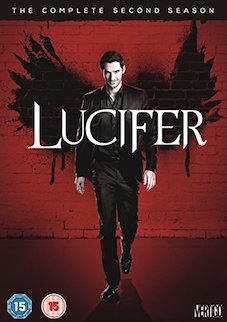 Very loosely based on a Neil Gaiman character, the Lucifer TV series started off with a decent pilot, but looked like it would just be a novelty procedural police drama. Thankfully for those who stuck with it, it became more than just that, with some excellent story arcs and a wonderful performance by Tom Ellis in the lead role. Having found its groove, the show has taken the loose adaptation and made it its own, exploring a variety of themes in the second season - most notably Lucifer's mother, but also putting in a wonderfully eccentric character in Ella, the department's new forensic scientist who happens to have a Christian faith.

Similarly to Gotham, another DC venture that airs on the US channel FOX, Lucifer's second season was poorly scheduled and broken up, with the first 13 episodes airing as expected, followed by a 3-month gap, leaving time only for five more episodes of Lucifer to air (the planned 22-episode run becoming 18 episodes). Thankfully for fans, the remaining four episodes are set to be carried over to this year's run, giving a full 26 episodes in the 2017-2018 season. This also means that the out-of-the-blue twist at the end of this season may not have been intended as the season finale, although it will leave you wanting more Lucifer to find out the resolution!

The second season of Lucifer includes 18 episodes, spread across three discs (six episodes per disc):
- "Everything's Coming Up Lucifer" (42:16)
- "Liar, Liar, Slutty Dress on Fire" (42:18)
- "Sin-Eater" (42:15)
- "Lady Parts" (40:32)
- "Weaponizer" (42:14)
- "Monster" (41:47)
- "My Little Monkey" (42:13)
- "Trip to Stabby Town" (41:50)
- "Homewrecker" (42:18)
- "Quid Pro Ho" (42:58)
- "Stewardess Interruptus" (41:37)
- "Love Handles" (42:20)
- "A Good Day to Die" (42:04)
- "Candy Morningstar" (41:50)
- "Deceptive Little Parasite" (42:07)
- "God Johnson" (42:17)
- "Sympathy for the Goddess" (41:52)
- "The Good, the Bad, and the Crispy" (42:19)

Video


Video is presented in 1.78:1 anamorphic widescreen. Despite loading each disc with six episodes, totalling over four hours per disc, Warner have a sturdy presentation on offer for Lucifer's second season. That's probably in part due to the fact that the series is more like a procedural in terms of how it is shot, with very few scenes of heavy-duty action, and the series has a large percentage of well-lit scenes in sunny Los Angeles. The release features colours that hold up well, along with a decent relatively sharp picture that follows on from what is undoubtedly another digitally-shot venture.

Audio


Audio is included in English Dolby Digital 5.1 and Castilian Spanish Dolby Digital 2.0 Surround, with optional subtitles in Danish, Finnish, Norwegian, Spanish (Castilian), Swedish and English for the hearing impaired. The show is heavily dialogue-based and the sound is perfectly adequate for this. Surround channels do not appear to be used as much as on other DC series, but what is present is clear and more than sufficient.

Extras


Warner has included a series of featurettes and deleted scenes for this release, along with a gag reel, spread across all three of the discs. (Each of the extras includes optional Spanish (Castilian) or English HoH subtitles. Other subtitle tracks can be selected, but do nothing.) Below is a closer look.

DISC ONE
This disc features one featurette, "Lucifer: 2016 Comic-Con Panel" (26:11), and one deleted scene, for the episode "Everything's Coming Up Lucifer" (0:39). The Comic-Con Panel is an entertaining discussion with the cast and crew, answering some questions and giving an idea of the arcs planned for the second season, whilst the deleted scene features a brief bit of additional dialogue between Lucifer and Chloe.

DISC TWO
This disc features two deleted scenes, one for the episode "Trip to Stabby Town" (0:36), featuring a brief bit of dialogue between Chloe and Dan, and one for the episode "Quid Pro Ho" (1:52), featuring Chloe, Chloe's mum and Trixie talking about family.

DISC THREE
This disc features one featurette, "Reinventing Lucifer In the City of Angels" (14:07), eight deleted scenes, two each for the episodes "A Good Day to Die" (1:35), "Candy Morningstar" (1:34), "God Johnson" (2:19) and "The Good, the Bad, and the Crispy" (1:20), and a gag reel (4:23). The featurette takes a look at the setting of the show (Los Angeles) and how it ties in well with the show and how the show can exploit the characteristics of the city. It's also interesting to hear the views of the cast and crew on the city and their reactions to it when they first visited it. In the deleted scenes for "A Good Day to Die", there's a very brief scene with Chloe and Dan in the hospital, and a longer scene with Lucifer and Chloe in the hospital. For "Candy Morningstar", we have a scene with Lucifer and Chloe and then with Lucifer and Maze. In the deleted material for "God Johnson" there's a brief scene with Lucifer and Earl Johnson and a longer scene with Maze and Amenadiel, and for "The Good, the Bad, and the Crispy" we have a scene with Lucifer, Charlotte and Linda, followed by a brief bit of dialogue between Charlotte and Chloe. Finally, the presented gag reel is a silly but amusing set of goofs from filming.

Packaging


Packaged in a 3-disc Amaray keep case, with one disc on the inside of the back and a swing tray holding the other two discs. Initial pressings come in a slipbox.

Overall


Building on the first season, Lucifer's second outing is even more impressive and entertaining, as the show really gets into its stride. Deciding to take a look at Lucifer and Amenadiel's mother works very well, as well as the introduction of Ella into the mix. Sadly only afforded a DVD in the UK (there's a region free blu-ray in the US and Australia), but what we have on offer is a decent package well presented. Definitely recommended.
| | | | | |
| --- | --- | --- | --- | --- |
| The Show: A- | Video: B+ | Audio: B | Extras: C+ | Overall: B+ |