Ben (Blu-ray) [Blu-ray]
Blu-ray B - United Kingdom - Second Sight
Review written by and copyright: Rick Curzon (30th September 2017).
The Film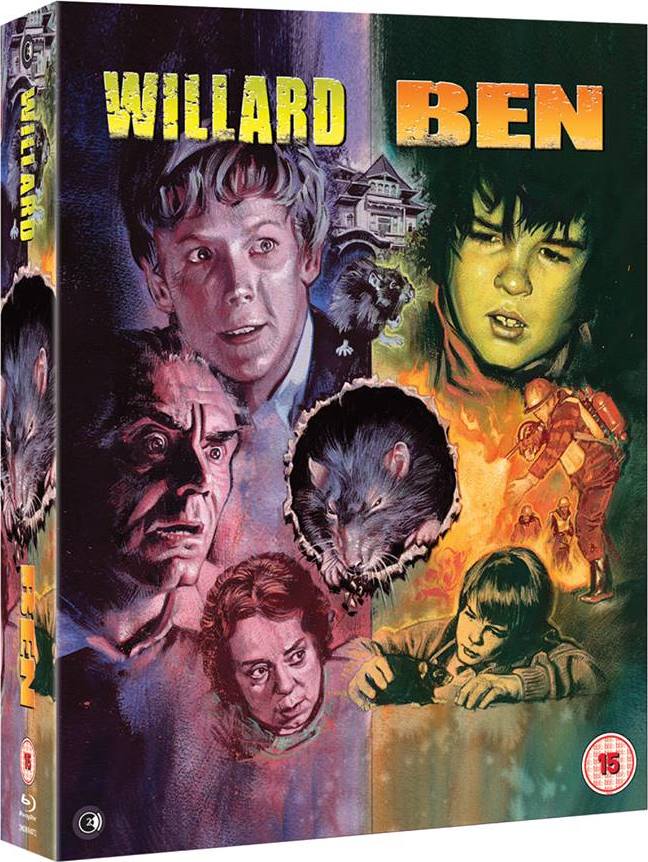 Danny Garrison, a lonely young boy with a heart condition finds a friend in Ben, a rat once trained by misfit Willard Stiles. Danny's new best friend protects him from bullying and keeps his spirits up through hard times. But all is not well in Ben's colony and the other rodents terrify the town with a series of violent attacks. The police are determined to wipe them out. Can Ben survive?

Video


The 1972 sequel to the 1970 hit Willard, a film I wasn't keen in but it's Shakespeare compared to the mawkish, pokey Ben. Clunkly writing and too many sentimental moments are the main problems. The cast are less starry more character actor-based, but are certainly the equal in terms of talent, but the script just lets them down. Phil Karlson (The Silencers) was an old pro but he doesn't seem very inspired by the material.

The transfer for the sequel hasn't had the same level of success alas, being taken from a very contrasty, archival print at least one if not two generations away from the OCN. The copyright holders and / or Shout! Factory (this UK disc mirrors the US release) have done the best they can with the a available materials.

Colours are rich, natural and there's no bleeding. Detail is present but is sadly mitigated by the source being less than stellar although it is present in closeups; it's backgrounds that suffer on that score. There's a softness present, again down to the source. Black levels are mostly decent with no crush in daylight or well lit interiors despite contrast being a tad harsh; pale surfaces and faces in medium and long shot can be occasionally blown out. Encoding isn't an issue although it has to work harder due to increased grain levels, especially during night scenes which do suffer from some signs of black crush.

There are occasional moments of very minor damage; a fleck here, a spot there but nothing to get in a tizz about. Considering that this isn't from an OCN that's a good deal.

1.85:1 / 1080/24p / MPEG-4 AVC / 94:25

Audio


English LPCM 2.0 Mono
Subtitles: English for the hard of hearing

The mono soundtrack is perfectly clear with fine fidelity and dialogue is never lost in the mix; typical of it's era and although it won't win any awards it's not a problem. I detected no Issues like harsh sibilants or Walter Scharf's mostly TV style, low-key score drowning out dialogue when it plays to the back seats. To recap: the soundtrack is standard for it's era and of a film of low budget. I heard no problems like pops or clicks although there is some very mild hiss.

Extras


Audio commentary with actor Lee Montgomery and moderator Nathanial Thompson
Another informative track with Thompson being an experienced dab hand at these yaktraks he keeps things bubble along nicely. Plenty of trivia about working with the various Bens; they were cute but hard to get attached to. There were different types of performing rats: ones that knawed wood, others that stood up, others that ran on cue etc. All were potty for peanut butter however. NSPCA were involved and the handler Mo was friendly; the rats were very well treated. There was lots of shooting on real locations which is a process used much more now that then. Montgomery seems to have had a great sisterly relationship with Meredith Baxter and a very happy acting career.

"The Kid with the Rat: An Interview with Lee Montgomery" featurette (9:20)
Montgomery discusses Disney, Paramount, Million Dollar Duck, Willard, Bruce Davison (and doing a convention with him), working with Dom Deluise and the fact there were five Bens. He got on well with actors Joseph Campanella and Meredith Baxter and Rosemary Murphy and he was best buddies with the union crew; his mom even let him sit and lunch with them whilst they played poker. It was nice to hear that his parents always left it up to him as to wether he continued to act. He feels that the final film is kitschy fun.


Theatrical Trailer (2:29)
Teaser Trailer (1:03)
TV Spots (:44)
Double TV Spots (1:33)
Radio Spot (:30)

Promotional material typical of the period; prepare fro hyperbole with plenty of gorgonzola on the side!

Stills Gallery (2:27)

Overall


Another decent package with some nice extra material; kudos to Second Sight for securing the rights to the (I assume) only existing HD master and the excellent Shout! Factory extras. In the final analysis, we have a good release of an inferior film. The image is disappointing but all that can be expected given the state of the source used; sound is well up to par and the extras are great value. Fans should be pleased; especially if they pick up the limited edition double pack with the sequel.
| | | | | |
| --- | --- | --- | --- | --- |
| The Film: D | Video: C | Audio: A | Extras: A | Overall: C |

---
DVD Compare is a participant in the Amazon Services LLC Associates Program and the Amazon Europe S.a.r.l. Associates Programme, an affiliate advertising program designed to provide a means for sites to earn advertising fees by advertising and linking to amazon.co.uk, amazon.com, amazon.ca, amazon.fr, and amazon.de.