The Film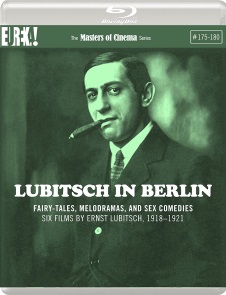 Before he made his mark on Hollywood as the auteur of a number of sophisticated romantic comedies during Hollywood's pre-code period like Trouble in Paradise and Design for Living, followed by subsequent Hollywood hits such as Ninotchka, The Shop Around the Corner, and Heaven Can Wait, the three-time Academy Award-nominated director Ernst Lubitsch was already known in his home country as a master film stylist with roughly forty shorts and features, six of which are included in the boxed set Lubitsch in Berlin. The first disc collects three out of the fifteen collaborations between Lubitsch and one of his earliest muses Ossi Oswalda. In I Don't Want to Be a Man [Ich möchte kein Mann sein] (1918), Oswalda is Ossi, a tomboyish teenager who scandalizes her governess (Margarete Kupfer) and guardian (All for Money's Ferry Sikla) by preferring to smoke cigarettes and play cards with the servants, drink whiskey, and other behavior unbecoming of a young lady. When Ossi's guardian takes an extended trip at sea, the governess is overjoyed when strict new guardian Dr. Kersten (comedy writer Kurt Götz) clamps down on Ossi's defiance and promises to "break you down yet! Down to here!" Taking a trip into town, Ossi has the male staff of a made to measure menswear store falling over themselves to fit her for men's eveningwear. That night, she sneaks out of bed, slicks back her hair, and heads out for an evening on the town as a young gentleman. Neglecting to give up her seat on the trolley for a lady has Ossi branded an upstart, and she is destined to make a number of other faux pas at a nightclub touching up her make-up, nearly wandering into the ladies room, and nearly being mobbed by a gaggle of women looking for a young dancing partner. When she spots Dr. Kersten, however, she decides to steal his girl, not understanding her own underlying motives. Despite the title, the fun in I Don't Want to Be a Man does not lie in watching the protagonist "learn her place" for Lubitsch's sympathies clearly lie with Ossi as he depicts the governess and former guardian enjoying the very vices they chastise her for; instead, the humor comes from watching Oswalda's reactions to situations the audience can see coming a mile away (including the outcome of the battle of the sexes).

In The Doll [Die Puppe] (1919) – based on the story by E.T.A. Hoffmann as scripted by Lubitsch regular Hanns Kräly (It Started with Eve) – the elderly Baron of Chanterelle (The Golem's Max Kronert), eager to preserve his family line, decides that his nephew Lancelot (The 3 Penny Opera's Hermann Thimig) should get married and announces a search for eligible young women among the village. Timid Lancelot, who still clings to his childhood nanny (Last Stop's Josefine Dora), flees the onslaught and seeks sanctuary in a monastery. Upon learning of his identity and the hefty dowry the Baron will provide for him, the Prior (The Divine Jetta's Jakob Tiedtke) cooks up scheme whereupon Lancelot will marry a lifelike push-button doll created by toymaker Hilarius (The Way to Freedom's Victor Janson) – marketed to "for bachelors, widowers, and misogynists" – and the monastery will collect the dowry. When he receives the order, Hilarius decides that the doll he will give to the monks is one designed in the likeness of his daughter Ossi (Oswalda again). When his young apprentice (Gerhard Ritterband) accidentally breaks the doll, Ossi takes pity upon him and agrees to take the doll's place while he rushes to fix it. Unfortunately, Ossi is whisked away for delivery to the monastery before her father learns of his assistant's bungling. More playful and mischievous than terrified, Ossi delights in tricking and teasing the monks before being delivered to the Baron's manor (whereupon the old man leaps from his deathbed to the consternation of his relatives who have been fighting over the furniture) where she play the doll for the bewildered and smitten Lancelot and a human being for the Baron and all of the other guests. Buoyed once again by Oswalda's antics, The Doll wholly embraces its artificiality starting with Lubitsch himself appearing on camera to put together a model hill, cottage, and lake that become the home Lancelot shares with his nanny while other exterior sets are more fairytale than Max Reinhardt-esque Kammerspiel minimalism and forced perspective. The love story at the heart of the tale is less interesting than Thimig's befuddlement and other more knowing men falling over themselves stupid at the sight of Oswalda (especially when they think that she is just a sex doll).

One of Lubitsch's "grotesque" comedies, The Oyster Princess [Die Austernprinzessin] (1919) casts Oswalda as Ossi, heiress daughter of Mr. Quaker (Janson again), the "Oyster King of America", who is prone to demolishing entire rooms in fits of rage, the latest motivated by the announcement of the prosperous marriage of yet another one of her society girlfriends. Quaker approaches the matchmaker Seligson (Kronert again) who matches her to European Prince Nucki (The Merry Jail's Harry Liedtke). Unbeknownst to Quaker, the prince has fallen on hard times and is just as eager to marry well. He sends his valet Josef (Dr. Mabuse: The Gambler's Julius Falkenstein) to visit the Quakers in his stead only for the other man to be swept off his feet and rushed down the aisle by Ossi (her father having fallen asleep waiting for her to make herself presentable before receiving the prince). Even Quaker notices subsequently that the union is not a happy one with Ossi retiring to her bedroom separately and the false prince imbibing too much at dinner nightly. When the prince on a bender with his buddies drunkenly stumbles into a women's gymnasium, Ossi is willing to beat off all competitors for the handsome man but they ultimately despair of not being able to be with one another due to their marital obligations. A comedy of mistaken identities and judging a book by its cover, The Oyster Princess is indeed "grotesque" in its emphasis on the facial mugging of its principals, particularly the father whose concern for his daughter's happiness takes on a certain leering voyeurism as an audience surrogate peering through a keyhole matte into his daughter's bedroom.

Sharing disc two are historical melodramas Sumurun (1920) and Anna Boleyn (1920), perhaps fittingly because future muse Pola Negri () is prominently featured in the former film but not as centrally as Oswalda in the prior three or Negri herself in disc three's The Wild Cat [Die Bergkatze] (1921). Jenny Hasselqvist (The Dream Waltz) is the titular Sumurun, the favored of the harem of the Old Sheik (The Student of Prague's Paul Wegener) who is in love with handsome cloth merchant Nur-Al-Din (Liedtke again). When the Old Sheik catches the Young Sheik (singer Carl Clewing) beneath Sumurun's window, he demands a public apology from Sumurun and then sentences her to death when she defies him, only sparing her when the Young Sheik humbles himself before the older man. The Young Sheik finds a new love interest in dancer Yannaia (Negri) who arrives with a minstrel show and is encouraged to use her feminine wiles to convince the Young Sheik to let them perform in town, much to the jealousy of adoring hunchback Yeggar (Lubitsch himself). When the jealous Old Sheik visits the show in disguise, Yannaia – who has already been rejected by Nur-Al-Din during a visit to his shop – sees a chance at a better life in the harem despite the protests of Yeggar who tries to commit suicide by drinking a draught meant to take all of his trouble away. Fleeing the amorous Young Sheik, Yannaia winds up in the care of slave trader Achmed (Destiny's Paul Biensfeldt), and Yannaia ends up supplanting Sumurun in the Old Sheik's affections (only for Yannaia to discover that she would prefer the more romantic Young Sheik after being bedded by the older man). The other harem girls have meanwhile snuck Nur-Al-Din into the palace to run off with Sumurun, and Nur-Al-Din's bumbling servants (Alias Bulldog Drummond's Paul Graetz and Kronert) have unintentionally hidden Yeggar's body in the same garment trunk, contriving to brink all of the characters together for a climax that is both dramatic and slapstick. Also known as One Arabian Night, Sumurun is epic in set design, sprawling vistas, and extras but pretty much an intimate bedroom farce of intertwined attractions and rejections in which the central Sumurn and Nur-Al-Din are overshadowed by Negri's fickle dancer (more so a forerunner for Madonna's "Material Girl" than Marilyn Monroe), Wegener's sheik who hides his insecurities and jealousy behind cruelty (frantically commanding for Sumurn's execution to be stayed once the Young Sheik apologizes in front of his subjects), the Head Eunuch (The Golden Anchor's Jakob Tiedtke) who gets to be a man by overlooking the harem intrigues for the good of the two lovers, the old woman (Margarete Kupfer) in the minstrel show who pines for Yeggar, the most pitiable figure of all (with Lubitsch perhaps embodying the frustrated relationship between offscreen director and onscreen muse). Although Lubitsch does employ plenty of visual tricks – including the use of foreground black matte archways to give a greater sense of depth to compositions as well as horizontal and vertical cropping mattes to give a sense of width to crowds and depth to shots like characters running down sand dunes towards the camera) – the pacing drags, but not so much as it does on the much more ordinary historical drama Anna Boleyn.

Anna (The Jew of Mestri's Henny Porten) returns from France to stay with her uncle the Duke of Norfolk (Ludwig Hartau) and serve as lady-in-waiting to Queen Catherine (All for Money's Hedwig Pauly-Winterstein). On Catherine's name day, however, the failure of husband King Henry VIII (The Last Laugh's Emil Jannings) to show up in favor of gambling and feasting at a nearby hunting lodge upsets the Queen before Anna can be introduced to her; however, she does catch the eye of the returning king, rousing the jealousy of Anna's childhood friend Henry Norris (The Longest Day's Paul Hartmann) who serves in the king's court. Bad timing has Norris believing that Anna has given into the king's attentions, driving Anna to give herself over to the king. When Queen Catherine refuses to annul the marriage on the grounds that she has not sired him a male offspring, and the Catholic Church also refuses to grant the separation, Henry VIII founds the Church of England to remove Catherine and his daughter Princess Marie (Hilde Müller). Anna weds the king and her social-climbing uncle suppresses demonstrations by the people on behalf of Catherine and her daughter. Glutinous Henry VIII, of course, is not satisfied with Anna for long. After giving birth to a girl, Anna finds herself increasingly alienated from her husband by her own lady-in-waiting Jane Seymour (Phantom's Aud Egede-Nissen) who is far more calculating, taking advantage of a situation similar to the one into which Anna had fallen into with Catherine. When Anna rejects the advances of lecherous court poet Mark Smeaton (The Master of Death's Ferdinand von Alten), however, his veiled accusations to the king of impropriety between Anna and Henry Norris may provide the king with a means of replacing her with Jane. Another epic-looking production large-scale sequences of coronations, weddings, festivals, and hunts with a plot full of court intrigue based on a historical narrative that has remained popular in film and television with adaptations like the Rank's Anne of a Thousand Days, BBC's The Six Wives of Henry VIII, their television and film adaptations of Philippa Gregory's The Other Boleyn Girl, and more recently with Wolf Hall and Showtime's The Tudors with a character essayed by actresses from Merle Oberon, Vanessa Redgrave, Charlotte Rampling, and Geneviève Bujold to Jodhi May, Helena Bonham Carter, and Natalie Portman. The Lubitsch adaptation is rather flatly filmed with Porten an overly passive character by design as a political pawn who drags the pace as she does herself in her physically and emotionally weakened state, with Lubitsch getting more mileage out of the facial performances of Jannings, Egede-Nissen, Alten, Hartau, and Pauly-Winterstein as historical fact more so than character drive the narrative forward.

The Wildcat is Rischka (Negri again), fierce daughter of the bandit Claudius (The Blue Angel's Wilhelm Diegelmann) who live with their crew in the mountains on the outskirts of Piffkaneiro which is defended by a military fortress along the border. When the Lieutenant Alexis ('s ) – also known as "Dashing Alex" – is transferred to the fortress as a disciplinary measure, he is robbed by Rischka of everything but his drawers upon arrival (Rischka only leaving those to him because she has become smitten). In response, the fortress' Commandant (Janson) sends his men into the mountains to root out the bandits. Under the impression that his campaign has been successful, and that Alex was responsible for ousting the bandits, he gives the younger man the hand of his daughter Lilli (The Profligate's Edith Meller). During the wedding celebration, however, Rischka and her men crash the party, posing as guests amidst the drunken revelers, and making off with the bride's clothes, jewelry, and even the marital bed. When Alex spots Rischka, he tells her that it is his duty to capture her, but a jealous Lilli lets her escape. When Claudius decides to marry his swooning daughter off to the more timid of one of his men, even the young groom can tell who she really wants; however, true love manages to win out in a surprising way. Lubitsch's other "grotesque" comedy of the set, The Wildcat finds the director fetishizing Negri as a whip-wielding bandit more feared by than her father by his men, with one or two even coming back for more when she beats them away with a crop. The film takes advantage of Negri's dancing talent in the choreography of everything from the wedding robbery to scenes of Alex chasing her around the fortress and through the snow; and yet, the film ends up being more performance driven, giving Negri and Meller some emotional depth and a more mature ending than expected. The set design is even more outré than in his historical films, with seats and divans growing out of the fortress' architecture, Lilli's dressing room a labyrinth of closets, and double staircases that seem to exist solely to stage elaborately choreographed chases, while Lubitsch shoots virtually every scene through a various on-camera matte borders shaped like lips, hearts, circles, arches, and more amorphous shapes and also employs reverse motion to comic effect.

Video


Previously released in 2007 in a five-disc DVD boxed set by Kino in the United States and six-disc boxed set by Eureka's Masters of Cinema in the UK in 2010 (reissued in 2014 with slimmer packaging), Eureka's three-disc 1080p24 MPEG-4 AVC 1.33:1 pillarboxed widescreen Blu-ray transfers are derived from 2K scans created between 2012 and 2014 from the same sources. I Don't Want to Be a Man comes from a 2K scan of a print found in the Bundesarchiv-Filmarchiv that is fairly clean but the fading and contrasts make detail harder to assess in long shots than close-ups (it is possible that the daylight exteriors are deliberately overexposed but some interiors shift in brightness from shot to shot). The Doll comes from a internegative from a nitrate copy – running seventy meters shy of the original 1375 meters listed in censor records – in the Bundesarchiv-Filmarchiv restored in 2000 and re-scanned in 2K in 2012 with tints – now more pale emerald than sickly green and tan than sepia – in place and damage still evident despite digital restoration. The Oyster Princess also comes from a 2K scan of a Bundesarchiv-Filmarchiv print that is untinted but looks quite crisp and clear throughout. Sumurun comes from a new scan of Enno Patalas' 1999 restoration with tints, and the quality is once again on the lower end but we must assume that these are the best materials that could be found. The HD master is still a bump up from the earlier DVD transfer, calling more attention to wardrobe accents and fine detail in the sets. Anna Boleyn comes from a 2001 restoration utilizing the original camera negative and a nitrate copy re-scanned in 2014. The 1080p is an improvement with the tinting more deftly applied throughout, making available detail more easily discernable than the earlier master. Virtually every shot in The Wild Cat [Die Bergkatze] is viewed through some strangely shaped matte border, but the new master better discerns the blacks of the mattes from the shadows and dark clothing of the characters within the frame, and the image as a whole looks less murky in HD.

Audio


All films have LPCM 2.0 stereo tracks of scores recorded at various points after 2000 with Bernard Wrigley's concertina score for The Doll being the sole exclusive to the Eureka set. No complaints about audio fidelity since the new scores are not effected by the damage to the various print sources. Whereas the Kino editions of all six films had English intertitles, the Eureka DVD and Blu-ray sets retain the German ones with optional English subtitles.

Extras


The sole extra is the feature-length 2005 documentary Ernst Lubitsch in Berlin: From Schönhauser to Hollywood (109:32) from Robert Fischer featuring Lubitsch's daughter Nicola discussing her father's life and career in Germany with archival recollections of Jannings (voiced by his nephew Jörg) and Potten among others. A booklet features essays on each film by David Cairns, Anna Thorngate, and Ignatiy Vishnevetsky that are more appreciations than analyses.

Overall


While there are no new extras, Eureka's Blu-ray upgrade of their earlier DVD set Lubitsch in Berlin does take advantage of more recent scans of the photochemical restorations with some improved tinting and digital restoration offering a fresher view of imperfect materials comprising a diverse body of cinematic work.