The Film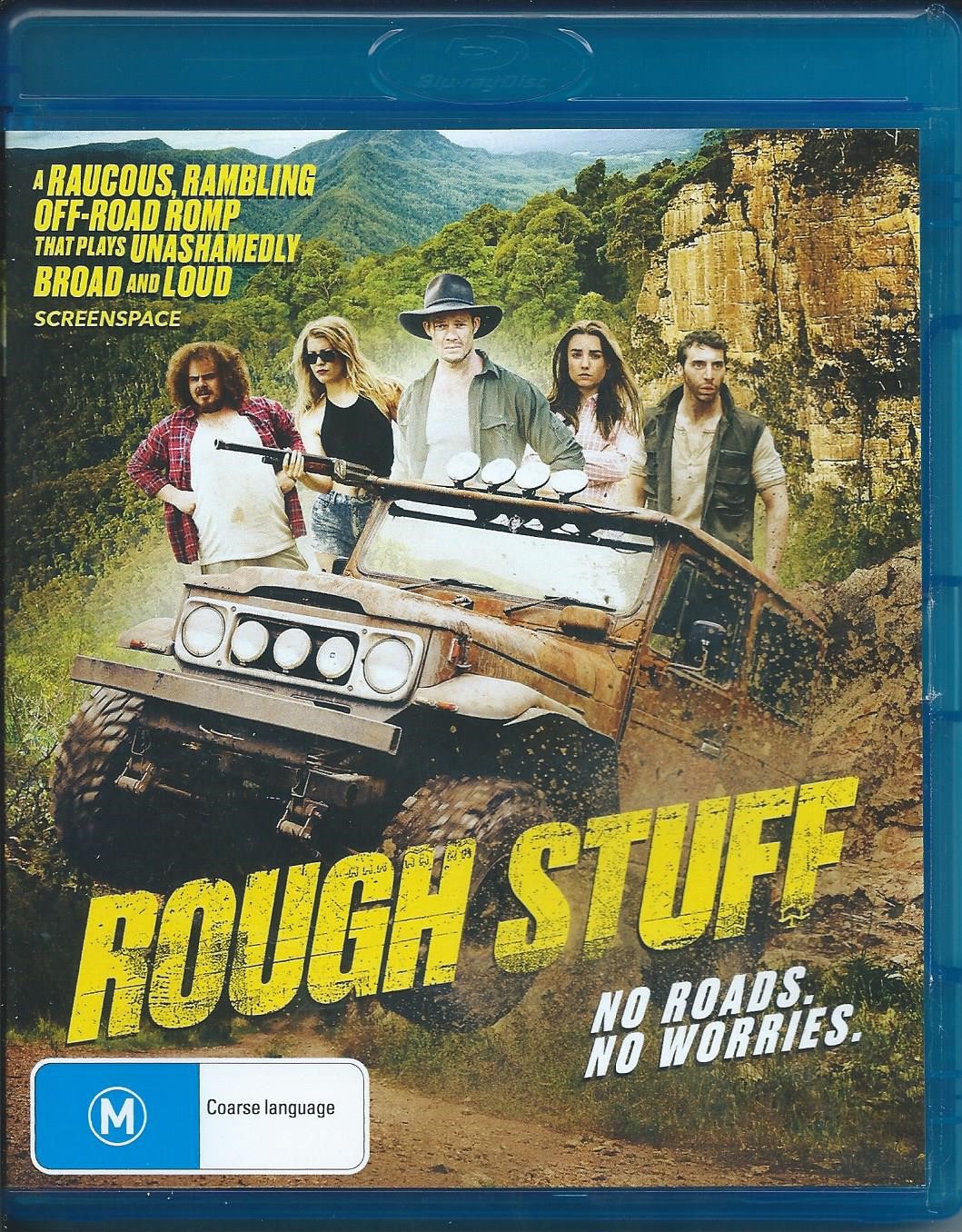 "Rough Stuff" (2017)

Participating in a rover competition, the adventurer and risk taker Buzz (played by Gareth Rickards) flips over his vehicle and loses the race, upsetting his navigating partner Abe (played by Vincent Andriano). Their other partner Scraps (played by Sam Glissan) holds the group together but the group is falling apart. But opportunity knocks for Buzz as an activist group is looking for help. With a mining company making an establishment in the outback, the group is looking for a way to the area to film footage secretly and need the expertise of someone like Buzz and his crew to navigate to the isolated area through rocky terrain, forests, and rivers. Buzz has no interest in politics or an environmental crusade, but the leader of the activists Eric (played by Jamie Kristian) shows him something of deep interest - a map to the legendary "Stray's Gold". Seeing the authenticity, Buzz decides to get the group involved in the kids' crusade.

Eric may be the brains of the party but Tom (played by Adam Horner) has the might, Skye (played by Katie Garfield) has the feminist attitude and tech skills, while Tori (played by Hayley Sullivan) is the least confident of all making it hard to make decisions on her own. The ragtag group of seven journey into the wild terrain but not all goes accordingly. On their tail is a mysterious ranger in black who is tailing Buzz, members get separated, and tensions start to rise when individuals start making differing decisions…

"Rough Stuff" goes all out in action and adventure on a small budget independent scale and it is something that has been missing from the recent crop of independent Australian cinema. A slew of serious dramas or quirky comedies have been making waves in the indie scene though there have been balls out big films such as "Mad Max: Fury Road" which reigns supreme in terms of critical and commercial success from Australia. "Rough Stuff" does have intense driving and adventure on a dangerous terrain but that may be all that it has in common with George Miller's massive hit. Director Jonathan Adams makes his feature film debut after a series of short films and he was set on making something action packed and not take itself too seriously in dialogue and plot. Characters speak in realistic tongue rather than smart one liners yet there are some hilarious moments scattered throughout though not on the level of parody. But not all is comedy, as the chase scenes with the mysterious black clad ranger are straight out of a slasher film and the end climax with fist fights and gunplay is fairly exciting to experience. The environmental activist plotline is possibly taken as a social and political message but it is more of a MacGuffin than anything else as people are double crossing or hiding secrets throughout so the idea of who is being played does start shifting around in the latter half of the film. "Rough Stuff" is a rollicking good time though it does have a hard time having to fit clichés throughout. Regardless, it's hard not to have fun watching the film.

Gareth Rickards is excellent as Buzz, having a bit of Mad Max and Indiana Jones with his cool gruffness yet playing with a tongue in cheek attitude. Buzz is essentially the driving force (pun?) and it's amazing how well Rickards pulls off the leading man role for the first time in a feature. Vincent Andriano as Abe is like a Jigen character from the "Lupin the Third" series - a sidekick that has the skills yet has frequent disagreements with the rambunctious leader. His role could have been more interesting with further character development, as his character and the character of Scraps could have been set as a single character rather than two. Sam Glissan as Scraps is the comedic relief though he does not go too much on the overboard side which is a… relief. As for the activist side, Jamie Kristian and Adam Horner as Eric and Tom respectively mirror that of Rickards and Andriano - Kristian has time to shine though Horner has little time to fully have a realized character in the story. Katie Garfield as Skye can be slightly annoying with her feminist attitude character but how she plays that opposite Scraps does lead to some comical mishaps, and watching the deleted scenes there are more but in a different direction. As for Hayley Sullivan as Tori, she does seem like the oddest out of the bunch but her character's intentions get revealed in the second half and for some reason her character is the oddest one out. Her purpose gets a bit overshadowed by everything else going on and her motivations at the end are questionable. Then again it's hard to describe without fully spoiling things.

"Rough Stuff" was partially funded through a Kickstarter campaign and was released in cinemas in Australia in March 2017 with a DVD-only release from Umbrella Entertainment in July. As for the Blu-ray, the disc was self-released in August and made available exclusively from the official "Rough Stuff" website in a Blu-ray+DVD set. The film has not been released outside of Australia as of yet.

Note this is a region ALL DVD in the NTSC format which can be played back on any DVD or Blu-ray player worldwide

Video


The Blu-ray presents the film in 1080p in the AVC MPEG-4 codec, in the original 2.35:1 aspect ratio. Like the previously released DVD edition by Umbrella Entertainment, considering how new the production is and having digital shooting and post production, the results are very pleasing. Colors of the outdoor areas are bright and colorful with the green leaves, brown dirt, and beautiful skies looking great. Compared to the DVD edition the Blu-ray features sharper colors, deeper blacks, and fine detail in the high definition transfer. There are some scenes which have some uneven color correction at certain points but is no fault of the transfer itself.

The Blu-ray edition is a single layer BD-R with no extras sharing the disc, there is fair breathing space for the film on its own, with no issues of compression or errors. Overall very pleasing image quality.

The film's runtime is 120:02, which is about 15 seconds longer than the DVD edition due to the Umbrella Entertainment logo that precedes the film on the Blu-ray, which is not part of the film on the DVD edition..

Note the following screenshots are taken from the DVD and are not meant to represent the Blu-ray quality.


Audio


English DTS-HD Master Audio 5.1
The original soundtrack is presented in lossless 5.1. Like the previously released DVD edition, it is a heavy track with the action and driving scenes, with sound effects and music playing throughout the ambient directional speakers. Gunshots, car crashes, explosions, screeching tires, they are all here. As for dialogue it is mostly center based with a few instances of panning to the left and right channels for effect. The lossless audio track has no issues of hard to hear dialogue or level issues.

There are no subtitles offered for the main feature.

Extras


The Blu-ray (BD-R) contains no extras. The accompanying DVD is a DVD-R copy of the Umbrella Entertainment DVD release with the film and the following extras. The DVD-R like the Umbrella release is region 0 in the NTSC format.

Audio commentary with Jonathan Adams, Jack Crombie, and Gareth Rickards
This track features director Jonathan Adams, director of photography Jack Crombie and actor Gareth Rickards, recorded in Crombie's home. The three talk about some of the difficulties shooting on location including the weather, time constraints, hard to reach areas, while also pointing out things such as continuity errors on screen. It is equally a technical and fun commentary track with more of the comedy reserved for the latter half.
in English Dolby Digital 2.0 with no subtitles

"The Making of Rough Stuff" featurette (16:37)
This featurette has interviews with the cast and crew along with behind the scenes footage. Talked about are the process of making an Australian action adventure movie on a micro budget and having fun while doing so. The audio level on this featurette is much louder than the feature so keep the volume down.
in 1.78:1 and 2.35:1, in English Dolby Digital 2.0 with no subtitles

"Rough Rubber: Mickey Thompson & Rough Stuff" (1:58)
A short featurette on the Mickey Thompson tires used for the shoot.
in 1.78:1 and 2.35:1, in English Dolby Digital 2.0 with no subtitles

"Tough Stuff: Interviews" (3:05)
An extended set of interviews that were also used for the "Making of…" featurette which the cast and crew talk about the outback as a frontier land perfect for rovers.
in 1.78:1, in English Dolby Digital 2.0 with no subtitles

Deleted Scenes (with optional commentary)
- Abe and Skye Get Close (1:38)
- Abe and Skye Get Closer (0:59)
- Security Guard Fight (0:40)
- Skye's Limit (3:15)
The fight scenes and love scenes were removed, and it probably works better with the scenes with Skye being vulnerable changing her character a little too much. The director's commentary gives additional explanation to the reasons for the cuts made.
in 2.35:1, in English Dolby Digital 2.0 with no subtitles

Blooper Reel (5:35)
Flubs, mistakes, and crackups are all collected here. The footage has not been color corrected or matted.
in 1.78:1, in English Dolby Digital 2.0 with no subtitles

Miniature Testing (1:00)
Test footage of miniature remote control rovers. Some footage is silent, some has sound.
in 1.78:1, Dolby Digital 2.0 with no subtitles

Theatrical Trailer (2:21)
The original theatrical trailer is offered here. It has also been embedded below.
in 2.35:1, in English Dolby Digital 2.0 with no subtitles


To state, the Blu-ray disc has the film and nothing else. No menus even. The movie starts when the disc is inserted and stops once the film is finished.

An issue that must be stated is with the menu screens on the DVD release. On the main menu a snippet of dialogue from the film runs for a 30 second loop. Going to any other menu screen - extras, deleted scenes, etc. the same dialogue also runs and loops again and again. Be prepared to have the voice ingrained in your memory. Why couldn't they either change it to something else or have it silent for the other menus at least?

With the Blu-ray+DVD release there are no new extras to speak of compared to the Umbrella Entertainment DVD release, though it should be stated that the curated extras are very informative and well edited, making the release very comprehensive and still entertaining.

Packaging


The packaging claims that the Blu-ray is "region B" but it is in fact a region ALL disc.

Overall


"Rough Stuff" is equally a road movie, action film, adventure film, and a awkward comedy film rolled into one on a small budget while making things much bigger in scale. It may play on clichés from time to time but it's been a while since a film like this has come out of Australia and it certainly feels fresh as it is fun. This exclusive Blu-ray+DVD release from the official "Rough Stuff" website gives the film an excellent high definition transfer and informative extras on the DVD copy, making this a recommended release.
| | | | | |
| --- | --- | --- | --- | --- |
| The Film: B | Video: A | Audio: A- | Extras: B+ | Overall: B+ |