The Film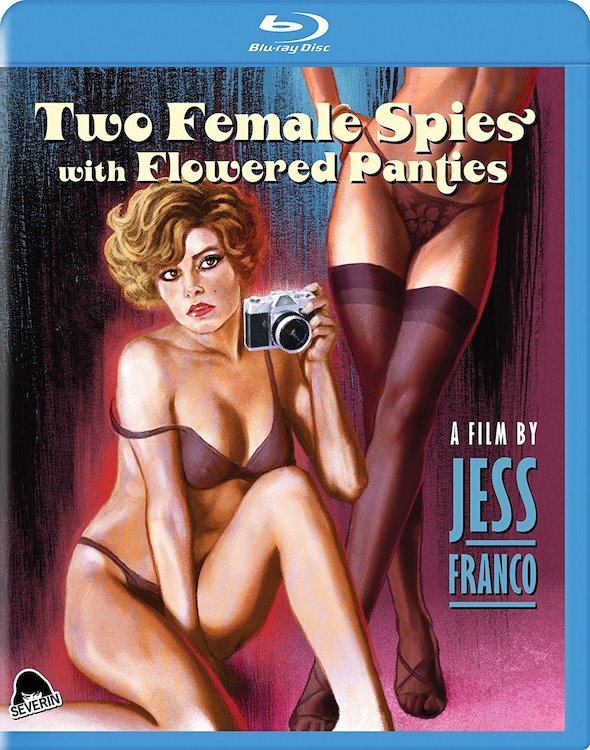 According to IMDb, Jess Franco directed 203 films during his career and, yet, despite being so clearly prolific there isn't a single, defining one among the bunch. Has he no magnum opus? This is a genuine question. To the uninitiated, non-Francophiles – i.e. me – the general consensus seems to be he was a man who loved to make movies, quality be damned, with a greater emphasis placed on titillation than tight scripting. Thanks to Severin, my inaugural viewing came in the form of the subtly-titled "Two Female Spies with Flowered Panties" (1980), which reviews have suggested is on the lesser side of Franco's filmography, coming after he had seemingly abandoned filmmaking tenets like coherent storytelling and steady direction. Even without knowing Franco's oeuvre it is painfully evident those comments are true… but that doesn't mean the 90+ minutes of awkward stripteases, lesbian torture, constant rape (of both sexes), cave-dwelling hippies, and international espionage aren't bizarrely engrossing in their own way. If this first foray into Franco territory has taught me anything, it's that you must fully surrender your mind to his lurid lens or risk being quickly be turned off by one of a hundred different things.

There is some semblance of a story here, at least in the beginning. I think. Cecile (Lina Romay) and Brigitte (Nadine Pascal) are a couple of low level "entertainers" doing a one-year prison term for public stripping. Coincidentally, the women are again doing just that, on command, as a pair of shady government types makes them an offer: work as an undercover operative, providing photographs of a suspected sex trafficking ring, and any prison time will be commuted. The girls agree. With the film now having been graced with a minor purpose, Franco begins his Tour of Sexual Deviancy, beginning with what appears to be a rape. It's hard to tell sometimes because Franco rape victims vacillate between sheer terror and clear ecstasy. Why limit your emotions, right?

The duo behind this sex ring is Forbes (Claude Boisson) and his wife, Irina (Joëlle Le Quément), who wears a hypnotic opal that is able to possess the mind of all who gaze upon it. This is primarily how she and Forbes procure their sex slaves. Then, the women they do capture are sexually abused by both men and women, with some subjected to lots of kinky sadistic action. There is also a subplot involving hippies who live in nearby caves. Look, I tried to follow along like a good viewer but Franco (and his editor) clearly had one thing in mind: get to the next sex scene.

This may ostensibly be a feature film but, really, it's just a loosely strung together series of sexual vignettes featuring a variety of sexual proclivities that are only found truly arousing to old, virginal loners and 80's teenage boys who might've been lucky enough to catch a tit or two on late night cable. Again, I'm just a Franco layman here but the insouciance with which the story has been cobbled together doesn't inspire newfound viewers nor does it sound like it excites longtime stalwarts, either. Bits of the film are definitely amusing due to profound weirdness – "I love Aristopeles" – or genuine chuckles – like the fact two women arrested for stripping are both terrible strippers and horrible dancers.

The film spills over from unbridled erotica into something more akin to Franco's gleefully torturous ""Ilsa, the Wicked Warden" (1977), with Cecile on the receiving end of cigarette-burned nipples and threats of having her vagina sliced up like deli meat. The change in sexuality is just one of the many inconsistencies on display here, and it is likely a better suggestion that potential viewers go in with no expectations outside of watching a film as ludicrous as its title. Speaking of which, Severin has also included the Spanish-dubbed cut of the picture, "Opalo de Fuego: Mercado del Sexo", which includes numerous scene changes and editing. Surely, someone who has made it through the film once is willing to view it again with a different lens.

One undeniable highlight here: Daniel White's funky, jazzy score. This is a prime example of a film's soundtrack being too good for the movie. White's contributions would have made for a fine album of jazzy exotica on its own. Here, it elevates Franco's feature to a whole new level because, even if the action on screen is lacking, White's score is there to buttress that bored and make sweet love to your ears.

Video


Severin Films claims to have restored the 1.33:1 1080p 24/fps AVC MPEG-4 encoded image, though to what degree remains unclear. The 4x3 picture is frequently soft, with muddied detail and variable contrast dominating much of the time. Colors are nicely shaded and appear natural and neutral, and skin tones are rendered organically. But those are two shining spots amongst a sea of mediocrity, with the bulk of the film looking like a well done DVD and hardly reaching even the minimal standards of HD. The aspect ratio is a head-scratcher, too, because even if Franco had shot the picture full-frame it would no doubt have been intended for widescreen exhibition, no? The shaky, amateur ambiance works for a film like this, though that still isn't an excuse for such an underwhelming presentation. I can give credit for accurate color reproduction and a handful of closeups, which reveal some fine details, but that's about it.

Audio


Regardless of whether viewers select the English or French LPCM 2.0 stereo track, they should know both were looped in post so you aren't getting the "true" audio on either one. Films of this ilk tend to work best with a dub, and so I selected the English track for most of the runtime and found it to be superior. The French option tends to get a bit scratchy and there is some hissing on the high end. The English track has its own issues but none so evident; the fidelity is higher here. The real standout is Daniel White's score, adding so much spice and sex appeal to Franco's confounding visuals. Subtitles are available in English.

Extras


DISC ONE: BLU-RAY

*The Film - French Version (94:27)

"Two Cats in the Canaries: An Interview with director Jess Franco" (1080p) featurette runs for 10 minutes and 28 seconds. This legacy interview features the director fondly recalling the shoot in the Canary Islands.

"Filmmaker Donald Farmer Interviews Longtime Franco Composer Daniel White" (1080p) featurette runs for 11 minutes and 51 seconds. This is from an interview conducted in Paris, 1993.

"Stephen Thrower on Two Female Spies" (1080p) is a featurette that runs for 28 minutes and 46 seconds. The film historian discusses not only Franco's film but how it fits into his body of work during that time period.

A reel of outtakes (1080p) runs for 8 minutes and 50 seconds.

The film's theatrical trailer (1080p) runs for 2 minutes and 7 seconds.

DISC TWO: DVD

*The Film - Spanish Version (90:15) The first 3,000 copies come with a bonus DVD of the alternate Spanish-language cut, "Opal of Fire, Merchants of Sex" (1980, "Opal de Fuego: Mercato del Sexo").

Packaging


The two-disc set comes housed in a standard Blu-ray keep case. The cover art is reversible, allowing for display of one of two erotic images.

Overall


This may not have been a good film but it was, at the very least, an entertaining one and it embodied so much of what I have come to expect from Franco despite never having watched one of his features.
| | | | | |
| --- | --- | --- | --- | --- |
| The Film: C- | Video: C | Audio: C+ | Extras: B- | Overall: C |