See No Evil AKA Blind Terror (Blu-ray) [Blu-ray]
Blu-ray ALL - United Kingdom - Powerhouse Films
Review written by and copyright: Rick Curzon (6th October 2017).
The Film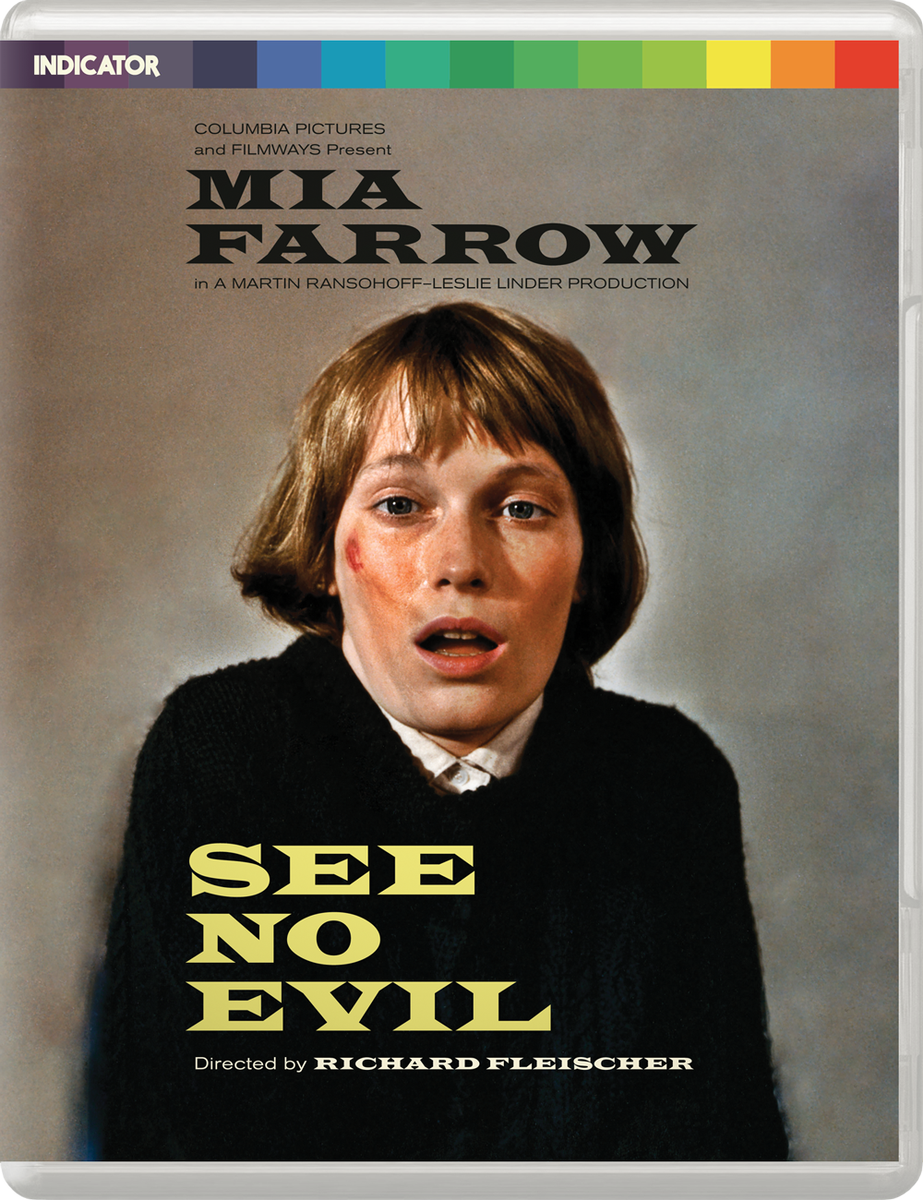 Recently blinded in a horse riding accident, young Sarah (Mia Farrow) returns to her uncleís English country home, unaware that a psychopathic killer is stalking the family. This wonderfully creepy suspense-thriller from director Richard Fleischer (10 Rillington Place), from a script by British writer Brian Clemens (The Avengers, The Golden Voyage of Sinbad), features a note-perfect performance by Mia Farrow, and sterling support from a cast of formidable British character actors. Released in America as See No Evil and in the UK and Europe as Blind Terror (with subtle differences between the cuts), Indicator is delighted to present both versions of the film for the first time ever.

Video


A top notch murder-mystery cum psycho-thriller about a blind woman being menaced by an unseen loon is extremely taughtly handled by ace director Richard Fleischer who gave us such classics as 20,000 Leagues Under the Sea (1954), The Narrow Margin (1952) and Soylent Green (1973). Plenty of red herrings littered throughout the script; Iím sure mystery addicts will find it fairly easy tomwork out how done it. Mia Farrow is the whole show giving a very empathic performance that may have influenced Jonathan Demme and Jodie Foster making The Silence of the Lambs (1990) in their concentration on reading facial emotion in closeups.

Powerhouse Films as part of their Indicator Series (#045) have yet a another worldwide BD debut ... Once again I'm making like a myna bird; the previous films I've looked at from this company are British films from the 1966-73 period and this is yet another one that has been largely forgotten in recent years.

Image quality is as to be expected of a low budget British-made film of the period. Solid colours, plenty of grain and good contrast-brightness levels. Colours are particularly notable in some some of the fashions and in the gypsy camp. Black levels are excellent and I couldn't see any signs of crush with decent shadow detail. Contrast is typically low key allowing greater depth and detail to come through with no distracting blowouts in highlights. Colours are bright but not unrealistic with good flesh tones. See No Evil has a high bitrate and a topnotch David Mackenzie encode; no gaps in the grain and no signs of posterisation, mosquito noise or other unwanted artefacts. No signs of DNR or edge enhancement.

This Fleischer horror flick gets an indulgently good Indicator Series Blu-ray and what more could a fan want?

1.85:1 / 1080/24p / MPEG-4 AVC / contains both the US "See No Evil" version (89:11) and the UK "Blind Terror" version (87:30)

Audio


English LPCM 1.0
Subtitles for the hard of hearing

A solid lossless, mono track typical of the period. Dialogue is very clear and easy to follow, the Elmer Bernstein score is clearly levelled in the track never becoming overbearing; decent enough without being one of his best. I could detect no signs of age, no clicks or pops or other distortions. At a couple of the shock moments the soundtrack had me jumping out of my seat.

Extras


"The Two Versions" featurette (7:22)

Excellent little Michael Brooke-produced ditty that highlights the differences between the two edits. There isnít much between them to be honest with the US See No Evil version being slightly more salacious at a couple of points but not enough to breach a 12-certificate; mainly during the early pub scene where the camera lingers on clothed female torsos more than in the UK Blind Terror version. Most of the changes are just alternate takes that subtly shift the emphasis during scenes but watching both back-to-back I didnít feel that either edit was appreciably better than the other nor to one have a strong bias in tone over the other.

"Norman Eshley on See No Evil" featurette (11:19)

Th veteran actor appears in a short interview piece discussing his long career and he spends more time obviously focussing on See No Evil. If was an enjoyable job for him with everyone seemingly to get along very well.

Alternate Italian Opening Sequence (2:25)

What it says on the tin; the opening of the Italian version.

Original theatrical trailer (1:18)
See No Evil: Original Promotional Material (92 images)
See No Evil: On-Set Photography (34 images)

The usual round of promotional pieces typical of the era.

32-page liner notes booklet with an excellent overview by Chris Fujiwara which discusses Brian Clemensí involvement in writing the script likening it to his other work like And Soon the Darkness (Blu-ray please!) and itís similarities to the play and film of Wait Until Dark (1966/67). Thereís also a vintage interview with the late, great Richard Fleischer; an overview of the controversial rejected scores by Andre Previn and David Whitaker (Vampire Circus, The Sword and the Sorcerer) and the final work done by Elmer Bernstein. The final article covers the mixed contemporary critical responses.

Overall


A film very much to my taste and Iím happy to say it gets a topnotch Indicator Series Blu-ray release. The disc is well up to the high standards expected of Powerhouse and their heaven-sent team, may they long continue to curate these this wonderful series. It continues to be joyful to see such a good job being done and once again I just wish all companies releasing hard copy formats would take the same levels of care and attention over every aspect of their releases.
| | | | | |
| --- | --- | --- | --- | --- |
| The Film: B+ | Video: A+ | Audio: A+ | Extras: A | Overall: A |

---
DVD Compare is a participant in the Amazon Services LLC Associates Program and the Amazon Europe S.a.r.l. Associates Programme, an affiliate advertising program designed to provide a means for sites to earn advertising fees by advertising and linking to amazon.co.uk, amazon.com, amazon.ca, amazon.fr, and amazon.de.