Chase (The) (Blu-ray) [Blu-ray]
Blu-ray ALL - United Kingdom - Powerhouse Films
Review written by and copyright: Rick Curzon (8th October 2017).
The Film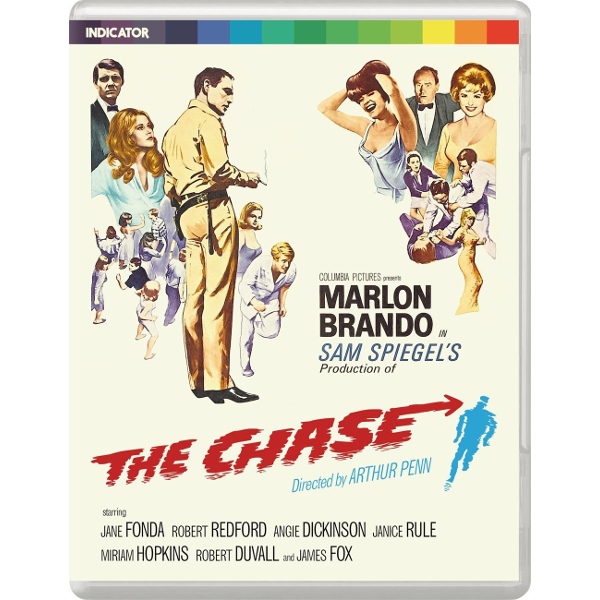 Preceding Bonnie and Clyde by a year, Arthur Penn's (Mickey One) acclaimed film boasts enviable pedigree Ė produced by the legendary Sam Spiegel, with a screenplay by Lillian Hellman from the novel by Horton Foote, a rousing score by John Barry, and a stellar cast of the hottest stars of the day (including Marlon Brando, Jane Fonda, Robert Redford, Angie Dickinson and James Fox). The story of an escaped con making his way back to the corrupt Texas town and the people who sent him to prison, The Chase is a telling indictment of violence in American society. A seminal work which is ripe for rediscovery.

Video


Powerhouse Films as part of their Indicator Series (#044).

The first of this series that Iíve had the pleasure to review thatís an American film of the period that Powerhouse seem to have a heavy focus on (1960ís-70ís.). The film is a not entirely successful adaptation of Horton Footeís play (1952) and novel (1956). Speaking personally it just didnít seem to hang together although it was always interesting, never boring and a slick piece of grade ĎAí Hollywood movie making.

The image is as usual very true to it's source with a very robust, very Ď60s use of colour accentuated by having a good cinematographer and plenty of time to light scenes; this was a big budget film with a big budget schedule. This has some tremendous uses of the Panavision frame with some great compositions to feast on.

Black levels are excellent and I couldn't see any signs of crush and where intended shadow detail was present. Contrast is low key which allows more detail to come through especially in fabrics and backgrounds and suits the interiors. Colours richer than usual but are accentuated by Penn and his teamís design choices. Several earlier scenes have deliberately understated colours choices in the set dressing and production design which make faces stand out more, thus drawing more attention to the performances. As the story moves towards itís emotionally charged conclusion the colour palette hots up.

Grain is present but itís very fine obviously turning up slightly more in night shots. This has the usual maxed out Indicator Seriesí bit rate and topnotch encode; no gaps in the grain and no signs of posterisation, mosquito noise or other unwanted artifacts. No signs of DNR or edge enhancement. Another winner from Powerhouse Films.

2.35:1 / 1080/24p / MPEG-4 AVC / 133:50

Audio


English LPCM 2.0
Subtitles for the hard of hearing

A solid lossless, mono track typical of the period. Dialogue is very clear and easy to follow, what music there is, is clearly levelled in the track never becoming overbearing. Barryís score is superb and comes through with great fidelity. This is a very good track, but this being a big budget prestige production Iíd expect no less.

Extras


Audio commentary with Lem Dobbs, Julie Kirgo and Nick Redman

If youíve heard other commentary tracks from this trio then you know what to expect. We get an historianís and fanís viewpoint in this troubled production and about why in the final edit it is considered both a classic and a turkey. Ported over from the US Twilight Time release.

ďStep Back and Let Him Go: Arthur Penn on Marlon Brando and The Chase - Interviewed by Paul Joyce for His 1996 Documentary 'Marlon Brando: The Wild One'" featurette (26:08)

Typically meticulous Paul Joyce interview material focusses obviously on Brando and therefore The Chase. Topics discussed are Brandoís method and the fighting techniques whereby the actors slowed down their moves and and then in post production Penn had the editors speed up the film by four frames or so. Also the turbulent period in which the film was made and how that filtered itself into the script and production; how the Watts riots infused how Penn handled the material for instance. Fascinating stuff.

"Matthew Penn on The Chase" featurette (9:02)

The son of the director shares memories of his dad, scriptwriter Lilian Hellman and producer Sam Spiegel. Topics discussed: How the film was commissioned by Brando signing in which ensured it got made. How the arduous night shooting complicated the Penn family life; how Penn didnít get on with Spiegel; how Penn and Brando got on famously and saw eye to eye completely. He also touches on Pennís relationship with other actors and in other productions like Bonnie and Clyde (1967). Pennís social consciousness gets a fair examination.

"Cut to The Chase: James Fox in Coversation with Richard Ayoade" featurette (24:03)

Fascinating account of how Fox came to work on the film with plenty of amusing anecdotes about working with such a high powered cast and director. The memories are mostly positive which is surprising. He starts off with bow he got the part from working on King Rat (1965) and the challenges of doing a Texan accent; he was holed up in the Beverly Wiltshire Hotel with a young Texan actress who was instructing him. Interesting anecdote about Brando and Spiegel openly discussing his character and Brando all the while kicking Fox under the table as he wound up Spiegel. Brando was easy to work with but largely kept to himself. Film maker Ayoade is a perceptive, intelligent interviewer; his analysis of Brandoís character being the only character who tried to maintain an adult viewpoint is most interesting.

Super 8 Version (20:01)

Before home video, folks rented or bought 8mm digests of their favourite films and this is one for The Chase. Typically low grade quality; one for the nostalgia buffs. Panned and scanned and surprisingly narrated; the first of these digests that Iíve seen to be such. It plays like an elongated trailer.

Isolated Score LPCM 2.0 Stereo

You can listen to the score without dialogue and sound effects. This being a John Barry score from his prime period itís a treat. Although the film is in mono this is in stereo and when played through Pro-Logic II works well in the surrounds.

Theatrical Trailer (3:26)
The Chase: Image Gallery - Original Promotional Material (33 images)

Vintage promotional materials.

32-page liner notes booklet with writing by Christina Newland with an interesting extract from a 1993 Cinťaste interview with Penn; a compilation of quotes from Brando about working on this film with Penn and finally the usual roundup of contemporary critical appraisals.

Overall


A solid if imperfect film given the royal treatment by Powerhouse Films as part of their superb Indicator series. Superb picture and sound and the extras package is first class; even if youíre not the biggest fan of the film, but are into film history then this is a must buy.
| | | | | |
| --- | --- | --- | --- | --- |
| The Film: B | Video: A+ | Audio: A+ | Extras: A+ | Overall: A+ |

---
DVD Compare is a participant in the Amazon Services LLC Associates Program and the Amazon Europe S.a.r.l. Associates Programme, an affiliate advertising program designed to provide a means for sites to earn advertising fees by advertising and linking to amazon.co.uk, amazon.com, amazon.ca, amazon.fr, and amazon.de.