The Film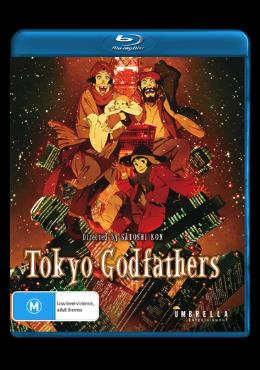 "Tokyo Godfathers" 「東京ゴッドファーザーズ」(2003)

Gin (voiced by Toru Emori) is a middle aged alcoholic and gambling addict. Hana (played by Yoshiaki Umegaki) is a former drag queen. Miyuki (played by Aya Okamoto) is a rebellious teen. The three couldn't be more different but they have one thing in common - they are homeless living in the Shinjuku district of Tokyo. On Christmas Eve while digging through trash they find something very unexpected - an abandoned baby. With snow falling and temperature freezing, the three try to take care of the baby girl by bringing her back to their tent in the park and deciding on what to do. In the baby's cradle were paperwork, a locker key, and clues to the identities of her parents. The three set out on a quest across Tokyo with their limited resources to reunite the baby with the parents, but the journey does not go according to plan.

"Tokyo Godfathers" is loosely based on the 1913 novel "Three Godfathers" written by Peter B. Kyne. It was first adapted as "Three Godfathers" in 1916 starring Harry Carey, three years later in 1919 as "Marked Men" also starring Carey and directed by John Ford, in 1921 with the title "Action" again directed by John Ford, in 1930 with the title "Hell's Heroes", again in 1936 under the title "The Three Godfathers", and John Ford remaking it with sound in 1948 as "3 Godfathers", starring John Wayne and Harry Carey Jr. While the filmed adaptations were always placed in the same Western setting as the original novel, "Tokyo Godfathers" sets the location in the urban jungle of modern twenty-first century Tokyo. Each have the same basic story of a band of three outcasts having to take care of a baby.

Anime director Satoshi Kon made an incredible impact with his feature film debut "Perfect Blue" in 1997. A psychological thriller that stood out from the crop of anime films which were mostly geared towards teens and children, "Perfect Blue" was a hit with festivals and arthouse crowds worldwide and is still considered one of the finest anime films ever made. His follow-up film "Millennium Actress" was a tribute to the history of Japanese cinema through animation, loosely basing the main character on that of Setsuko Hara, considered one of the greatest actresses of all time who retired at a fairly young age and never returned to the spotlight out of personal choice. Another major hit with critics and audiences, the films established Kon as a master animation film director that had a truly unique view on the use the art of animation for filmmaking and storytelling. For his third film "Tokyo Godfathers", Kon again went against the grain by making a trio of homeless people as the main characters.

With the modern setting of the hustle and bustle of Tokyo in "Tokyo Godfathers", the setting is not the usual touristy locations found in the guidebooks but it showcases the alleyways and the slums that are frequently hidden. There are many recognizable places shown in the film - Shinjuku, Kinshicho, Tokyo Tower, but there are the dumpsters, back alleys, tents and cardboard box homes of the many homeless living in the parks and underground. The details in locations were meticulously researched and detailed in the background artwork which is equally beautiful and ugly. The characters of Gin, Hana, and Miyuki being homeless sounds one-dimensional by just labeling them as "homeless", but as the audience learns, they are more than just a simple tag of not having a home. During the course of the film, each of their pasts are slowly revealed. Gin's former life as a father and husband crumbled by heightening debt and separated from his family in shame. Hana's life as a singing drag queen at a club which was fabulous being cut short due to Hana's lover's passing. Miyuki unable to return home through guilt of seriously injuring her father in an argument, and feeling he would never forgive her. Homeless they may be, but they are humans at heart and the story shapes their pasts and characteristics very well, giving names and faces and backgrounds to people that are usually ignored by most of society. The voice actors Toru Emori, Yoshiaki Umegaki and Aya Okamoto are excellent casting choices for the roles of Gin, Hana, and Miyuki respectively, yet surprisingly the three were not seasoned voice actors in the world of animation. Emori is one of the most recognizable talents in Japanese media for decades, and has been in the television, theater, commercials, narration and film business. He would later work with Kon again to lend his voice for the 2006 film "Paprika". Umegaki is a fairly well known actor, comedian, and impersonator frequently seen on television variety shows and TV dramas from the 90s onward to present day. To this day "Tokyo Godfathers" is the only anime production he has provided his voice for. Okamoto started as a child actor in the 1990s and became a teen star with 1995's "School for Ghosts" and with a leading role in the 1997 film "Ichigo Domei" in addition to television drama appearances. 2003 became an especially busy year for the 21 year old actress, appearing in supporting roles in the action films "Azumi" and "Sky High", both directed by Ryuhei Kitamura plus "Tokyo Godfathers". In 2007 while still at a peak in popularity, Okamoto decided to leave show business indefinitely. In essence she has somehow become the "Millennium Actress" character in real life.

"Tokyo Godfathers" also takes influence from Christianity and the sense of miracles in its storytelling. The Three Wise Men and Baby Jesus at Christmastime is an obvious nod to the Biblical theme as is sin and redemption. As for miracles, the three encounter an amazing amount of good luck and coincidences along the way, but sometimes with bad luck along the way. They are given a ride by a Yakuza boss, but end up in the middle of turf warfare. They get into a fight with a drunken salaryman but because of that are saved from an oncoming car accident. Gin gets beaten up by rowdy college kids but gets saved by chance through Hana's old friends. A godly gust of wind saves Hana from a fall. Miyuki's father on the opposite train which stops at the same time by chance. Is the baby girl supposed to be an incarnation of Jesus or is it just by coincidence? History tends to repeat itself in both fiction and real life. The tone of the film ranges from wildly comedic in wacky shenanigans to very serious themes such as domestic abuse, assassination, and mental disorder to name a few. It equally balances the tightrope on being funny and serious, making it easily fun to bust out laughing while at other times gasping in emotional shock.

"Tokyo Godfathers" received its premiere at the Big Apple Anime Fest in August 2003 in New York to very positive reviews. After the special premieres in Tokyo in October and screenings at the Tokyo International Film Festival, the film received a theatrical run from November 8th 2003 in Japan. While the film was not a huge monetary success, the film did find audiences through word of mouth on video and DVD. Worldwide the film continued to roll out in various festivals and theatrical releases, with Samuel Goldwyn Films/Sony Pictures giving it a home video release in various territories to continued acclaim. Satoshi Kon would later direct the acclaimed 13 episode series "Paranoia Agent" in 2004 and the mind bending theatrical feature "Paprika" in 2006, which would sadly become his final completed work, as he died in 2010 at the young age of 46 from pancreatic cancer. Even with only four feature films directed to his credit, each are considered masterworks and his legacy lives on, continuing to be studied, loved, and appreciated by fans from around the world. "Tokyo Godfathers" is easily his most conventional work yet a unique vision on humanity and compassion in an ugly and cruel world.

Note this is a region ALL Blu-ray which can be played back on any Blu-ray player worldwide.

Video


Umbrella Entertainment presents the film in 1080p in the AVC MPEG-4 codec, in the 1.85:1 aspect ratio. When it was first released on home video in 2004, there was some windowboxing of the image, with black bars on all four sides as overscan on standard television sets were still fairly common. With HD televisions doing away with overscan and showing the picture fully from edge to edge pixel by pixel, windowboxing of films has become an unnecessary practice. Unfortunately this Blu-ray release of the film uses an older transfer with windowboxing leaving black bars on all four sides of the frame. A few other anime titles such as the original releases of "Akira" and Kon's own "Paprika" on Blu-ray features some windowboxing, about 5% of the screen left to black bars. Small but significant. For "Tokyo Godfathers" about 10% of the frame is black bars surrounding the image, making the viewing a bit distracting and disheartening to think that the film did not receive a full new master for the Blu-ray release. Note that the film has been released on Blu-ray in Japan and Taiwan previously, but it is uncertain whether the transfer is windowboxed or not. In addition to the windowboxing, the image suffers from digital grain and artifacts, not appearing as sharp and clear as it should, and colors appearing on the drab side. It sadly is not a huge step up from the previously released DVD editions. On a positive note there is no damage, framing is stable, and the brown hues are fair.

The film's runtime is 91:41.

Audio


Japanese Dolby Digital 5.1
The original Japanese track is offered in lossy Dolby Digital 5.1. The rear cover mentions a lossless DTS-HD Master Audio 5.1 logo but the disc only includes a Dolby Digital track. This is essentially the same 5.1 track found on many DVD editions released previously (although some included a DTS track as well). Voices are almost always center based while sound effects and music are placed throughout the 5.1 soundscape. As the film was to capture the underbelly of the hustling sounds of Tokyo, the surrounds are put to very good use in the train scenes, the assassination scene, the gust of wind scene, and much more. It's an excellent track but it's unfortunate that it could not have an extra push in depth that a lossless track would have. To note, the Japanese and Taiwanese releases did include lossless audio.

There are optional English subtitles in a white font for the feature. The subtitles are relatively fair but there are a few issues. Timing-wise some of the subtitles are on screen for far too short of a time, so characters may be speaking for a few seconds with no subtitles on screen because they disappeared too quickly. There are also some spacing issues, with a proofreader possibly hitting the enter key at the wrong portions. In addition the clever opening credits with the names of the cast and staff placed in signs and billboards are not subtitled, with the exception of the director's name on the side of a truck. The translation seems to be taken from the Sony DVD release with a lot of slang for the translation. Some portions are questionable such as when Hana gets angry when called ジジイ, which is an insulting term for "old man". With Hana identifying herself as a woman in mind, she gets upset with a derogatory male term being used. The English translates it as "old fart" which may have the same sort of insulting nature but misses the point of being called a gender she doesn't relate to. These are minor points and do not get in the way of enjoying the film.

Extras


"Unexpected Tours: Making Tokyo Godfathers" featurette (25:50)
This featurette include location scouting references for visuals and sounds, the voice recording sessions, interviews with the actors, and also footage from the premieres in Japan and in America. While most of the featurette is in Japanese, there are some voices from English audience members and critics which are kept in English. There are some issues with the subtitles with words like "Brdige" and "Lghits" being obviously misspelled.
in 1080i 60hz (upscaled) AVC MPEG-4, in 1.33:1, in Japanese/English Dolby Digital 2.0 with optional English subtitles and burned in Japanese subtitles for the English portions

"Process of Animation: The Making of Tokyo Godfathers" featurette (13:55)
The featurette includes live action reference footage for the characters and their movements, plus storyboards and animatics with explanations from narration.
in 1080i 60hz (upscaled) AVC MPEG-4, in 1.33:1, in Japanese Dolby Digital 2.0 with optional English subtitles

"Animax" featurette (21:57)
This featurette was made for the Animax TV channel prior to the release of the film. It includes footage from the Big Apple Anime Fest in August 2003, Kon discussing the characters and settings, an except of an interview with Kon by playwright Shoji Kokami, behind the scenes at Madhouse animation studios, and more.
in 1080i 60hz (upscaled) AVC MPEG-4, in 1.33:1, in Japanese Dolby Digital 2.0 with optional English subtitles

5.1 Surround Sound Art Gallery & Interview with Music Director Keiichi Suzuki (11:46)
There are about 5 minutes of background artwork with an accompanying 5.1 soundtrack of the film's score, and the latter half being an interview with the music director. He talks about how Kon would explain to him about the choices for the scenes and how the composer listened to a lot of different genres of music to get the tone correct for the accompanying scenes.
in 1080i 60hz (upscaled) AVC MPEG-4, in 1.33:1, in Japanese Dolby Digital 2.0 with optional English subtitles

Japanese Trailer 1 (0:59)
The original Japanese trailer promoting the film as a hit at the Tokyo International Film Festival is presented here with Japanese text and narration, but strangely not subtitled in English.
in 1080i 60hz (upscaled) AVC MPEG-4, in windowboxed 1.85:1, in Japanese Dolby Digital 2.0 with no subtitles

Japanese Trailer 2 (1:58)
The second trailer is an instruction of the characters and setting with various scenes and dialogue from the film.
in 1080i 60hz (upscaled) AVC MPEG-4, in windowboxed 1.85:1, in Japanese Dolby Digital 2.0 with optional English subtitles

US DVD Trailer (1:38)
The US trailer with obligatory narration rather than dialogue and subtitles is presented here. It is from a standard definition source upscaled to HD. The image is very slightly windowboxed, but nowhere near that of the main feature.
in 1080p (upscaled) AVC MPEG-4, in 1.85:1, in English Dolby Digital 2.0 with no subtitles

All of the extras presented here were on various DVD incarnations over the years. Unfortunately nothing new has been made for this Blu-ray release. On the Japanese Blu-ray set, all extras are on a second DVD which includes all the extras above plus the full interview with Kon by Shoji Kokami (included on the older Japanese DVD edition) and an exclusive newly made extra on Satoshi Kon in Taiwan. While more expensive in price and lacking English subtitles, the Japanese release is the better option with lossless audio and additional extras.

Packaging


The inlay is reversible, with the other side having identical artwork without the M rating logo on the cover.
The inlay also incorrectly states the disc is Region B only and that the audio is DTS-HD Master Audio 5.1.

Overall


"Tokyo Godfathers" is easily director Satoshi Kon's most accessible and deeply emotional film with tons of laughter and heartbreak. It may be a cry for social justice on the surface but deep down it is a film about people coming together for the love of life and that miracles and coincidences may exist. The animation is superb and even non-anime fans will take a huge liking. It's very sad that the director passed away so young at the age of 46, but with the limited amount of amazing work he has left behind, we will surely remember him forever. The Umbrella Entertainment disc has its faults but the film is still highly recommended.
| | | | | |
| --- | --- | --- | --- | --- |
| The Film: A | Video: C+ | Audio: B | Extras: B- | Overall: B |