The Film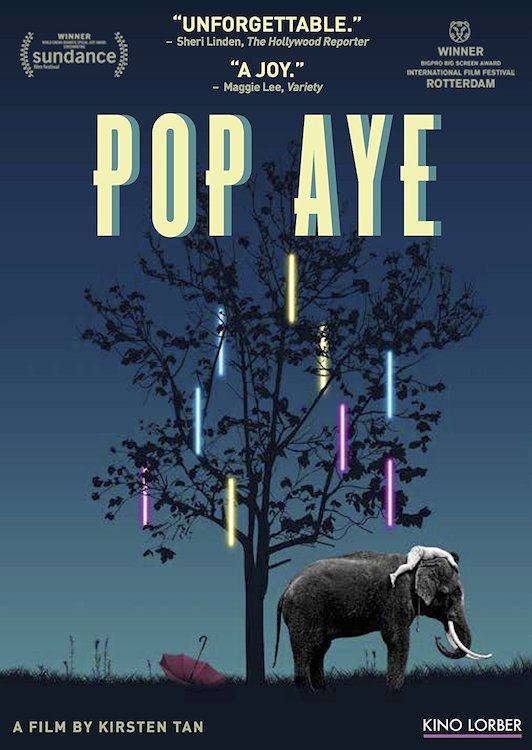 The pursuit of the past can lead us down some strange and unfamiliar paths; director Kristen Tan explores that sentiment in this film about a man, Thana (Thaneth Warakulnukroh) whose life is at a crossroads of sort, and he reunites with an elephant (Bong) from his days as a boy, and together they return to the city of his birthplace. Elephants are fascinating creatures and they are highly intelligent as well; the elephant in this film is named Popeye and it is through a chance encounter with Thana that both their lives are forever changed.

The film begins with a shot of Thana and his boss being interviewed for an early morning talk show in Bangkok and the topic being discussed is the slated destruction of a shopping mall that was Thana's first successful project twenty years ago. Thana's boss is the son of the man that hired him, but Junior is certainly not like his father was, and Thana realizes that he is being squeezed out from the firm. The unspoken message of the film is "out with the old and in with the new" and it applies in more than just Thana's employment situation; Bo (Penpak Sirikul) is Thana's wife and she is feeling resentful and finds herself no longer sexually attractive to her husband. The intent of this message is being heard loud and clear; things are clearly not what they used to be. Thana is a middle aged architect that once had a successful career and a happy home life; change is afoot and it seems that a drastic action is needed. That change comes in the form of Popeye, an elephant that apparently was a childhood playmate of Thana's when he was a boy growing up in the village of Loei, a small town 300 miles outside of Bangkok. In an instant response to a moment's nostalgia, Thana decides to purchase the elephant from his trainer when the gentle pachyderm apparently responds to Thana's whistling of the "Popeye the Sailor" theme song. Taking Popeye home with him seems to be the right thing to do, but after waking Bo from a sound sleep, she is terrified of the large animal and wants nothing to do with it. Bo kicks Thana and Popeye both out of the house and so Thana decides that going home where it all began is the wisest move.

Feeling disillusioned of any attachment to the craziness of the city, Thana decides that he and his elephant are going to walk home together and so they start down the road, man and beast walking together, like a boy with his dog. Thana has figured that his Uncle Peak (Narong Pongpab) can care for the animal because that is where he originally came from and so the duo start their long journey home. Along the way, the pair encounter an odd assortment of characters, including a transgender woman named Jenny (Yukontorn Sukkijja), a homeless man that confesses to sometimes feeling like a tree named Dee (Chaiwat Khumdee), and a pair of police officers that are extremely lax in enforcing the rules (they attempt to charge Thana with "violating urban tidiness" even though they are on a remote back road). Instead of processing the two at the police station, the ragtag group proceeds to a bar where Thana meets Jenny and the two of them share a drink and some compassion together. There is a subtle undercurrent of acceptance and sentimentality that flows through the film, but none of it ever feels heavy handed or forced. The elephant looms large in the frame, as it should, and the two characters seem to have an apparent bond for each other. It is very clear that Popeye is a signifier of the importance of the past and that Thana feels a pull to return to the past where he was an innocent child that frolicked with a wild elephant in the water. These moments in the film reminded me of F. Scott Fitzgerald's novel, "The Great Gatsby", with the green lamps in the harbor at Daisy's house. The past clearly has a pull to it that can be both felt and denied, but it is by acknowledging the past that we learn valuable lessons that otherwise are lost forever. Thana learns that the mistakes he made in the past can be owned and rightfully accepted, and that ultimately memories are a very valuable asset.

There is much to enjoy here in this interesting independent film; the excellent cinematography and camera angles of Chananun Chotrungroj's lens, the score by Matthew James Kelly is a form of Taiwanese Surf Rock that nicely accompanies the film and the cast, though largely unprofessional still do an excellent job with their roles. Please do not think that this is a light hearted family romp of a film; there is some rather explicit sexual scenes and is not suited for children. This is a film for mature and patient film goers that they can slide into like a hot bath; sitting and paying attention to the finer nuances of the film and ultimately the director's message regarding life in general. Bong the elephant is clearly the true winner here and his performance is rich with expressionistic flavors; the animal is captivating and it can be argued that his screen time is more interesting than the latest Hollywood buzz star footage. I liked the director's slow sensibility in having the main character grow before our eyes and how information is gradually parsed out until the complete backstory of Popeye's origins come into view.

This film is the first Singaporean film to be screened at the prominent Sundance Film Festival; not only that but it also won the World Cinema Dramatic Special Jury Award for Screenwriting. This is a pretty impressive film making debut and Kristen Tan deserves our time and attention. I am looking forward to seeing what else she can produce.

Video


Presented in the film's theatrical ratio of 2.35:1 anamorphic widescreen, this film is in no hurry to get to its destination and you as a viewer should be in a similar state of mind when watching this. The cinematography is well done and the scenes of the elephant and the main character walking slowly down the road are fascinating. The rural landscapes of Thailand are presented in a new and refreshing manner and we can feel the pull of the earth in what we are watching. Colors are clear and the color palette is an interesting mix of mostly earth tones; skin tones are well represented and the film has a few surreal moments overall.

Audio


Presented in Thai Dolby Digital 5.1 surround, the score is a combination of traditional Asian music and a Thai surf guitar that I actually enjoyed. Dialogue is in Thai, the surround sound is pretty cool with clean separation. Optional subtitles are included in English.

Extras


Kino Lorber has included a small collection of extras that include:

"Behind-the-Scenes" footage broken down into 4 brief and wordless behind-the-scenes shorts:

- "Part 1" (1:21)
- "Part 2" (1:27)
- "Part 3" (1:17)
- "Part 4" (1:27)

Theatrical trailer (1:36) is the final extra on the disc.

Packaging


Packaged in a standard DVD amaray keep case.

Overall


"Pop Aye" is a striking and emotionally rich film that is difficult to find nowadays, quiet in tone, there are moments of subtle humor throughout and this is an enjoyable piece of independent cinema.
| | | | | |
| --- | --- | --- | --- | --- |
| The Film: A | Video: A | Audio: A | Extras: C+ | Overall: B- |