This is Us: Season One
R1 - America - Twentieth Century Fox Home Entertainment
Review written by and copyright: Eric Cotenas (17th October 2017).
The Show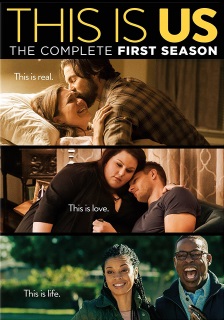 After some philosophical claptrap that allies the show to other television shows and films with intertwining stories making statements about fate and the inner connectedness of people, the series lights upon three seemingly disparate characters on their shared thirty-sixth birthday: overweight and single Kate (American Horror Story: Freak Show's Chrissy Metz) who injures herself falling off of a scale, financially successful but spiritually bereft TV star Kevin (Smallville's Justin Hartley) as he suffers a meltdown and walks off the set of his show "The Manny" (with guest star Alan Thicke as himself), and executive family man Randall (American Crime Story's Sterling K. Brown) on the other side of the country as he finally tracks down father William Hill (Half Nelson's Ron Cephas Jones), who left him on the doorstep of a firehouse after his crack-addicted mother died in childbirth, in order to confront him. We then flashback thirty-six years to just-getting-on-their-feet couple Jack Pearson (Heroes' Milo Ventimiglia) and his wife Rebecca (License to Wed's Mandy Moore) expecting triplets and running into complications when her water breaks. As Kate meets cute with Toby (Guardians of the Galaxy's Chris Sullivan) at her Overeaters Anonymous support group, she is interested but finds herself confronting body issues on another level due to Toby's overt sexual interest in her. She seeks comfort and familiarity in her co-dependent relationship with her brother Kevin as his personal assistant when he shows up drunk and lamenting his career suicide after his cut-throat agent Lanie Schultz (Married… with Children's Katey Sagal) informs him that the network has him under contract for two more years, barring him from working on any other shows or movies. When Kevin considers the drastic choice of moving to New York and starting anew on the stage, Kate is caught between going with him or stay in Los Angeles to see where her relationship could go with Toby. Randall's righteous anger at birth father Will is deflated when he learns that the man has spent the last thirty-six years in self-imposed seclusion and has only a few months to live due to a stomach cancer diagnosis and shocks wife Beth (Blackout's Susan Kelechi Watson) by installing the stranger in his guest room and passing him off to their children Tess (Eris Baker) and Annie (Faithe Herman) as a friend from work as he attempts to use his own connections for a more optimistic second opinion. Loving and unafraid to be the "bitch", Beth warns Will that he had better prove himself worthy since Randall is the kind of loving and devoted man who will put his all into a problem to the point of physical and psychological exhaustion. Back in 1980, avuncular obstetrician Dr. Katowski (Simon & Simon's Gerald McRaney) is on hand to help new father Jack cope with the worst day of his life to "make lemonade out of the sourest lemons life has to offer" when Rebecca loses one of the triplets and fate in the form of a fireman brings in a newborn baby left in front of the firehouse.

NBC's attempt to replace Must See TV's schmaltz allocation recently vacated by Parenthood (2010-2015), the Emmy-winning, crowd-pleasing This is Us created by Dan Fogelman (Galavant). Shifting back and forth between three parallel and intertwining storylines as well as backward and forwards in time, the show has two unexpectedly captivating storylines and two not-so-interesting ones. Television promos for the series suggested that the Kate/Toby storyline was ripping off the premise of Mike & Molly, but whereas that series moved on from a string of low-brow fat jokes to a string of typical sitcom situations punctuated by homophobia and racism, the Kate and Toby storyline seems more compelling since Kate tells him that weight will always be an issue for her while Toby is determined to enjoy life and for her to enjoy it as well even as they continue to struggle with weight loss. The trials and tribulations of a celebrity down in the dumps because his multimillion dollar salary is not creatively fulfilling would seem to be of limited interest, but the New York move provides Kevin opportunity to mend fences with Randall who he has admitted to not always looking out for as big brother and caring more about what other people thought when they were growing up (their classmates often referring to Randall as Webster in a disparaging manner) while the distance also allows viewers to see how Kate has comparatively maintained warm relationships with both siblings. Less interesting is Randall's storyline in that it is calculated for maximum devastation not only as he tries to get to know his birth father in the time they have left but also is unaware of the steps Rebecca took thirty-six years ago in order to help her bond with Randall and see him not as a replacement for the child she lost. Similarly, the flashback storyline is really only of interest in finding out what happened to Jack in the past to replace him with stepdad Miguel (Castle's Jon Huertas) in the present than the how and when of when Jack and Rebecca could no longer make lemonade from sour lemons. The show is full of clichés but not all of them are unwelcome, and the postmodern trend of casting former sitcom television "dads" and "moms" in prominent guest star roles like the aforementioned McRaney, Thicke and Sagal (not to mention Everybody Loves Raymond's Brad Garrett and Still Standing's Jami Gertz) will hopefully continue to provide some more diversion into the second season.

Video


The show's eighteen episodes are spread over five dual-layer DVDs, and the progressive, anamorphic 1.78:1 widescreen encodes are free of any obvious digital defects. The original photography optimized for digital and streaming playback, it also adapts well to upscaling from standard-definition DVD.

Audio


No complaints about the original Dolby Digital 5.1 mix which makes conservative use of the rear channels for atmosphere and occasionally the more treacly passages of the underscore. Portuguese and Spanish Dolby Digital 2.0 Surround dubs are also provided along with optional English SDH, French, Portuguese, and Spanish subtitles.

Extras


Extras are limited to the self-congratulatory Aftershow discussions featuring creator Fogelman and the cast for each episode which first appeared online and are present on each disc with their respective episodes.

Overall


NBC's attempt to replace Must See TV's schmaltz allocation recently vacated by Parenthood (2010-2015) has proved a crowd pleaser and award-winner in its first season.

---
DVD Compare is a participant in the Amazon Services LLC Associates Program and the Amazon Europe S.a.r.l. Associates Programme, an affiliate advertising program designed to provide a means for sites to earn advertising fees by advertising and linking to amazon.co.uk, amazon.com, amazon.ca, amazon.fr, and amazon.de.