The Film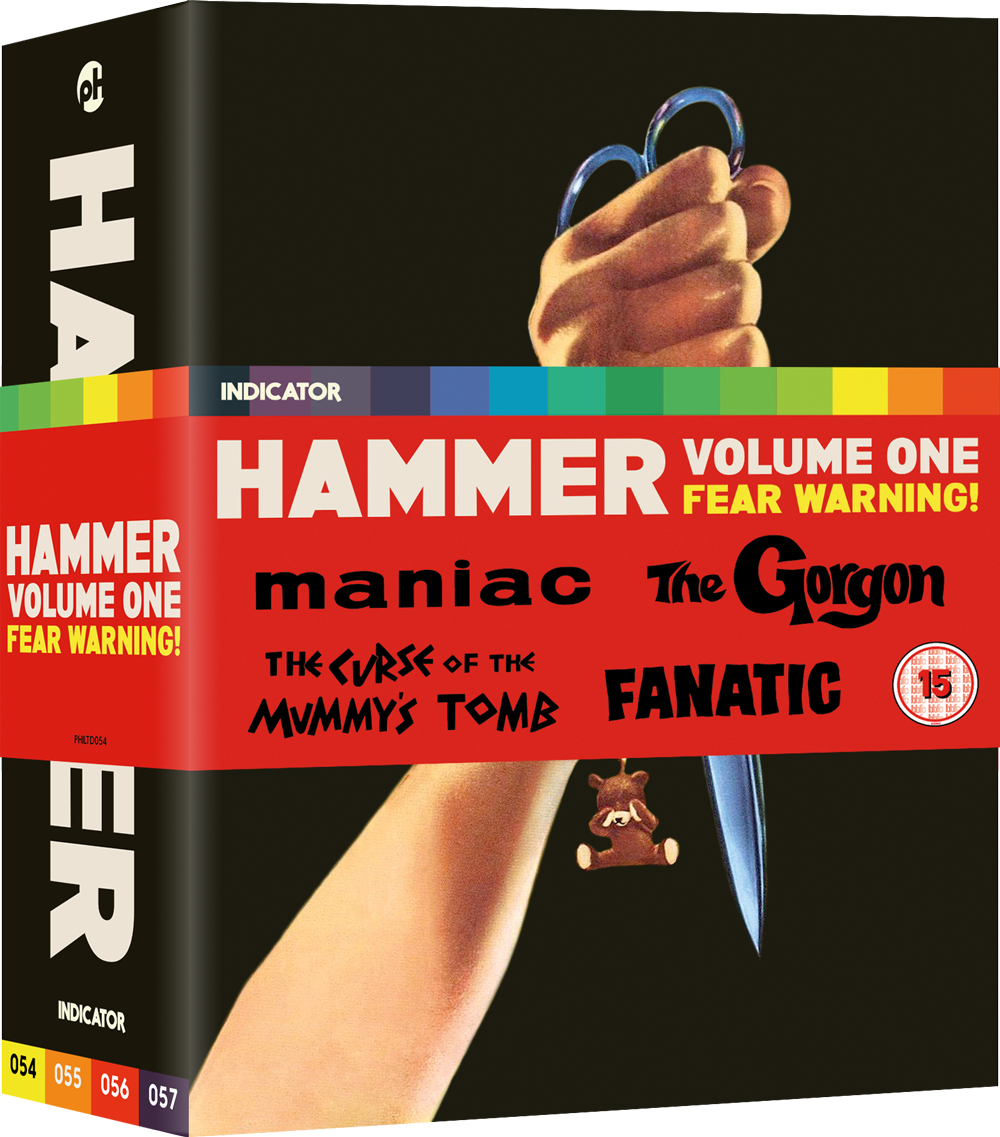 Four classics from Hammer, each presented on Blu-ray for the very first time in the UK. Whether it's a mad man brandishing a welding torch, a mythical monster who's looks can kill, an ancient royal with diabolical powers, or a mad woman wielding a pair of scissors, this set has something to unease everybody. Containing a wealth of new and exclusive extra features – including title-specific documentaries, cast and crew interviews, expert appreciations, introductions and more – this stunning Blu-ray-only Limited Edition box set is published in a horribly limited, numbered edition of 6,000 units. The titles are: Maniac, The Gorgon, The Curse of the Mummy's Tomb and Fanatic.

Video


All are 1080/24p and use MPEG-4 AVC codec.

Maniac (1962) 2.35:1

Shot in the summer of 1962 but not given a wide release till May 1963 this was the third of writer Jimmy Sangster's B&W "Mini Hitchcocks"; psychological horror-thrillers influenced by the release of Psycho (1960), but most were patterned after Les Diabolique (1954). The first two were Taste of Fear (1960) and Paranoiac (1962) and after this came Nightmare (1963), Hysteria (1964), Crescendo (1969) and Fear in the Night (1972).

This one is much more of a film noir with a gullible, easily manipulated but likeable male (Kerwin Matthews) who is smitten by two femme fatales (Nadia Gray, Lillian Brousse) and led into danger as a result. Twists and turns followeth!

Shot in B&W and in glorious Megascope this uses it's wider frame very well with splendid use of the Camargue locations; exquisite cinematography by the great Wilkie Cooper who would shoot Jason and the Argonauts (1963) for Ray Harryhausen and Don Chaffey.

The transfer is obviously an older one (probably 2K) although Sony are very good at creating decent masters and that's what we have here. A nice stable image with plenty of detail both in the foreground and background; closeups are generally pretty sharp with skin and fabric textures nicely rendered; that said, there is a slight softness overall no doubt due to shooting in 2-perf widescreen. Blacks are solid and deep with no signs of crush; no gamma bleed so the monochrome image is crystal B&W. No signs of artefacts like mosquito noise, macro blocking or holes in the grain; yet another topnotch encode makes the most of this master.

The Gorgon (1964) 1.66:1

The Gorgon is one of the early '60s gothics that just gets better and better with age with a lyrical romantic fairytale quality throughout. This fine film has wonderful, rich cinematography, vivid colour values and dreamlike atmosphere due to some fine dialogue, beautiful melodrama and an atmospheric, melodic score from James Bernard.

This looks to be a more recent master with plenty of lovely film-like grain and detail levels that are a step up on Maniac, although I suspect that some of that will be down to the process of filming. Maniac was shot in the 2-perf Megascope format which uses half the amount of the negative and this will account for the slight softness in that transfer when compared to The Gorgon which is 4-perf. An excellent transfer enhanced by a usual high quality encode from David Mackenzie. The US Blu-ray was decent for a budget disc but this is several degrees better.

The Curse of the Mummy's Tomb (1964) 2.35:1

The Curse of the Mummy's Tomb is another one which has improved with age. That said it's not in the same league as The Gorgon and isn't as good as Hammer's The Mummy (1959) or Blood from the Mummy's Tomb (1971); it's on a par with their lively potboiler The Mummy's Shroud (1966) though. It suffers from a leading man who is a big of a dick and a leading lady who has an under written role, especially in the second half where her character should've taken centre stage. This one is famous for it's twist, which is a good one.

The image is however a revelation. The US Blu-ray (like The Gorgon) was considered reasonable but that disc is blown away completely by the maxed out bitrate and infinitely superior encode and by a massive improvement in the colour grade. We have a rich, hot, typically Hammer Horror colour palette like we all remember from our idealised memories of seeing these films on late night TV in the '80s.

This being a Techniscope film, like the Megascope process it's a 2-perf format which has less resolution than the standard ratio 4-perf formats. Consequently, grain is a level more course than on The Gorgon, but it's expected ... even desired. This has no artefacts that I could see; blacks are rich, deep and when required, detailed. Detail is very good considering the source. This is actually a damn good transfer of a problematic Techniscope source. Obviously, this is an older master and would massively benefit from a bang up to date 2017 4K master, but that isn't likely to happen. This could be said about all four masters in this sublime set.

Fanatic (1965) 1.85:1

Fanatic is one of the lesser known Hammer Horror flicks and a cashin on the evil old lady subgenre begat by Robert Aldrich's Whatever Happened to Baby Jane (1962) and it's success. Hammer would also make The Nanny (1965) and The Anniversary (1967) vein. They're fine supernatural film The Witches (1966) could also be a considered peripheral entry in that cycle if you were so minded.

A vehicle for the late, great theatre and Hollywood actress (and hedonist) Tallulah Bankhead playing a crazy religious nutter who kidnaps her late son's fiancee (Stephanie Powers).

Like the others this has a decent colour palette although director Sylvio Narizzano favours a more naturalistic approach early on. As Bankhead starts to chew the scenery, the palette becomes more florid and rich straying more into stylised Hammer Horror lighting. My comments on the other two colour films apply here and being shot 4-perf like The Gorgon it has a notch or two better detail and less softness than the two 2-perf films. Black levels are similarly excellent with no signs of unintended crush. Detail is very good particularly in daylight scenes.

Audio


English LPCM 1.0
English DTS-HD Master Audio 1.0
Subtitles: English Hard of Hearing

Maniac, The Gorgon and The Curse of the Mummy's Tomb all have LPCM 1.0 tracks and Fanatic has DTS-HD Master Audio 1.0. These are typical of the period and budget which is too say they are robust, florid and do their job with competence. Sound design is by today's standards extremely simple and music never drowns out any dialogue or sound effects. These couldn't really be bettered considering the source unless all of the original sound stems still survive and were to be used by a sympathetic technician to create a 5.1 track.

Extras


Maniac

"White Hot Terror: Inside Maniac" (10:59)

Narrated by actress Anna Louise Amias this fine featurette covers the background to Maniac with contributions from historian-fans Jonathan Rigby and John J. Johnston both of whom are eloquent and conversational in their telling of tales. Topics discussed include the Megascope widescreen format, the original 1960 script Time of the Fire, Michael Carreras' direction, the use of the Camargue location, the cast and the performances and the film's place within the Hammer oeuvre.

"Hammer's Women: Lindsay Anne Hallam on Nadia Gray" (7:51)

Interesting career overview with Dr. Hallam of the University of East London of the sexy Romanian actress Nadia Gray (1923-94). Hallam discusses her fluency in five languages and pan-European stage and film career; she appeared in La Dolce Vita (1960) which became one of her most well known roles. In Mr. Topaz (1961) she starred in Peter Sellers only directorial effort and Hallam then discusses Maniac (1962). Also covered is the infamous visit to the set by Orson Welles, Gray's friend. Her appearance in 1967 in Patrick McGoohan's and George Markstein's The Prisoner ("The Chimes of Big Ben").

"Trever Wrenn and Ray Andrew on Maniac" (5:09)

Wrenn (focus puller) and Andrew (clapper loader) tell tales from the set of Maniac. Andrew describes the French locations as like a "hot Scotland" with problems with midges making life hell. Wrenn spills the beans on Michael Carreras' and Jimmy Sangster's partying. Other comments are made about Hammer's skinflint approach to film making ("cheapo, cheapo"); how weather conditions would just be written into the script, how the clapper boy had the temerity to suggest how to improve the ending which was then done as he suggested after they tried to fire him.

Theatrical Trailer (2:28)

2.35:1 ratio; a cheezy trailer typical of the era with plenty of daffy narration and melodramatic excerpts from the score.

Maniac: Original Promotional Material (64 images)
Maniac: On-Set Photography (24 images)

Excellent still galleries featuring plenty of high quality images; probably all of the stuff that was used to promote the film on it's 1963 release and the colourful, hyperbole-filled posters.

32-page liner notes booklet with writing by Kim Newman and Jimmy Sangster and an extract from a 1978 interview with Michael Carreras

The Gorgon

Commentary with Kat Ellinger and Sam Deighan

Chatty, informative track pitched at a very conversational level. Both never allow a moment of silence and never descend into play by play description but are authoritative and pack the 83 minutes with detail. Topics discussed include the subtexts that have been attributed to the film in more recent interpretation; the loose nature of the film's interpretation of the Greek legend upon which it's based; influences on the script; analysis of the themes (gothic, mythology etc); Cushing and Lee's approaches and careers and obviously production detail. Quite an intellectual and analytical yaktrak.

"Heart of Stone: Inside The Gorgon" (14:01)

Amias / Rigby / Johnston are back continuing their analysis of these four Hammer films. Co-writer John Gilling is discussed and his fractious nature comes to fore with a mild clash between him and Anthony Hinds who rewrote Gilling. The inaccurate nature of the monster in the film being called Megaera who was actually one of the Furies. Apparently director Terrance Fisher was inspired by "the poetics" in the script. I found the information of Gorgon actress Prudence Hyman most interesting.

"Hammer's Women: Patricia MacCormack on Barbara Shelley" (9:28)

MacCormack - an academic at Angela Ruskin University - is an old hand at appearing on these extras and her typically thoughtful comments on one of Hammer's most iconic leading ladies are welcome. This is a tight, informative 10 minutes with plenty of analysis of Shelley's roles for Hammer; the male gaze in cinema and how that relates to The Gorgon and it's themes. MacCormack is an excellent, engaging speaker and I could listen to her talk about horror films to the crack of doom! Lets hope we get a full length audio commentary from her sometime soon.

"Matthew Holness on The Gorgon" (14:51)

The comedian, actor and co-writer (with Richard Ayoede) behind such TV classics as Garth Merenghi's Dark Place (2004) and Man to Man with Dean Learner (2006) wades in with an appreciation of The Gorgon. Speaking from the point of view as a youngster seeing Hammer horrors on British TV growing up. We get a potted history of Terence Fisher and how the box office failure of his Phantom of the Opera (1962) let to a two year break with the company broken by the production of The Gorgon which was an attempt to get back to the more successful Hammer Gothics of the late fifties. Hammer's production methods are likened to the old Hollywood system.

Theatrical Trailer (2:47)

Like the other trailers in this set, typical of the period and full of sturm und drang.

The Gorgon: Original Promotional Material (102 images)
The Gorgon: Comic-strip Adaptation (35 images)

Another extensive gallery or 1964 promotional stills and posters, glorious to flip through. And, a beautifully drawn 1977 comic book digest of the film from The House of Hammer magazine.

38-page liner notes booklet with writing by Marcus Hearn, a 1977 interview with Terence Fisher & Barbara Shelley and a 2010 interview with Shelley

The Curse of the Mummy's Tomb

"Blood and Bandages: Inside The Curse of the Mummy's Tomb" (13:05)

The same team's (Amias, Rigby, Johnston) analysis of this film is as good as the others and gives a nice potted history of the film with some trivia ... as per the other featurettes. Most interesting is Johnston's discussion of Andrew Lowe who seems to have been a bit of an amateur and a wide boy.

"Hammer's Women: Kat Ellinger on Jeanne Roland" (10:54)

Ellinger headlines a welcome piece on the little known Roland; a Burmese-English actress who's career was short and mostly dubbed. Her few film roles are covered and it's an interesting story.

"Michael McStay on The Curse of the Mummy's Tomb" (5:59)

Short piece with the actor who plays the Mummy before his fashion sense dictates bandages all over. He tells what would appear to be an apocryphal story about reciting football info in his brief scenes which are dubbed over by music and narration. Apparently, lip reading viewers complained. The problem is that during that scene you can actually hear what he's saying under after all, albeit only slightly. I was interested to read on his IMDB page that McStay was the ill fated Moberly in the Doctor Who classic "The Seeds of Doom".

"Composer Carlo Martelli on The Curse of the Mummy's Tomb" (4:12)

Brief, disappointing piece in which Martelli mainly discusses other people's musical additions in the film rather than his own. His score for this is rather wonderful and although derivative (apparently) I would have enjoyed more discussion of it.

Super 8 Version (6:53)

Brief, black and white, panned and scanned silent digest of the film with subtitles burned in for some key dialogue moments. From the dark days before home video, this was the way fans had to get their fix. Seeing as two of this film's great strengths are it's use of colour and it's 2.35:1 compositions this must've been somewhat dispiriting for hard ore, technically savvy fans in the '60s and '70s.

Theatrical Trailer (3:01)
The Curse of the Mummy's Tomb Image Gallery: Original Promotional Material (130 images)
Like the other films, a vintage trailer that goes on a tad too long and is filled with loud music, dialogue and hyperbolic narration. The still gallery is superb with a whopping 130 images covering production stills, behind the scenes, lobby cards and posters; wonderful!

32-page liner notes booklet with writing by Katt Ellinger, pressbook excerpts and the contemporary Films & Filming review.

Fanatic

"House of Horror: Inside Fanatic" (14:27)

Another in the retrospective featurettes and another winner. Once again the most interesting comments come from Johnston who points out that it's a very female-centric story with the males very much in their sway.

"Hammer's Women: Kat Ellinger on Tallulah Bankhead" (9:27)

Another excellent instalment in this mini series about the leading ladies. Ellinger knows her stuff and has a sly way with words that's endearing. Plenty of trivia; I was especially interested to hear that Bankhead refused makeup but her lips were so stained by wearing lippy for so long they had to dull her lips down!

"Fanatical Detail: Continuity Supervisor Renée Glynne and Second Assistant Director Stuart Black on Fanatic" (8:51)

Another interesting piece looking at two less highlighted members of the Hammer production team. Glynne is 91 and still full of tales about Bankhead's difficult nature and of her conflict with director Sylvio Narrizano and Black recounts her love of the sauce.

"David Huckvale on Composer Wilfred Josephs" (13:48)

Dapper Huckvale recounts the career of Russian Jewish, South Shields child prodigy Josephs. Huckvale wrote the biography of Hammer's primary composer James Bernard so is very knowledgable and easy to listen to. And, no featurette with Huckvale would be complete without him playing some music from the composer under discussion on the piano!

"Playright Matthew Lombardo on Tallulah Bankhead and Fanatic" (6:59)

Fascinating piece about Lombardo and how he came to write his play Looped (2008) which was based on a tape he acquired of Bankhead doing ADR (Additional Dialogue Recording) work for Fanatic. Plenty of peripheral comments were apparently heard on that tape and the play initially had Valerie Harper take on the role and when she became ill, Stephanie Powers.

Theatrical Trailer (2:31)
Fanatic Image Gallery: Original Promotional Material (58 images)

As before a trailer; this one being blackly comic and under the daffy US retitle "Die! Die! my Darling! And, another peerless still gallery.

36-page liner notes booklet with writing by Jo Botting, a 1965 interview with Tallulah Bankhead & Silvio Narrizano, a 1977 interview with Narrizano, an extract from a 1990 interview with Richard Matheson, extracts from a 2008 interview with Stephanie Powers and a 1965 review by Tom Milne in the Monthly Film Bulletin.

A note on the booklets: these are wonderful, well written and detailed with plenty of interesting material; a must for fans. When these dual-format editions have sold out Powerhouse Films should consider publishing these in book form ala Arrow.

All four films have reversible cover art and a DVD copy of the film.

Packaging


The four solid, chunky, robust clear Amarays are housed in a sturdy card box slipcase which has some lovely, vintage Hammer artwork on it.

Overall


An absolutely peerless presentation of Hammer Horror films with stunningly well encoded versions of Sony's decent, if aged masters. With the current elements available to Powerhouse Films these are about as good as it gets and they've shown how it should be done by the likes of Studio Canal who can't seem to get everything right. These have no sound or image issues, no incorrect aspect ratios, no tinny sound and have lovely new extras curated especially for this set.

Studio Canal's forthcoming 8-film collection doesn't port over the valuable extras that appeared on their DVDs although they have commissioned new featurettes for seven of the eight titles. On other titles in The Indicator Series Powerhouse have ensured that prior extras are carried over. If / when they get to dealing with more of Sony's Hammer titles I feel that they'll make sure that the commentaries are present from the Icons of Adventure release etc.

Powerhouse Films continue to be one of the best things to happen to the home video market in it's near 40-year history, bravo!
| | | | | |
| --- | --- | --- | --- | --- |
| The Film: A | Video: A+ | Audio: A+ | Extras: A+ | Overall: A+ |