Fragment of Fear (Blu-ray) [Blu-ray]
Blu-ray ALL - United Kingdom - Powerhouse Films
Review written by and copyright: Rick Curzon (5th November 2017).
The Film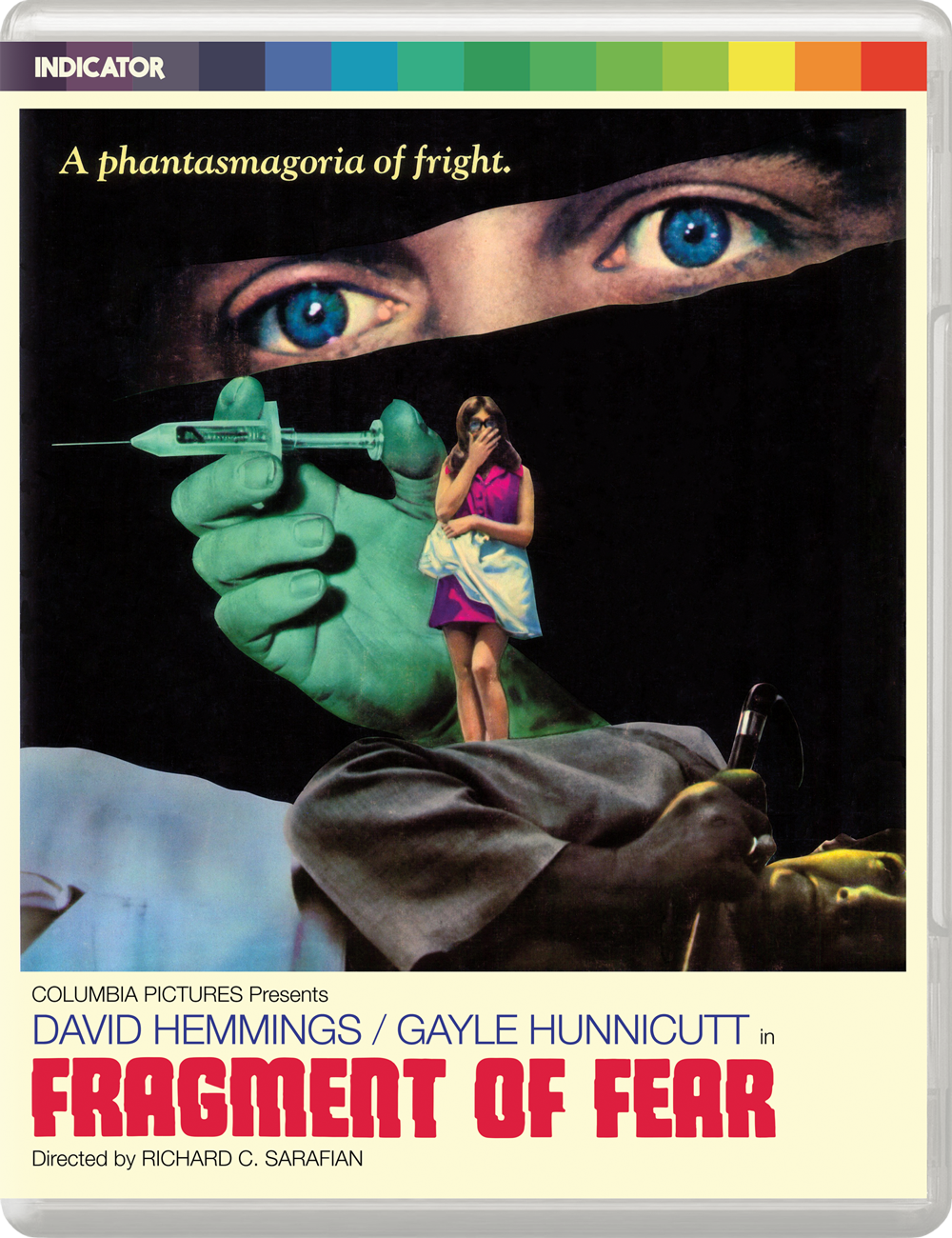 Based on the novel A Fragment of Fear by former M15 spy John Bingham, 7th Baron Clanmorris, this stylish cine-trip from Vanishing Point director Richard C. Sarafian features David Hemmings and Gayle Hunnicutt (then real-life husband and wife) falling into a waking nightmare of murder, mystery and paranoia.

Video


1080/24p / MPEG-4 AVC

I first became aware of this cult item when I read the entry in The Aurum Film Encyclopedia: Horror (1985) and again in Ten Years of Terror: British Horror Films of the 1970s (2000). I was interested and wanted to see it but for whatever reason I never got around to tracking a copy down. Thanks to this fine Indicator Series release from Powerhouse Films Iíve got my chance.

Itís a twisty, turny, Hitchcockian thriller from director Richard C. Sarafian who is most famous for his existential road movie Vanishing Point (1971). Fragment of Fear has plenty of interest, good performances, a good script by famed screenwriter Paul Dehn, fine cinematography from Oswald Morris and a superb jazz score by Johnny Harris. However, it was made to cash-in on Michelangelo Antonioniís Blow Up (1966) and so has an ending that divides most viewers in itís obliqueness ... and has that filmís star David Hemmings who also would do another similar film, Deep Red (1975). The cast is filled with known faces and great British character actors. Itís a riveting view most of the way but I found the ending frustrating; but, I will return to the film because I have a theory about the ending that will require another watch.

This film is a visual feast with very accomplished Morris cinematography that ensures that locations are stunning and interiors look lush. This has been afforded a high bitrate which means that the 95 minute film is given plenty of space to breath.

Plenty of very fine grain and the encode is very strong as usual for this company. Colours are rich, especially in the daylight sequences in Italy making the Amalfi Coast locations look inviting. Detail is good throughout despite this being almost certainly from an older Sony master. Black levels are perfectly handled for the most part; I noticed a tiny amount of possible crush, but interiors are quite dark so it may be how the film always looked. In any case, it doesnít hinder the viewing experience. There are no unwanted artefacts that I could see.

This is a great looking film given splendid treatment so I was very impressed with how it looked on this very good transfer. The bitrate seems to be appreciably more generous given the smaller amount of extras than is usual for Powerhouse Film.

Audio


English LPCM 1.0
Subtitles: English HoH

Sound is a standard English LPCM mono track typical of the period. Nice clear dialogue reproduction and Johnny Harrisí magnificent score comes through clearly and loudly when required. Obviously, compared to a modern track this is very primitive but in many ways these old mono tracks are more skilfully handled because in mixing for 1.0 everything has to be clear with far less technology available.

Extras


ďPaul Dehn: The Writer as AuteurĒ (14:03)

Fascinating piece with writer-broadcaster David Kipen talking about the career of screenwriter Paul Dehn. He makes a good case for the screenwriter being the auteur of any given film as they are responsible for the blueprint. He points out several little trademarks that Dehn included in his work; fascinating. Dehn was famous for working on Goldfinger and for scripting The Spy Who Came in from the Cold, The Deadly Affair, three of the Planet of the Apes series and Sidney Lumetís Murder on the Orient Express. He had got the Oscar for Seven Days till Noon.

ďFirst Assistant Director William P. Cartlidge on Fragment of FearĒ (9:57)

Cartlidge has a great sense of humour; a great raconteur with plenty of tales about the antics on and off set of star David Hemmings, director Richard Sarafian and isnít above including himself in the reminiscences. Cartlidge worked with Lewis Gilbert on his three Bond escapades: You Only Live Twice, The Spy Who Loved Me and Moonraker.

Original theatrical trailer (3:20)
Radio Spots (2:55)
Fragment of Fear Image gallery: Original Promotional Material (27 images)

Promotional material is very hyperbolic and OTT pushing the mystery angle heavily with the radio spots being especially amusing. The still gallery isnít as extensive as others on Indicator discs but what there is is choice.

34-page liner notes booklet with a new essay by Johnny Mains on the novel by John Bingham and the film, excerpts from contemporary interviews, composer Johnny Harris on making the film and an overview of contemporary critical responses.

Overall


A fascinating if not entirely successful film is given a lovely release from Powerhouse Films as part of their Indicator Series. The picture and sound are both excellent and the extras are decent with some interesting anecdotes and trivia.
| | | | | |
| --- | --- | --- | --- | --- |
| The Film: B- | Video: A | Audio: A+ | Extras: A+ | Overall: A+ |

---
DVD Compare is a participant in the Amazon Services LLC Associates Program and the Amazon Europe S.a.r.l. Associates Programme, an affiliate advertising program designed to provide a means for sites to earn advertising fees by advertising and linking to amazon.co.uk, amazon.com, amazon.ca, amazon.fr, and amazon.de.