Torture Garden (Blu-ray) [Blu-ray]
Blu-ray ALL - United Kingdom - Powerhouse Films
Review written by and copyright: Rick Curzon (12th November 2017).
The Film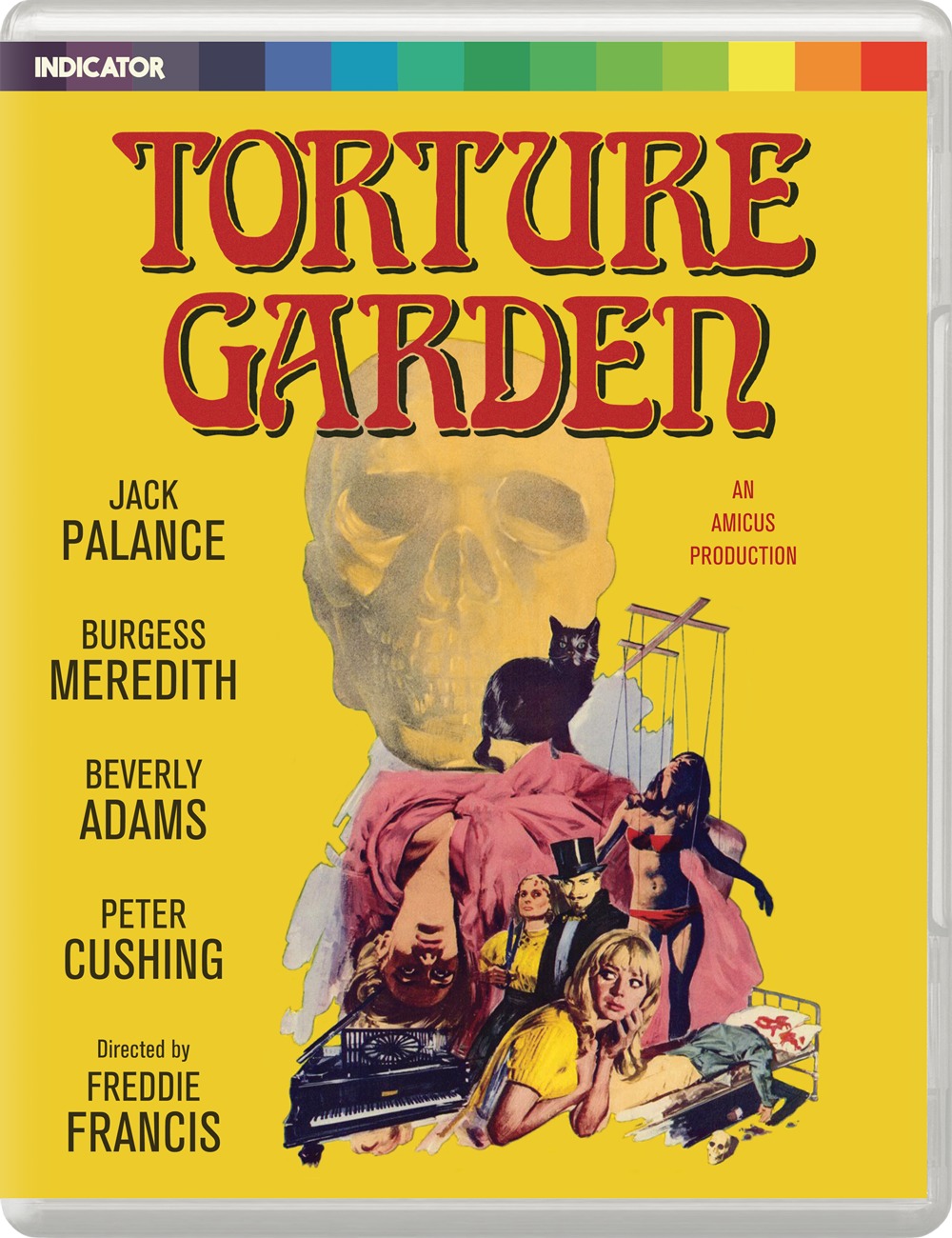 From Hammer-rival Amicus Productions comes this horror anthology penned by Robert Bloch (author of Psycho) and directed by the great British cinematographer Freddie Francis. Genre legend Peter Cushing stars alongside Jack Palance and Burgess Meredith in an omnibus of chilling and gruesome stories, inspired by E.C. Comics' Tales from the Crypt comic-book series of the 1950s.

Video


1080/24p / 1.85:1 / MPEG-4 AVC / 100:19 (extended) 93:12 (theatrical)

Amicus' second horror portmanteau effort and slight improvement on the enjoyable but uneven charms of Dr. Terror's House of Horrors (1964). That film's director Freddie Francis is on board here and he does a great job in marshalling all of the elements across the four tales with plenty of fun in a great framing story: sideshow impresario Dr. Diabolo (Burgess Meredith) shows a group of unpleasant, self-serving individuals their fate.

First story (an ancient witch's cat forces Michael Bryant to kill for it) and the last (about rival Poe collectors Peter Cushing and Jack Palance) are the best but the only one to come over flat is the killer piano story with John Standing and Barbara Ewing having love triangle with said piano.

This is a darkly shot film (by Norman Warwick) but it's generally presented well in this ageing master from Sony; flesh tones are a little pinkish but that could be a by product of the style of lighting which is theatrical at times using coloured gels liberally. Outdoor scenes are crisp with rich colours but they're few as most of this film was shot on indoor sets. This must have been a challenge back in the VHS days due to the subtle nature of many shots.

Contrast is very good but used judiciously with only small parts of each shot being picked out with light; sometimes backgrounds with the forground figures being in relief and silhouettes. Blacks are plentiful and true with no signs of unwanted, or unintended crush. It's a very successful transfer well encoded and with plenty of detail in both foreground and background.

Obviously, a brand new 2017 4K transfer would improve things but it's unlikely to happen. This being a niche, populist film it's unlikely to get the attention more artistic and "worthy" films like A Day in the Death of Joe Egg (1970) get.

Anyway, back to the nitty gritty; there are no artefacts to spoil things and this is almost certainly the best this film is going to look given the current circumstances which sounds like I'm summing up by damning with faint praise but I'm not. This is a strong transfer given the deluxe treatment by Powerhouse Films and with a high bitrate we have a must for fans of vintage UK horror.

Audio


English LPCM 1.0
Subtitles: English HoH

The audio is typical of the era being a robust 1.0 mono track. James Bernard's music is florid and melodramatic but never eclipses dialogue. The sound design also handles silent periods well with sudden bursts of effects and music to catch the viewer off guard. No scratchiness, hiss or pops to be detected or at least no more that you'd expect on a fully restored vintage mono track.

Extras


Extended TV cut and the original theatrical cut

The extended version made for TV has been the standard for decades and was on the DVD versions released worldwide and is - I think preferable - but it's nice that Powerhouse Films have added the long unseen original theatrical cut.

The film is seamlessly branched with additional scenes at 2:43 to 5:33 and 45:02 to 49:21 which were added for TV screenings. A shame because both scenes are great; particularly the first which gives Meredith much more hoopla business at the beginning. In the second we see the fate of a character referred to off screen in the theatrical cut.

"The Guardian Interview with Freddie Francis: Conducted by Alan Jones at the National Film Theatre, London, on 16th July 1995" (77:00)

A stunning, chunky extra that runs feature length and is worth the price of the disc on it's own. Francis gives a lively, career-spanning chat to old pro Alan Jones; the maestro behind Horrorfest the annual London convention. Jones is a major horror buff and celebrity journalist who knows his onions and has been doing this kind of thing since the early 1970s; he's written books on Dario Argento. He and Francis obviously know each other and get on well with a nice rapport. Plenty of great information here, particularly Francis' views on cinematography and modern cinema (circa 1995). Plenty of humour, plenty of banter and loads of trivia and information. Presented in 4:3 and in excellent quality.

"Production Supervisor Ted Wallis on Torture Garden" (4:15)

Wallis is genial and sings the praises of all concerned on what sounds like a very enjoyable job. I was interested to hear his process of travelling to locations to be used and shooting 8mm test footage so they could get an advance feeling for how the lighting would need to be. Yet another story about Milton Subotsky and his interfering ways.

"Ramsay Campbell on Robert Bloch" (16:37)

The seemingly very avuncular British horror writer Campbell is always good value as anyone who has read his fiction or reviews for Video Watchdog will attest. A true fan of the genre and a film buff of note, I remember writer and film programmer Tony Earnshaw relating to me how concerned Campbell was about which version of Cry of the Banshee (1970) was being screened at a convention; cut or uncut. Here he discusses the career of Robert Bloch, his relationship to H. P. Lovecraft and his personal relationship with his work starting at age 11 when he first encountered his stories. Campbell became friends with Bloch and they corresponded discussing cinema and literature eventually meeting. Psycho - book and film are discussed as is Torture Garden (in detail, story by story) and the portmanteau film referencing being made to Fritz Lang's Destiny (1921). A great piece, I could watch and listen to Campbell till the crack of doom.

"Fiona Subotsky on Milton Subotsky" (8:19)

Dr. Subotsky discusses her husband, anglophile and family man Milton Subotsky. Plenty of lovely reminiscences both personal and professional. Subotsky was keen on scripting and editing it would seem and was a great fan of Ingmar Bergman and Woody Allen. His favourite films of his were Dr. Terror's House of Horrors (1964), The Birthday Party (1968) and A Touch of Love (1969). The Mind of Mr. Soames (1970) seems to have come about due to both the Subotsky's interest in child development.

"Kim Newman on Torture Garden" (24:53)

If there was just one extra on this disc that you had time for and wanted to just hear specifically about Amicus, Torture Garden and the portmanteau films then this is it. I started with this and Newman never disappoints. Like Ramsay Campbell he's a true fan of the genre as well as being an all-round film buff.

Theatrical Trailer (2:36)
Torture Garden: Stills Gallery (124 images)
Torture Garden: Lobby Cards and Poster Gallery (62 images)

The usual collection of promotional material with a great trailer and and extensive still galleries; one of the best and most extensive yet seen from Powerhouse Films.

36-page liner notes booklet with a new essay by Laura Mayne, an overview of contemporary critical responses, and historic articles on the film

And if the disc-based extras weren't already enough, we have a deluxe icing on the cake with another informative booklet with extensive articles on the film. Revel and enjoy!

Packaging


Double-sided sleeve with a choice of two different vintage posters.

Overall


There aren't enough superlatives in the English language to describe how I feel about Powerhouse Film's Indicator Series and about the good folks there who keep turning out knockout release after knockout release. Being a major fan of UK horror Torture Garden and the recent Hammer four pack have had me - and many other fans I'm sure - like a pig amongst the truffles. Picture and sound are as good as can be short of using a brand new 4K 2017 master and the extras package is probably the best yet from this company. Dig in to those truffles!
| | | | | |
| --- | --- | --- | --- | --- |
| The Film: B | Video: A+ | Audio: A+ | Extras: A+ | Overall: A+ |

---
DVD Compare is a participant in the Amazon Services LLC Associates Program and the Amazon Europe S.a.r.l. Associates Programme, an affiliate advertising program designed to provide a means for sites to earn advertising fees by advertising and linking to amazon.co.uk, amazon.com, amazon.ca, amazon.fr, and amazon.de.