The Film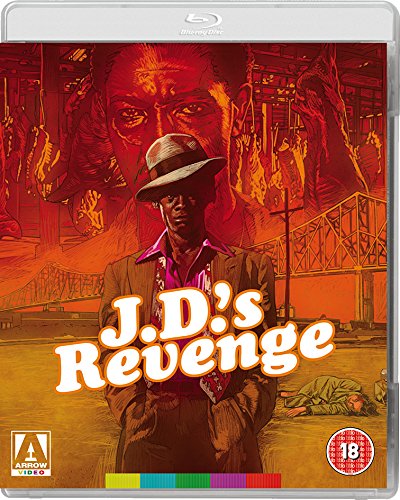 J.D.'s Revenge (Arthur Marks, 1976)

In a meat-packing plant in New Orleans, 1942, cruel hoodlum J.D. Walker (David McKnight) stumbles across the murder of his sister Betty Jo Walker (Alice Jubert) by J.D.'s rival Theotis Bliss (Fred Pinkard). Theotis slits the throat of Betty Jo, with the aim of keeping secret the fact that he is the father of her daughter Roberta; Betty Jo is involved in a relationship with Theotis' brother Elija Bliss (Louis Gossett, Jr), who believes himself to be Roberta's father. However, Elija wanders into the meat-packing plant to see J.D. cradling the dead Betty Jo in his arms and, believing J.D. to have murdered his own sister, Elija shoots J.D. dead.

Thirty years later, conscientious law student Ike (Glynn Turman) is in a relationship with Christella (Joan Pringle), and together with their friends, the couple visit a stage hypnotist om Bourbon Street. Whilst under the hypnotist's influence, however, Ike becomes inhabited by the vengeful spirit of J.D. Ike's behaviour begins to change gradually, and he becomes increasingly cold and cruel towards Christella, at one point attempting to rape her violently. He also develops a fascination with a straight razor, J.D.'s weapon of choice. Cognisant of the changes in his behaviour, accompanied by blackouts and memory loss, and stricken with a persistent headache, Ike seeks medical help.

In the years since Betty Jo's death, Elija has become a reformed character and is now an evangelical preacher. Ike/J.D. becomes aware of Elija's status as a minor celebrity and begins to move in his circles, eventually seducing Elija's daughter Roberta (also played by Alice Jubert). As Ike/J.D. get closer to the Bliss family, the truth about the murder of Betty Jo promises to reveal itself. Meanwhile, Christella's ex-husband, a detective, becomes obsessed with making Ike pay for his cruel treatment of Christella.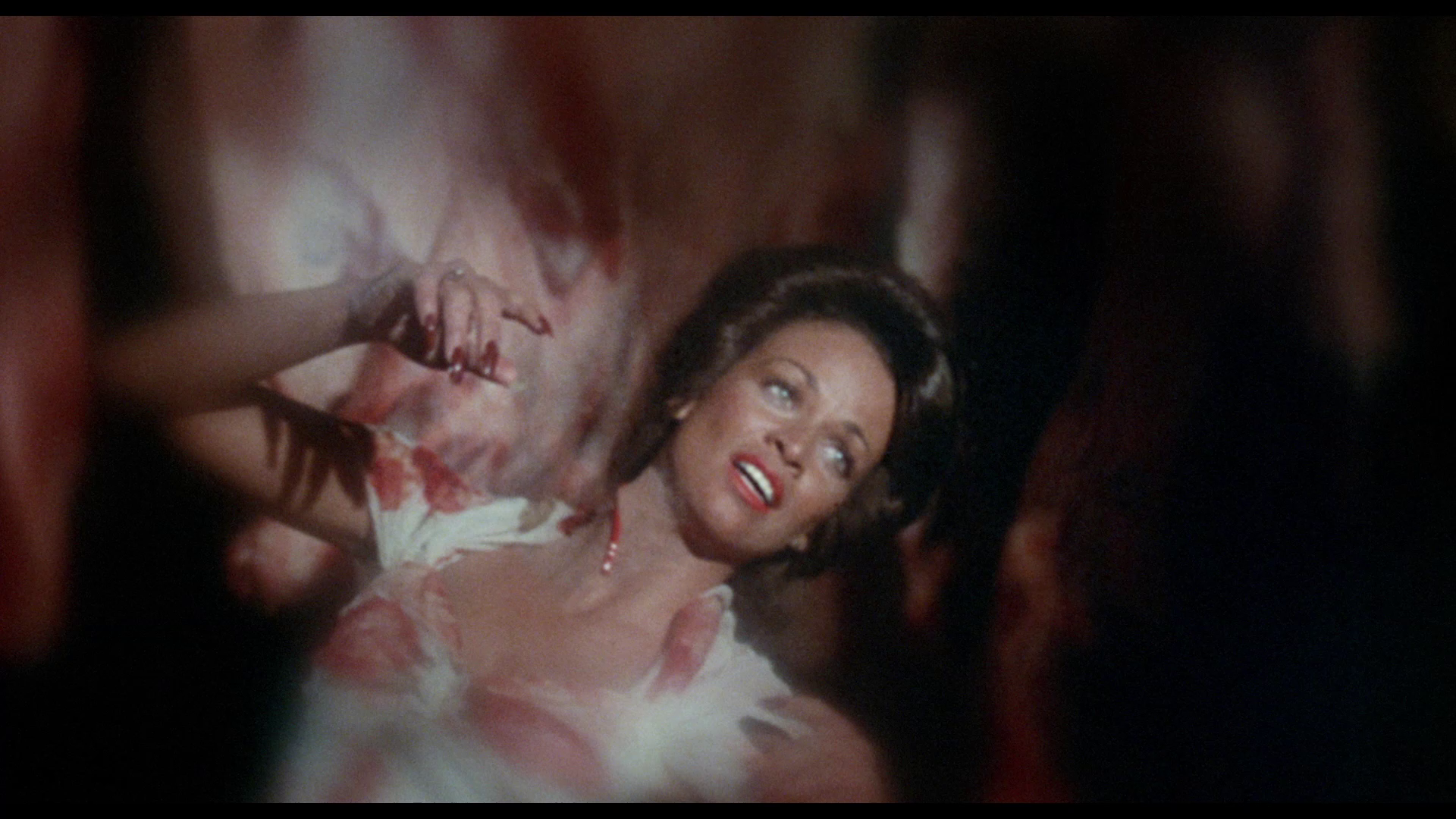 A 'Blaxploitation' film made by AIP and directed by Arthur Marks, J.D.'s Revenge is essentially a fusion of Blaxploitation and Gothic horror, offering a narrative that has strong similarities with Robert Louis Stevenson's novella The Strange Case of Dr Jekyll and Mr Hyde. As the film progresses, sparked by his encounter with a stage hypnotist, law-abiding, dedicated law student Ike is slowly transformed into the vicious and cruel J.D. Walker. Glynn Turman's performance in the picture is deeply impressive: sweet and taciturn as Ike, snarling and condescending as J.D., Turman is required to embody two very different tropes of African American men. The conscientious Ike is described as 'sissified' and a conformist to white culture, whereas J.D. is angry and powerful, his cruel and relentless attitude earning him respect and making him an object of desire for women. The film suggests that J.D., a figure from an earlier era, offers an 'essential' version of black masculinity, and Ike's assimilation into white culture makes him somehow weak. A decade after the Civil Rights movement and the contrasting figures of Martin Luther King and Malcolm X, it's difficult not to read J.D.'s Revenge as allegorical of that turbulent period in American history.

Marks made his name as a director of Blaxploitation pictures with Bucktown in 1975; the success of this film led its distributor, AIP, to commission Marks to make several more similar pictures, including J.D.'s Revenge, the comic strip adaptation Friday Foster (1975, starring Pam Grier) and The Monkey Hustle (1976). In J.D.'s Revenge, Marks employs some interesting and memorable techniques: though the film is, for the most part, photographed very flatly in mid-shots, there are some striking scenes of montage in which Ike/J.D. experiences flashbacks to the murder of Betty Jo in the meatpacking plant in 1942. These combative montages include shots of Betty Jo's throat being slashed, intercut with the bleeding of a cow and the butchering of the carcass, and tight close-ups of J.D.'s hand covered in Betty Jo's blood. The effect is like Bunuel's dream sequences in which the repressed surfaces via the appearance of disconnected symbols.


As Ike becomes increasingly dominated by the spirit of J.D., the film's tone becomes strikingly combative. Ike's transformation begins to feature some 'fruity' language delivered in an anachronistic idiom: 'Bitch, I hate you!', he yells at Christella, 'Quit flapping your goddamn gums!' Ike takes to snorting condescendingly at others, and in one scene he attempts to force himself upon Christella – until Christella manages to fend him off. The film treads even more strongly into the realm of the taboo by having Ike, 'possessed' by the spirit of J.D., seduce Elija's daughter Roberta – J.D.'s own niece – as an act of revenge against Elija. The film contrasts Ike's modern, responsible and 'enlightened' masculinity with the impulsive animalistic behaviour of J.D. After Ike has behaved cruelly to Christella, one of Ike's friends tells him that women like to be treated 'rough': You have got to go into your "nigger" act every once in a while', he asserts, 'They [women] gonna push you till you show 'em where the lines are'. Ike's friend adds, shortly afterwards, 'As long as I've known you, you always seemed to be sorta repressed'. The suggestion is that in the 30 years since the events depicted in the opening sequence and the main narrative, masculinity (and specifically black American masculinity) has repressed an essential trait to such an extent that it threatens to explode into violence.

Meanwhile, Elija is a reformed character – sincere in his newfound role as an evangelical preacher, declaring in one of his sermons that 'With the holy help of the holy spirit, I fought my way back through the evil and the demons'. The unrepentant Theotis, however, mocks Elija's faith, suggesting that Elija is 'pimping God's consciousness like some kind of fat whore. You're just selling cheap feel-good thrills to a bunch of suckers who are looking for the Second Coming of Jesus, or some such shit'. When Elija first meets Ike, after Ike has pulled from Elija a man who strikes the preacher and declares him to be a 'liar', Elija notes that 'I feel I know you. Perhaps our souls are connected, eh?' Elija has a very specific idiolect, delivering his sermons in a unique way, his sentences punctuated with gasps. In one scene, Ike listens to Bliss delivering a sermon on the radio and remembers, via flashback, a much younger Bliss using a very similar brand of poetic and angry rhetoric, complete with the same idiomatic speech rhythms, in his role as a hoodlum.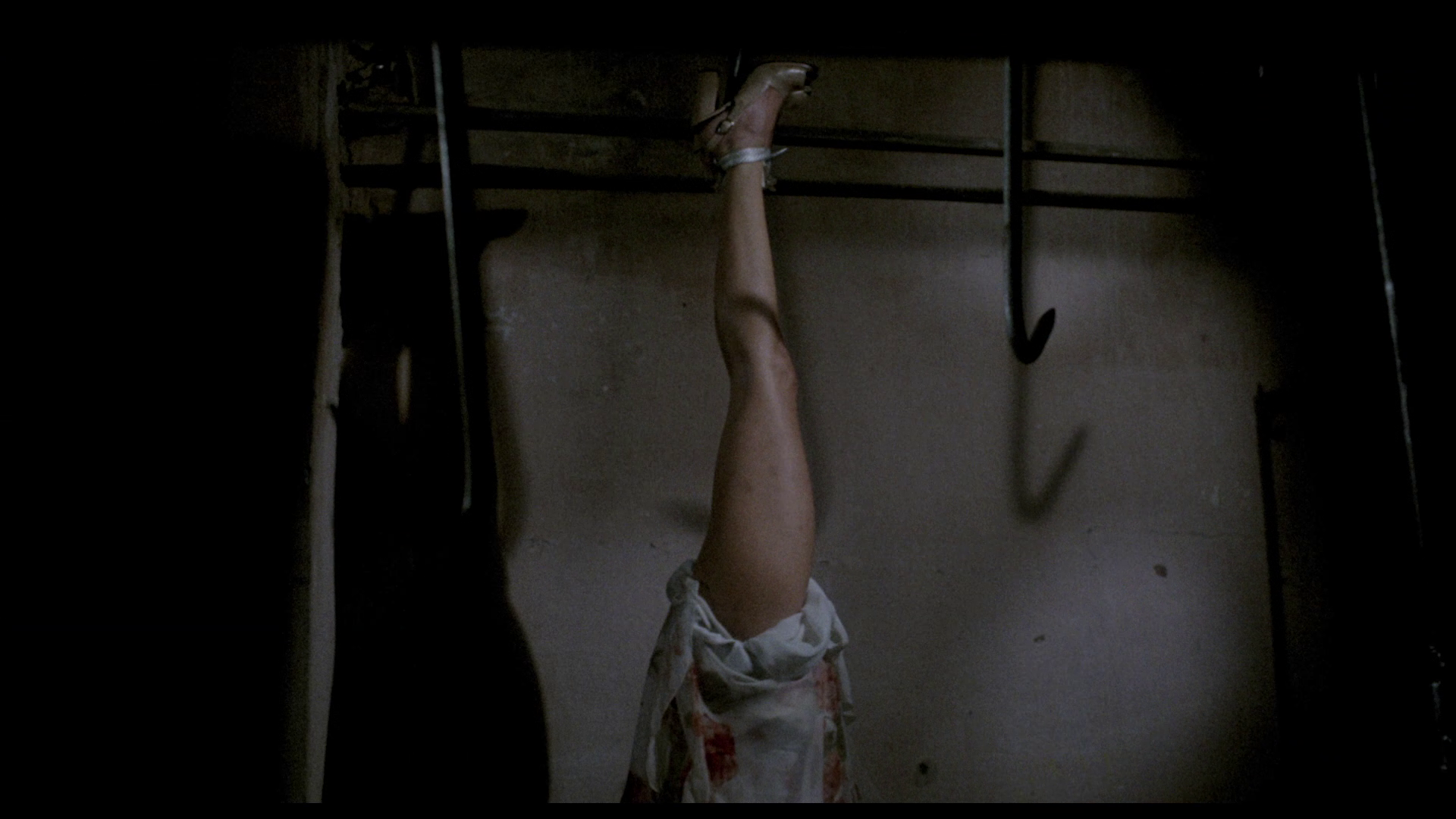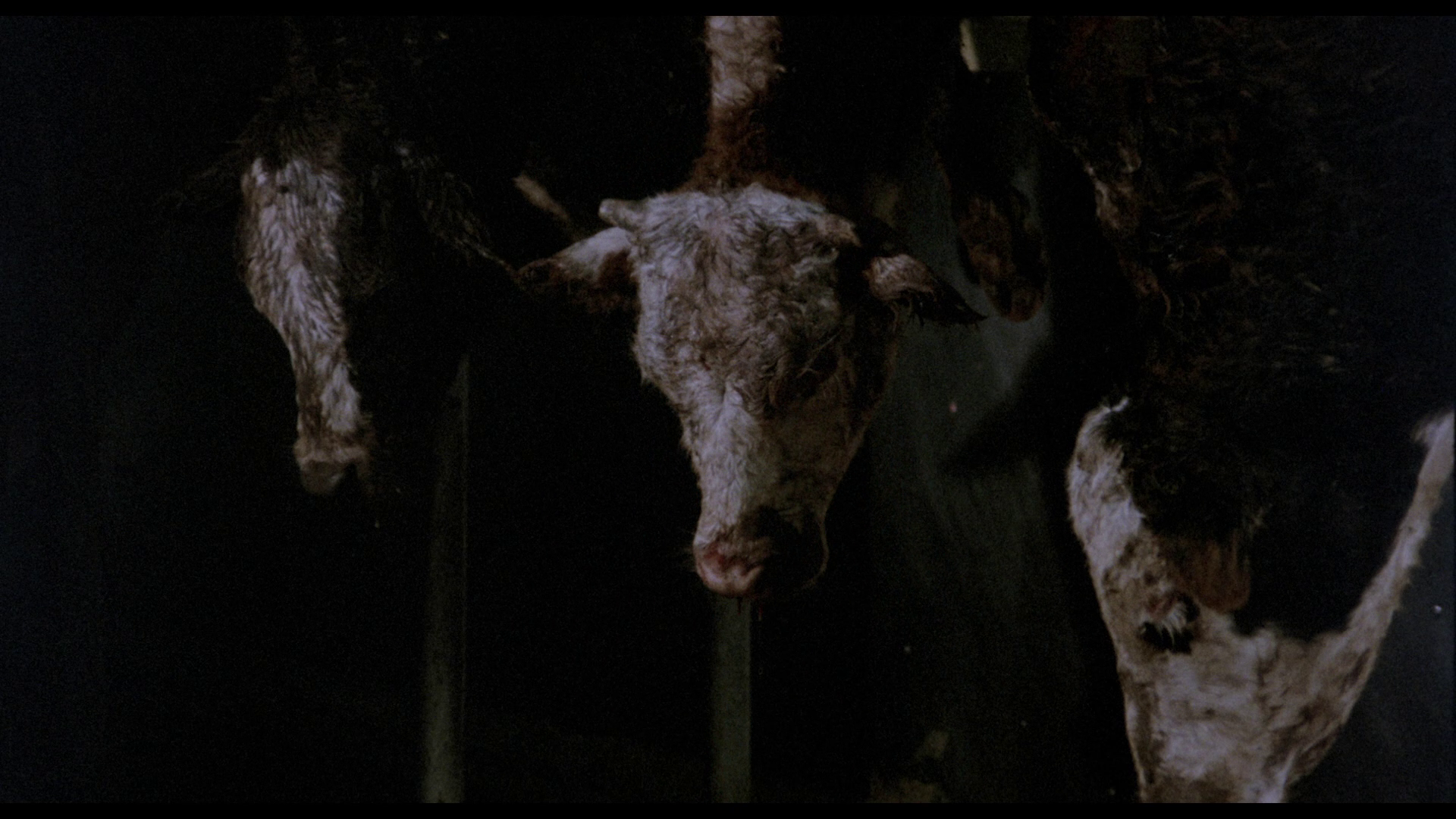 Video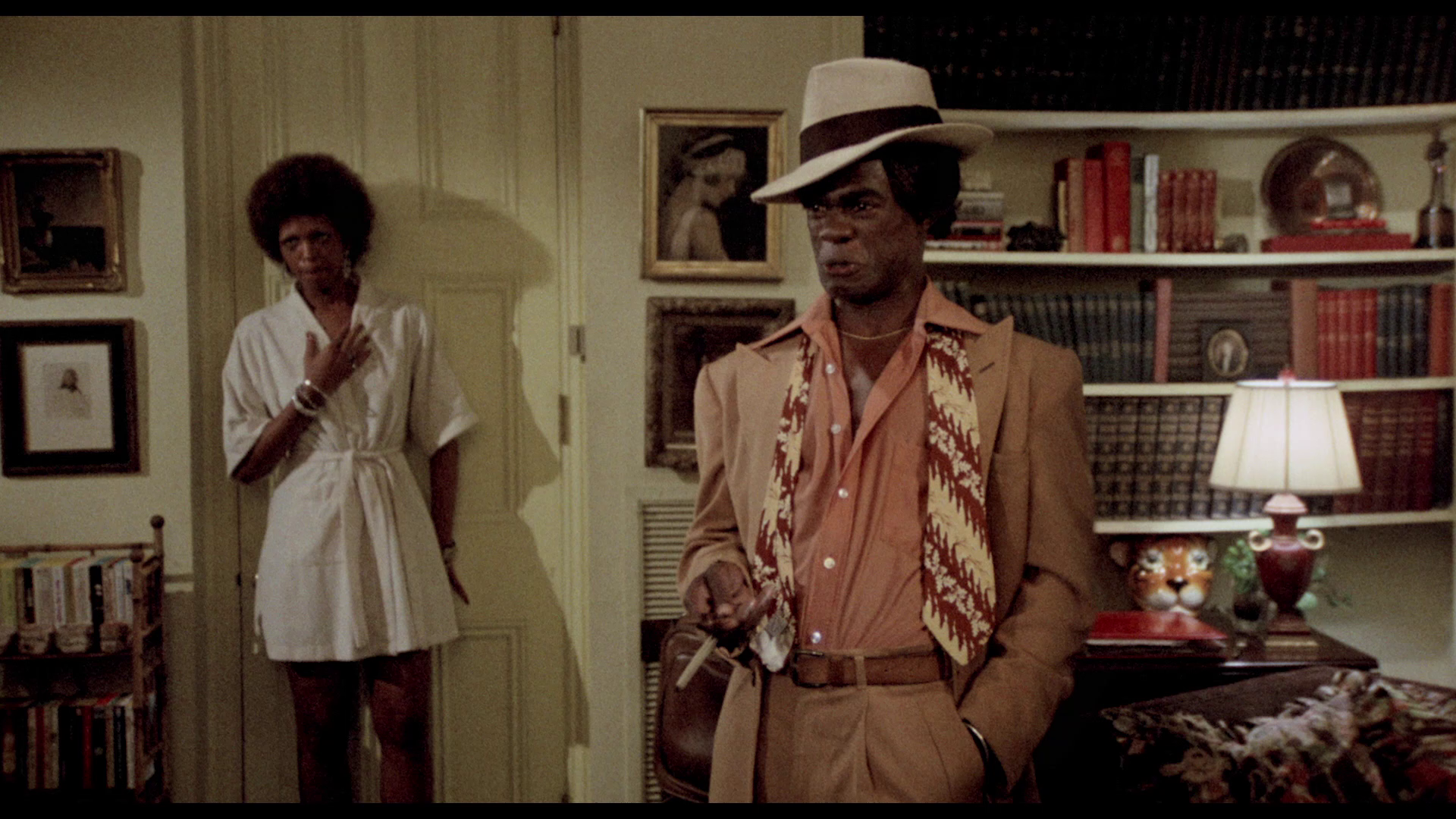 Uncut (perhaps surprisingly, given the occasional graphic cutaways to the bleeding of cattle) and running for 95:34 mins, J.D.'s Revenge is presented in 1080p, using the AVC codec. Taking up just over 22Gb of space on the Blu-ray disc, the film is in its intended aspect ratio of 1.85:1. The film's photography is mostly flat and uninspiring, the setups predominantly medium shots at eye level, and the film as a whole has the appearance (albeit slightly more graphic and with stronger language) of a 1970s television production. The opening sequence, set in 1942, features a blurred vignette effect that suggests the whole sequence is a dream or memory, and there are some sepia-tinged shots later in the picture that complement this. The 'flatness' of the film's photography aside, the presentation on this disc is very good. Little to no damage is evident throughout the film, and a reasonably strong level of fine detail is present within the image, especially in close-ups. Contrast levels are good though sometimes seem quite bold – highlights being slightly blown and blacks seeming slightly crushed; this may, however, be a consequence of the lighting in the original photography, which is sometimes quite diffused. Colours are muted and sometimes seem a little 'off', the palette seeming to veer towards a sickly yellow/green for much of the film's running time. Finally, a solid encode to disc ensures the presentation retains the structure of 35mm film. It's not the greatest presentation, but given the limitations of the materials and the flatness of the film's original photography, Arrow's presentation of J.D.'s Revenge is pleasing.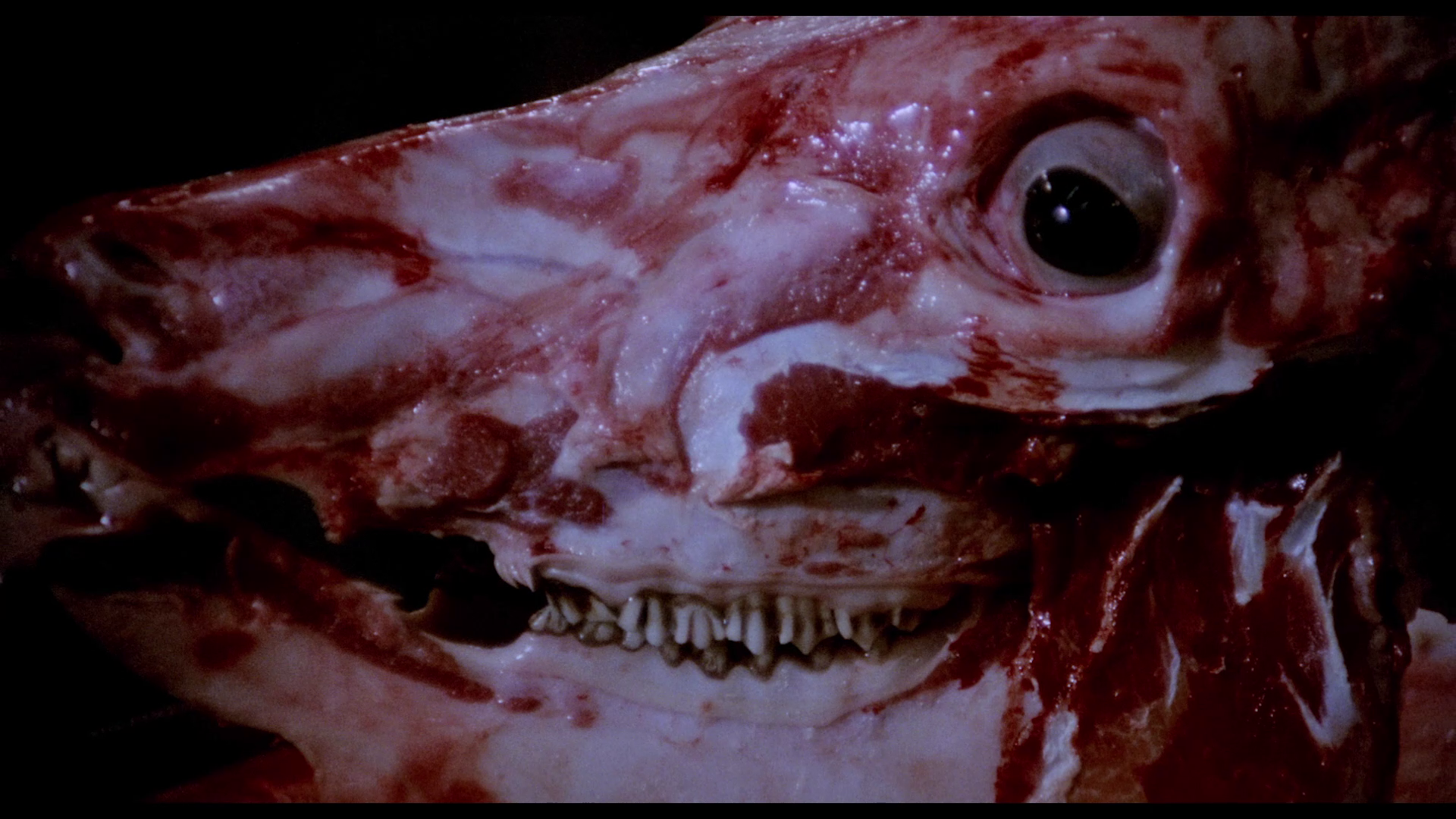 Audio


Audio is presented via a LPCM 2.0 stereo track. This is easy to hear, with no distortion, and dialogue is always audible. The disc includes English subtitles for the Hard of Hearing, with are easy to read and free from errors.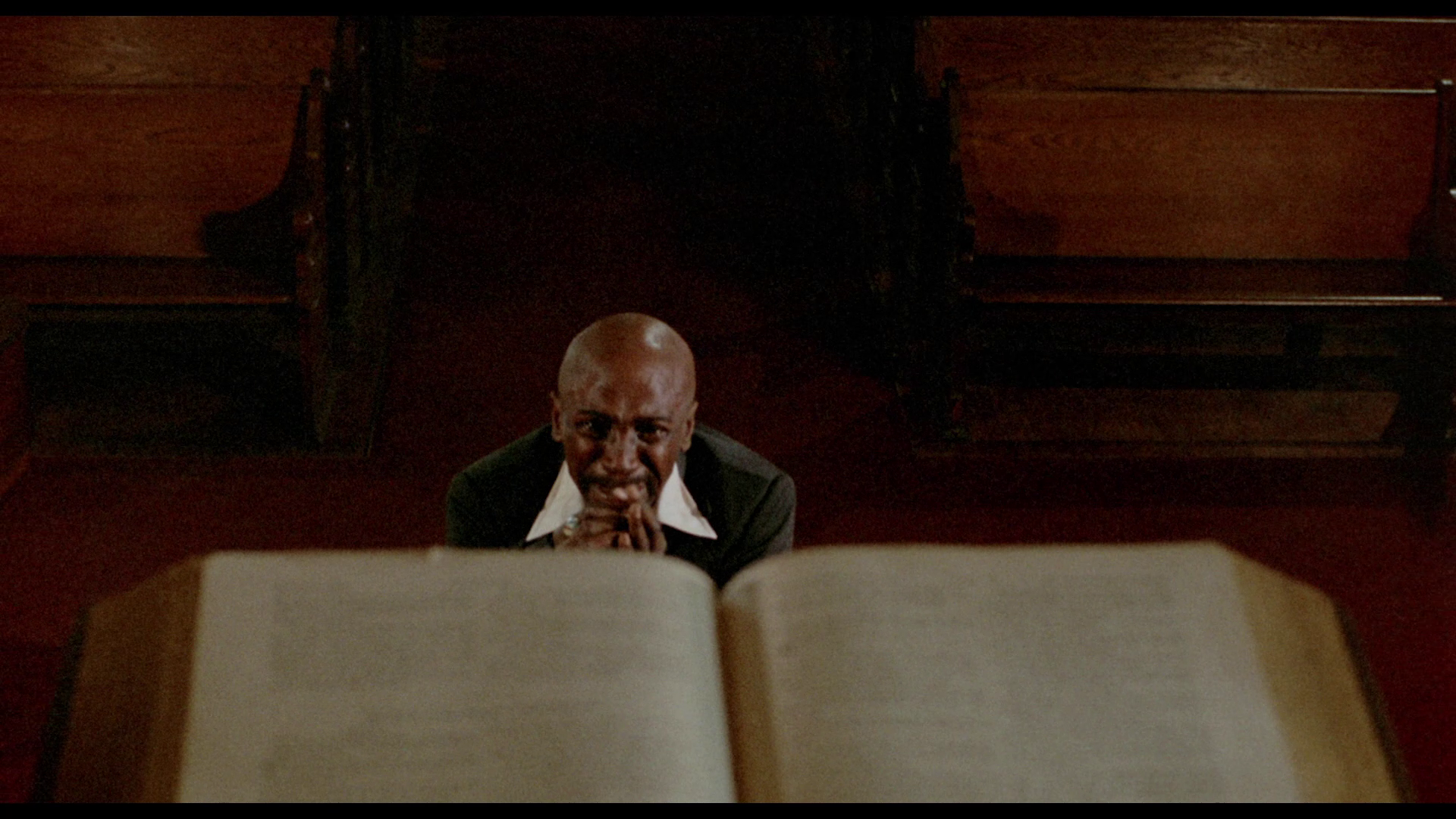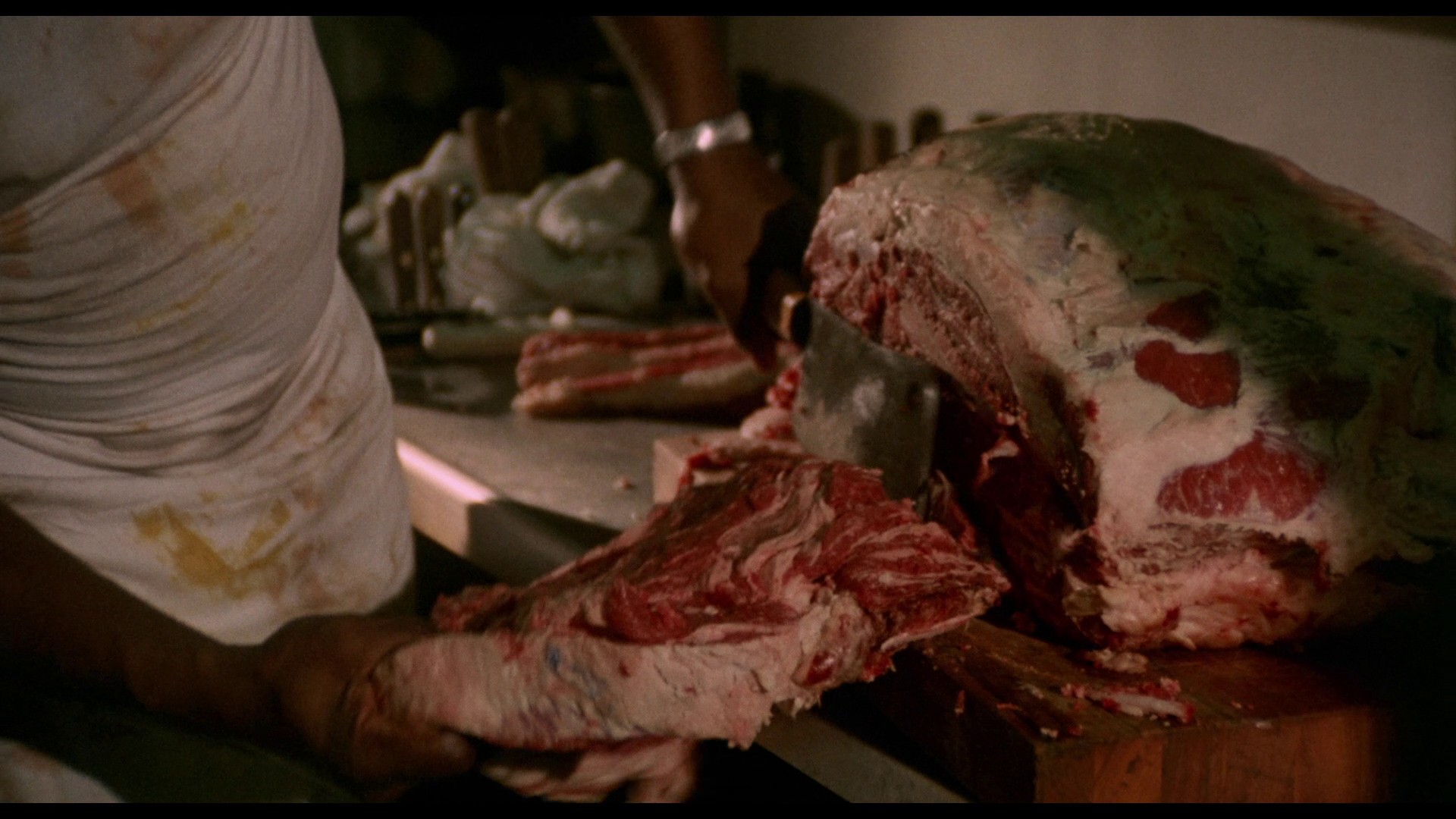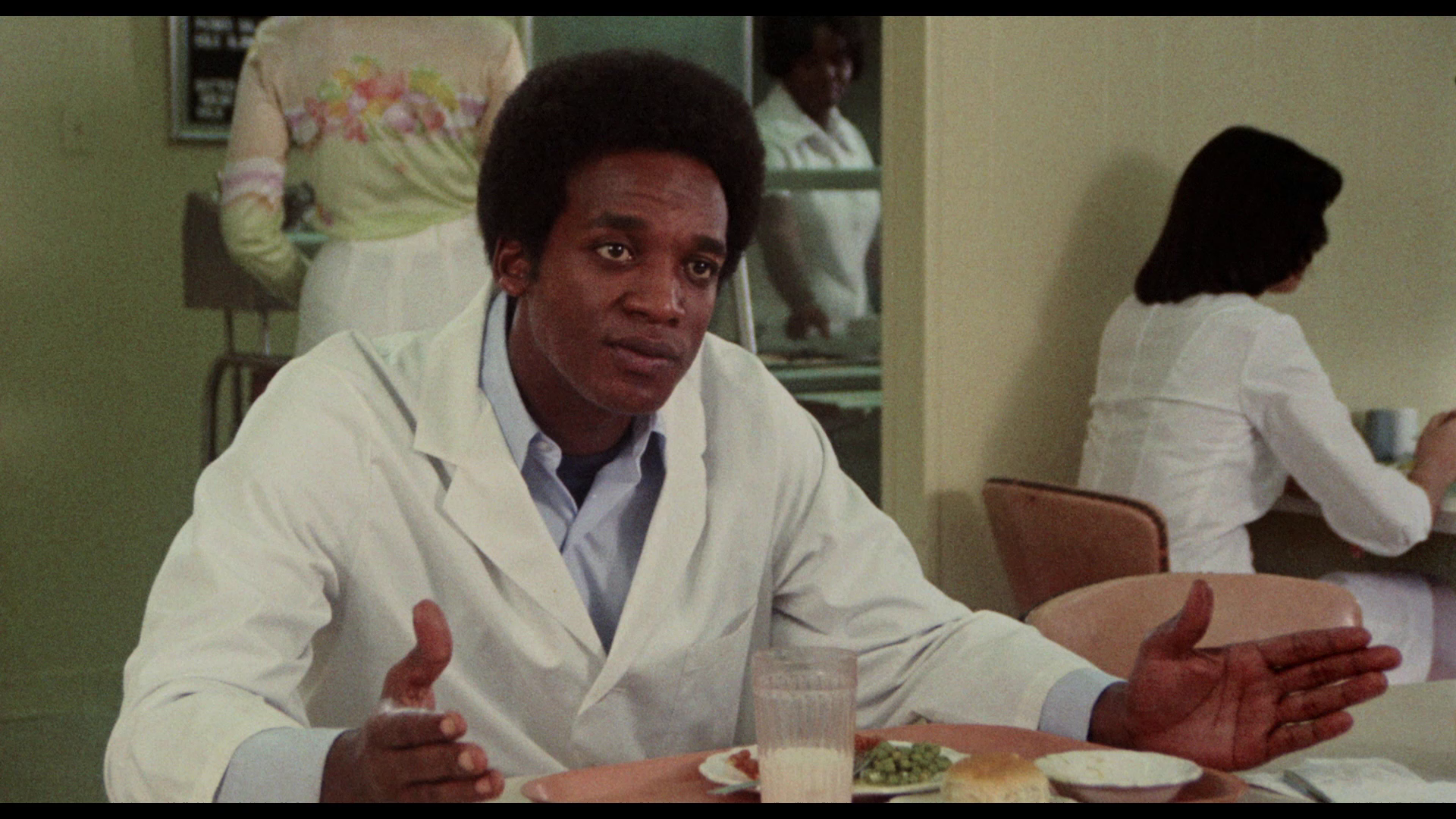 Extras
The disc includes:
- 'The Killing Floor' (46:03). A new documentary, 'The Killing Floor' looks at the production of J.D.'s Revenge and features input from Arthur Marks, Glynn Turman, the film's writer Jaison Starkes, and editor George Folsey Jr. Starkes talks about his beginnings in the New Communicators programme, which led to an association with George Folsey, Jr. Turman talks about how he was approached to act in the picture, offering a hilarious impression of Samuel Z Arkoff. The picture was originally entitled 'The Killing Floor', and Starkes came up with the concept after being asked to write a picture about reincarnation; J.D. Walker was based on stories relayed to Starkes by his father about his experiences during the 1940s. It's a well-edited and fascinating documentary (though Sidney Poitier's name is at one point misspelled in the onscreen titles).

- 'Here Lies J.D. Walker' (17:42). An audio recording of an interview with actor David McKnight is accompanied by stills from the film. McKnight discusses his performance in the film and how he was approached to act in it.

- Gallery (1:05).

- Trailer (2:08).

- Radio Spots (1:49).

- Arthur Marks Trailer Reel: Bonnie's Kids (3:11); Bucktown (2:17); A Woman for All Men (2:27); Friday Foster (2:38); The Monkey Hustle (2:20).


Overall



J.D.'s Revenge is an interesting hybrid of Blaxploitation elements and horror paradigms, sitting alongside other Blaxploitation-horror pictures such as Blacula (William Crain, 1972), Blackenstein (William A Levey, 1973), Ganja and Hess (Bill Gunn, 1973) and Dr Black, Mr Hyde (William Crain, 1976). Like the latter picture, J.D.'s Revenge draws heavily on Robert Louis Stevenson's The Strange Case of Dr Jekyll and Mr Hyde, and in a dual role as both meek and mild law student Ike and snarling, snorting hoodlum J.D., Glynn Turman excels. The film's photography is predominantly flat and uninspiring, evidencing the film's short production schedule and relatively low budget, but there are some incredibly impactful montage sequences in which Ike experiences flashbacks to the murder of Betty Jo.

In all, it's a film that should prove interesting to any fan of Blaxploitation pictures. Arrow's Blu-ray release contains a solid presentation of the main feature, though the sickly yellow/green tinge to the palette is a little questionable, and the main feature is accompanied by some very good contextual material.