The Film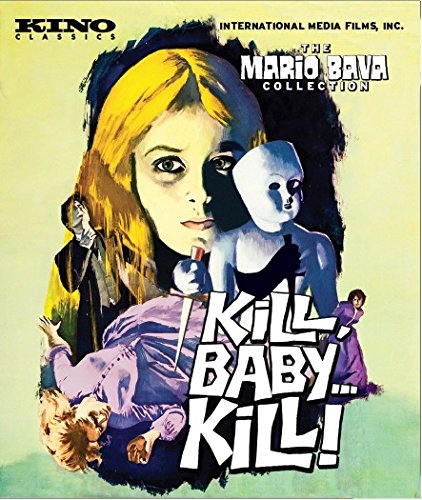 The name Mario Bava conjures forth images of vivid cinematography and a sumptuous gothic atmosphere; traits that have defined his work and influenced countless filmmakers. Bava was no stranger to these elements when it came time to make "Kill, Baby… Kill!" (a.k.a. "Operazione Paura"/"Operation Fear", 1966), having already produced all-time classics such as "Black Sunday" (1960) and "Blood and Black Lace" (1964) by that point. But "Kill, Baby… Kill!" plays like an amalgamation of all Bava had done before, concentrating his dripping atmosphere, Victorian romanticism, and stellar, often hallucinatory, camera work into one career-defining feature. Many of his most vocal celebrants, chief among them Bava biographer Tim Lucas, have lauded its spectral elements as iconic to Italian horror cinema. Bava has a rich and varied filmography, one that frequently jumps genres, but for those looking to drink deeply in his oeuvre "Kill, Baby… Kill!" is a fitting place to start.

In a decaying Carpathian village, a woman plunges to her death after being pursued by an unseen force. Dr. Paul Eswai (Giacomo Rossi-Stuart) is sent to perform her autopsy. The locals, however, are a superstitious lot and they believe the woman was done in by the ghost of a young girl who haunts the village. Despite some resistance, Dr. Eswai completes his autopsy, finding a silver coin embedded in the heart of the woman. Later, he learns the story of the supposed spook: Melissa Graps (Valerio Valeri), daughter of Baroness Graps (Giana Vivaldi), who died at a young age and continues to roam the cobblestone streets, killing all she meets. While in town Paul meets Monica (Erika Blanc), a young woman who has returned to visit the grave of her parents. Later, Nadienne (Micaela Esdra), daughter of the local innkeepers, is visited by Melissa but Ruth (Fabienne Dali), a witch, reverses the curse to prevent certain death… for a while. Paul, meanwhile, comes across two gravediggers attempting to bury the body of Inspector Kruger, with whom he was to meet that same night regarding a bit of crucial information.

Eventually, it comes to the light that Melissa is the daughter of Baroness Graps and, furthermore, Monica's parents were servants in the Graps homestead. Karl (Luciano Catenacci), the town burgomeister, attempts to prove these claims with documentation but, wouldn't you know it, Melissa kills him before the paperwork can be produced. No one else in town is willing to assist Paul and Monica so they take their suspicions to the Baroness herself, who concedes her role in the town slayings stems from an incident many years back in which Melissa was killed due to sheer negligence on the part of the townspeople. But that isn't the only revelation to come from the Baroness' confession, and Paul & Monica's long night of torment won't end until someone is laid to rest.

Bava had only been out of the gothic horror game for a few years before he produced this film, and it's clear the Master of Atmosphere didn't lose a step in that time. Viewers can consider the story secondary to the austere, gloomy Carpathian environment, which is so sumptuous that drinking it in becomes compulsory. When I think of horror, in maybe a more "classic" sense, the aesthetic Bava achieves here is that concept brought to motion. It isn't just the atmosphere, but also in the camera angles and framing where Bava gives his film an E.C. Comics feel. The scene where Dr. Eswai comes across a duo of grimy gravediggers might as well have been ripped straight from a splash page in "Tales from the Crypt". Much of that sensation can also be attributed to Bava's love of lush colors, which permeate the earthen environments like a mastered brushstroke.

Adding the necessary accoutrements of romance and haunting regality is composer Carlo Rustichelli's classical score. Rustichelli had previously provided the soundscape to "The Whip and the Body" (1963), another one of Bava's celebrated gothic romances. Although Bava had the great fortune of working with some of Italy's top film composers – luminaries like Ennio Morricone and Stelvio Cipriani – the music provided by Rustichelli replays in my head most frequently because it perfectly complements the atmosphere Bava sought to achieve. "Kill, Baby… Kill!" is like a baroque painting come to life, fully immersing viewers in a strange and mystical place.

Video


Kino says this release is sourced from a new 2K scan taken from 35mm film elements, but the results of this 1.85:1 1080p 24/fps AVC MPEG-4 encoded image are less satisfactory than Arrow's recent U.K. release. For one thing, there is a slight push toward green over the picture. This skews the colors and gives the image a slight malaise. Contrast is acceptable but hardly solid. There is a pronounced softness to many scenes, with fine detail lacking throughout. A few moments near the climax show a distinct shift in quality, too. While this is by no means a bad image it doesn't appear less faithful and defined than the region-free Arrow edition.

Audio


Both English and Italian audio are included, though the former sports an LPCM 2.0 mono track while the latter has to settle for lossy Dolby Digital 2.0 mono. The Italian track sounds slightly muffled and has less presence (surprise), while the English dub is more robust and has a less cramped feel. Rustichelli's score sounds much better in lossless, making the English track a clear winner. Subtitles are available in English.

Extras


Kino has released this classic Bava film with an audio commentary, a featurette, an interview, an alternate opening, plus some TV spots. Below is a look at these supplements.

Former "Video Watchdog" editor and Bava biographer Tim Lucas provides an expectedly scholarly audio commentary track.

"Kill, Bava, Kill!" is a 2007 featurette that runs for 25 minutes and 5 seconds, with Lamberto Bava, son of Mario, discussing his family and visiting some of the filming locations seen here.

An international theatrical trailer (SD) runs for 2 minutes and 34 seconds.

"German Opening Title Sequence" (1080p) is an alternate opening that runs for 3 minutes and 33 seconds, and it looks rough.

"Interview with Erika Blanc" (1080p) this interview runs for 10 minutes and 35 seconds, with subtitles.

A series of hilarious American TV spots (1080p) are included, running for 1 minute, 30 seconds, and 10 seconds, respectively.

Packaging


The single disc comes housed in a standard Blu-ray keep case.

Overall


The perfect film to kick off the Halloween season or to christen a newcomer to the filmography of Bava, Kino's disc may not be the hands-down winner on the global home video market but this release does have a good image with a nice selection of bonus features.
| | | | | |
| --- | --- | --- | --- | --- |
| The Film: B+ | Video: B- | Audio: B- | Extras: B | Overall: B- |