Eyes of Laura Mars (Blu-ray) [Blu-ray]
Blu-ray ALL - United Kingdom - Powerhouse Films
Review written by and copyright: Rick Curzon (1st December 2017).
The Film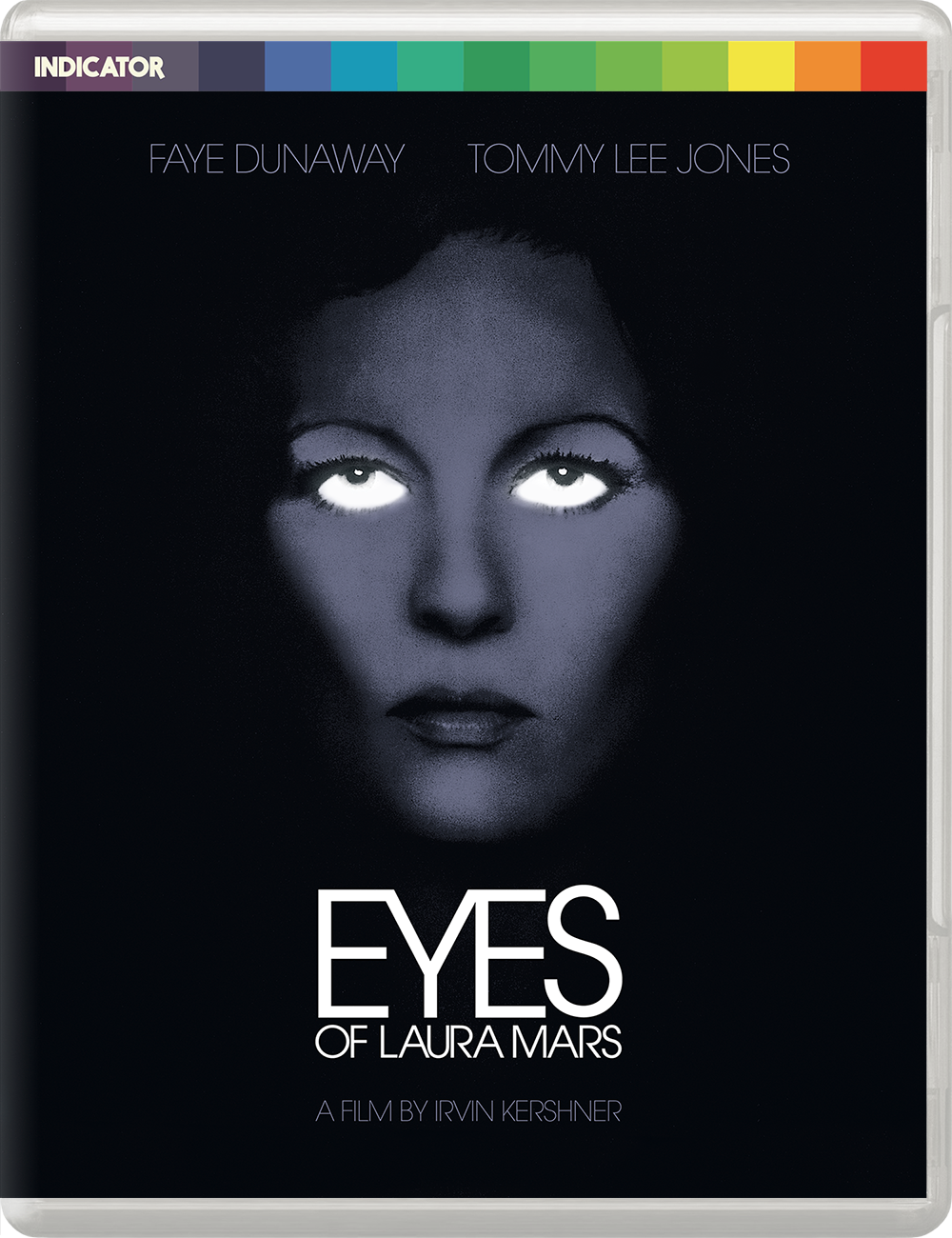 Irvin Kershner's stylish, violent cult thriller – from an original screenplay by John Carpenter – stars iconic star Faye Dunaway as glamorous fashion photographer Laura Mars, who begins to experience horrific visions when she 'sees' a series of brutal murders as they happen.

The Eyes of Laura Mars put an original spin on the "women in peril" plot staple by giving us Faye Dunaway as a fashion photographer disturbed by visions of real violence echoed in her flashy, S&M-influenced work. The visions start coming closer to home as her woman friends are butchered and their copies of her work vandalised. Good-looking cop Neville (Tommy Lee Jones) argues that her art is responsible, but nonetheless starts an affair with her. Hints are dropped that the killer might be someone close to her, like obsessive ex-con driver Tommy (Brad Dourif) or her possessive ex-husband Michael (Raul Julia). Evocative scenes of 70s' New York nightclub excess, and the strikingly perverse photographs of Helmut Newton, now create a period 70s' flavour to this flawed psychic thriller. Dunaway's performance is suitably overwrought and the young, slimline Jones is at once attractive and off-key.

Video


An American Giallo complete with stylish, flashy, uppercrust visuals and locations; moderately bloody kills, red herrings and some gratuitous nudity ... and the barmy resolution that stretches credibility. All it needs is a score by Morricone, Nicolai or Goblin and the Giallo effect would be complete. Very enjoyable and well done although the ending is disappointing, silly and not what original scripter John Carpenter envisioned.

This is a slick, glossy film and the cinematography has a certain filtered softness which would become more prevalent in the following decade and the optical sequences like the opening credits or the "vision" scenes are a step down in sharpness. However as is also usual for a Sony title this is taken from an older master but Powerhouse Films have worked their usual magic on this one; it's very well encoded. I noticed no signs of manipulation or signs of DNR.

We have a healthy but not over whelming amount of grain lending the image a film like appearance throughout. Black levels are rich, deep and filled with detail; particularly in the opening galla sequence; check out the dark suits being worn by many in the background and some in the foreground.

Contrast is fairly lowkey throughout allowing detail to come through nicely in both foreground and background. Director Irvin Kershner favours focusing on faces in medium and closeup in this one using shallow focus to keep one focal plane in focus and allowing backgrounds and occasionally foreground images to dip into lovely grainy soft focus and the encode handles in all very well.

Colours are rich and luxuriant although Kirshner favours a palette favouring browns and blues generally unless a murder is taking place with blood or a club / party scene shows off the fashions. Textures are fine in deeply coloured material.

I noticed no artefacts to distract and on a my big 58" LED screen the image maintained a satisfying film-like appearance.

1080/24p / MPEG-4 AVC / 1.85:1 / 103:19

Audio


English LPCM 1.0 Mono
Subtitles: English HoH

Audio is loud and robust and very typical of of a mono track from the late 1970s. Music blasts out when required but never overwhelms dialogue unless by design. Not much more to say here than I've said before in my other reviews of Indicator series Blu-ray soundtracks of a similar ilk. Short of a complete rebuild from the original sound stems to create a 5.1 track we aren't going to get anything better. Purists will be happy of course as we all should be.

Extras


Audio commentary with director Irvin Kirshner

A solo track which can be problematic unless handled by someone who can keep things interesting and lively and Kirshner isn't one of the best who took part recording these things. He can occasionally resort to description of what we're seeing but on the whole he keeps it bubbling along. I found his discussion of lighting choices particularly interesting and of his intention to use the film as a comment on violence in society and how art can use it for sensation. This is a vintage track as Kirshner died in November 2010.

"The Eyes Have It: An Appreciation by Critic Kat Ellinger" (13:24)

The editor of Diaboliques magazine discusses the giallo and how it possibly influenced Eyes of Laura Mars. Psycho, Peeping Tom, Dario Argento are mentioned and films like The Girl Who Knew Much (1962) and The Bird with the Crystal Plumage (1970) are referenced. An interesting, thoughtful piece.

"Visions" (7:24)

Vintage 1978 promotional short directed by Andrew J. Kuehn showing behind the scenes and clips from the film.

"Eyes on Laura Mars" (8:24)

Another vintage piece this time from 1999 and narrated by Laurent Bouzereau who was the producer of the special edition DVD first released in June 2000. He talks about the various versions of the screenplay and how they changed. This is all set to excerpts from the film score and set to promotional stills. Plenty of interest here.

Theatrical Trailer (3:33)

Sensation heavy trailer playing up the chic backdrop to the plot and the main characters.

Director David De Couteau's Trailers from Hell trailer commentary (3:03)

De Couteau waxes lyrical on one of his favourite films and it's origins.

"Eyes of Laura Mars Image Gallery: Original Promotional Material" (67 images)

Promotional and behind the scenes images.

Liner notes booklet with a new essay by Rebecca Nicole Williams, an overview of contemporary critical responses, and historic articles on the film

Excellent collection of articles commemorating the film with a superb new piece on the film by Williams and the usual vintage pieces we've come to expect from Indicator series liner notes booklets

Overall


Although I like the film I'm not one of it's groupies but it remains a scary, well made American Giallo made by an old pro who was about to have a late career renaissance by making The Empire Strikes Back (1980) and Never Say, Never Again (1983). Powerhouse Film's superb Blu-ray is THE way to experience it with a great audio visual presentation of the film and an extras package collecting together new and vintage material to become the last word on this fondly remembered horror-thriller ... until a new 4K master is created and it gets an UHD release.
| | | | | |
| --- | --- | --- | --- | --- |
| The Film: B- | Video: A | Audio: A+ | Extras: A | Overall: A |

---
DVD Compare is a participant in the Amazon Services LLC Associates Program and the Amazon Europe S.a.r.l. Associates Programme, an affiliate advertising program designed to provide a means for sites to earn advertising fees by advertising and linking to amazon.co.uk, amazon.com, amazon.ca, amazon.fr, and amazon.de.