Wolf (Blu-ray) [Blu-ray]
Blu-ray ALL - United Kingdom - Powerhouse Films
Review written by and copyright: Rick Curzon (3rd December 2017).
The Film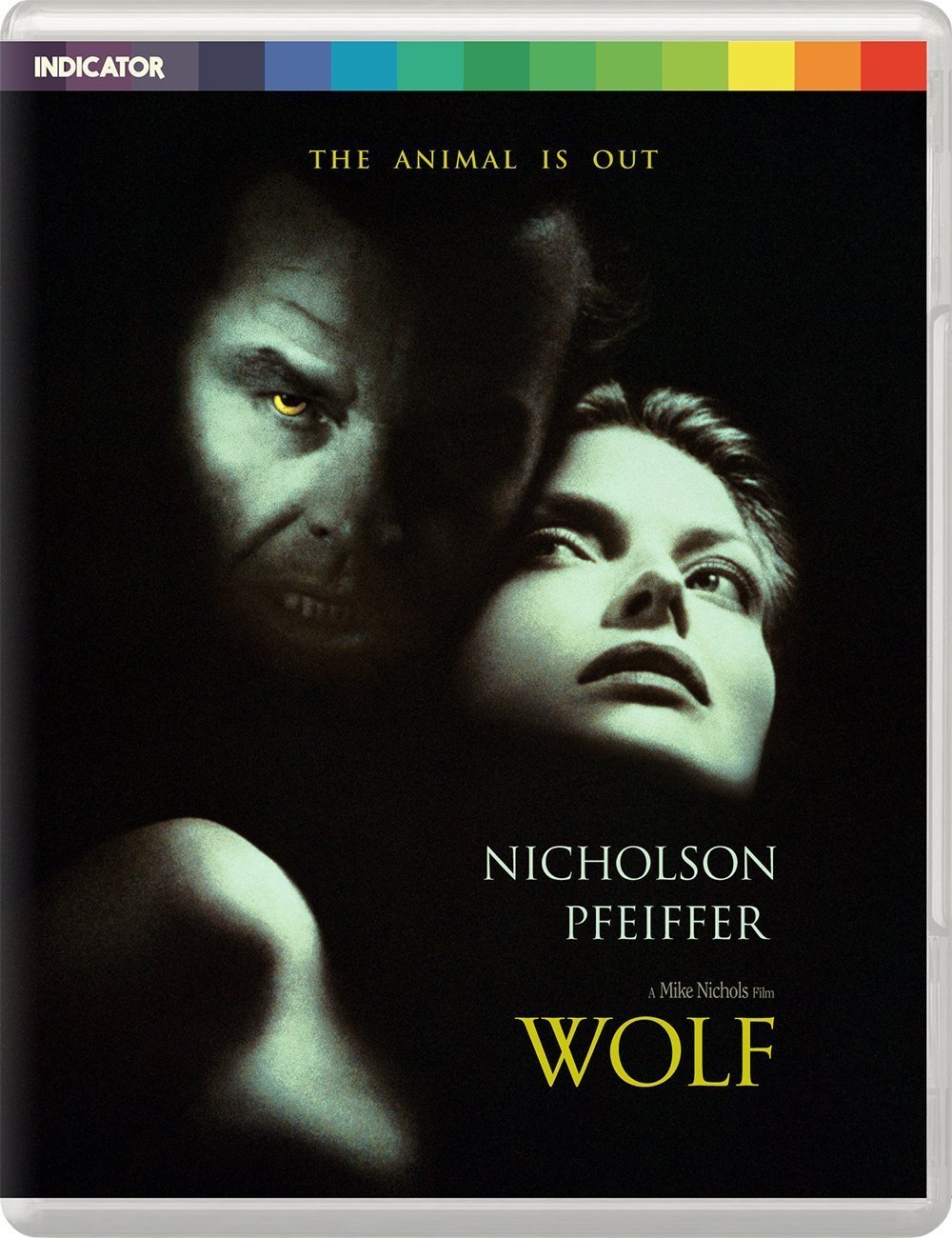 Director Mike Nichols thrilling modern-day werewolf movie boasts a stellar cast, including Jack Nicholson, Michelle Pfeiffer, James Spader, and presents itself as a witty and inventive hybrid of horror film, romantic thriller and biting satire about male anxiety and office politics, where the real monster is corporate greed.

Video


An entertaining, big budget studio star vehicle which happens to be a horror film made by folks who wouldnít normally be seen dead being involved with a horror film. In itself itís a straight forward character piece thatís given a glossy look by cinematographer Giuseppe Rotunno and a luxurient score by Ennio Morricone.

The star power of Jack Nicholson, Michelle Pfeiffer, James Spader and Christopher Plummer drive it home and make it a good solid film with Om Puri, Eileen Atkins, Richard Jenkins, Kate Nelligan, David Hyde Pierce, Ron Rifkin and Prunella Scales in sizzling support. Rick Bakerís makeup effects recall WereWolf of London (1935) and thereís some mild gore.

Cripes! We have a disappointing transfer from Powerhouse Films .... I never thought Iíd see the day. Iím not exactly sure what has gone wring here but the encoding appears blotchy with holes in the grain and the master seems to have some mild digital tinkering with detail occasionally being indistinct. Maybe something has gone slightly wrong downstream of David Mackensieís involvement as heís easily one of the best encoders in the business.

Please donít misunderstand me; this is not a disastrous disc. However, when compared to the very high standards Powerhouse have achieved thus far with their Indicator Series releases this one is disappointing. The bigger your screen the more likely you will be to see problems. On my 58Ē LED TV it looked generally very good at ten feet viewing distance but on closer inspection the problems are more apparent. If you view on a bigger screen or via a projector youíll be less happy.

The master used is not one of the strongest from the generally excellent Sony; itís softer than usual and perhaps a shade duller in itís contrast levels. This being a Ď90s film I was expecting much better especially when you consider it was shot by Giuseppe Rotunno (Felliniís Casanova, Satyricon, And the Ship Sailed On and Argentoís The Stendhal Syndrome).

Colours fare generally very well with a nicely warm palette and no signs of bleed. Black levels by and large are pretty good with only occasional mild crush and they can occasionally be a trifle grey. This has a high bitrate so bar the issues mentioned above there are no major compression artefacts.

1080/24p / MPEG-4 AVC / 1.85:1 / 125:18

Audio


English DTS-HD Master Audio 5.1
English LPCM 2.0 Stereo
Subtitles: English HoH

No issues here. The original Dolby Stereo track is reproduced with great presence and depth in the English LPCM 2.0 Stereo track which is all you really need if youíre a purist and itís a great track.

However, a 5.1 bump has been included and that too is a fine track adding some extra separation and detail.

Both tracks have no issues with distortions or levels of music versus dialogue with the latter always very clear.

Extras


"The Beast Inside: Creating Wolf" 2017 documentary (55:14)
Superb new retrospective made for this release containing plenty of interesting contributions from producer Douglas Wick, screenwriter Wesley Strick and makeup artist Rick Baker. Wick focuses on the late director Director Mike Nichols and his interest in the project and how long it took to get this off the ground. Strick naturally focuses on his contributions and those of fellow writer - the originator of the script - the late Jim Harrison and his unhappiness at being rewritten. Also touched upon by both gents are Nicholsí wife Elaine May and her contributions which were mainly dialogue polishes.

Naturally Baker focuses on his makeup work and working with the cast with some amusing Jack Nicholson anecdotes.
Cast and Crew Interviews: Mike Nichols (8:38), Michelle Pfeiffer (0:50), James Spader (2:02), Kate Nelligan (1:42), Producer Douglas Wick (3:02), Screenwriter Jim Harrison (2:52), SPX Artist Rick Baker (1:33), Production Designer Bo Welch (2:03)
Vintage EPK puff pieces that are of mild interest but thereís nothing of any real depth here.

B-roll Footage (4:07)
Theatrical Trailer (2:07)
A fine Ď90s era trailer; a period when the art of the trailer had improved no end. The B-roll footage is just some behind the scenes material and of mild interest.

Wolf Image Gallery: Original Promotional Material (23 images)
A modest collection of promotional stills.

36-page liner notes booklet with a new essay by Brad Stevens, an overview of contemporary critical responses, and historic articles on the film

A typically excellent Indicator Series booklet with a fine retrospective article from Brad Stevens. The remaining material is the usual round up on of vintage quotes from interviews and contemporary articles / reviews on and of the film.

A DVD copy of the disc is also included.

Overall



| | | | | |
| --- | --- | --- | --- | --- |
| The Film: C+ | Video: B | Audio: A+ | Extras: A+ | Overall: B |

---
DVD Compare is a participant in the Amazon Services LLC Associates Program and the Amazon Europe S.a.r.l. Associates Programme, an affiliate advertising program designed to provide a means for sites to earn advertising fees by advertising and linking to amazon.co.uk, amazon.com, amazon.ca, amazon.fr, and amazon.de.