The Film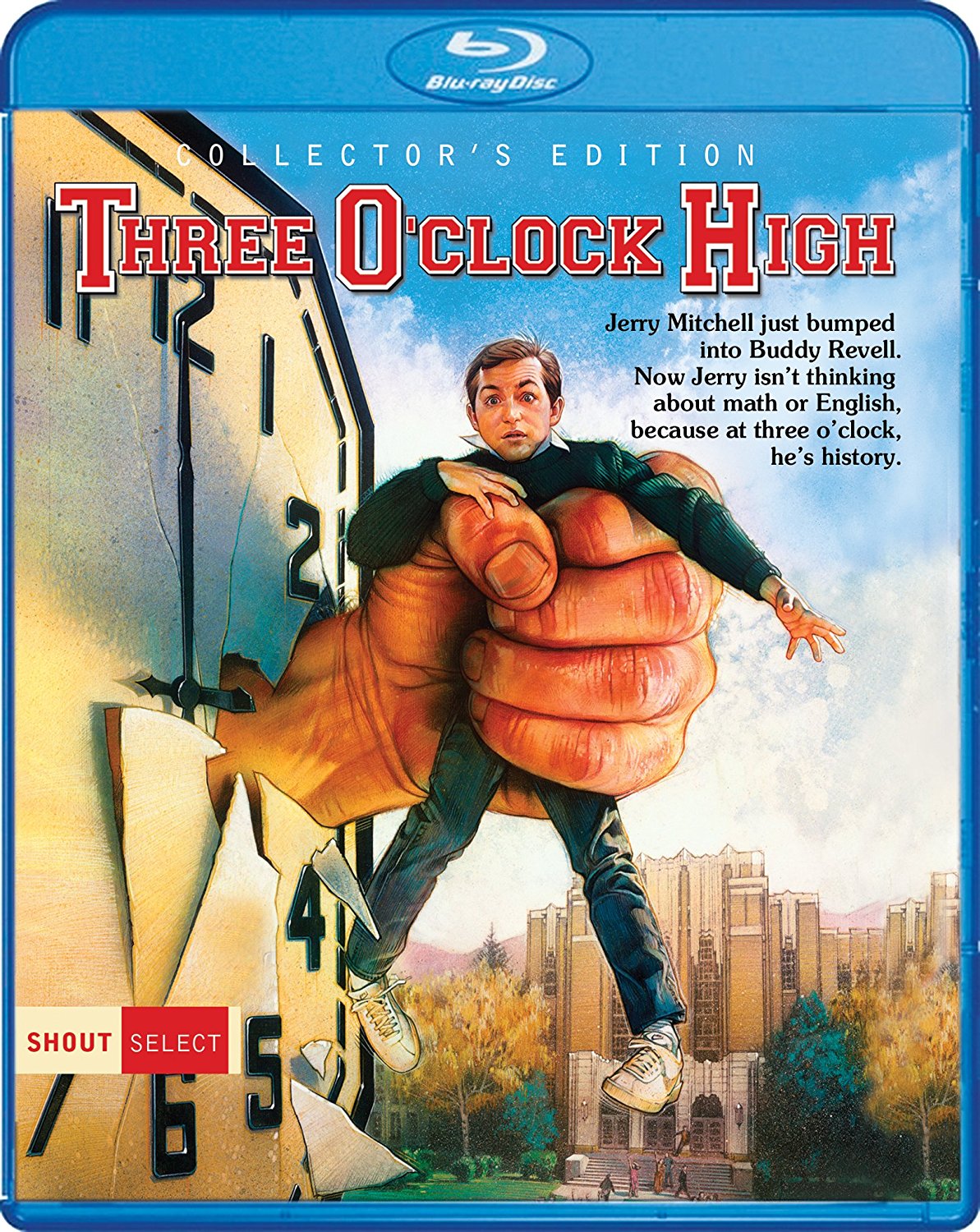 The 1980's were fertile ground for the quintessential "high school movie", a cinematic movement bolstered by the success of John Hughes' seminal pictures. So many were produced during a short period that several worthwhile entries have slipped through the cracks over the years, chief among them (in my opinion) director Phil Joanou's "Three O'Clock High" (1987). Playing like a high school version of "High Noon" (1952) in some respects, Joanou's film was soundly dismissed by critics and audiences alike, possibly due to the dark subject matter and lack of light-hearted moments. But this style and tone are what sets the film apart from its peers; after all, there are only so many ways to lighten up a film centered on violence. Stylistically, "Three O'Clock High" may be the best-shot of the 1980's high school bunch, thanks to the inventive camera work of eventual director Barry Sonnenfeld. In terms of acting, although none of the faces seen here could be considered "A-list talent" – also a likely contributor to its diminished cult status – Joanou cast actors who add legitimate character to their characters. Minor moments and snappy lines fill out the canvas in this adolescent David vs. Goliath tale.

Jerry Mitchell (Casey Siemaszko) is a typical high school student – late to class, full of questionable nutrients, involved in extracurricular activities – but his day is about to be anything but typical when new kid Buddy Revell (Richard Tyson) lands on campus. According to the rumor mill, Buddy got kicked out of his last school for pulling a knife on his football coach… or was it punching out the principal? Or maybe, it was because he sent a guy to the hospital just for touching him. It doesn't matter because Revell can intimidate anyone on campus with a single look; his past actions only make a face-off against him seem even grimmer.

This becomes a major problem for Jerry when he is assigned to write a "stupid little" report on Buddy coming to Weaver High School because when Jerry introduces himself to Buddy he makes the grave error of patting the gargantuan on the shoulder. Bad move. Buddy immediately takes offense, challenging Jerry to a fight, in the parking lot, at 3:00PM. Gulp. Word spreads immediately and it isn't long before everyone on campus is placing bets on The Big Fight. Jerry, aided by his best friend, Vincent (Jonathan Wise), does everything possible to get himself out of the fight, including vying for detention, planting damning evidence, and hiring a hitman (of sorts) to take out Buddy. By the end of the school day, however, Jerry will find that sometimes it's best to face your fears.

The film didn't do much business upon release, and since then it has remained a minor cult classic. Steven Spielberg actually executive produced the film but had his name removed before release, a move which no doubt impacted its box office prospects. Perhaps it was due to the film's darker subject matter, or maybe it just didn't meet the Spielberg Gold Standard of the time. Either way, the film opened to weak critical notices and quickly sank.

Joanou was heavily inspired by Martin Scorsese's "After Hours" (1985) and that, too, is a part of why "Three O'Clock High" doesn't quite fit into the typical mold of high school comedies. The film moves at a brisk pace, with Jerry finding himself in one wild situation after the next. In the real world, any of his adventures would have provided a lifetime story. The movie plays up Jerry's awkwardness by subverting all of his planned diversions – planting a knife in Buddy's locker only yields a bigger problem for Jerry; giving an impromptu, edgy speech in class only makes his teacher swoon. Things go awry one after the next, subverting not only Jerry's expectations but those of the audience, too. Once the film finally arrives at the big fight, it feels like anything can happen – and it does. Except for the Big Finish, because everyone knows how these movies end.

Film score aficionados will enjoy the soundtrack provided by Tangerine Dream. This isn't exactly a movie within their wheelhouse, although the band did also score "Risky Business" in 1984. Their synth-heavy cues and lush electronic melodies made for a unique listening experience, especially when considering the typical music one expects to hear in this sub-genre. This is not a source music-heavy soundtrack full of 80's chart bangers – again, probably another reason why this film has been forgotten by the masses.

Video


Previously issued by Universal as part of their "High School Reunion Collection" DVD line, Shout! Select delivers a 1.85:1 1080p 24/fps AVC MPEG-4 encoded image that is a clear upgrade. Aside from minor print damage and dirt, the picture exhibits a greater degree of fine detail and color saturation than the DVD. Film grain moves smoothly and looks organic, cinematic. No mention of restoration work is made on the case, so I would assume this is a pre-existing master supplied by Universal. Considering their shoddy track record with regard to catalog titles, the image presented here is a definite winner.

Audio


An English DTS-HD Master Audio 2.0 stereo track often sounds more spacious than expected, making the most of the front end speakers. Dialogue is consistently clean and free of issues. Tangerine Dream's score embodies elements of that "80's high school comedy" sound while still distinctly being their own work. The score has a dreamy quality to it, too. Subtitles are available in English.

Extras


An audio commentary with director Phil Joanou is included. It's worth listening to for hard core fans of the film, Joanou offers up some fun behind-the-scenes stories.

"Head of the Class – with Director Phil Joanou" (1080p) is an interview featurette that runs for 32 minutes and 31 seconds. Joanou has plenty to divulge regarding the production history.

"Passing the Test – Screenwriters Richard Christian Matheson & Tom Szollosi" (1080p) is an interview featurette that runs for 17 minutes and 59 seconds.

"School Clothes – Costume Designer Jane Ruhm" (1080p) is an interview featurette that runs for 13 minutes and 43 seconds.

A theatrical trailer (SD) runs for 1 minute and 31 seconds.

A stills gallery (1080p) runs for 7 minutes and 54 seconds, set to the film's score.

Packaging


The single disc comes housed in a standard Blu-ray keep case.

Overall


This is a cult classic that needs a bigger cult. So few people I speak with have seen it; hopefully Shout! Select's new Blu-ray remedies that. This is a sly, subversive comedy that deserves to be seen by more film fans.
| | | | | |
| --- | --- | --- | --- | --- |
| The Film: B+ | Video: B+ | Audio: B+ | Extras: B- | Overall: B+ |