The Film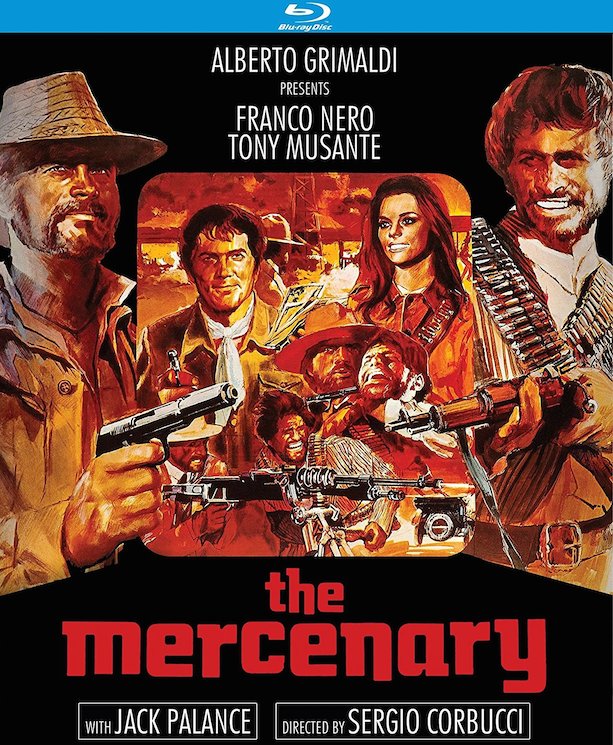 Here we are again on the high plains of Mexico as tonight's feature unfurls: the scene opens at a bullfighting arena and we see the clowns entertaining the audience, a voiceover announces that the main clown is someone named Paco Roman (Tony Musante) and that he used to work at a silver mine in 1915; the rest of the story is told in a flashback sequence. Paco is seen toiling in the mine with the others until he decides that he has tolerated enough mistreatment and he rebels against the authorities in charge. We are in the midst of the Mexican revolution and we see men being lined up and brutally shot, but Paco has other ideas concerning himself and how he can strike it rich by helping to overthrow the Mexican government. Kowalski (Franco Nero) is a polish gunman that is hired by Paco to help him with his goals, but he refuses to do it cheaply, and admits that he is always looking out for himself; Kowalski is the mercenary of the title. Originally Kowalski was hired by the Garcia Brothers to transport some silver from the mine that Paco was originally slaving away at, but after meeting Paco, he changes his mind and decides that Paco's side will be a much more lucrative experience. The two men form a sort of partnership and together they fight off the Mexican army with the aid of a large Gatling gun that Kowalski had purchased. Kowalski provides the brains behind the supposed brawn of Paco's ragtag army of rebels and the army is outsmarted. Curly (Jack Palance) is the henchman of the mine's owner Alfonso García (Eduardo Fajardo) and he is seeking revenge on Paco for the execution of his employer. Palance plays this character as definitely tongue in cheek, dressed in a gambler's finery and wearing a god awful wig of permed hair, Curly's performance is almost high camp, as he continually crosses himself after each murder. Kowalski makes the mistake of letting Curly live, after stripping him bare and setting him free in the desert, and we are sure that we have not seen the last of this dangerous individual.

Kowalski's greed is unmanageable, and as the gang rides from town to town, the looting continues, all in the name of the Revolution, of course. Paco is puzzled by Kowalski's motives and the mercenary constantly seems to want to make a hasty retreat, thus leaving Paco and his crew to suffer at the hands of the Mexican army and their heavy artillery. Paco becomes confused and is led astray by a beautiful woman that is a member of the gang named Columbia (Giovanna Ralli) and she convinces him that Kowalski is undermining his authority. After the group overtakes a village by defeating a regiment, Paco listens to Columbia and has Kowalski bound and imprisoned; Paco and Columbia marry and the success of being a freedom fighter starts to go to Paco's head. He overtakes the village and becomes the law.

Meanwhile the Mexican army is planning their next move, but this time they have enlisted the services of Curly onto their side and he is seeking his revenge. While the town in being shelled by the cannons of Colonel Garcia's army, Paco's honeymoon is interrupted, and in a panic he realizes that he needs Kowalski's aid to defeat them. As he frees the mercenary, Kowalski manages to lock up Paco in the cell, and then he quickly flees the scene. With the assistance of Columbia, Paco beats a hasty retreat before the villainous Curly can locate the duo, and this scene brings us back to the present, where we see Kowalski sitting in the audience, watching Paco wearing his latest disguise, as a rodeo clown. As the performance ends, Curly and his men arrive and capture Paco, but the mercenary is not going to allow Curly to take advantage of the situation. Kowalski shoots both henchmen and then arranges for a fair duel between Paco and Curly, giving each man a single bullet and a rifle. This scene, set in an empty bullring, is a classic suspenseful scene, shot from high above the two men, and with Kowalski as the bell keeper. The two men load their rifles, and Palance is almost having a sexual experience as his face contorts into a lecherous grimace, as he anticipates killing Paco. Kowalski rings the bell three times and on the third ring the men turn and fire. Paco suffers a shoulder wound and falls to the ground, however it appears that Curly is unharmed, until it is revealed that Paco was the better shot and that he struck Curly dead center in the white carnation that he was wearing. As blood trickles out onto the flower, Curly slowly crumbles to the ground, dead at last. Kowalski, ever the schemer, takes Paco prisoner and heads to the 51st headquarters, in order to collect the bounty on Paco's head. Columbia sees the capture of her husband, and along with the last two remaining gang members, she rides off to the headquarters of Colonel Garcia pretending to betray Paco by collecting the bounty before the arrival of Kowalski. As Kowalski and Paco approach headquarters, it is revealed that the mercenary is also a wanted man, and that the bounty for him is even bigger than the one for Paco. The two are immediately sentenced to death by a firing squad and are lined up against a wall to be executed. Columbia unleashes her plan and with the assistance of the other two gang members, the mercenary and Paco are freed. Using two machine guns, the men slay Garcia's troops, and all make their escape into the desert. The three meet to go their separate ways, with Columbia to spread the word about Paco's return to the people, and Kowalski is given half of the bounty for his assistance in helping carry out the plan. The mercenary suggests that the two should remain partners and that they work well together, but Paco tells him that his "dream" is in Mexico. The two men part ways and then we are shown the sudden appearance of Colonel Garcia, with four soldiers, drawing a bead on Paco from above on a mountainside. Shots ring out and the soldiers and the Colonel are slain before they have a chance to kill Paco; the gunman is, of course, Kowalski, and as Paco rides away, he yells out, "Good luck Paco! Keep dreaming, but with your eyes open!"

Throughout the film there is a subtle humor, between the odd capering's of Palance as Curly and Nero's ultimate cool as ice hero, with his constant match striking, including across a rebel's teeth and a woman's bustier, Sergio Corbucci's direction is sure and steady, never pandering, and the humor is understated. Musante is very strong here, playing a dimwitted but patriotic peasant that accidentally finds that his revolutionary tactics are actually authentic and necessary. Of course I would be remiss if I did not mention another strong score by the wonderful master, Ennio Morricone, complete with odd instrumentals and some choral movements ("L'Arena" was incorporated by Quentin Tarantino in to "Kill Bill Vol. 2" (2004)). Franco Nero is the obvious star attraction and he was the lead in many Westerns including the numerous "Django" films and "Hitch-Hike" (1977) among others.

Video


the Kino Lorber Blu-Ray features a solid 2.35:1 1080p 24/fps HD presentation with an excellent reproduction of colors and earth tones, Franco Nero's blue eyes are a thing of beauty, this is a fine film and should be a welcome addition to any film collector's library.

Audio


his film uses an English DTS-HD Master Audio 2.0 Mono channel track, but unfortunately uses a largely dubbed dialogue track with some very familiar voices for the supporting cast and there are no subtitles. The soundtrack is still very good and stirring in all the appropriate scenes, plenty of gunfire and explosions. There are no optional subtitles.

Extras


An audio commentary is included by director Alex Cox, and he is an expert on all matters Spaghetti.

"Mercenario in Pictures" animated image gallery (6:12), are assorted stills from the film.

"Promoting Mercenario" animated image gallery (10:21), is an assortment of lobby cards and posters for several countries, including Spain, Germany and Japan.

Original theatrical trailer (1:53), with the unmistakable narration of Hal Douglas.

Bonus trailers are also included for:

- "For a Few Dollars More" (2:29)
- "Barquero" (2:36)
- "Return of Sabata" (2:07)
- "Valdez is Coming" (1:51)
- "Navajo Joe" (1:51)

Packaging


Packaged in a standard amaray Blu-ray keep case.

Overall


"The Mercenary" is an excellent spaghetti western from Sergio Corbucci and company, this film moves along quickly with plenty of plot twists and suspense, and features an excellent score by Ennio Morricone (heavy on that pan flute), a worthwhile production for any cinema lover.
| | | | | |
| --- | --- | --- | --- | --- |
| The Film: B+ | Video: A | Audio: A | Extras: B+ | Overall: B |