The Film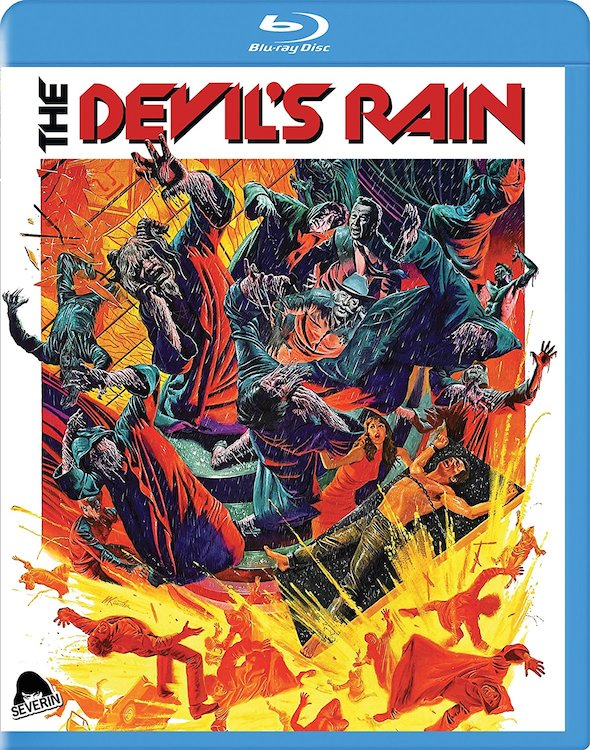 Ironically, despite the dubious prestige of being "endorsed by the Church of Satan" director Robert Fuest's "The Devil's Rain" (1975) doesn't actually appear on the list of approved films on the church's website. This can probably be chalked up to oversight, though, because the long-clawed fingers of former High Priest Anton LaVey are all over this picture. Many critics (ok, maybe all of them) dismissed the film as an incoherent bore devoid of scares – and objectively, they may not be wrong. But here are two things the film gets unquestionably right: the reverence & ritual of black mass, and casting. Oh, Lord Satan, did the casting director ever nail this one. William Shatner. Tom Skerritt. Ida Lupino. Keenan Wynn. Eddie Albert. And the unequivocal magnetism of Ernest Borgnine, whom I can watch in any film at any time no matter what it is about or who else it stars. These ingredients combined form a potent brew that overcomes any perceived problems with the narrative, because the real treat is watching a powerhouse troupe of actors deliver damnable dialogue and recreate rituals all in an effort to sate the Dark Lord of 70's Camp.

Centuries after betraying Satanic Priest Corbis (Ernest Borgnine) and stealing his tome of rituals, the Preston family continues to live under the curse he cast upon them so long ago. Late one night, Steve (George Sawaya), patriarch of the family in modern day, stumbles home to his wife, Emma (Ida Lupino), and son, Mark (William Shatner). His eyes are black and his skin waxy; after relaying information from Corbis, specifically that he wants his book back, Steve collapses to the ground and melts away in the rain. Mark, full of hubris and that wily Shatner edge, travels to a ghost town in the desert where Corbis and his followers are congregated. Unexpectedly, Corbis appears almost genial, striking up conversation with Mark and cheerily accepting his request to a battle of faith. As Mark enters the church, however, his choice proves foolish as Corbis' mind tricks are too powerful, leaving Mark panicked and reaching for a handgun. His faith shattered, Mark is easily overcome by Corbis' followers and brainwashed into submission.

Tom (Tom Skerritt), Mark's older brother, learns of the family problems and heads off to do what his younger brother could not: stop Corbis. Accompanying Tom is his wife, Julie (Joan Prather), who has psychic abilities she does not fully understand; glimpses of future events come to her in dribs and drabs. The two are joined by Dr. Sam Richards (Eddie Albert), a leading psychic researcher. An investigation leads the three of them to Corbis' church, where Tom goes undercover as a disciple to witness a black mass ritual. During the event Corbis transforms into a horned demon, akin to Satan himself, before turning Mark into another one of the eyeless horde who worship at his altar. Tom is spotted and barely escapes. Later, he and Dr. Richards unearth Corbis' book and learn that he derives his power from the souls of his congregation, trapped within an ornate urn housing The Devil's Rain. Armed with the knowledge of how to stop Corbis, Tom heads off into the desert for one last trip with Satan.

This has been one of my favorite 70's chillers for years and I can't recall a single time when weak scripting or muddled motivation even crossed my mind. This isn't a film you watch for the story; you watch it to see Borgnine going toe-to-toe with Shatner; to see a young John Travolta attempt acting underneath a clumsy facial appliance; to see Eddie Albert confusingly ask "What about that Devil's Rain?"; and to see "absolutely the most incredible ending of any motion picture ever!" No hyperbole there… It's not about the destination but the journey, and "The Devil's Rain" takes viewers on a bizarre trip through arcane mysticism and strange Shatnerisms that eventually culminates in an ending that, while maybe not exactly "the most incredible", is certainly a showcase for gooey make-up FX work. And really, the opportunity to watch Ernest Borgnine spit hellfire and brimstone from beneath goat makeup is truly a cinematic treasure.

Fun as it is to revel in the sheer campiness of Fuest's direction, the film ends on a rather somber note thanks to an alluded-to downer of an ending. Without getting into spoilers (yes, even for 40-something-year-old movies) the film does a commendable job of convincing viewers all threats have been vanquished until making a startling reveal that could easily justify a sequel, except no follow-up could hope to capture the black magic seen here. Besides, given the film's insane production history (much of which is covered in the bonus features) the fact this was completed is miracle enough.

On a personal note, back in 2009 I was fortunate enough to meet Ernest Borgnine at a convention. He was 92 years old and full of more life and energy than I could ever hope to attain. We spoke briefly and I had him sign – of all possible things – my original one-sheet for "The Devil's Rain", a poster that has been hanging above my desk for nearly a decade. They say "never meet your heroes" but Mr. Borgnine could not have been a nicer man.

Severin Films has been doling out cult classics one after the other in 2017, but "The Devil's Rain" stands not only as one of their finest releases, but also as a strong contender for Top 10 of 2017. And a big part of that is due to the wonderful extras produced for this release.

Video


Although no technical information is presented regarding the HD restoration process done for this film, the 2.35:1 1080p 24/fps AVC MPEG-4 encoded image is a true sight to behold. Aside from a couple emulsion scratches seen during the opening credits, this is a stunning picture with organic film grain, vibrant colors that stand out among a bleak palette (check out the red of Corbis' robe), and solid, stable black levels. The only real complaint I can lob is during the climax there are a few moments when quality dips and the image is a little scratchy. Otherwise, this is a pleasing image that blows away the previous DVD release.

Audio


The English DTS-HD Master Audio 2.0 mono track is a sparse affair, with no major moments to offer up impressive sound immersion. Still, dialogue is presented clearly and cleanly, with no hissing or pops. Al De Lory's score is menacing, with a slightly exotic quality to it. The satanic chants of Corbis' followers ring loud and clear through the front end, adding the only true moments of amplification to this soundscape. Subtitles are available in English.

Extras


An audio commentary with director Robert Fuest is available.

"Confessions of Tom – Interview with Actor Tom Skerritt" (1080p) featurette runs for 10 minutes and 59 seconds. Despite shooting the film so long ago, Skerritt has a few great anecdotes regarding the shady production and the cast of venerable actors.

"1975 Archive Footage – Interview with Actor William Shatner" (SD) featurette runs for 3 minutes and 47 seconds. This is gold. Shatner, eating during this interview, spends most of the time talking about a potential "Star Trek" movie before offering up a few sentences on "The Devil's Rain".

"First Stop Durango – Interview with Script Supervisor Maria Quintana" (1080p) featurette runs for 14 minutes and 47 seconds. I loved this interview. Quintana, who had never done script supervising before and only wanted a stable, secretary-like job in Hollywood, faked her way onto the production and eventually went on to work on many blockbuster films, including several with Spielberg.

"Consulting with the Devil – Interview with the High Priest & Priestess of the Church of Satan" (1080p) featurette runs for 10 minutes and 17 seconds. You know, Satanism is just as ridiculous as any other religion and seeing two members of the Church dressed like Old Goths is a reminder.

"Hail Satan! – Interview with Anton LaVey Biographer Blanche Barton (1080p) featurette runs for 8 minutes and 4 seconds. Yes, even Barton comes off as ridiculous when trying to discuss La Vey is any sort of serious fashion. I just can't take these people seriously.

"Filmmaker/Collector Daniel Roebuck Discusses The Devil's Rain" (1080p) featurette runs for 10 minutes and 33 seconds. Strap on those rose-tinted glasses and wax nostalgic as Roebuck painfully recounts his childhood trauma of going to see "The Devil's Rain" at a drive-in and learning the promised "free gift" was not what he had hoped. This is a touching and hilarious tale and Roebuck should probably just be interviewed for every cult release because his enthusiasm and passion for the genre are palpable.

"On Set Polaroid Gallery over Radio Spots" (1080p) featurette runs for 7 minutes and 57 seconds, featuring snapshots as taken by Quintana.

A theatrical trailer (1080p) runs for 2 minutes and 46 seconds.

Three TV spots (1080p) run for 1 minute and 33 seconds.

A poster & still gallery (1080p) runs for 7 minutes and 48 seconds.

Packaging


The single disc comes housed in a standard Blu-ray keep case. The cover art is reversible, both sides of which are awesome.

Overall


Seventies Satanism has never been more fun and Severin's stupendous release of Fuest's underrated gem is a major win for fans who have been clamoring for a lavish edition.
| | | | | |
| --- | --- | --- | --- | --- |
| The Film: B+ | Video: A- | Audio: B | Extras: B+ | Overall: B+ |