The Film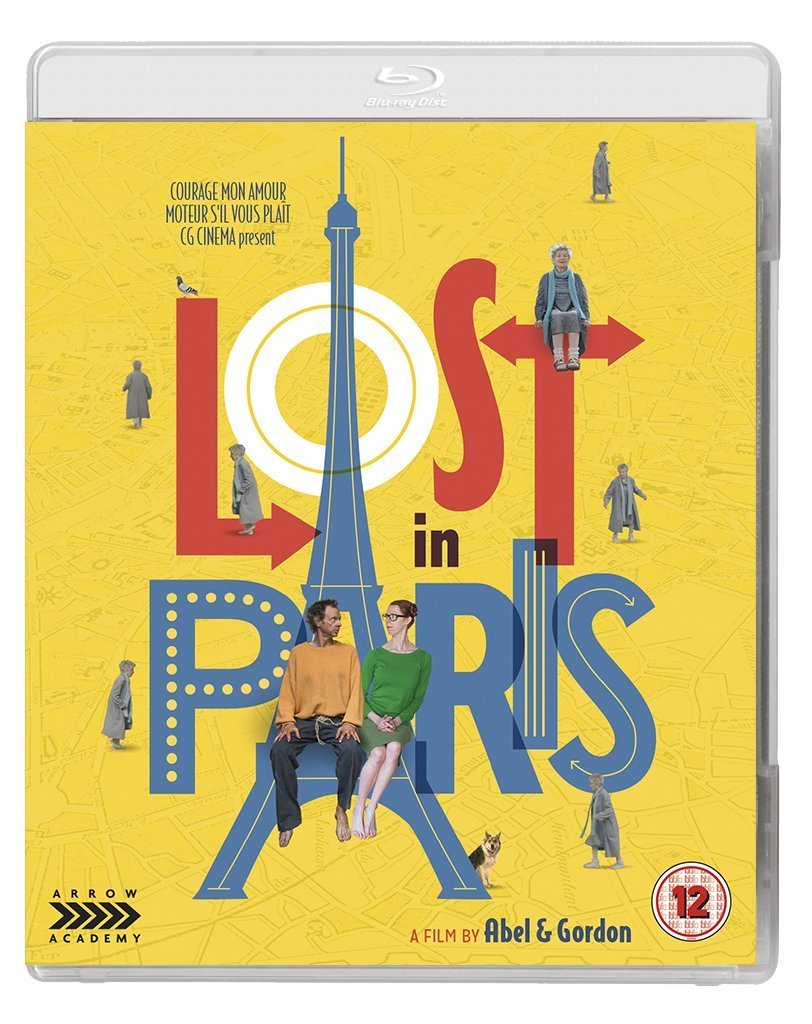 Lost in Paris (Paris pieds nus; Dominique Abel & Fiona Gordon, 2016)

In the frozen landscape of Canada, eight year old Fiona is separated from her beloved Aunt Martha when Martha makes the decision to move to Paris. Forty-three years later, the adult Fiona (Fiona Gordon) receives a letter from her Aunt Martha (Emmanuelle Riva) in which Martha reveals that, against her wishes, she is to be moved into an old people's home. Fiona vows to journey to Paris, to be reunited with Aunt Martha.

However, in Paris Fiona discovers that Martha has gone missing. Fiona scours the city looking for her aunt. After an unfortunate mishap in which she tumbles into the Seine, Fiona is separated from her passport and rucksack.

Fiona's belongings are discovered on the bank of the Seine by Dom (Dominique Abel), a freespirited hobo. Dom dresses in Fiona's clothes and with her money secures a table at an upmarket restaurant. However, unbeknownst to him, Fiona is at the same restaurant, and the pair share a romantic and exquisitely-choreographed dance before Fiona recognises that Dom is both wearing her sweater and carrying her handbag. Rumbled, Dom flees.

Fiona visits the police station but finds Dom waiting there with her backpack. After leaving the police station, Dom is told that Martha has passed away, and she makes her way to the funeral, followed by Dom. There, Dom is mistakenly asked to deliver a eulogy, which descends into a bizarre rant about the prejudices of the dead woman. However, after the funeral Fiona and Dom realises that the dead woman wasn't Martha but was instead another woman named Marthe.


Fiona and Dom are separated, but Dom encounters Martha – unaware that she is Fiona's aunt. Dom offers Martha a place to sleep, in his tent by the Seine. Experiencing erotic dreams of Fiona, Dom makes love to Martha in his sleep. After this, Martha leaves Dom's tent and wanders Paris. Dom and Fiona are eventually reunited and realise Martha has ascended to the top of the Eiffel Tower, and Fiona and Dom race to save Fiona's beloved aunt.

The most recent feature film from 'Abel and Gordon' (Dominique Abel and Fiona Gordon), Lost in Paris exploits a similar vein of warm visual humour as the pair's earlier features, L'iceberg (2005), Rumba (2008) and The Fairy (2011). Having met in the 1980s, Abel and Gordon established four stage shows which privileged physical comedy and burlesque; their fascination with this style of comedy was carried into their early short films and their feature films, of which L'iceberg was the first. Like their earlier screen work and their stage shows, Lost in Paris features many small nods to the world of silent comedy: in particular, Dom and Fiona's climactic ascent of the Eiffel Tower, during which Fiona balances precariously on a ladder which becomes detached from the main frame of the structure, brings to mind the iconic sequence from Safety Last! in which Harold Lloyd climbs the façade of a building and hangs precariously from the hands of a skyscraper clock.


Also like Abel and Gordon's previous films, Lost in Paris pays strong homage to the films of Jacques Tati, the film's use of carefully orchestrated visual humour and vibrant colour photography recalling, in particular, Tati's 1967 picture PlayTime. In a moment of comic staging comparable to Tati, upon her arrival in Paris, Fiona asks a passer-by to take a photograph of herself in front of the Eiffel Tower. Fiona takes a step back to enable her new acquaintance to get a better composition and falls backwards over the railings of the bridge on which she stands, into the waters of the Seine below. This is the accident which leads to Fiona being separated from her passport and rucksack.

Lost in Paris skirts around the edge of dark humour without every becoming 'black', most notably in a sequence in which Fiona, believing her Aunt Martha has passed away based on information given to her by another character, visits the funeral of the woman she believes to be her long-lost aunt. She is followed there by Dom, who through a comic twist of circumstance is railroaded into delivering a eulogy for the deceased woman. Dom's eulogy begins typical enough but ends with an assertion that the dead Martha was a hateful woman riddled with prejudice ('all that putrid inner ugliness'). Fiona, owing to her poor comprehension of spoken French, claps at the end of Dom's monologue. However, Dom and Fiona quickly discover that the dead woman wasn't in fact Aunt Martha but was instead another woman with a similar name (Marthe). In order to validate this, Dom and Fiona steal into the crematorium furnace with a battery-powered drill Dom has acquired, and Dom begins to unseal the casket. The pair check the corpse: no, it isn't Aunt Martha. Dom busies himself with resealing the casket but finds that the tie he is wearing becomes trapped in the casket. Dom struggles to free himself, and Fiona is trapped in the automatic doors, as the furnace begins to fire, threatening to cremate our heroes alive. In light of this, the film's examination of Fiona and Martha's relationship is bittersweet and tinged with the knowledge that they will be separated by Martha's inevitable death: as Martha's neighbour Mr Martin asserts when he first meets Fiona, 'She [Martha] had a lot of friends but most of them are dead now'.





Video


Lost in Paris is presented in its intended aspect ratio of 1.85:1. The 1080p presentation uses the AVC codec. The film takes up just over 23Gb of space on the disc and is uncut, with a running time of 82:37 mins.

Like Abel and Gordon's other films, Lost in Paris is a vibrant, colourful picture. The film was shot digitally, and this presentation is therefore a compressed digital clone of a digital source. This presentation displays a strong and pleasing level of detail throughout, the colourful palette being communicated with a sense of vibrancy. Contrast levels are good, midtones possessing a strong sense of definition. The encode is solid, with no compression-related anomalies.





Audio


The film's dialogue offers a mixture of French and English. French-language dialogue is presented with optional English subtitles; these subtitles are clear, accurate and easy to read. Audio is presented via a DTS-HD Master Audio 5.1 track. This is rich and evidences very good range.


Extras



The disc includes:
- 'Abel & Gordon: The Quest for Burlesque' (10:31). Peter Debruge, film critic for Variety, narrates a video essay which looks at the collaborations between Abel and Gordon, their transition from theatre to the cinema screen, their minimalistic use of dialogue and the manner in which their films might be compared with live-action comic strips. Debruge situates Abel and Gordon's brand of comedy within the paradigms of the burlesque.

- 'Walking on the Wild Side' (13:23). Abel and Gordon's 2000 short film is presented here, featuring Abel as an office drone who strays into a red light district, encountering a woman who he believes to be a prostitute (played by Gordon). However, she is in fact the housekeeper of a brothel. It's a classic example of comic misunderstanding. The short film is presented in its original aspect ratio of 1.66:1.

- 'The Tent' (2:10). This is a very short comic piece featuring Dom's tent from the main feature.

- Trailer (1:51).


Overall



Lost in Paris is a warm, witty and fun picture, Abel and Gordon delivering a film that makes many allusions to silent comedy cinema – in particular, the films of Harold Lloyd. As in Abel and Gordon's previous features, the humour is largely visual; there's little dialogue. It's also predominantly gentle, though the fairly family friendly tone of the first half of the film is abruptly shattered by a scene in which Fiona tells Dom to 'fuck off' and an admittedly oblique sequence in which Dom makes love to Martha in his tent. The story is one of fate, overlapping paths, circumstance and coincidence; buried within the subtext is a validation of family and friendship, and despite some moments of black humour (the funeral sequence, primarily), it's a warm and uplifting picture.

Arrow's Blu-ray presentation of this digitally-shot feature is very pleasing, and the film is supported by some very good contextual material; come to think of it, it would be nice to see a collection of their short films, which despite the success of their feature films have been fairly difficult to see. Fans of comedy cinema will find much to enjoy with this release, which comes with a strong recommendation.

Full-Size Grabs (Click to Enlarge):