The Film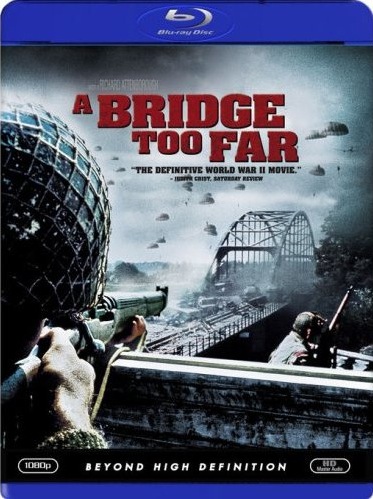 similar in style to "Battle of Britain" but much more engaging this British war epic was probably a decade too late. The film banked on a cavalcade of stars to draw cinema punters, added to the heroic (but ultimately unsuccessful operation) subject matter it should have been a bigger film than it was, however, it was released in an era when audiences were leaning away from studio epics and towards a new type of film, the summer blockbuster. A tradition started with "Jaws" (1975) and in 1977 saw the release and box office domination of "Star Wars", films like "A Bridge Too Far" seemed too archaic.

"A Bridge Too Far" tells the story of the allied offensive 'Operation Market Garden' which took place in the Netherlands, the operation's goal was to break through the heavily defended enemy lines and to take control of key bridges, the operation was unsuccessful and cost the Allied forces in heavy losses. Much like "Battle of Britain" this film also covers these events from various points of view, including the America, British and Nazi. The result is yet another all-star cast of ensemble players that include 7 Oscar winning actors, the list of high-profile cast includes Dirk Bogarde,James Caan, Michael Caine, Sean Connery, Denholm Elliott, Elliott Gould, Edward Fox, Gene Hackman, Anthony Hopkins, Laurence Olivier, Robert Redford, Liv Ullmann, Maximilian Schell and Ryan O'Neal.

This film, while engaging, featured the same problem as "Battle of Britain", the film's scope was so massive that there are a plethora of characters to keep track of and yet again falls into the trap of focusing on the action and at times less on developing the characters (although it attempts to considering the film's longer runtime). This ultimately detaches viewers but each actor does their best to make themselves a little bit more memorable (even though Gene Hackman does an incredibly terrible job of playing a Polish character, bad accent and all), but for most of them it's seeing those famous faces which does more in that regard than anything they actually did performance-wise. While other cast members actually turned in some strong performances, like Redford and O'Neal both did well among the cavalcade of much bigger names.

What's surprising about this film is that it does not glorify war, make out the characters as obvious heroes and it's not about a successful and outright win on the part of the Allies. The film is about a failed mission and the breakdown of leadership more than anything else and that makes this film much more interesting than the typical war epic. Although the film does a decent job of trying to be as accurate as possible, its intention was not ever to be an exact retelling of the book of which it's adapted from. Liberties were take in various aspects but this doesn't change the themes or the story in which the filmmaker's set out to tell.

Adding to this, the film does display the best in action set pieces of the time and technically features some lovely photography and an excellent and engaging score which adds much more to this film's overall re-watchability factor, something which "Battle of Britain" lacks. Director Richard Attenborough certainly does an impressive job here in telling this complex story but also in honing in his stars who don't try to overact or steal the show but rather play well with their co-stars.

"A Bridge too Far" may be a little tedious in terms of its runtime for some but it's an engaging film with some flaws that can be forgiven for being such a daring unconventional war epic.

Video


Presented in the film's original theatrical ratio of 2.35:1 this high-definition transfer is in 1080p 24/fps and has been created using MPEG-2 compression. The source material for this transfer comes from a new print created for the film's 2-disc re-release. The master here is the same and the HD image actually displays a much brighter, slightly sharper and slightly more detailed image. The film's image does fluctuate in quality at times from slightly sharp (but never reaching the sharpness of most modern films) to soft (mostly soft) but it's a decent image that holds up well. Some flaws can be seen such as specks and some instances of dirt (extremely minor) I also found colors were muted much like on the "Battle of Britain" transfer.

Audio


Four audio tracks are included in English DTS-HD Master Audio 5.1 surround presented in 48kHz/16-bit as well as soundtracks in English Dolby Digital 4.0 surround, French Dolby Digital 5.1 and Spanish Dolby Digital 1.0 Mono. For the purposes of this review I chose to view the film with its DTS-HD track, an up-mixed soundtrack created from its original source. The track was patchy, dialogue was not mixed well although clear it was much quieter than I expected, there was limited surround activity although it kicked in during some action scenes. I also found the score (which is rather good) to be far too loud and overwhelmed much of the dialogue at times.
Optional subtitles are included in English for the hearing impaired, Cantonese, Korean and Spanish.

Extras


MGM/Fox has also dropped all of the great extras on the previous 2-disc DVD release and included only the film's original theatrical trailer which runs for 3 minutes 17 seconds and is in high-definition. Also featured are some bonus trailers for:

- "Windtalkers" which runs for 2 minutes 19 seconds.
- "Flyboys" which runs for 2 minutes 31 seconds.
- "Platoon" which runs for 1 minute 57 seconds.

Overall


The image and sound could be improved upon and the lack of extras is very disappointing considering the plethora of features on the 2-disc DVD. I'd wait for a better Blu-ray release in the future unless you really have to have this...
| | | | | |
| --- | --- | --- | --- | --- |
| The Film: B+ | Video: C+ | Audio: C- | Extras: D- | Overall: C- |