The Film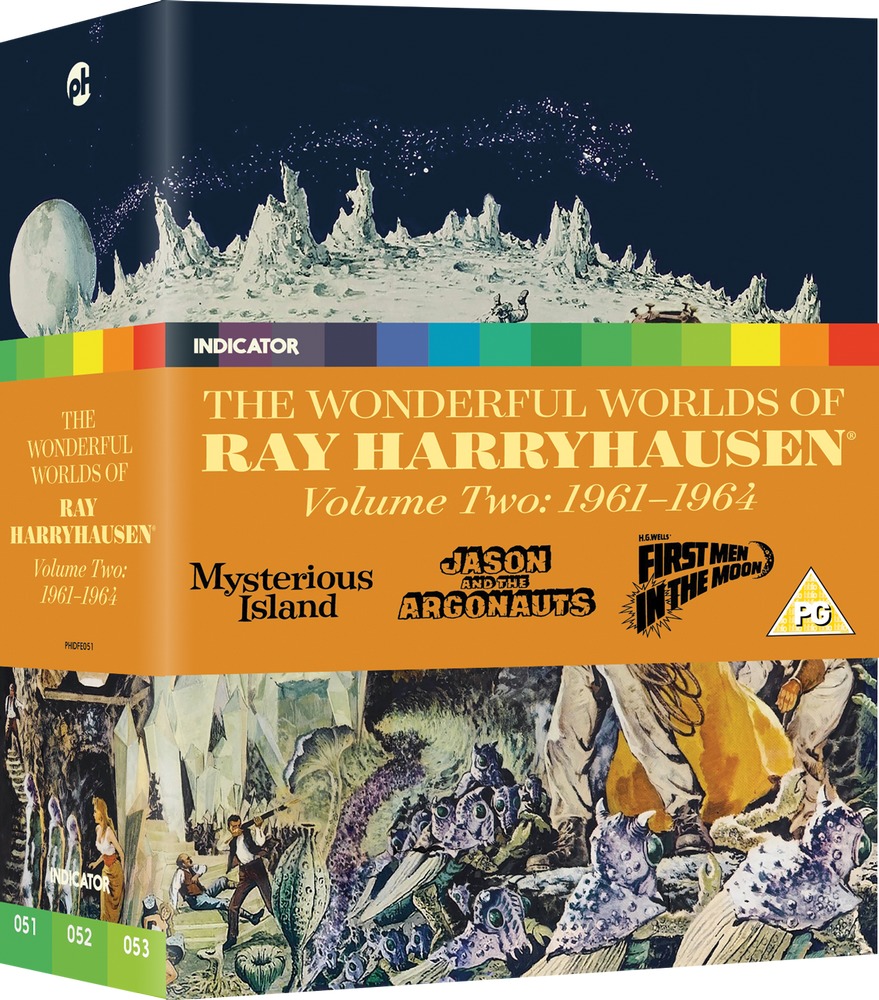 These all-time classic adventures, each featuring pioneering special effects by filmmaking legend Ray Harryhausen, are presented here in stunning restorations on Blu-ray. Containing a wealth of new and archival extras including audio commentaries on all three films by the great Ray Harryhausen himself, Jason and the Argonauts commentary by Lord of the Rings director Peter Jackson, new interviews with SFX maestro Hal Hickel, and genre experts Mark Gatiss and Kim Newman this stunning Limited Dual Format Edition Box Set from Indicator is strictly limited to 6,000 units.

Video


Jules Verne's Mysterious Island (1961)

Jules Verne's 1874 sequel to his 20,000 Leagues Under the Sea (1870) filmed with Herbert Lom taking on the role of Captain Nemo from James Mason who appeared in the role in the superb 1954 Disney film. Classic Ray Harryhausen adventure with a great set of characters all well played by fine actors that carry the film for the first 30 minutes before the Harryhausen set-piece SPFX show up. This has a marvellous Bernard Hermann score and looks fabulous due to Wilkie Cooper's cinematography. It's even got some great direction from Cy Enfield. My only quibble is the unnecessary narration and the odd poorly back projected insert that should have been shot on location.

As with all of Harryhausen's films this one is problematic in so far as there are lots of optical sequences and due to the way he shot his SPFX. Given the technical limitations and that this is from an older master (used for the Twilight Time releases) Powerhouse have performed their usual wonderful job by affording the film a healthy bitrate and a top notch encode courtesy of maestro David MacKensie. It's certainly got the edge on the Twilight Time encode.

There is a healthy amount of film grain that is even and textured; blacks are without crush and allow detail to show through when needed. Mysterious Island looks stunning with a rich, hot colour palette and vividly shot locations; there are no signs of colour bleeding or artefacts. The film was restored for this master so there's no signs of age related damage such as speckles, distortions or density issues and the bitrate is typically healthy.

1080/24p / MPEG-4 AVC / 1.66:1 / 100:47

Jason and the Argonauts (1963)

This gets my vote as THE definitive Ray Harryhausen film; his masterwork. It has a fine and literate script from scholar Beverley Cross who would join forces in 1981 to create Clash of the Titans which is almost, but not quite as good as this film.

Picture wise the story is similar to Mysterious Island with vivid colours, nice grain field and plenty of detail. The image is stable and there no encoding issues that I could detect. This is exactly the same disc first distributed by Sony several years ago and has been included in this set as a special deal. Otherwise it's currently only available as a standalone disc from HMV.

1080/24p / MPEG-4 AVC / 1.66:1 / 103:54

H. G. Wells' First Men in the Moon (1964)

One of Harryhausen's lesser films, at least in my opinion which is not to say it's not good; it is. However, it's always struck me as disappointing in so far as the heroes essentially wipe out an entire race which leaves a bad taste in the mouth. It's also Harryhausen's only film made in an anamorphic widescreen format; it this case Panavision which had appeared on the scene around 1960 to replace the aging CinemaScope process. It's well known that he hated using the 2.35:1 aspect ratio but to his credit he makes splendid use of the wider frame with some lovely compositions in evidence.

As a result of the process the image has a softness not present in the rest of Harryhausen's films but this is par for the course with Panavision films. The image in every other way is comparable to the other films in these Indicator sets with rich colours, deep black levels and plenty of grain. Contrast is a mite softer than the other films but it's barely noticeable. If you have the Twilight Time release of this you know what to expect as this uses the same excellent master created by Sony. Where this release surges ahead is in slightly richer, warmer colours and the encoding which resolves the grain better; hats off for the umpteenth time to maestro David MacKensie. Another Hefty bitrate also helps.

1080/24p / MPEG-4 AVC / 2.35:1 / 103:02

Audio


Jules Verne's Mysterious Island (1961)
Jason and the Argonauts (1963)
H. G. Wells' First Men in the Moon (1964)

English DTS-HD Master Audio 5.1 (All three)
English LPCM 1.0 Mono (Mysterious Island, First Men in the Moon)
English DTS-HD Master Audio 3.1 (First Men in the Moon)
English Dolby Digital 2.0 Mono (Jason and the Argonauts)

The lossless 5.1 tracks are all excellent and a credit to those technicians who created them as all of the films were made in mono originally with the exception of 70mm prints of First Men in the Moon which did have stereophonic sound; the 3.1 track recreates that experience for the completists. These films all have memorable, florid, robust scores with Bernard Hermann (Mysterious Island, Jason and the Argonauts) and Laurie Johnson (First Men in the Moon) doing the honours. Dialogue is always easy to discern, never getting lost in the bombast; fidelity is good and surround activity is lively albeit limited in comparison to modern fantasy cinema.

The LPCM 1.0 mono tracks on Mysterious Island and First Men in the Moon (the latter from 35mm release prints) are lossless and are as good as can be expected; perfectly balanced with splendid fidelity and warmth but obviously aren't as room rattling as the 5.1 bumps. Jason and the Argonauts has a basic, lossy, Dolby Digital 2.0 mono track and compared to the lossless LPCM tracks of the others comes up short slightly lacking in depth, but only slightly. There's only so much you can do with mono.

Extras


Jules Verne's Mysterious Island (1961)

Audio Commentary with special visual effects artist Ray Harryhausen and Tony Dalton moderating
Audio Commentary with film historians Randall William Cook, C. Courtney Joyner and Steven C. Smith

Between these two yaktraks you'll find pretty much all you need to know about this fondly remembered film. Harryhausen and Dalton collaborated on his books so the detail is very technical and filled with anecdotes from the actual production. With Harryhausen and Dalton having a warm friendship helping to get the maestro's memory juices flowing.

The second track is handled by historians and fans so there's plenty of trivia and adulation. Much is made of Harryhausen's influence on filmmakers who caught up with his work in their youth and how it inspired them.

Isolated Score (presented in LPCM 2.0 Stereo)

Bernard Hermann's wonderful score can be played isolated from dialogue and sound effects.

Introduction by Ray Harryhausen (:50)

A short introduction by the great man recorded around 2002 for the Signature Edition DVD.


"Ray Harryhausen on Mysterious Island" 2002 featurette (9:05)
"Michael Craig on Mysterious Island" featurette (3:18)
"Clapper Loader Ray Andrew on Mysterious Island" featurette (2:43)
"Kim Newman on Mysterious Island" featurette (21:12)
"Mysterious Magic with Hal Hickel" featurette (10:17)

A series of excellent interview featurettes most of which were filmed for the Indicator release. There's a 2002 Harryhausen piece form the 2002 Signature Edition DVD which covers things from a fairly all-round perspective. Harryhausen was also the producer and originator of the project in addition to fulfilling his role as master of the SPFX. From the others we get plenty of great anecdotes concerning the nuts and bolts production and what it was like working on the set. From Kim Newman we get his usual, meticulous and twinkly perspective on the historical significance of Mysterious Island and where it sits within the maestro's oeuvre. I can sit and listen to Newman speak about films till the crack of doom. He always makes me want to run out and watch or read everything he discusses.

"Globe Video News Presents Hollywood Featurettes: Islands of Mystery" 1961 featurette (5:31)

Up until the late 1970s it was common to get short promotional films being shown in cinemas that acted as extended trailers for forthcoming films and also news shorts in earlier decades from the likes of Pathe News. This is one of the former with a touch of the latter in which the locations for Mysterious Island are highlighted.

Super 8 Version (Colour) (19:12)

Before home video formats were the norm and were affordable, Super 8mm film projection was moderately popular, and this is a colour digest of Mysterious Island presented in full frame.

Original Trailer (2:40)
Re-release Trailer (2:36)
TV Trailer #1 (B&W) (:22)
TV Trailer #2 (B&W) (1:02)
TV Spot #1 (B&W) (1:02)
TV Spot #2 (B&W) (:26)
TV Spot #3 (B&W) (:16)

The usual round of promotional bits and bobs with all the usual hyperbole and pomp.

Back to Mysterious Island (2008 Comic Preview) (67 pages)

This would seem to be a very highly stylised sequel to the film. The artwork didn't appeal to me at all but it's here for completeness for those who are interested.

Mysterious Island Image Gallery: Optional Promotional Material (68 images)

A nice set of images containing a mixture of promo shots, behind the scenes and advertising art.

Jason and the Argonauts (1963)

Audio Commentary with special visual effects artist Ray Harryhausen and film historian Tony Dalton
Audio Commentary with director Peter Jackson and visual effects artist Randall William Cook

Essentially the same combo as with Mysterious Island with Harryhausen and Dalton once again proving to be a fine double act with plenty of trivia. With the second we get a similar track to the fan / historian track on Mysterious Island only this time Peter Jackson joins the party.

"The Harryhausen Legacy" featurette (25:32)

Another fine retrospective piece from 2008 featuring plenty of illustrious film makers waxing lyrical about the great man and his films.

"The Harryhausen Chronicles" 1997 documentary (57:57)

One of my favourite extras is this grand documentary from the late '90s that has been a part of many DVD and BD releases down the years. If there was one essential extra that any self respecting fan of Ray Harryhausen should see this is it. Written and directed by the late, great Richard Schickel and narrated by the late great Leonard Nimoy. Not to be missed; this captures for me better than any other extra the sense of awe and wonder ... and nostalgia I feel when I think of Harryhausen and watch his films.

"Jason and the Argonauts: Ray Harryhausen interviewed by director John Landis" featurette (11:52)

Vintage 1995 interview conducted by John Landis. Ragged production values but a warm piece and off camera there's input from animators The Chiodo Brothers (Killer Klowns from Outer Space, Critters).

Original Skeleton Fight Storyboards (9 images)

Splendid Harryhausen illustrations used by him to plan the celebrated fight sequence.

Original Theatrical Trailer 1 (1:26)
Original Theatrical Trailer 2 (3:00)
An Original 1963 Sweepstakes Presentation Trailer (:56)
TV Spot 1 (:32)
TV Spot 2 (:32)
TV Spot 3 (:22)
TV Spot 4 (:22)
TV Spot 5 (:22)
TV Spot 6 (:22)
TV Spot 7 (:22)
TV Spot 8 (:12)

The usual round of promotional bits and bobs with all the usual hyperbole and pomp.

H. G. Wells' First Men in the Moon (1964)

Audio Commentary with visual effects supervisor Randall William Cook, associate producer / special visual effects creator Ray Harryhausen, & film producer Tony Dalton

Cook brings his knowledge of SPFX to the warmly reminiscent party of Harryhausen and Dalton; another fine commentary.

Isolated Score Track (in LPCM 2.0 Stereo)

Laurie Johnson's score can be played isolated from dialogue and sound effects.

"Randal William Cook Introduces The First Men In The Moon" featurette (4:54)

A short intro from the famed SPFX supervisor.

"Special Effects Assistant Terry Schubert on First Men in the Moon" featurette (4:41)
"The Ripple Effect: An Interview with Title Designer Sam Suliman" featurette (3:38)
"Original Men in the Moon" featurette (16:24)

A trilogy of newly produced featurettes by Powerhouse Films that collectively form a nice little retrospective documentary about the film focussing on the behind the scenes trials and tribulations.

"Tomorrow the Moon" 1964 featurette (4:33)

Vintage promotional featurette cum trailer typical of the period.

Teaser Trailer (1:23)
Original Theatrical Trailer (3:21)
Trailers from Hell: John Landis Trailer Commentary for The First Men in the Moon (3:41)

The Trailers from Hell John Landis segment is the most interesting piece here; Landis being a fine, knowledgeable, funny commentator who gives a personal view of this film.

H. G. Wells' First Men in the Moon Image Gallery: Original Promotional Material (44 images)

A modest but decent collection of promo material.

82-page liner notes book with essays by film experts Kim Newman and Tim Lucas, an in-depth oral history on all three films and full film credits

Featuring in depth articles by Video Watchdog's Tim Lucas (on Mysterious Island) and Kim Newman (on Jason and Argonauts and on First Men in the Moon) covering not only the films, but touching on the literature or myths upon which they were based. Both men are always worth reading having a deep love of cinema and particularly genre cinema. I especially liked Newman's reminiscences of first seeing First Men in the Moon in 1964. We also get three extensive oral history articles by Jeff Billington containing vintage quotes from Charles Schneer, Ray Harryhausen, Herbert Lom, Nancy Kovack, Honor Blackman, John Crawford, Nigel Kneale, Nathan Juran, Edward Judd, Lionel Jeffries and Laurie Johnson.

Overall


Another superb triple whammy of classic Ray Harryhausen films done very, very well by Powerhouse Films as part of the Indicator series. First rate transfers and decent sound options should please everyone with Mysterious Island and First Men in the Moon being new discs with plenty of great new content and well encoded by Powerhouse's people. The Jason and the Argonauts disc is precisely the same as that released by Sony circa 2008-09 and thankfully it was a winner with excellent picture and sound and an excellent selection of extras. Sadly, this Harryhausen set is the last from Powerhouse but the three sets are easily amongst the finest boxed sets yet released on the format.
| | | | | |
| --- | --- | --- | --- | --- |
| The Film: A | Video: A+ | Audio: A+ | Extras: A+ | Overall: A+ |