The Film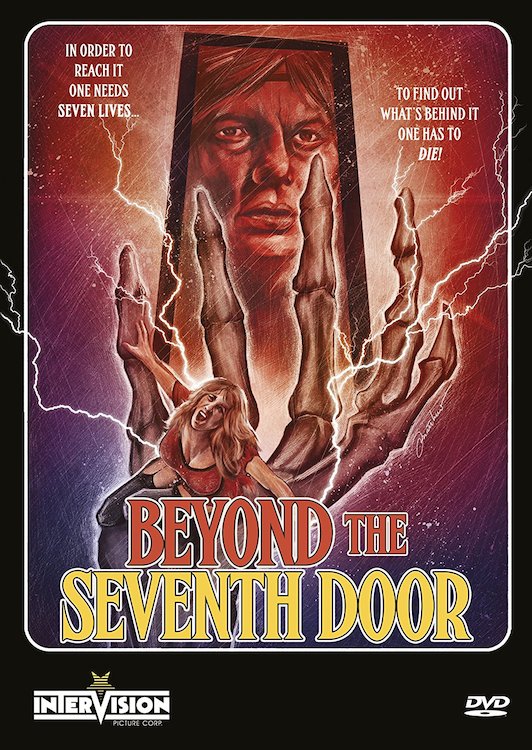 Two people trapped within a labyrinthine complex. Booby traps. Rigged doors. Death lurking around every corner. And a mysterious voice communicating clues every step of the way via recorded tapes. No, this isn't the latest "Saw" (2004-2017) film but a Canuxploitation entry from the shot-on-video market, 1987's "Beyond the Seventh Door". Oozing ambition and bolstered by a truly bravado performance from newcomer Lazar Rockwood – a man who looks like the love child of Tommy Wiseau and Billy Drago – this no-budget Canadian shocker delivers just as many twists and turns as Lionsgate's dead-horse franchise. The main difference being that instead of having to mutilate yours or someone else's body, the protagonists here are forced to solve obtuse riddles in order to move on to the next room; failure means death. Intervision has been crushing it throughout 2017 – and this release may be the best yet.

Boris (Lazar Rockwood) is a career thief and recent ex-con who is trying to turn his life around when Wendy (Bonnie Beck), a former flame, comes back into his life. She now works for a rich paraplegic, Lord Breston (Gary Freedman), who lives in an actual castle just outside of town. Desperate for "one more job" and a big payday, Boris begs for a gig and Wendy delivers; the plan is for the two of them to break into the basement of Breston's castle and steal whatever treasures he has socked away, all while her boss is busy entertaining guests at his costume party. The next night, the plan is enacted and the duo clandestinely slip into the castle's lower level, when suddenly the door locks behind them and a tape recorder begins to play. Breston's voice is heard, welcoming the thieves into his home and offering up a challenge: use scant clues (or sometimes, none at all) and uncover a way out of each of the six rooms linked together down here. Succeed and a briefcase of money awaits; fail and you die. Truly motivating.

Going into this film blind is my best recommendation, and so for that reason no other plot points will be revealed here. Besides, the real motivation for watching this movie is to witness the raw acting prowess of Lazar Rockwood. Clad in a denim jacket and rocking the ubiquitous 80's bandana headband, Rockwood has the delivery of a porno actor stammering lines between sex scenes. His accent is thick enough to have type 2 diabetes and the range of his acting could fit within a matchbox, but dammit the man is weirdly magnetic on screen. He's clearly throwing everything in his arsenal onto the screen with tremendous bravado. Modesty must be a scarce commodity when you have a name that would go perfectly alongside Dirk Diggler on an adult theater marquee in the 70's. My favorite line in the entire film is when Wendy is trying to solve the first clue, which has something to do with rings. When she's rifling through possibilities and says, "Lord of the Rings?" Boris replies with, "Lord of the ring… who the hell is that guy?" said with equal parts confusion and annoyance. The kicker is viewers will believe that query could have come from either Boris or Lazar.

The rooms aren't likely to impress viewers with their intricacy or set design, but each has a clever solution that is often a stretch to imagine our leads managing to solve within the allotted time. The clues provided by Lord Breston are esoteric and Boris isn't exactly the erudite type, but working together with Wendy they are able to move ahead, often with mere seconds to spare. Evidence of past would-be thieves' unlucky attempts are glimpsed, including one room where a body remains. NON-SPOILER: I completely expected the body to actuality be Lord Breston, "checking up" on his unwanted guests much like John Kramer in "Saw" (2004), especially since you can clearly see the actor breathing, but this is not the case. Instead, the he's-clearly-not-dead guy is played by a local eccentric, whose life is briefly chronicled in the bonus features.

Viewers will already be hooked on "Beyond the Seventh Door" by the time the climax arrives, but the final twists are what drive this S.O.V. thriller over the edge and into the cult territory it so richly deserves. It's crazy to think this film went virtually unseen for years, being impossible to acquire on VHS and never receiving the proper home video release until now. Director B.D. Benedikt offers up further proof that strong ideas can be realized on any budget, and fans of films like "Saw" or "Cube" (1997) will enjoy this "store brand" version of those bigger budgeted hits.

Video


The video review for every Intervision title could probably be a copy/paste job since each one is shot on video, with a 1.33:1 aspect ratio. The quality here is comparable to a remastered VHS tape. There is a slight jerkiness to the opening but that passes quickly. Colors appear accurate and contrast is about as strong as can be. The picture is often soft which, again, is just something inherent to shooting on video. Film grain is minimized as much as possible; don't expect a noisy mess just because this isn't shot on film.

Audio


The English Dolby Digital 2.0 mono track plays with no obvious issues. Dialogue is clean and free from hissing and pops. The score is another awesomely cheesy 80's keyboard love-fest, with the three (!) composers – Michael Clive, Brock Fricker, and Philip Strong – getting plenty of mileage out of the main theme, which sounds like it would be the in-store demo default keyboard setting. No subtitles are included.

Extras


There is an audio commentary with writer/director B.D. Benedikt & actor Lazar Rockwood, moderated by Paul Corupe of Canuxploitation.com.

"Beyond Beyond the 7th Door" (16x9) is a featurette that runs for 21 minutes and 44 seconds, featuring interviews with writer/director B.D. Benedikt, actor Lazar Rockwood, and Paul Corupe.

"The King of Cayenne" (16x9) is a featurette that runs for 8 minutes and 39 seconds, focusing on "legendary Toronto eccentric Ben Kerr", a street performer who played the role of "dead guy".

Packaging


The single disc comes housed in a white standard DVD case.

Overall


This is an entertaining low-budget affair that absolutely deserves more of an audience. Buy it!
| | | | | |
| --- | --- | --- | --- | --- |
| The Film: B+ | Video: B+ | Audio: B+ | Extras: B- | Overall: B+ |