Cop-Out [Blu-ray]
Blu-ray A - America - Kino Lorber
Review written by and copyright: Robert Segedy (20th December 2017).
The Film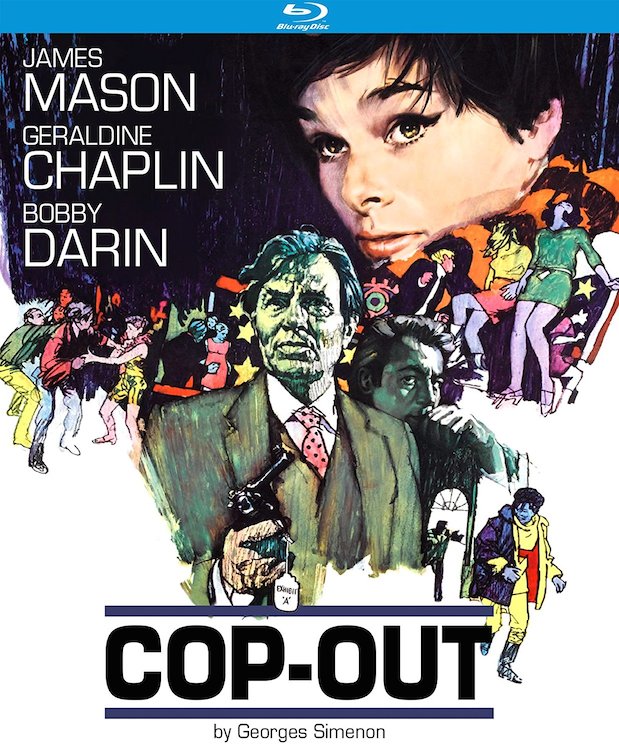 Cinema in the 60's suffered from worrying way too much about trying to reach the kids, or the "way out" generation; good films were brought down intellectually by dumbing them down and filling time with hipness and psychedelic visual effects. A remake of the 1941 French film "Strangers in the House" (AKA "Les inconnus dans la maison" (1942)), "Cop-Out" is a film based on prolific author Georges Simenon's novel of the same name. Dig that hip title man, and check out that cool box art; this is one way out trip that you will groove on, daddy-o.

Featuring James Mason as John Sawyer, once a hot shot defence attorney, he has turned into a bloated limping alcoholic whose wife has left him due to his lack of attention. His young daughter, Angela (Geraldine Chaplin) shares the once glorious house now fallen to disrepair with him, but the two hardly relate to each other. Angela is leading a wild life that is characterized by her antics with a gang of friends, led around by two rich young men, one being her cousin, Desmond Flower (Ian Ogilivy). The gang is up to their usual hijinks' aboard a seemingly empty docked freighter when they are surprised by an American crew member, Barney Teale (Bobby Darrin); Teale is a fast talking swinging cat and he talks his way into the group, making himself at home at their secret headquarters in an abandoned theater. Darrin, a moderate actor and pop singer, really chews the scenery with his Dr. Jeckyll/Mr. Hyde personality and soon he is manipulating the others into his web of drug use, easy sex, and strip teasers. The story is told in a series of flashbacks so it is like mind blowing, man! Wow, those European directors sure knew how to create a weird way out vibe through the use of quick cut editing and some loud bad 60's modern rock soundtrack supplied by none other than Eric Burden and The Animals. Like way out, man!

The plot basically consists of Angela's boyfriend, Jo Christoforides (Paul Bertoya), a Greek immigrant, who has a knock down drag out brawl with Teale and Angela sequesters Teale in the attic of her house until someone sneaks in and dispatches with Teale with a gun. Jo is the number one suspect in the crime, but no one believes him, so Angela begs her father to sober up and take the case and so he begins his own investigation into the case by hanging out a stripper club and asking a lot of pointed questions. Eventually Mason figures it all out and confronts the true murderer at a dinner/birthday celebration by reading to him passages from "Crime and Punishment" by Fyodor Dostoevsky. This film is exceptional in that it captures the changing moral tide and its blatant depiction of sexuality is notable. Kino Lorber has once again rescued another film from the bins and re-issued it on Blu-Ray with an excellent presentation. The director makes good use of his mise-en-scene and uses some unique on location filming in swinging Southampton.

Video


Presented in the film's original theatrical ratio of 1.66:1 mastered in HD 1080p 24/fps using AVC MPEG-4 compression, The image is perhaps a little too flashy for its own good with its use of zoom lens and loud soundtrack, this film is still presentable. The film stock shows its age but I am sure that it was in much rougher shape before Kino Lorber cleaned it up.

Audio


English DTS-HD Master Audio 2.0 mono presented here is nothing special. The audio presentation at times dates the film. Dialogue is clear and unobtrusive, The Animals soundtrack at times is blared while the cast twitches and gyrates as customary to the times. There are no optional subtitles.

Extras


The original theatrical trailer for "Cop-Out" (2:23) is included as are two bonus trailers for:

- "The High Commissioner" (2:10)
- "The Grissom Gang" (2:10)

Packaging


Packaged in a standard Blu-ray keep case.

Overall


"Cop-Out" is a great film to watch on a rainy Sunday afternoon and James Mason gives an always enjoyable performance as usual.
| | | | | |
| --- | --- | --- | --- | --- |
| The Film: B+ | Video: B+ | Audio: B+ | Extras: D- | Overall: C |

---
DVD Compare is a participant in the Amazon Services LLC Associates Program and the Amazon Europe S.a.r.l. Associates Programme, an affiliate advertising program designed to provide a means for sites to earn advertising fees by advertising and linking to amazon.co.uk, amazon.com, amazon.ca, amazon.fr, and amazon.de.