Crown Heights
R1 - America - Broadgreen Pictures
Review written by and copyright: Robert Segedy (21st December 2017).
The Film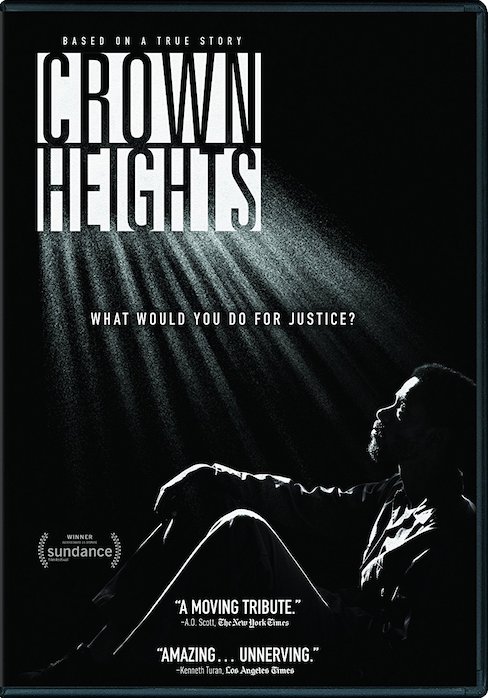 This is a film that is based on a true story; on April 10, 1980, a local teenager named Mark Hamilton is violently gunned down in Flatbush, Brooklyn. An 18 year old Brooklyn man from Trinidad named Colin Warner (Lakeith Stanfield) is picked up and arrested for the crime and wrongfully convicted and sentenced to life in prison. Once the wheels of justice is set into motion they are like a runaway train and apparently it will take a miracle to right the wrong. It apparently does not matter to anyone involved that Warner had nothing to do with the actual crime; all that matters to the system is that there is somebody to take the rap and do the time, whether he be black or white, it matters not; apparently there is no room for error and if so, all evidence of misdoing is swept under the rug. No one wants to take responsibility for the mistaken identity of the assailant: not the self-righteous cops, the lawyers just want to get paid and get results, the eye witness lies on the stand. The circumstances in prison are equally dire with Warner spending two years in solitary confinement for trying to fight back, red tape and endless bureaucracy merely tangle up any progress.

The film starts with Colin living his life: staying out late and chasing girls and even partaking in some serious crime, stealing automobiles for stripping at the body shop that he works at. Early on Colin is arrested and we are led to believe that it is because of his recent car theft, but when the detective begins asking questions about a shooting, it is evident by Warnerís expression of total surprise that he is being earmarked for guilt by a supposed eyewitness. Justice is a greased rail as Colin is sent straight to jail and his trial is a joke; no one will listen to Colinís explanation of how he doesnít even know the victim, that he wasnít even near the location of the shooting, and it all falls on deaf ears. This part of the drama is fairly routine, the stuff of weekly television programs, and it isnít until Colinís best friend, Carl King (Nnamdi Asomugha) gets into the act and tries to make a difference to correct the wrongs that have been done that the film really begins to make sense out of the injustices done.

What this film does capture correctly is how these types of experiences have a cultural effect upon all people, not just the families of the person in jail, but entire neighborhoods, entire races, both guilty and innocent parties. Carl King almost loses his own family while he struggles to see justice done while Colin loses 21 years of his own life while sitting in prison for something that he did not do. The problem with this film is that there is almost too much information jammed into the slim running time and so some scenes are not given the time to be developed and fully utilized. We are shown the effects of the corrupt system at work and we feel Colinís pain as he tries repeatedly to get a shot at clearing his name, but somehow Ruskinís style feels rushed as is his overly familiar use of flashbacks and quick editing style. The audience is not given the room to fully digest the emotional sting of twenty one years in prison and if Ruskin wasnít trying to cover all the bases at once, the film would feel a bit more developed in delivering its lessons.

Video


Presented in the film's original theatrical ratio of 2.40:1 16x9 enhanced, the film is shot in mostly interiors and occasionally natural lighting is utilized. The tone is definitely prison vibe as we see mostly the interior of Colinís cell and some assorted other scenes that help flesh out the storyline. Flesh tones are realistic and DVD playback is adequate.

Audio


Two audio tracks are included in either English or Spanish Dolby Digital 5.1 surround. The audio is solid for standard surround, the dialogue is clean and clear. Surround activity is present but not entirely complex or active, optional subtitles are included in English for the hearing impaired and Spanish.

Extras


The feature film includes an audio commentary with writer/director Matt Ruskin and producer Nnamdi Asomugha, this track can be turned on during the playing of the film. Additional insights are offered from the duo discussing the details of how the story was sourced on "This American Life" on NPR and other details.

"The Story Behind Crown Heights" featurette (3:14), is not much more than a glorified trailer for the film with the addition of actual talking head interviews with the real Colin Warner and his best friend, Clark King.

Two bonus trailers are also included for:

- "City of Ghosts" (2:31)
- "Human Flow" (2:26)

Packaging


Packaged in a standard DVD keep case.

Overall


"Crown Heights" is an interesting film that is based on a real incident, the film attempts to show the miscarriage of justice and an ineffective legal system as one manís life is turned upside down in a Kafka-esque nightmare of bureaucratic mishaps.
| | | | | |
| --- | --- | --- | --- | --- |
| The Film: B+ | Video: A | Audio: B+ | Extras: B- | Overall: B |

---
DVD Compare is a participant in the Amazon Services LLC Associates Program and the Amazon Europe S.a.r.l. Associates Programme, an affiliate advertising program designed to provide a means for sites to earn advertising fees by advertising and linking to amazon.co.uk, amazon.com, amazon.ca, amazon.fr, and amazon.de.