The Film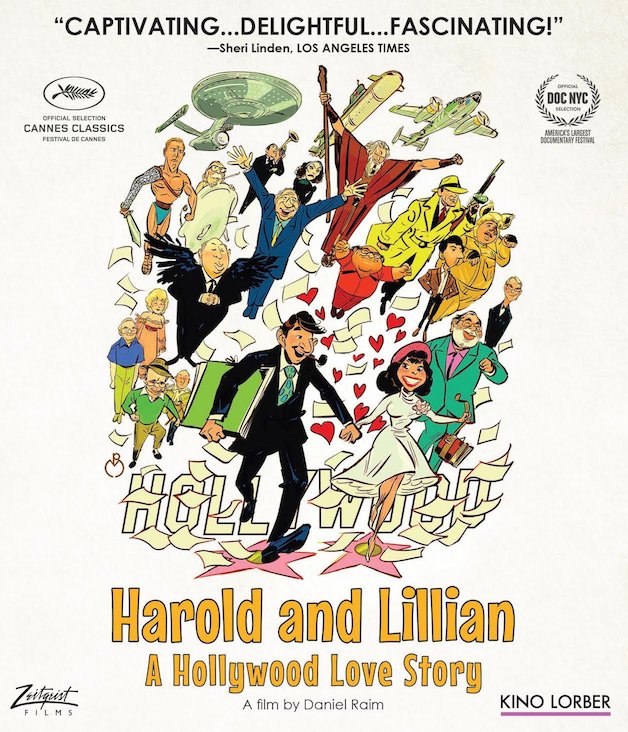 Talk about two unsung heroes, "Harold and Lillian: A Hollywood Love Story" is a cheerful love letter to two of Hollywood's influential behind the scenes people: Harold Michelson, a storyboard artist and film researcher, Lillian Michelson. The married couple worked together on countless Hollywood productions for MGM, Columbia, Paramount, Universal and Zoetrope Studios, but their names are hardly well known to filmgoers. They both had a huge impact on a wide variety of hit films including "The Ten Commandments" (1956), "Spartacus" (1960), "The Birds" (1963), "The Graduate" (1967), "Rosemary's Baby" (1968), "Star Trek: The Motion Picture" (1979), "Stripes" (1981), and many more. This is a story about Hollywood, but more importantly it is a love story about two people whose marriage lasted over 60 years, and how they survived those rough early years before they both came into their own. However before we can tell that story we need to go back to the beginning: Harold Michelson and Lillian Farber met in Miami after Harold had returned from World War II and they began a courtship that was not endorsed by Harold's parents, so they moved to California where Harold plied his trade as a background artist to the various film studios. Eventually they had three children, with their eldest boy being born with Autism, while Harold worked on being a storyboard artist; Harold was gifted with the uncanny ability to see and create on paper what the camera would capture on film. Meanwhile Lillian raised the children and ran the household until all three kids were enrolled in school. One day Harold suggested to Lillian that she volunteer at MGM's research library as an apprentice and this ultimately was the creative outlet that she had been seeking. Lillian soon came to be renowned for her huge library of resource materials and she finally retired from the business in 2010. Between the two of them, they both had a hidden impact upon the film community and influenced countless productions in the most subtle of ways.

Back in the early days of Hollywood, before everything became a computer's job, actual humans worked on film production; set dressers, designers, costumes, make up, and a whole lot more, was done by people that loved the business and what they did. That love would come through the silver screen even though their names would rarely appear in the credits. When Harold first started out, he was what was called a "storyboard artist;" meaning, that he read the script and then imagined where the camera would be placed and ultimately what it would see. This was achieved by actually sketching out scene after scene, complete with the camera angles, and other important details. Storyboard artists would not affiliate with the director's according to an unspoken rule that was probably based on jealously. Directors were resistant to share the credit with the other people that helped work out the details behind the scenes because if they did, well, then the secret would be out. If the audience would find out just how important the storyboard artist's interpretation of the events was, well, then anyone could be a director and the truth would be revealed.

All that changed when Harold went to work for Alfred Hitchcock. On the set of "The Birds" (1963), the two men worked closely together and their relationship was out in the open. Hitchcock realized talent when he saw it and Harold was the real thing. The two men would also work together on the film "Marnie" (1964), and Hitchcock gave Harold the title of production designer and his career was off and running. The couple often worked together and Lillian's research skills came into play on the set of "The Birds"; she was instructed with doing detailed research on what type of birds would frequently be found in a seaside resort as Bodega Bay, researching their habits and appearances, their fierceness and their habits. Obviously the couple was at their happiest when they worked together and in unison for a single project.

The film illustrates the couples many years together through a large book that one of their children designed that is essentially an illustrated love letter to Lillian through the many homemade cards that Harold would write and execute by hand. This is a theme that is central to the film's central concept: that this couple was Hollywood, but not of Hollywood, and that their love was authentic comes through loud and clear. Complete with a dazzling array of various film people such as Francis Ford Coppola and Danny DeVito (who was the executive producer of the film), Mel Brooks, and other film designers share their memories of the duo and their incredible productions. The film moves along swiftly with plenty to take in including film clips, interview segments with Harold showing his sketches, and many illustrations by Patrick Mate that provide us with an idea of how important these two were to so many classic films. The film is a real slice of life and a true education of how much in Hollywood is seen but is actually invisible to us the ordinary filmgoer.

Video


Presented in widescreen ratio of 1.78:1 HD 1080p 24/fps mastered in AVC MPEG-4 compression, even though a number of clips are utilized and incorporated into the film, the transfers are clear and clean. The camerawork is steady and captures its subject in a candid manner as they discuss their careers. The film features animation, film clips, talking head segments, and many revealing shots of the storyboarding process.

Audio


The audio is clear and well maintained with no cross over and dialogue is clear. The English Dolby Digital 5.1 surround sound is nicely balanced with the majority of the sound coming from the central speaker. Optional subtitles are included in English for the hearing impaired.

Extras


Kino Lorber has included a small collection of extras including a collection of deleted scenes, some short films, a film seminar, a theatrical trailer, and a booklet. Below is a closer look at these supplements.

There are deleted scenes, a collection of outtakes that did not make the final cut that includes:

- "Designing Forced Perspective and Miniatures" (2:18)
- "Lillian Gets Fired" (1:12)
- "Harold's Favorite Movie" (1:02)
- "Harold on 'Catch 22'" (1:31)
- "Lillian Negotiates" (2:16)
- "Researching 'The Hunt for Red October'" (1:01)
- "Designing 'Star Trek: The Motion Picture'" (3:16)
- "Storyboarding 'Throw Mama from the Train'" (0:57)

"Lillian's Life Lessons" three short film episodes that show Lilian discussing valuable life lessons:

- "Episode 1" (1:38)
- "Episode 2" (1:29)
- "Episode 3" (1:51)

"Harold's Film School Seminar: Camera Angle Projection" feature (107:00).

"Storyboarding 'The Graduate'" bonus short film (5:41).

U.S. theatrical trailer (2:19).

Includes a booklet featuring original art and Filmmaker Magazine Interview with director Daniel Raim that accompanies the Blu-ray disc.

Packaging


Packaged in a standard Blu-ray keep case.

Overall


The film is very fascinating but also revealing in a candid way through the interview segments with Lillian; she is completely honest in her opinions. It is a very sad fact that Harold died in 2007 and that Lillian is now alone without her man.
| | | | | |
| --- | --- | --- | --- | --- |
| The Film: A | Video: A | Audio: A | Extras: B | Overall: A- |