The Film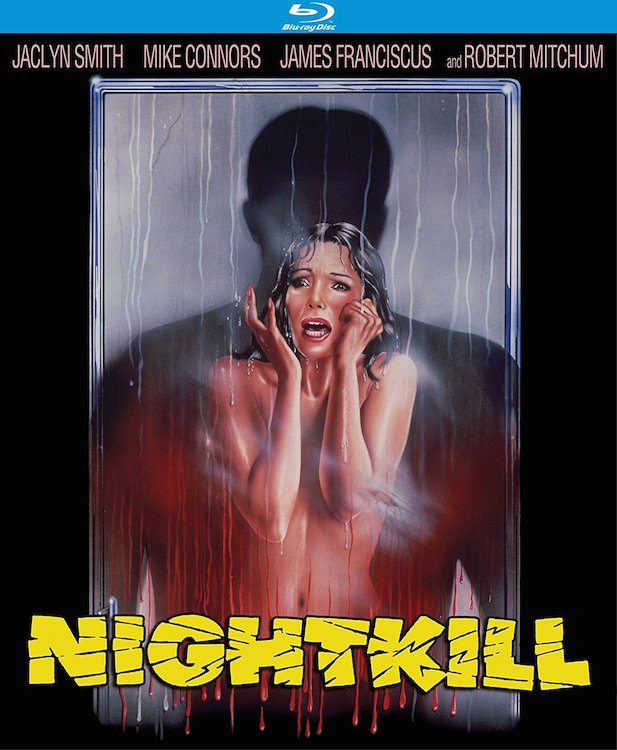 When a feature film has the likes of the gorgeous Jaclyn Smith, Charlton Heston-lite James Franciscus, the sultry Sybil Danning, and acting legend Robert Mitchum, with direction by Ted Post, it would be reasonable to expect something worthwhile. The resulting film from this grouping, however, is as interminable a bore as can be. "Nightkill" (1980), which, ironically, has no killing done at night, has a few moments of genuine surprise that should have found a better home within a stronger screenplay. Thanks to weak characterization, pedestrian direction, and TV-Movie-of-the-Week production values, this forgotten feature slowly ambles toward a fizzled-out finish.

Trophy wife Katherine (Jaclyn Smith) is sick of her loud-mouth, brash, bigoted husband, Wendell (Mike Connors), a local big shot with lots of dough. What Wendell doesn't know is that Katherine has been sleeping with his assistant, Steve (James Franciscus). The two subtly flirt and discuss fantasy plans to run away together. Maybe someday… Well, that day comes sooner than Katherine expects because when the three of them decide to have celebratory drinks Steve slips some poison into Wendell's glass and he dies choking in front of his wife. Surprise! Katherine does not like the surprise much. Still, she decides to go along with Steve's plan, which includes her lover posing as Wendell in order to collect a briefcase her dead husband kept at the airport; a briefcase containing a cool million bucks. One thing they both don't know, though, is Wendell had a private investigator stake out the home and every word they're saying is being recorded.

Plans change the next day after Katherine gets a visit from Donner (Robert Mitchum), a cop who is investigating Wendell's disappearance. Later that night, when she's set to meet Steve, Katherine opens up the freezer where they stored Wendell's body and – another surprise! – Steve is in there. Dead. Bullet wound to the head. Now, Katherine has lost both men in her life and someone is trying to make her as dead as they are. Donner is a shady fellow – maybe he knows more than he's letting on? One thing is for sure, Katherine does not have the capacity to deal with a situation like this and come out on top.

It's a sad day when even Robert Mitchum can't save a feature from inspiring a cat nap but "Nightkill" is just a dull, dreary time at the movies. Jaclyn Smith is easy on the eyes and a fine actress, but she could've put on a better performance as a woman who loses TWO men within the course of a long weekend. She seems confused by how to proceed next more than anything. Mitchum adds that heaping dose of gravitas the picture so badly needs but his character is so thinly written there isn't much meat for him to be chewing. Fritz Weaver makes an amusing appearance as a love struck husband who has the eternal hots for Katherine. The greatest energy in the film came from Connors as the wild man Wendell. Too bad the movie needed to kill him in order to get the plot in motion. They would've been better off killing Steve. Well, you know, earlier.

The film does deserve some credit for a shocker of an ending. The downside is getting there is a bit of a slog but the reward is a nasty little denouement that is left somewhat ambiguous. But one of our characters is left in a painful place and it has a strong visceral impact. More could have been done to beef up the story between a few solid twists and turns but "Nightkill" never manages to come together with any sense of urgency.

Video


The 1.85:1 1080p 24/fps AVC MPEG-4 encoded image is flat and average across the board. Detail level is average, perhaps a tad on the soft side. The print used for this release is in relatively good shape. Contrast is decent. Film grain is moderate and can vary between scenes. Nothing about this presentation is particularly impressive but it scores just high enough to make for an average HD experience.

Audio


An English DTS-HD Master Audio 2.0 stereo track gets the job done here. There is minor crackling heard throughout but dialogue always sounds intelligible and (mostly) clean. The score by Günther Fischer is all over the place, with serene supportive piano cues one moment and crazy keyboards the next. There are no subtitles.

Extras


There is an audio commentary track with film historians Howard S. Berger and Nathaniel Thompson. The two comment on the making of the film and provide some interesting insights behind-the-scenes for fans.

"Interview with star Jaclyn Smith" (1080p) featurette runs for 13 minutes and 43 seconds.

A teaser trailer (SD) is included and runs for 22 seconds.

A collection of bonus trailers are featured on the disc for:

- "Stone Cold Dead" (SD) runs for 2 minutes and 27 seconds.
- "Heart of Midnight" (1080p) runs for 2 minutes and 20 seconds.
- "Night Angel" (SD) runs for 1 minute and 58 seconds.
- "Still of the Night" (1080p) runs for 2 minutes and 6 seconds.

Packaging


The single disc comes housed in a standard Blu-ray keep case.

Overall


There are better ways to kill a night than "Nightkill".
| | | | | |
| --- | --- | --- | --- | --- |
| The Film: C- | Video: B- | Audio: B- | Extras: C+ | Overall: C+ |