The Film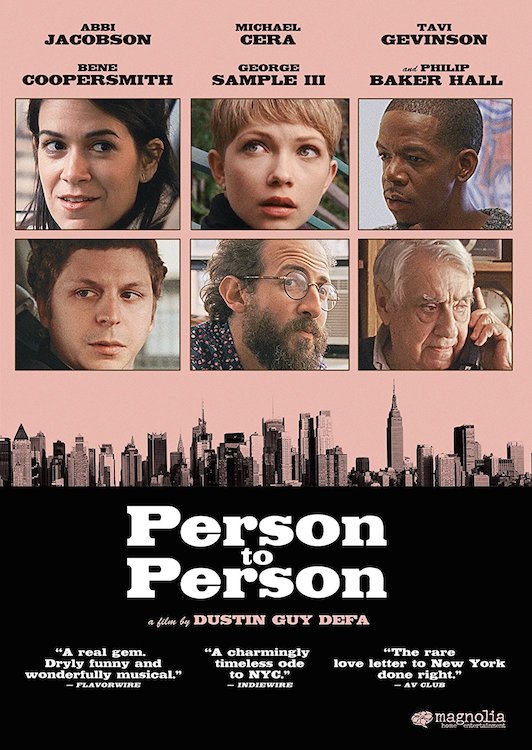 Some people may enjoy this ensemble cast of characters and their day to day struggles in New York City, but I felt that the cast, although talented and engaging, weren't given enough material to work with in the sense of a plot. This is definitely an independent film and even though it features some better known Hollywood regulars, including Michael Cera and Philip Baker Hall, the overall production is much too loose and undefined to be heralded as a cult film that featured a similar theme, Richard Linklater's masterpiece of counter culture, "Slackers" (1991) or Kevin Smith's film "Clerks" (1994).

We, the audience, all have our daily lives and sometimes they are interesting, possibly exciting, but usually we just make it through, day to day, faintly searching for something fulfilling and interesting to break up the mendacity of the usual work a day life. And that unfortunately is what life is all about: regularity, repetition, ups and downs, holidays, friends and family, but for the most part it is concerned with survival and getting through the week, etc., etc., until we die, end of story. Most of us do not live lives that are the subject of film narratives, unless you happen to be one of the characters featured in "Person to Person". Shot on 16mm photography, this is a time trip of a film, life in NYC in 2017 but yearning for a 1979 sensibility; an diluted ménage of watered down Woody Allen still life, a dash of Robert Altman's crosstalk, the Jim Jarmusch love of oddball characters. Writer/director Dustin Guy Defa populates his film with a mix of ordinary characters that are just going about their business, but several themes are developed along the way: loneliness, the universal need to connect, aimlessness, and being human in a large uncaring city.

Defa has taken the ideas from his 2014 short film of the same title and expanded upon them; we witness Bene (Bene Coopersmith) as he receives a call about a rare Charlie Parker record on red vinyl; Phil (Michael Cera) is a reporter for a lesser newspaper that yearns to report on a big story, in the meantime he tries to teach a newcomer Claire (Abbi Jacobson) the ropes of getting the police to talk; Wendy (Tavi Gevinson) is a teenager that is questioning her sexual identity; Jimmy(Philip Baker Hall) is a restrained watch repair man that may hold the key clue to an unexplained murder; Ray (George Sample III) is a depressed man that is reeling from the effects of a romantic break up; all these characters inhabit Defa's universe, some criss crossing paths with the others, some just ambling along, alone. The film intercuts from one storyline to another, simply following along and recording the action. This is ultimately a cinema of loneliness; people that try to exist in the world but nevertheless try for some type of connection; some succeed, while others fail. The problem is that these five stories are tentatively explored, but only the record buyer plot and the newspaper/watch repair man have any depth. The story regarding teenager Wendy trying to make a romantic connection with fellow teen River (Ben Rosenfield) stands alone, but simply ends without commentary. Other storylines are a bit more developed but not by much. These strands of plots feel more like Raymond Carver short stories, but ultimately they do not accomplish much more than merely supplying some entertaining moments.

Video


Presented in the film's original theatrical ratio of 1.85:1 anamorphic widescreen, the film was shot on 16mm and it may be a nod to an older process, but it does not lend itself to any great shakes technically. The film is grainy and deliberately unfocused on character development overall.

Audio


A single English Dolby Digital 5.1 surround track, the soundtrack is a pleasing mix of funk and soul music and it never overwhelms the dialogue tracks, in fact I would dare to say that the director's use of music is the film's strong point. There are optional subtitles included in either English for the hearing impaired and Spanish.

Extras


The disc features an "Interview with Writer/Director Dustin Guy Defa" (4:57), this featurette sees the director discusses the making of the film, the use of the cast and his overall process of filmmaking.

There is a theatrical trailer (2:30) included on the disc.

Bonus trailers are featured for the following films:

- "Lemon" (2:26)
- "Lucky" (2:24)
- "Whose Streets?" (2:23)

Packaging


Packaged in a plastic clamshell keep case.

Overall


"Person to Person" is an easy going slice of life story that is less than the sum of its parts. The film displays some overall ingenuity and skill, but ultimately fails to make use of its first rate cast to really promote its main objective.
| | | | | |
| --- | --- | --- | --- | --- |
| The Film: B | Video: B+ | Audio: A | Extras: B | Overall: B- |