The Film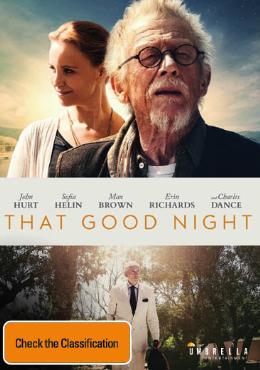 "That Good Night" (2017)

Ralph Maitland (played by John Hurt) is a former screenwriter in his seventies living in semi-retirement in a Portuguese villa along with his younger wife Anna (played by Sofia Helin). When he finds that he is terminally ill and has a limited time in life, he decides to do some important things - to reconcile with his son Michael (played by Max Brown, to have his days without burden to his wife, and for him to finish his final work.

Ralph is not the friendliest of people as he shows a lot of negativity as a cranky old man with many bad decisions made in his past including not being a part of Michael's life for most of the years. And when Michael invites his girlfriend Cassie (played by Erin Richards, Ralph does not have the kindest words to say to her. With the strained relationship becoming even worse, it may be too late for him to change his ways and words to secure a peaceful passing...

Based on the 1996 play of the same name by writer N.J. Crisp, the five-man production was slightly expanded with additional scenes featuring doctors, the poolboy, and a few more characters, but most of the scenes come from the original five players - the screenwriter and his wife, the son and his girlfriend, plus the mysterious visitor in white, played by Charles Dance in the film adaptation. The issue of the bitter old man living as a semi-reclusive and contemplating his remaining days may recall films such as "Gran Torino" and "City of Your Final Destination", and "Up" among others. With "That Good Night", there really isn't much to make it stand out from the crowd of other similar films in terms of storytelling, but one major mark that sets it above anything else is John Hurt. The film in which he plays a man on the edge of life and death sadly became his final leading film performance due to his death on January 25th, 2017 at the age of 77. The actor has played some of the most iconic roles in cinema, from Kane in "Alien", the title role in "The Elephant Man", Trevor Bruttenholm in "Hellboy", and his voice lent to many narration works over the years. While he may not have been the cranky elderly man as the character was in real life, it is a slightly difficult watch and also one that resonates further knowning that he gave the role his all.

Shot on location in beautiful Portugal, the British-Portuguese co-production shows off the beautiful landscape, from the gorgeous villa, the sea side, and the city streets. It somewhat feels touristy and there is no particular reason for the setting to be in Portugal. Everyone in the film speaks English, there are no scenes of mistranslations or cultural inappropriations so it does seem unusual why the story did not add anything even though it did add a few scenes not in the original play. As for the performances, the roles played by Helin, Brown, and Richards were fairly good but they didn't quite compare to the powerhouse performance of the character played by Hurt. But who could really match that? Though it should be said that the scenes with Charles Dance are a standout, with the conversations between him and Hurt being fascinating and engaging. It might be a shame that he only appears for a full two scenes, but the mystery of his character is also what sets him apart. While the film may not be the most memorable on its own, it does have its great scenes and it is a fitting and graceful end for John Hurt's film career. He may not have had many films as the lead as he was mostly known for supporting characters, he certainly had and amazing presence that will sorely be missed.


Note this is a region 0 NTSC DVD which can be played back on any DVD or Blu-ray player worldwide

Video


Umbrella Entertainment presents the film in 2.35:1 with anamorphic enhancement in the NTSC format. Being a film shot in 2016 and released in 2017 there is not much to fault with the transfer. The colors of the Portuguese setting look beautiful with golden hues and blue pool water looking great. But since this is a standard definition transfer the colors do have some limitations overall.

The film's runtime is 91:59.


Audio


English Dolby Digital 5.1
The original English audio track is presented in 5.1. It is not a particularly heavy track with the 5.1 soundscape as it is a dialogue heavy film. The dialogue is mostly center based, with the surround field barely used for the music and effects. It seems almost a waste of a 5.1 track but on the plus side there are no issues with fidelity or errors, being very clear.

There are no subtitles provided for the film.

Extras


There are no extras on the disc.

Packaging


The case mistakenly states the disc is region 4 only, but it is in fact a region 0 disc.

Overall


"That Good Night" does not particularly send waves of greatness, but it features an excellent performance by the always reliable John Hurt, and sadly in his final leading performance due to his death in 2017. The Umbrella Entertainment release sports a good transfer in video and fair audio, but the lack of supplements is a disappointment.
| | | | | |
| --- | --- | --- | --- | --- |
| The Film: C+ | Video: A- | Audio: B | Extras: F- | Overall: C+ |