The Film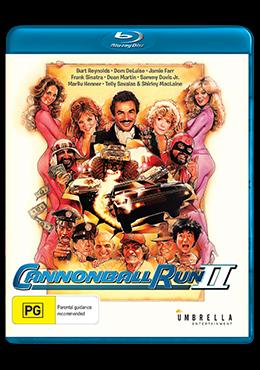 "Cannonball Run II" (1984)

When a wealthy sheik (Jamie Farr) puts up $1 million in prize money for a cross-country car race, there is one person crazy enough to hit the road hard with wheels spinning fast. Legendary driver J.J McClure (Burt Reynolds) enters the competition along with his friend Victor (Dom DeLuise) and together they set off across the American landscape in a madcap action-adventure destined to test their wits and automobile skills.

A fast-moving 80s comedy extravaganza from legendary director Hal Needham featuring an all-star cast including: Frank Sinatra, Dean Martin, Sammy Davis Jr., Telly Savalas, Shirley MacLaine, Jackie Chan, Sid Caesar, Marilu Henner, Don Knotts, Richard Kiel, Jim Nabors, Ricardo Montalban and more, "Cannonball Run II" is a smash-up trip down memory lane.

"Cannonball Run II" picks up a bit after where the first film left off and for fans of the first it is a welcome feeling to see some of the previous cast members reprise their roles. Farr, Martin, Davis, Chan, DeLuise, Reynolds are back plus the Needham returning to the director's chair. Cross country star studded chase movies suddenly became a genre with 1963's "It's a Mad Mad Mad Mad World", with films like "Scavenger Hunt" (1979), "Cannonball Run" (1980), the Hanna Barbera animated series "Wacky Races", and even later with films such as "Rat Race" (2001). The 1963 film was not only a film filled with stars but was huge on scale from the runtime to the action and special effects setting it high above the rest. Plus with the fairly long runtime it gave time to flesh out the many different characters. For "Cannonball Run II" there really isn't much time given to characterization. Granted that some of the characters are from the first film and they do not need the introductions, but some people come out of left field and never seem to get their dues on screen. Dom DeLuise's secondary uncredited role as the Marlon Brando impersonation is just that. It does have some laughs by parodying not only "The Godfather" but also "On the Waterfront" and "Blazing Saddles", but it doesn't make things too clear on whether this is a wild comedy with everyone and anyone or a parody film for the moment. The Jackie Chan action scenes are much too few and do not seriously show off his chops... literally so. Martin and Davis together make things fun but both seem to be a bit out of place in the straight man / comic relief roles. The duo of Reynolds and DeLuise get the most screentime and they are as silly as ever, but the rest could have been given a bigger chance.

But not only is it about the number of stars but a film like this is about the humor and the action. Sadly both are a bit on the lacking side. Comically it is more about slapstick and silliness and most of them are a bit on the simplistic side. There are some great moments with comedians such as DeLuise but there are some like the underused Sid Caesar that are just throwaway jokes. Sure there are a few overturned cars and destruction of property but the scale of the impacts are lowered as the driving stunt scenes are not much to talk about. While the first film grossed $72 million at the box office in 1980, the sequel only made $28 million. A few years too late and overall lacking the charm and insanity of the first film, "Cannonball Run II" became known as a lackluster sequel. It may not be as good as the first film which is a curse of any sequel, but the second film does have its moments and is never exactly on the boring side. It's wild, silly, and crazy, and that's what it basically is.

Note this is a region ALL Blu-ray which can be played back on any Blu-ray player worldwide

Video


Umbrella Entertainment presents the film in 1080p in the AVC MPEG-4 codec, in the 1.78:1 aspect ratio. Coming from the Fortune Star (Hong Kong) 2010 master, the film looks fairly good but not exactly excellent. The master is free of dust, specs, and scratches while leaving a nice amount of film grain which is positive. Some of the darker scenes such as the Godfather parody scenes are a little too dark where the blacks crush all detail in the darker portions, and much of the outdoor scenes tend to be a little washed out in color. There isn't much digital manipulation done to the master so it looks fair, but it obviously does not compare to modern releases.

The film's runtime is 109:47.

Audio


English Dolby Digital 2.0 Mono
The original English track, with a few portions in Cantonese is sadly presented in standard Dolby Digital. Overall it sounds fair, but it certainly lacks the depth in terms of sound effects and some dialogue scenes sounding a bit muffled, but that only is a problem with a few scenes, mostly within the confines of cars. The mono track would have obviously benefited with a lossless audio track, but it isn't necessarily a dealbreaker.

There are optional English HoH subtitles for the film in a white font. The Cantonese portions with Jackie Chan speaking his native tongue are not captioned in these subtitles, which was never subtitled in the first place. The subtitles are a bit awkward when there are two lines of dialogue with two different people speaking on the screen at once. Instead of the next person's line captioned below the first person's line, they are sometimes present in the same line with a " - " separating the speakers. Other than that the subtitles are easy to read and well timed.

Extras


Sadly, none at all.

Packaging


The coverart is reversible, with the only difference being the Australian "PG" rating removed from the front cover on the flipside.
The case mistakenly states there is an additional English DTS-HD Master Audio 5.1 track as well as "no subtitles".

Overall


"Cannonball Run II" suffers from being formulaic in the cross country star studded genre film, but is still an enjoyable... run throughout with crazy humor and insanity. The Umbrella Entertainment release sadly lacks a lossless track and also has no extras at all which is a shame to say.
| | | | | |
| --- | --- | --- | --- | --- |
| The Film: C | Video: B | Audio: B- | Extras: F- | Overall: C |