The Film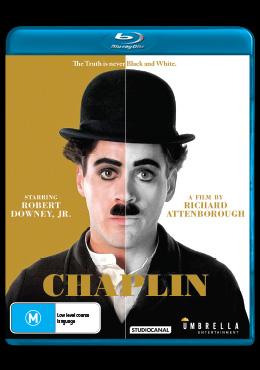 "Chaplin" (1992)

Charlie Chaplin (played by Robert Downey, Jr.) has claimed his name to fame through his years on stage in London with his unmistakable physical comedy routines. But not all had been kind to him in life. He and his older brother Syd (played by Paul Rhys) were taken from their mother (played by Geradline Chaplin) and raised in government care. Their mother was eventually placed in a mental asylum. They never had a father figure in their lives. Things started to look brighter for Charlie in his teens when Syd helps get him a gig as a physical comedian, where after a few years of appearances with his expertly crafted "drunken old man" character. While on tour with other fellow comedians in America, he is offered $150 a week by silent comedy movie producer Mack Sennett (played by Dan Aykroyd) to perform in his production team. A few weeks in while going through the props department to create a new character, Charlie picks out a bowler's hat, a cane, baggy pants, and oversized battered shoes - and there was born The Tramp.

Charlie's antics on screen lead to hit after hit in the movie world. With creative control of his own work along with Syd serving as his manager, his films become more ambitious with larger budgets, bigger casts, lengthier runtimes, and technical innovation - though Charlie was opposed to having The Tramp talk while talking pictures started to become the norm. But with fame and fortune comes troubles with relationships both professionally and romantically...

Although Charlie Chaplin's life and career seemed like a dream project for any filmmaker, but to make a feature length film to incorporate everything significant would have been impossible. While looking at Chaplin's films - from the early short films to the silent features, the comic genius of the man is undeniable. The way he used his body, the facial expressions, the timing, and the choreography could be seen from the earliest of his works in the Keystone films (1914), the Essanay films (1915-1916), and the Mutual films (1916-1917). With every contract his fame grew and his salary even more, but with more control over his work that led to some of his most ambitious films. 1921's "The Kid" started as a short but eventually grew to a feature, and unlike the farcical works audiences would expect from The Tramp, it gave people tears of both sadness and joy. Who can forget the moment they saw Jackie Coogan's crying face as he was placed into the back of the truck? "The Gold Rush" (1925) had some of the most elaborate setpieces with the dilapidating house in the snowy mountains. The boxing scene in "City Lights" (1931) can rival as one of the most intricately choreographed boxing sequences and obviously the funniest ever. "Modern Times" (1936) had some of the most inventive sound designs and film soundtracks of its era. "The Great Dictator" (1940) had Chaplin mock the infamous Adolf Hitler in a movie that led to extreme controversy in its original release, while also doing the most unexpected - letting the Tramp character speak for the first time. While the film does capture many of those cinematic moments being reenacted or having actual footage shown in various scenes, there are notable exceptions. Nothing about "A Woman of Paris" which Chaplin directed but did not appear in, causing audience disappointment. Nothing about his later European productions. But if every film was covered it may not have been an interesting story overall for the film "Chaplin".

But it's Charlie Chaplin's personal life that seemed like it took every possible scandalous gossip magazine article and folded them into one person. And the truth is honestly unbelievable. The various relationships and revolving door of wives - Mildred Harris who he married when she was 16 (and played by Milla Jovovich, Lita Grey who he started working with when she was 12, got pregnant when she was 15, and later married at 16 (played in the film by Deborah Moore), his third wife Paulette Goddard and co-star of "Modern Times" and "The Great Dictator" ended in divorce in 1942 (and played by Diane Lane in the film). His fourth and final marriage was to Oona O'Neill, who was 18 and he was 54 at the time of marriage, but their relationship lasted for 34 years until his death in 1977 (and played by Moira Kelly in the film). While the taking of younger lovers was controversial enough as it could have been, his affair with aspiring actress Joan Barry (played by Nancy Travis in the film) that led to a paternity case. Even though blood tests proved him as not the father, the court ruled that he must pay child support as the blood evidence was not used but the accusations of him being a cradle robber being the main target. The womanizing playboy that Chaplin became - was it his lack of a father figure? His guilt of putting his mother in an asylum? His insecurity? His rising fame and fortune causing an equal growth for his libido? A combination of all? Hollywood was filled with scandals in the silent era, and Chaplin was one of many people that did not have the super clean record of silent star Harold Lloyd. The film "Chaplin" does cover the scandalous bases but not everything to the fullest. Some of the relationships come and go so quickly one may forget during the course of the film who he is having a relationship with at that moment.

Nitpicking the very filled plot might be downplaying the greatest asset of the film and that is Robert Downey, Jr. as the titular character. The 27 year old actor literally put himself in Chaplin's shoes not only to mimic the on screen Tramp character to a tee, but to also capture the man himself. Playing the character with an English accent, giving sadness, anger, joy, and doing complex physical comedy in order to perfect the man and his much loved creation was an amazing undertaking and performed with excellence. Many had doubts that the young playboy actor who had substance abuse issues surrounding his personal life could pull off such a daunting role, but all were proven wrong. Downey was nominated for an Academy Award for his performance as Chaplin. It is one of the finest in his filmography and the only major downside must be the unconvincing aged makeup of the eldery Charlie, looking more like a man trapped in a wax head. In addition to the already mentioned star filled cast, Kevin Kline as Douglas Fairbanks, Marisa Tomei as Mabel Normand, and James Woods as the prosecutor Joseph Scott are excellent in their respective roles. Sadly some roles such as Maria Pitillo as Mary Pickford, Kevin Dunn as J. Edgar Hoover, and Matthew Cottle as Stan Laurel were underused and more cameo than full characters. The casting of Geradline Chaplin playing her own grandmother was an interesting decision, but she looked fairly old for a mother of primary school kids. The late addition of the character of George Hayden played by Anthony Hopkins was an interesting way to bridge the gap between the different time periods and have an older Chaplin be able to reflect back. It is obviously modeled after Chaplin biographer David Robinson, as Hayden is a fictional character.

Director Richard Attenborough had previously directed the biopics "Young Winston" (1972) and "Gandhi" (1982) which won eight Oscars. "Chaplin" would be his third biopic film and eighth film under his directorial credit. While the direction is not particularly the standout of the film, Attenborough was still able to make a consistent film with a lot of depth and heart about the man and love for the medium, with many references to silent film throughout though techniques such as scene transition wipes and playing with camera speeds during the chase scene. The score by John Barry has some great moments, and though it may not be his most memorable score, he was still nominated for an Oscar for best score. In addition to the aforementioned Oscars, the film was also nominated for Best Art Direction at the Academy Awards. Three nominations, no wins. The Golden Globes also nominated Downey for his performance, Barry for the Score, and also Geraldine Chaplin for supporting role, but the film also won none there. Of the four BAFTA Awards it was nominated for, Best Actor, Best Costume Design, Best Makeup and Hair, and Best Production Design, the sole award went to Downey for Best Actor.

The $31 million film was not a box office hit in its original run grossing less than a third of the production costs. But with continued broadcasts on television and consistent rentals and sales with a stellar cast of faces, "Chaplin" still stands as a good and enjoyable biopic, though not a great one. One thing that it will certainly do is for people to seek out the original Chaplin films to see again. And even with some of his earliest films being over a century old, they are still innovative, hilarious, and amazing. And that's an amazing tribute.

Note this is a region ALL Blu-ray which can be played back on any Blu-ray player worldwide

Video


Umbrella Entertainment presents the film in 1080p in the AVC MPEG-4 codec, in the 1.85:1 theatrical aspect ratio. The transfer for this Blu-ray looks basically identical to the US Lionsgate "15th Anniversary" Blu-ray which was released in 2011 (and yes, someone didn't do their math there because it should have stated the "19th Anniversary"). Colors are a shade on the dull side of things, with drab colors of the early years in London, and although the outdoor scenes in America look a little brighter and better, the color palate does not certainly grab as much as it could. There is some minor color fluctuation in the image that are very noticeable in some indoor scenes as well. The master is also very grainy and there are some very minor instances of specs but nothing particularly distracting. The film certainly could have used a new HD or 2K or even possible 4K transfer but who knows when that may happen.

The film's runtime is 144:39.

Audio


English DTS-HD Master Audio 2.0 Stereo
The original language track is presented in lossless stereo. For a biopic of a silent film star it is a fairly dialogue heavy movie. Dialogue on the track is mostly center balanced, with everything sounding fairly clear with no particular issues of imbalance or audio troubles. Music and effects are positioned to the left and right with fair stereo separation and it is well balanced with the dialogue. This is not the most aggressive or heavy audio track but it does the job fairly.

There are optional English HoH, French, Spanish subtitles for the feature in a white font, mimicking the options available on the US Lionsgate Blu-ray. The subtitles are easy to read and well timed with no errors to spot.

Extras


"Strolling into the Sunset" featurette (7:29)
This featurette includes interviews with Richard Attenborough, David Robinson, film critic Richard Schickel, and Charlie's son Michael Chaplin who played the scene-stealing boy Rupert in his father's 1957 film "A King in New York", in which they discuss getting the film made, finding the elements to create the dramatic angle, the casting process, and the addition of the biographer segments as a last minute decision. This featurette was previously available on the US 15th Anniversary DVD and Blu-ray editions from Lionsgate.
in 480i AVC MPEG-4, in 1.78:1, in English DTS 2.0 with no subtitles

"Chaplin the Hero" featurette (6:05)
The same faces return to discuss about the importance of Chaplin's physical humor and how it lead to worldwide fame and becoming the most famous man in the entertainment world in his lifetime. This featurette was previously available on the US 15th Anniversary DVD and Blu-ray editions from Lionsgate.
in 480i AVC MPEG-4, in 1.78:1, in English Dolby Digital 2.0 with no subtitles

"The Most Famous Man in the World" featurette (5:27)
Again with the same faces in this third featurette, in which they discuss how Chaplin's worldwide fame may have changed his lifestyle but was always a man close to the poor man's heart. This featurette was previously available on the US 15th Anniversary DVD and Blu-ray editions from Lionsgate.
in 480i AVC MPEG-4, in 1.78:1, in English DTS 2.0 with no subtitles

Image Gallery (6:16)
The automatic slideshow gallery includes the original pressbook, production notes, and stills from the set. There are chapter marks between each page which is useful for people wanting to skip quicker. There is no audio for this extra.
1080p AVC MPEG-4, in 1.78:1

Charlie Chaplin Mutual Comedies Shorts (119:36)
- "The Cure" (1917) (20:00)
- "The Floorwalker" (1916) (20:49)
- "The Vagabond" (1916) (19:31)
- "Behind the Screen" (1916) (20:28)
- "The Fireman" (1916) (19:29)
- "The Rink" (1916) (19:19)
Chaplin made twelve short films at the Mutual Films company from 1916 to 1917, and six of the film are presented here in a continuous reel. Each have an introductory text screen and each film is separated by a chapter stop for easy access. The Chaplin films have had a checkered past with film studios folding and copyright hands changing over, plus the common issue of silent films having multiple versions for export. The Chaplin silents have gone through major restorations recently with the restored 12 Chaplin Mutual Films on Blu-ray being released in several territories. But good god! Where did Umbrella Entertainment dig up there horrendous masters? First off the picture is completely washed out with blacks looking gray, whites are blown out with detail lost, scratches and specs are everywhere, and many of the intertitles are missing. In addition the original speed of 20fps is sped to 25fps so most likely from a PAL VHS source. The sound is also troublesome. There is major hiss to the track and crackling like an uncared vinyl record or film, and the jazzy soundtracks are filled with sound effects like slidewhistles, gulps, bumps, and others to heighten the laughs, but the sound quality is very limited in fidelity. According to the "Chaplin Collector's Guide, Part 2" at Brenton Film, these are the 1932 reissues by Van Beuren Studios and not the original versions from Mutual Film Studios. If anyone wants to truly experience these films in their best state, the aforementioned Blu-ray releases have the restored editions of all twelve films and they are stunning. Even with the seemingly unwatchable state described, the magic of Chaplin in his early years can still be felt by watching these shorts on the disc.
in 720p 50fps AVC MPEG-4, in 1.33:1, Music Dolby Digital 2.0 mono with English intertitles

Theatrical Trailer (2:08)
The original US trailer is presented with the distinctive voice of trailer narrator Hal Douglas.
in 480i AVC MPEG-4, in 1.33:1, in English DTS 2.0 with no subtitles


The film has already been released on Blu-ray in a few other countries in the past. The identical Japanese, German, and UK releases have no extras. The US release has the three featurettes, the trailer, and an exclusive two minute Chaplin home movie, though no Chaplin shorts are included.

Packaging


The packaging states the disc is region B only, but it is a region ALL disc. The artwork is reversible with the opposite artwork being identical, except with the Australian rating removed from the front.

Overall


"Chaplin" sometimes feels like too much while still feeling too little in terms of capturing the story of one of the greatest if not the greatest filmmaker and performer of cinema history. The absolute delight is seeing Robert Downey Jr. pull off the magical feat of becoming Chaplin and seeing the filmmaking world of the era brought to life. The Umbrella Entertainment Blu-ray is fair in the video and audio department, includes the featurettes from the 15th Anniversary US DVD and Blu-ray while adding six bonus short films - though beware of their quality! The release still comes as recommended.
| | | | | |
| --- | --- | --- | --- | --- |
| The Film: B- | Video: B | Audio: B | Extras: B- | Overall: B |