The Show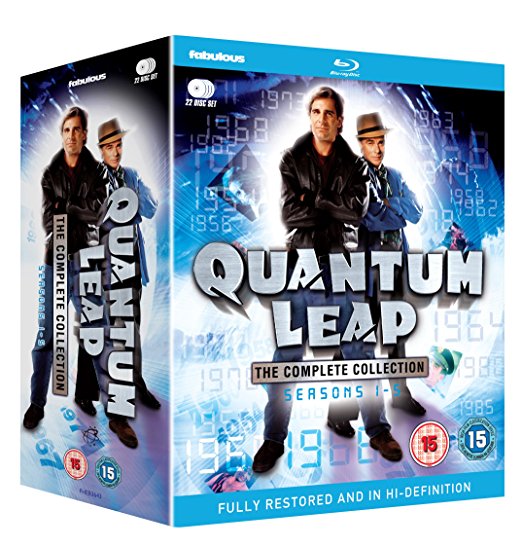 All the episodes from the award-winning time-travel series. Scientist Sam Beckett (Scott Bakula) gets trapped inside his own 'Quantum Leap' experiment, and leaps into the bodies of people whose problems only he can solve. Joined by the hologram projection of his wise-cracking adviser Al (Dean Stockwell), Sam has to help each person he leaps into before he can leave, all the while hoping that the next leap will get him home.

Season 4 episodes are: 'The Leap Back', 'Play Ball', 'Hurricane', 'Justice', 'Permanent', 'Raped', 'The Wrong Stuff', 'Dreams', 'A Single Drop of Rain', 'Unchained', 'The Play's the Thing', 'Running for Honor', 'Temptation Eyes', 'The Last Gunfighter', 'A Song for the Soul', 'Ghost Ship', 'Roberto!', 'It's a Wonderful Leap', 'Moments to Live', 'The Curse of Ptah-Hotep', 'Stand Up', 'A Leap for Lisa'.

Video


Fabulous Films in the UK have secured the rights to this classic scifi series that has been high on fan wish lists for years; and very much so since they released several other classics from the Universal TV back catalogue in 2016: Knight Rider (1982-86), Magnum P.I. (1980-88), The A-Team (1982-86), The Incredible Hulk (1977-82) and Miami Vice (1984-89). Those releases have turned out to be something of a mixed bag with cut, 2-part syndicated versions of feature-length episodes being issued and causing expensive repressings to happen. The Hulk release apparently had gamma issues and resultant mild black crush that could only be corrected by altering the colour space on your player / TV. And, Miami Vice had audio issues on one episode that needed correcting.

Mill Creek in the US were the first to issue Quantum Leap and immediately fell afoul of the fans by releasing the "Lee Harvey Oswald" episode in the cut, syndicated 2-part version. Happily - and I'm stating this upfront - Fabulous have sorted this out and we have the full, feature-length original broadcast version. Also, the Fabulous release spreads all 97 episodes over 22 discs as opposed to the Mill Creek which has only 18 so compression is less of a problem. You also get the old Season 1 DVD extras ported over which I don't think were on the Mill Creek release.

There is only one flaw; all HD versions (including the Mill Creek and the iTunes version) of the season 2 episode "A Portrait for Troian" have the last few minutes incorrectly framed losing some visual information down the left hand side of the image and along the bottom. This is obviously a problem with the Universal master and until they pay to have it corrected it's likely to be with us for the foreseeable. There are a couple of minor audio and visual anomalies; please see below*.

Onto the image ...

Quantum Leap was shot on 35mm film and as such is a perfect fit straight out of the vault for HD; just high quality, high resolution film ..... and I'm happy to report that it looks extremely good! It has that late 1980s mild haziness that was popular at the time but was on it's way out. In fact you can see the change occur across these five seasons as the more recent episodes have a naturally slightly crisper look.

For the most part the images are sharp and colourful; holding up very nicely with solid vivid colour values, good black levels and plenty of detail, especially in well lit sequences; I very occasionally suspected I saw some mild black crush, usually in darker moments but nothing that I'd worry about.

I checked all 97 episodes visually watching a minimum of ten seconds at every chapter point (sometimes much more) and they all look great and are a definite step up on the old DVDs with mild grain being more obvious than before. I didn't see any signs of damage or artefacts whatsoever; no mosquito noise, no aliasing and no evidence of poor encoding. These discs hold five episodes x 45-48 minutes each and are all BD50s with duel layers; the last disc of each season have only two episodes. I've not heard anything to corroborate this but I suspect that these are taken from older, off the shelf masters and thus a new 4K scan will no doubt improve things noticeably.

Picture perfectionists will no doubt pick fault with these transfers as is usual, but for the majority these will probably be the last copies of these episodes that they'll ever buy in hard copy form. It's unlikely that UHD 4K discs will take off to the point where vintage TV series will be seeing releases like this. I hope I'm wrong.

* Matt Dale author of the excellent book "Quantum Leap: Beyond the Mirror" recently posted the following on a forum:

"When the HD masters of QL were made for streaming some years back, a number of issues from the DVDs were fixed (correct music, correct opening credits for "Play it Again Seymour" etc), and a few new glitches appeared (wrong saga sell audio on "All-Americans", weird green leap in for "Hurricane", odd framing especially on "Troian" etc), all of which copies across to the Mill Creek release. I've checked ALL DVD and HD glitches/oddities (and also any oddities from first broadcast that were correct on prior commercial releases) and can confirm - if anyone's paying that much attention - that in terms of content the episodes are identical to the Mill Creek set. No new errors, no new fixes. Simultaneously pleasing (it could have been worse) but also a shame."

1.33:1 / 1080/24p / MPEG-4 AVC / Season 1: 1049:40

Audio


Oh dear.

For some strange reason Fabulous have only given us a lossy Dolby Digital 2.0 Stereo track. These play nicely and loudly through Prologic II through my 5.1 amp and are on a par with the sound when first broadcast. Predominantly front centric with minimal surround activity (but it is there!); music comes to fore when necessary and dialogue is always clear. Obviously, the sound is fuzzier than a lossless version would have been but it gets the job done and those of a non-technical bent will be very satisfied.

Sadly, it's just not good enough to have a BD release with a lossy soundtrack. LPCM or DTS-HD Master Audio are THE standards and I suspect fans will clamour for a disc recall as a result. Certainly the more quality conscious hard core.

Alas, there are no subtitles.

English Dolby Digital 2.0 Stereo

Extras


Sadly, there are no extras for seasons 2-5; only for season 1.

Overall


Fabulous Films have - on the whole - done a great job bringing the complete Quantum Leap to UK fans. This This is a classic slice of '80s-'90s telefantasy of the kind that has made many people over the last quarter century very happy and provided them with plenty of great memories. I can remember seeing the Oswald episode at the Leeds' Hilton soon after the US broadcast as part of the new scifi strand shown at Starbase '93. It was eagerly anticipated and a big deal for the packed theatre showing it.

Sadly, the set isn't a complete success with tired, superficial extras and solid if lossy audio. At least the image quality is more than acceptable and is superior to the standard definition original broadcasts, DVDs and the more recent HD broadcasts.
| | | | | |
| --- | --- | --- | --- | --- |
| The Show: A | Video: A- | Audio: C+ | Extras: F | Overall: B |