The Film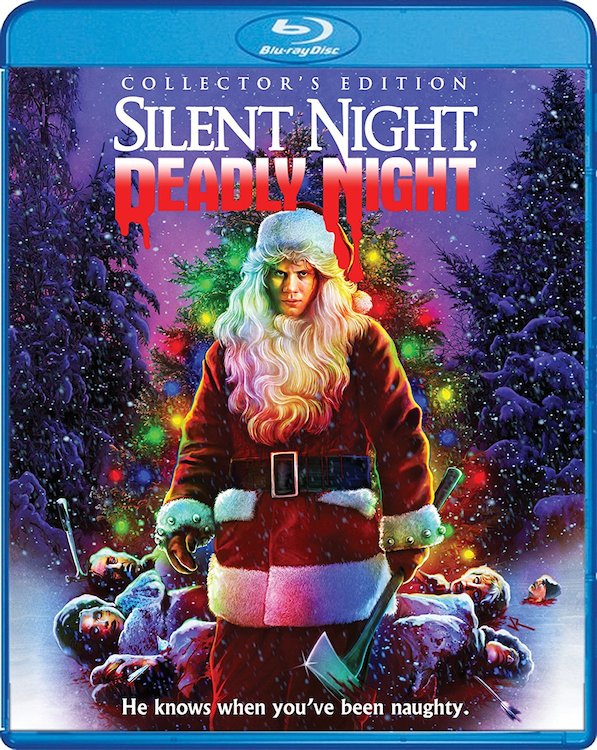 It may not have been the first Christmastime horror film, but "Silent Night, Deadly Night" (1984) is definitely the most controversial; or, at least it was. Nothing shocks people these days. At the time, it was an offensive novelty to promote Santa Claus, outfitted with melee weapons, as the villain of a sure-to-be-horrifically-gory seasonal slasher picture. Sometimes controversy can work in a film's favor, increasing box office receipts – this was not one of those times for one simple reason: frightened by angry parents and Hollywood actors, distributor TriStar Pictures caved to public pressure and withdrew the film from theaters shortly after release. The irony of actor involvement in the outcry was Mickey Rooney being one of the most vocal detractors… a man who years later starred in "Silent Night, Deadly Night 5: The Toy Maker" (1991). Siskel & Ebert famously read aloud the names of the film's producers on their show in lieu of an actual review, publicly shaming each of them.

All of this seems, even now, to be horribly overblown. It isn't as though this R-rated feature was marketed toward kids, although placing a deranged Claus on mass-marketed ads during the holidays is clearly walking a fine line. Regardless, the film is more greatly remembered for signpost imagery and the controversy it generated than being any good. "Silent Night, Deadly Night" is not a great movie – uncut or otherwise – but it does move at a quick pace (a tight 85 minutes) and the kills are reasonably memorable. The real key to its longevity is the holiday setting. Everyone loves to put on "It's a Wonderful Life" (1947) or "National Lampoon's Christmas Vacation" (1989) when Christmastime rolls around; horror fans have their yearly staples, too.

Christmas, 1971. Young Billy Chapman (Jonathan Best) and his family take a trip to visit his catatonic grandfather, who lives in a nursing home. Grandpa sits and stares all day, never uttering a word… that is, until everyone but Billy leaves the room. Then, gramps turns to his grandson and creepily warns him about Santa, specifically how he punishes bad children so severely. Later that night, Billy's father pulls over to help a stranded motorist on the side of the road, one dressed like Santa. Unbeknownst to them the man had robbed a liquor store earlier that night and killed the clerk. Billy's father tries to flee when the man pulls a gun but he is shot and killed; his wife has her throat slashed. Billy runs off, leaving his infant brother Ricky in the back seat.

A few years later, Billy (Danny Wagner) and Ricky are living in an orphanage, under the strict rule of Mother Superior (Lilyan Chauvin). It's Christmastime and Billy finds himself triggered by the holiday, drawing depictions of Santa as a murderer and punching a man who arrives dressed as his holiday nemesis. Mother Superior is deaf to the reasoning behind his actions, but Sister Margaret (Gilmer McCormick) sympathizes with the troubled boy. Cut to ten years later and Billy (Robert Brian Wilson) is all grown up and looking jacked. Through the orphanage he is able to get work at a local toy store, and for once it seems as though things are looking up for Billy… until Christmas hits. His PTSD engaged once again, the final mental straw breaks when Billy is forced to dress up as Santa for the customers. That night, he snaps and an evening of punishment for the "NAUGHTY!" begins.

It seems as though blasting this film isn't limited to the critics because plenty of horror fans knock it for a variety of reasons. I'm sure part of my mild affection for this one-note slasher is the fond gaze of nostalgia, since this was a Christmas staple in my teen years. It isn't as though any should expect anything more out of the picture aside from an unhinged Santa traipsing through town, axe in hand, meting out holiday punishment with extreme prejudice. The fact this film has any decent psychological subtext should be seen as a minor miracle. Wilson's performance as the adolescent Billy is – dare I say – slightly nuanced until he turns into a lean, mean red killing machine. Both of the nuns – Sister Margaret and Mother Superior – are brought to life with conviction thanks to strong performances from Chauvin and McCormick. Every other cast member is serviceable enough to keep the film moving along, although personal standouts are Billy's creepy grandfather and the guido toy store employee who calls Billy a "moon goon".

Nobody is here for the acting, though, so let's talk about murder. Lots of people get it here; a few are lucky enough to go in spectacular fashion. The sled decapitation will always be the high point but Linnea Quigley's death-by-antlers is a strong runner-up. I just love how logic is thrown completely out the window once Billy snaps and the film overpowers him like he's on a roid-induced rage or something. Wilson is in shape but he ain't exactly Arnold, either. Doesn't matter, Rage Billy can lift men inches off the ground with ease and impale a human on a dull pair of antlers with virtually no momentum. Further sequels really missed the chance to bring Billy back again; just treat him like Michael Myers. Although, then we might not have ever gotten "Garbage day!"

To pull from a childhood favorite, Highlights Magazine, "Silent Night, Deadly Night" is the Goofus to Bob Clark's Gallant, "Black Christmas" (1974). Someone gets that reference, right? The film is loose and sloppy and far from subtle, or even scary, but it sets out to do one thing and it does that right… enough. Subsequent entries in this all-over-the-place franchise are either more entertaining or better than this one but this is the moneymaker and, for better or worse, remains a yearly tradition for horror fans.

Video


There is good and bad news. The good news is Scream Factory produced a new 4K scan of the original camera negative and the resulting 1.85:1 1080p 24/fps AVC MPEG-4 encoded image is stupendous; the bad news is all of the unrated footage once again comes from a video source, as the negatives could not be found. Scream Factory has done what they can to match the two sources but it's still plain as day when switches occur. The theatrical cut is a seamless experience, and the restorative work done is really exceptional. Fine detail and textures are given new life, with more detail than ever before evident in each frame. Skin tones look organic and vivid. Colors are bold and striking. I've seen this film on just about every notable format and this is by far and away the best it has ever looked. The SD inserts are, again, obvious but since the added footage is limited to bits here and there the shifts aren't terribly jarring.

Audio


The English DTS-HD Master Audio 2.0 stereo track has presence, delivering the corny source music and old-school synth cues with nice clarity. Sound effects are lively and realistic. The score elevates in a few scenes, adding a solid dose of tension to Billy's menace. Subtitles are available in English.

Extras


DISC ONE: THEATRICAL CUT

A theatrical trailer (1080p) runs for 1 minute and 34 seconds.

Three TV spots (SD) run for 1 minute and 28 seconds.

A VHS trailer (SD) runs for 30 seconds.

A couple of radio spots run for 36 seconds.

DISC TWO: UNRATED VERSION

There are two audio commentary tracks included; the first, with Actor Robert Brian Wilson and Executive Producer Scott J. Schneid; the second, with Screenwriter Michael Hickey, Composer Perry Botkin, Jr., Executive Producer Scott J. Schneid, and Editor Michael Spence.

"Slay Bells Ring: The Story of Silent Night, Deadly Night" (1080p) is a documentary that runs for 45 minutes and 51 seconds. This is a typically informative retrospective piece, featuring interviews with several members of the cast & crew. For such a storied film that went through issues with name changes and censors and the press you had better believe there are plenty of anecdotes to be heard.

"Oh Deer! An Interview with Linnea Quigley" (1080i) featurette runs for 21 minutes and 50 seconds. Many times, interviews like this wind up being a look back at the actor's career, and this is no exception.

"Christmas in July: Silent Night, Deadly Night Locations Then & Now" (1080i) featurette runs for 10 minutes. See the excitement that is Heber City, Utah as it stands as of July 2017.

"Audio Interview with Director Charles E. Sellier, Jr." featurette runs for 58 minutes and 11 seconds.

"Santa's Stocking of Outrage" (1080p) is a featurette that runs for 4 minutes and 31 seconds, footage of Billy's massacre is shown alongside quotes from people decrying the film.

Poster & Still Gallery (1080p) runs for 58 seconds.

Packaging


The two-disc set comes housed in a standard Blu-ray keep case, with each disc on a hub opposite the other. The cover art is reversible. A slip-cover with new artwork is available on first pressings.

Overall


"Silent Night, Deadly Night" is a monotone film that achieves its goal of delivering a killer Santa, with little else there to elevate the high concept pitch. I've never viewed it with much of a critical eye because, well, it speaks for itself and never did I expect any more out of it than it provides. Scream Factory's 4K scan is a revelation, and the extra features are the most extensive yet.
| | | | | |
| --- | --- | --- | --- | --- |
| The Film: C+ | Video: A- | Audio: B+ | Extras: B | Overall: B- |