The Film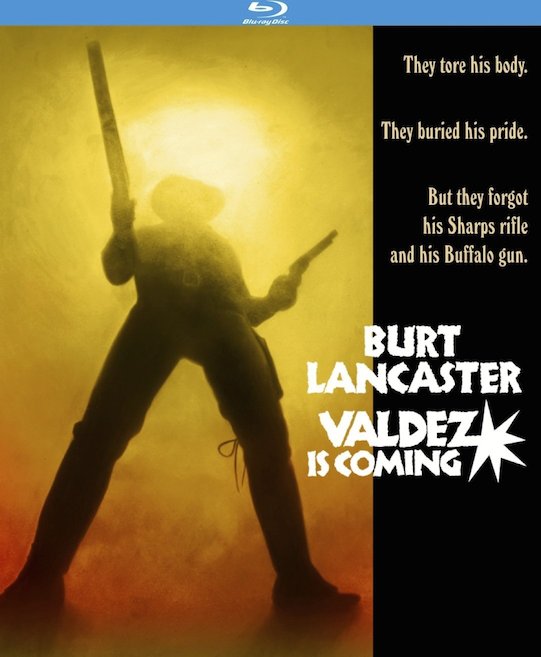 The timeless Old Hollywood tradition of darkening up a legendary white male actor and calling him a minority is alive and well in "Valdez is Coming" (1971); the actor in this instance being Burt Lancaster. Look, I fully understand the reasoning behind such actions back in those days – the film was being sold on his name, and Hollywood wasn't exactly teeming with septuagenarian Mexican actors who could fill a theater – but, man, Lancaster is just so not believable as an aging Hispanic. Even his accent is terrible. I do find a certain bizarre charm in hindsight-viewing these old pictures, where racial casting was not even a thought. At the time, sure, maybe Burt was able to put some asses in seats but now, all these years later, I can't help but think the film could have worked more organically had they cast someone who was even vaguely Mexican. It's not quite as bad as the time John Wayne played Genghis Khan, but we are too far off the mark here, either.

"Valdez is Coming" is based off a 1970 novel by famed wordsmith Elmore Leonard; the third in a string of immediately-commissioned film adaptations of his novels that began with "The Big Bounce" (1969). Sold as a tale of vengeance, the actual story presents a far less compelling reason for revenge, though it does succeed in painting these characters with some shades of grey. Not every bad guy is totally bad, just as there is fault to be found within our antagonists, too. But the film does plod along at a laborious pace, and by the end viewers will feel as exasperated as Lancaster's aging old Mexican, Bob Valdez.

Constable Bob Valdez (Burt Lancaster) is drawn into a skirmish on the outskirts of town involving wealthy rancher Frank Tanner (Jon Cypher) and a black man, who is holed up inside a hovel with his wife, an Indian. Tanner claims the man is wanted for murder, and is armed, but once Bob is sent in to ambush and, finally, kill the man it is revealed he wasn't the right person after all. Bob is distraught, both for killing the wrong man and for the man's wife. He suggests raising $200 for the woman (a large sum in those days) - $100 from a collection Bob has taken up, the other $100 from Tanner. But Tanner, being the elitist prick he is, scoffs at Bob's suggestion and orders him to hit the road.

Bob may not be the toughest or smartest man, but he is stubborn, and he doesn't back down when he feels something is right, so he goes back to Tanner once again to ask for the money. This time, Tanner has his men beat Bob and lash him to a cross then he is set free to walk home, hunched over and defeated. On his way, Bob runs across Davis (Richard Jordan), a man he had some beef with earlier. The two have an ambiguous exchange before Bob passes out, later waking up free of his burden and in a bed. Again, with much resolve Bob gets his gun and confronts Tanner, this time absconding with his (unhappy) wife. Tanner orders his men to give chase, while Bob and his new quarry hide in the desert lands, and all it would take to resolve this is $100.

Burt Lancaster feels so wrong for this role. He's barely there, mumbling a Spanglish accent and shuffling about like a tired old man – which, to be fair, Bob is but Lancaster's portrayal is sorely lacking. At least an actual old Mexican might've added some much needed authenticity to the role. The best actor of the bunch is Richard Jordan, who as Davis is a man that appears a little dumb and prideful, but there are hints of a better person that make his character less one-dimensional. Jon Cypher is also strong as Tanner, a man who projects one image but conveys something very different when death – read: his – is on the line.

The film's resolution is one of subversion; this does not go the way of Leone, with an epic pistol showdown between Bob and Tanner. Instead, it plays out probably closer to how a confrontation between men of their type might have in real life, and by undermining those audience expectations the ending largely succeeds. But the issue is much of what comes before is simply plodding and lacking in verve. Leonard's most celebrated adaptations have a wit and energy that never quite registers here. "Valdez is Coming" is best viewed as a 70's curio with limited appeal.

Video


Kino's 1.85:1 1080p 24/fps AVC MPEG-4 encoded image is quite nice, with strong examples of fine detail and clear definition present throughout. The sunbaked landscapes of Spain – one used by Sergio Leone – offer up plenty of bright lighting to allow these minute bits to shine in HD. Film grain is a bit inconsistent, though it seems most variable in the opening. Colors pop and appear nicely saturated and accurate. At times the set is pumped full of an absurd amount of smoke, but detail remains fairly strong. The print used for this transfer looks to have been kept in great condition and cleaned extensively.

Audio


A simple English DTS-HD Master Audio 2.0 mono track gets this minimal job done. Dialogue sounds like much was done in post-production, and there is not much scoring to the feature. Sound effects register clear and there is a good balance between dialogue and the activity of the desert. Subtitles are available in English.

Extras


There is an audio commentary with film historian Jim Hemphill included and provides some insight into the film and its making.

The theatrical trailer for "Valdez is Coming" is included and runs for 2 minutes and 52 seconds.

There are bonus trailers for:

- "The Scalphunters" runs for 3 minutes and 13 seconds.
- "Billy Two Hats" runs for 3 minutes and 59 seconds.
- "Monte Walsh" runs for 3 minutes and 20 seconds.
- "The White Buffalo" runs for 1 minute and 51 seconds.
- "Barquero" runs for 2 minutes and 36 seconds.

Packaging


The single disc comes housed in a standard Blu-ray keep case.

Overall


Fans of 70's Westerns may find some value – unintentionally comedic or otherwise – in watching Lancaster stumble through playing an aging Hispanic, but thanks to morally ambiguous characters and a few unexpected turns the film proceeds in a different way than most viewers might be expecting, which does work to its favor.
| | | | | |
| --- | --- | --- | --- | --- |
| The Film: C+ | Video: B+ | Audio: B | Extras: C- | Overall: C+ |