The Film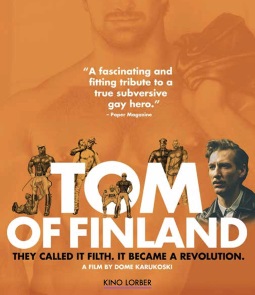 Before he was dubbed Tom of Finland, the erotic artist whose drawings of anatomically-impossible, macho male but unabashedly gay leather-clad bikers, cops, soldiers, and cowboys changed notions of gay sexuality (even to gay people) in the latter half of the twentieth century, there was Touko Laaksonen (Pekka Strang). The son of two teachers born in Kaarina, Finland in 1920, Touko studied art in Helsinki before being conscripted into the Finnish army in 1940 where he indulged the first stirrings of his sexuality in masturbatory drawings, park encounters with German soldiers, and a clandestine relationship with superior officer Heikki Alijoki (1944: The Final Defence's Taisto Oksanen). After the war, he would advance quickly as a graphic artist at an ad agency working alongside his sister Kaija (8-Ball's Jessica Grabowsky). In addition to worrying about the love of his family and their reputation, the illegal status of homosexuality and the brutal ways in which the authorities dealt with those branded "homophiles" drives Touko to find escape in his imagination apart from a few daring anonymous encounters. Embellishing upon the same real life sights and models that inspire his advertising campaigns along with memories of his days as a soldier – including the traumatic recollection of killing a Russian paratrooper (Siim Maaten) whose likeness would forever haunt him as that of his idealized total male Kake – Touko creates a series of drawings that he uses in attempts to communicate his interest in others. Realizing that it would be easier to exhibit his work in the Vatican than in Finland, he travels to Berlin and meets an American claiming to be a gallery owner who steals his artwork and leaves him with the hotel room bill the morning after, leading to Touko's detainment. Heikki, now a diplomat, reluctantly stands up for Touko when a Finnish embassy representative refuses to confirm that he is a Finnish citizen upon realizing that he is a homosexual. Returning to Finland, Touko continues drawing and his work circulates through the secret networks emanating from Heikki's special poker nights (with many of the guests donning leathers in the likeness of Touko's biker gods). Touko is shocked when the boarder Kaija takes in turns out to be dancer Veli (Gloriously Wasted's Lauri Tilkanen) with whom he had nearly been caught in the park during a police raid. Although Veli repeatedly denies recognizing him and fosters Kaija's shy romantic interest, he eventually succumbs to Touko's advances during a midsummer gathering at the Laaksonen family lakehouse. Although Veli joins Touko at Heikki's gatherings and encourages his creativity, he does not embrace the lifestyle and instead hopes for a time when they can be free with one another and tries to convince Touko that his work deserves to be seen and appreciated as art. While working at the ad agency, Touko starts an international mail-order catalogue business in which people can order photographic prints of his artwork. When some of his work reaches the editor of Physique Pictorial magazine (Trapped's ήorsteinn Bachmann) in Los Angeles, he becomes known Tom of Finland without his knowledge. As his artwork is disseminated throughout the United States in bodybuilding publications, a secret fanbase grows of which he first becomes aware through "number one fan" Doug (Point Break's Seumas F. Sargent) who was inspired by Touko's artwork to transform from skinny Midwestern stockboy to bodybuilder before running off to Los Angeles with like-minded Jack (Heaven on Earth's Jakob Oftebro) where they establish a sort of gay suburban commune of Kake lookalikes. At Doug's invitation, Tom visits America and tours New York, San Francisco, and Chicago with an exhibition and is overwhelmed with not only the relative sexual freedom of the country but also the influence of his work. When he discovers that the artwork stolen from him in Berlin is the main source of his popularity through its pirated publication, Tom – who has admitted that he needs to get a hard-on to determine whether a drawing is actually good – despairs of every drawing again. Doug, however, pushes him into confronting the publisher and taking back control of his artwork. A series of personal and professional setbacks in Finland – including the terminal illness of Veli and the growing emotional distance with his sister – have him wondering if he still belongs there; however, he soon finds his artwork branded as "dangerous" in America with the onset of the AIDS epidemic.

A seemingly well-researched biopic, the basic structure of Tom of Finland seems to correspond to what is known of Laaksonen's early life as conveyed (partially in his own words) in the 1990 documentary Daddy and the Muscle Academy (re-released in a 2017 digital restoration in concert with the biopic). Although beautifully shot with fine period detail – contrasting chilly scenes of Finland and Berlin with lush, warm, and colorful ones in America of the sixties and seventies – the film is not without its nagging flaws, both dramatically and factually. Much of the audience's emotional identification with events in Touko's life is by way of other characters like Veli, Kaija, Doug, and Jack as a combination of Touko's own emotional guardedness and the stoicism of Strang's performance sees him drifting through the narrative as much an object as his drawings or the apparition of Kake over the shoulder of the artist at work. Just as the film seems conflicted by the sado-erotic nature of his work – although its fetishizing of Nazis is possibly more shocking because of its visual nature compared to the perhaps lesser-read works of Jean Genet, whose Querelle as adapted by Rainer Werner Fassbinder would be visually informed by Tom of Finland – there is actually very little of Tom of Finland's actual artwork on view here apart from unclear background exhibit shots and a few quick glimpses of finished pieces, with the most detailed focus on his pencil sketches of the face of Kake as recollected from the Russian paratrooper. At the halfway mark, the influence of his work in America seems almost overnight thanks to the director's style of montage in contrast to the more sedately-paced scenes of Touko's life in Finland (although this may be meant to mirror America as Touko came to be aware of his reputation there). Although the film does depict the christening of Touko as Tom of Finland (based on him changing his signature on his disseminated artworks from TL to Tom) by the editor of Physique Pictorial, noted photographer Bob Mizer is never mentioned by name, nor does Touko's friendship and creative correspondence with artist Robert Mapplethorpe receive any mention – both of which are explored in Daddy and the Muscle Academy as if the filmmakers thought their place in Tom of Finland's American exposure would take away from the him as a gay icon for more general audiences who might be more aware of Mapplethorpe but would probably know as much or less about Mizer than Tom of Finland. Both Daddy and the Muscle Academy and Tom of Finland end on the same scene (the film's shot recreated from archival video seen in the documentary), bittersweet in the former and cheeky in the latter with its disco end credits.

Video


Kino Lorber's 1080p24 MPEG-4 AVC 2.40:1 widescreen transfer delivers a strong encode of both the film's "Nordic Noir"-looking muted, low-lit, chilly Finnish sequences and the overripe colors of the American scenes from the sunny sixties to the neon- and gel-lit seventies and eighties sequences.

Audio


Audio options include Finnish/German/English DTS-HD Master Audio 5.1 and 2.0 stereo soundtracks which is your standared professional mix of a dialogue-heavy film, utilizing the surrounds for music, atomsphere, and some directional effects during the wartime scenes as well as goosing moments where fantasy and reality merge. Optional English subtitles for the Finnish and German dialogue are provided along with full English SDH subtitles for all dialogue, music, and effects.

Extras


Extras start off with four deleted scenes depicting events merely alluded to in the finished film, with "Ad Meeting" (2:27) depicting Touko's decision to quit following the humiliation of a gay client, "Campfire" (1:21) and "Lakeside" (1:18) explicitly stating Kaija's awareness of her brother's sexuality and his relationship with Veli, and "War" (2:01) in which Heikki catches Touko with one of his erotic drawings. Discussion of Tom's House (10:31) is a featurette with members of the Tom of Finland Foundation looking at some of his early artworks and discussing his influence on both gay art and ideas of what a gay man was to those growing up at a time when the dominating images were of difference and affliction. Also included is an interview with Durk Dehner (12:25), co-founder of the Tom of Finland Company who discusses the collecting and cataloguing of all of his remaining works, including surviving early sketches, while also revealing that little is known of his mail-order business because he destroyed the correspondence to protect the identities of his customers (saving only the cancelled stamps as souvenirs). The disc also includes "I Am Tom of Finland" campaign featurette (2:03), a promotional television special (3:08), the film's trailer (2:11), as well as a trailer for Daddy and the Muscle Academy (0:47).

Overall


Although beautifully shot with fine period detail, the biopic Tom of Finland is not without its nagging flaws, both dramatically and historically.